Abstract
Kinetic and mechanistic aspects of the conversion of halides to disulphides using benzyl triethyl ammonium tetrathiomolybdate as sulphur-transfer reagent were investigated. The reaction follows a 1:1 stoichiometry with overall second-order kinetics and involves the formation of monosulphides in addition to disulphides. In the light of our observations, we propose a nucleophilic substitution: carbon–metal–carbon (SN-CMC) reaction mechanism. The proposed mechanism, besides accounting for all of our experimental observations, also explains many aspects of such reactions that have been reported earlier by various groups.
This is a preview of subscription content, log in to check access.
Access options
Buy single article
Instant access to the full article PDF.
US$ 39.95
Price includes VAT for USA
Subscribe to journal
Immediate online access to all issues from 2019. Subscription will auto renew annually.
US$ 199
This is the net price. Taxes to be calculated in checkout.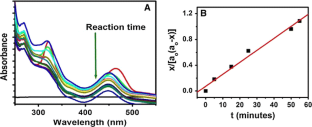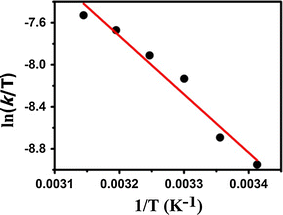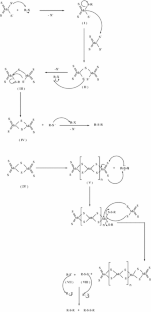 References
1.

West KR, Bake KD, Otto S (2005) Org Lett 7:2615

2.

Wang W, Wang LQ, Palmer BJ, Exarhos GJ, Li ADQ (2006) J Am Chem Soc 128:11150

3.

Raehm L, Hamann Ch, Kern JM, Sauvage JP (1991) Org Lett 2000:2

4.

Tam-Chang SW, Stehouwer JS, Hao J (1999) J Org Chem 64:334

5.

Naumann Ch, Place S, Sherman JCJ (2002) Am Chem Soc 124:16

6.

Umali AP, Simanek EE (2003) Org Lett 5:1245

7.

Furusho Y, Oku T, Hasegawa T, Tsuboi A, Kihara N, Takata T (2003) Chem Eur J 9:2895

8.

Ghosh S, Irvin K, Thayumanavan S (2007) Langmuir 23:7916

9.

Shcherbakova I, Pozharskii AF, In Comprehensive organic functional group transformations II, 1st ed., Vol. 2, Katritzky AR, Taylor RJK, Ramsden H, (2005) Eds. Elsevier, 177

10.

Ulman A (1996) Chem Rev 96:1533

11.

Ulman A (1998) Thin Films: Self-Assembled Monolayers of Thiols. Academic, Boston

12.

Porter LA Jr, Ji D, Westcott SL, Graupe M, Czernuszewicz RS, Halas NJ, Lee T (1998) Langmuir 14:7378

13.

Sudharsanam R, Chandrasekaran S, Das PK (2002) J Mater Chem 12:2904

14.

Prabhu KP, Devan N, Chandrasekaran S (2000) Synlett 11:1762

15.

Dhar P, Chandrasekaran S (1989) J Org Chem 54:2998

16.

Sidiq N, Bhat MA, Khan KZ, Khuroo MA (2012) Heteroat Chem 23:373

17.

Sureshkumar D, Koutha SM, Chandrasekaran S (2005) J Am Chem Soc 127:12760

18.

Stiefel EI (1973) Prog Inorg Chem 22:1

19.

Massoth FE (1978) Adv Catal 27:265

20.

Clarke GM, Doyle WP (1968) J Inorg Nucl Chem 28:381

21.

Bernholc J, Stiefel E (1985) Inorg Chem 24:1323

22.

Laidler KJ (2000) Chemical kinetics, 3rd edn. Pearson Education, New Jersey

23.

Harpp DN, McDonald JG (1984) Tetrahedron Lett 25:703

24.

Dhar P, Ranjan R, Chandrasekaran S (1989) J Org Chem 54:2998

25.

Ramesha AR, Chandrasekaran S (1992) Synth Commun 22:3277

26.

Dhar P, Chandrasekaran S (1989) J Org Chem 54:2998

27.

Dhar P, Ranjan R, Chandrasekaran S (1990) J Org Chem 55:3728

28.

Harp DN, McDonald JG (1984) Tetrahedron Lett 25:703

29.

Laurie SH (2000) Eur J Inorg Chem 12:2443

30.

Ramesha AR, Ph. D. Thesis: Organo Sulfur Reactions in Organic Synthesis with Tetrathiomolybdate: 1994, Indian Institute of Science: India

31.

Maity SK, Pradhan NC, Patwardhan AV (2006) J Mol Cat A Chem 250:114
About this article
Cite this article
Sidiq, N., Bhat, M.A., Khan, K.Z. et al. Kinetic investigations into the synthesis of disulphides via tetrathiomolybdate as a sulphur-transfer reagent. Transition Met Chem 39, 781–787 (2014). https://doi.org/10.1007/s11243-014-9860-7
Received:

Accepted:

Published:

Issue Date:
Keywords
High Occupied Molecular Orbital

Disulphide

Benzyl Chloride

Increase Reaction Time

Benzyl Bromide