Abstract
Reactions of Ti(OBus)4 and Ti(OBun)4 with chloroacetic acids (mono-, di-, and tri-) were carried out in toluene in 1:1 and 1:2 molar ratios at room temperature to generate new precursors of titania. These modified alkoxides/oxo-alkoxides were characterized by spectroscopic methods. A solution of Ti(OBun)2(OOCCCl3)2 in toluene left for crystallization at −30 °C yielded single crystals of the product Ti6(μ2-O)2(μ3-O)2(μ2-OC4H9)2(OC4H9)6(OOCCCl3)8. Single-crystal X-ray diffraction revealed the molecular structure to be composed of a hexanuclear unit in which two Ti2O10 units (made by two edge-sharing octahedra) are linked with two corner-sharing octahedra.
This is a preview of subscription content, log in to check access.
Access options
Buy single article
Instant access to the full article PDF.
US$ 39.95
Price includes VAT for USA
Subscribe to journal
Immediate online access to all issues from 2019. Subscription will auto renew annually.
US$ 199
This is the net price. Taxes to be calculated in checkout.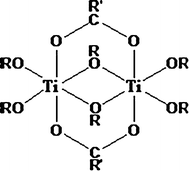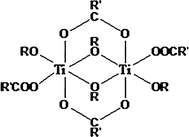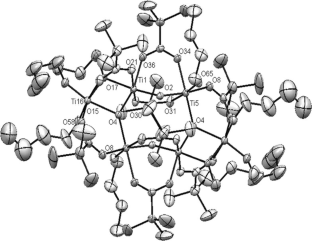 References
1.

Senouci A, Yaakoub M, Huguenard C, Henry M (2004) J Mater Chem 14:3215–3230

2.

Boyle TJ, Alam TM, Mechenbier ER (1997) Inorg Chem 36:3293–3300

3.

Lei X, Shang M, Fehlner TP (1996) Organometallics 15:3779–3781

4.

Khitrov GA, Strouse GF, Gaumet J (2004) J Am Soc Mass Spectrum 15:260–267

5.

Bradley DC, Mehrotra RC, Gaur DP (1978) Metal alkoxides. Academic Press, New York

6.

Babonneau F, Doeuff S, Leaustic A, Sanchez C, Cartier C, Verdaguer M (1988) Inorg Chem 27:3166

7.

Bradley DC, Holloway CE (1968) J Chem Soc A 1316

8.

Cotton FA, Wilkinson G (1988) Advanced inorganic chemistry, 5th edn. Wiley, New York

9.

Boyle TJ, Adam TM, Tafoya CJ, Scott BL (1998) Inorg Chem 37:5588

10.

Schubert U, Arpac E, Glaubitt W, Helmerich A, Chau C (1992) Chem Mater 4:291

11.

Kickelbick G, Schubert U (1998) Eur J Inorg Chem 1998:159–161

12.

Boyle TJ, Tyner RP, Alam TM, Scott BL, Ziller JW, Potter BG (1999) J Am Chem Soc 121:12104–12112

13.

Gratzel M (2003) J Photochem Photobiol, C 4:145–153

14.

Papiernik R, Pfalzgraf LGH, Vaissermann J, Goncalves MCHB (1998) J Chem Soc, Dalton Trans 14:2285–2287

15.

Shavit M, Tshuva EY (2008) Eur J Inorg Chem 9:1467–1474

16.

Gautier-Luneau I, Mosset A, Galy J (1987) Z Kristallogr 180:83

17.

Laaziz I, Larbot A, Guizard C, Durand J, Cot L, Joffre J (1990) Acta Crystallogr Sect C 46:2332

18.

Doeuff S, Dromzee Y, Sanchez CCR (1989) Acad Sci Paris 308:1409–1412

19.

Doeuff S, Dromzee Y, Taulelle F, Sanchez C (1989) Inorg Chem 28:4439–4445

20.

Boyle TJ, Tafoya CJ, Scott BL (1996) Abstr Pap Am Chem Soc 211(part 1) 62-INOR

21.

Bradley DC, Mehrotra RC, Wardlaw W (1952) J Chem Soc:2027

22.

Pandey A, Gupta VD, Nöth H (2000) Eur J Inorg Chem:1351

23.

Pandey A, Pandey A, Singh S, Mayer P, Parak W (2010) Z Naturforsch 65b:147–151
Acknowledgments
The authors are grateful to the Department of Science and Technology (DST) project Grant SR/ME/S-3/0016/2008. One of the authors is also grateful to the University Grants Commission–Maulana Azad National Fellowship (UGC-MANF).
Electronic supplementary material
Below is the link to the electronic supplementary material.
About this article
Cite this article
Ambreen, S., Gupta, K., Singh, S. et al. Synthesis and structural characterization of some titanium butoxides modified with chloroacetic acids. Transition Met Chem 38, 835–841 (2013). https://doi.org/10.1007/s11243-013-9756-y
Received:

Accepted:

Published:

Issue Date:
Keywords
Alkoxide

Titanium Atom

Chloroacetic Acid

Bridge Oxygen Atom

Titanium Alkoxide