Abstract
An iron(III)–ferrocene complex and its heterogeneous analogue bound in a polymer resin have been prepared and employed as catalysts for the oxidation of various organic substrates. Characterization of the heterogeneous and homogeneous complexes was done by SEM, EDAX, TGA, FT-IR, DRS-UV, and spectroscopy. The catalyst's activity, stability, and reusability were investigated through industrially relevant oxidation reactions. The solid iron(III)–ferrocene Schiff base complex gave more effective results than the solid-supported ferrocene Schiff base ligand. The antimicrobial activities of the molecular complex and free ligand were studied for Gram-positive and Gram-negative bacteria.
This is a preview of subscription content, log in to check access.
Access options
Buy single article
Instant access to the full article PDF.
US$ 39.95
Price includes VAT for USA
Subscribe to journal
Immediate online access to all issues from 2019. Subscription will auto renew annually.
US$ 199
This is the net price. Taxes to be calculated in checkout.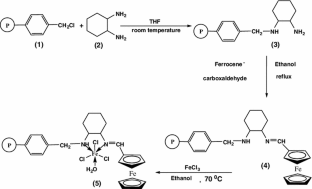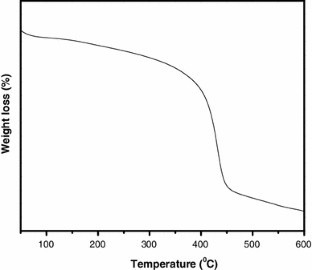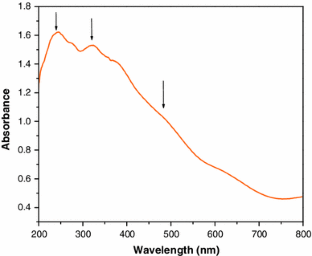 References
1.

Fredrich B, Gerhartz W (eds) (1985) W Ullmann's encyclopedia of industrial chemistry. Weinheim, New York

2.

Kumar R, Sithambaram S, Suib SL (2009) J Catal 262:304–313

3.

Sheldon RA, Kochi JK (1981) Metal catalyzed oxidation of organic compounds. Academic Press, New York

4.

Shilov AE, Shul'pin GB (1997) Chem Rev 97:2879–2932

5.

McGarrigle EM, Gilheany DG (2005) Chem Rev 105:1563–1602

6.

Blaser HU, Pugin B, Spindler F (2005) J Mol Catal A Chem 231:1–20

7.

Shulpin GB (2002) J Mol Catal A Chem 189:39–66

8.

Backvall JE (2004) Modern oxidation methods. Wiley, Weinheim 21

9.

Haines AH (1985) Methods for the oxidation of organic compounds. Academic Press, New York

10.

Xia QH, Ge HQ, Ye CP, Liu ZM, Su KX (2005) Chem Rev 105:1603–1662

11.

Yudin AK (2006) Aziridines and epoxides in organic synthesis. Wiley, Weinheim 185

12.

Swern D (Ed) (1970) Organic peroxide. Wiley, New York, p 265

13.

Barf GA, Sheldon RA (1995) J Mol Catal A Chem 102:23–39

14.

Mukaiyama T, Yamada T (1995) Bull Chem Soc Jpn 68:17–35

15.

Frenanez I, Khiar N (2003) Chem Rev 103:3651–3706

16.

Ozanne-Beaudenon A, Quideau S (2006) Tetrahedron Lett 47:5869–5873

17.

Iranpoor N, Firouzabadi H, Pourali AR (2004) Synlett 2004(2):347–349

18.

Noyori R, Aoki M, Sato K (2003) Chem Commun 2003(16):1977–1986

19.

Blakemore PR, Burge MS (2007) J Am Chem Soc 129:3068–3069

20.

Egami H, Katsuki T (2007) J Am Chem Soc 129:8940–8941

21.

Islam SM, Roy AS, Mondal P, Tuhina K, Mobarak M, Mondal J (2012) Tetrahedron Lett 53:127–131

22.

Islam SM, Mobarok M, Mondal P, Roy AS, Salam N, Hossain D, Mondal S (2012) Transition Met Chem 37:97–107

23.

Gruenwald KR, Kirillov AM, Haukka M, Sanchiz J, Pombeiro AJL (2009) Dalton Trans 2009(12):2109–2120

24.

Sakthivel A, Dapurkar SE, Selvan P (2003) Appl Catal A Gen 246:283–293

25.

Dapurkar SE, Sakthivel A, Selvan P (2003) New J Chem 27:1184–1190

26.

Handzlik J, Ogonowski J, Stoch J, Mikołajczyk M (2005) Catal Lett 101:65–69

27.

Mureseanu M, Parvulescu V, Ene AR, Cioatera AN, Pasatoiu TD, Andruh M (2009) J Mater Sci 44:6795–6804

28.

Lei Z (2000) React Func Polym 43:139–143

29.

Islam M, Paul S, Roy AS, Mondal P (2013) J Inorg organometallic polymers and Materials 23:560–570

30.

Vogel AI (1989) Test book of practical organic chemistry, 5th edn. Longman, London

31.

Islam M, Mondal P, Mukherjee S, Mobarak M, Roy AS, Mondal S, Sarkar S (2010) J Chem Technol Biotechnol 85:460–470

32.

Burri DR, Shaikh IR, Choi KM, Park SE (2007) Catal Comm 8:731–735

33.

Valodkar VB, Tembe GL, Ravindranathan M, Ram RN, Rama HS (2004) J Mol Catal A Chem 208:21–32

34.

Li L, Shi J, Yan J, Zhao X, Chen H (2004) Appl Catal A Gen 263:213–217

35.

Sallam SA, Orabi AS, El-Shetary BA, Lentz A (2002) Trans Met Chem 27:447–453

36.

Gnanasoundari VB, Natarajan K (2004) Trans Met Chem 29:511–515

37.

Rao SN, Munshi KN, Rao NN, Bhadbhade MM, Suresh E (1999) Polyhedron 18:2491–2497

38.

Lever ABP (1984) Inorganic electronic spectroscopy, 2nd edn. Elsevier, Amsterdam

39.

Daran JC, Jeannin Y, Martin LM (1980) Inorg Chem 19:2935–2940

40.

Antony R, Tembe GL, Ravindranathan M, Ram RN (2001) J Mol Catal A Chem 171:159–168

41.

Fernandes RR, Lasri J, Guedes da Silva MFC, da Silva JAL, da Silva JJRF, Pombeiro AJL (2011) Appl Catal A General 402:110–120

42.

Smith JRL, Iamamoto Y, Vinhado FS (2006) J Mol Catal A Chem 252:23–30

43.

Sheldon RA, Kochi JK (1981) Metal-catalyzed oxidations of organic compounds. Academic Press, New York

44.

Bilis G, Christoforidis KC (2010) Catal Today 157:101–106

45.

Mirkhani V, Moghadam M, Tangestaninejad S, Baltork IM, Rasouli N (2008) Catal Commun 9:2171–2174

46.

Ferrand Y, Daviaud R, Maux PL, Simonneaux G (2006) Tetrahedron Asymmetry 17:952–960

47.

Dhakshinamoorthy A, Pitchumani K (2006) Tetrahedron 62:9911–9918
Acknowledgments
We acknowledge Council of Scientific and Industrial Research (CSIR) New Delhi, India, for funding. ASR acknowledges CSIR, New Delhi, India, for his senior research fellowship.
Electronic supplementary material
Below is the link to the electronic supplementary material.
About this article
Cite this article
Islam, S.M., Paul, S., Roy, A.S. et al. Catalytic activity of an iron(III) Schiff base complex bound in a polymer resin. Transition Met Chem 38, 675–682 (2013). https://doi.org/10.1007/s11243-013-9736-2
Received:

Accepted:

Published:

Issue Date:
Keywords
Schiff Base

Ferrocene

Benzyl Alcohol

Adamantane

Schiff Base Ligand