Abstract
The complexes [Co(C4H4O4)]n (1) and [Zn(im)2(C4H4O4)]n (2) (C4H4O4 = succinate dianion, suc; im = imidazole) have been synthesized solvothermally and characterized by elemental analysis, IR, TG–DTA, and single-crystal X-ray diffraction techniques. Complex 1 is the first anhydrous member of the cobalt succinate family and has high thermal stability under a static air atmosphere, up to 425 °C, and complex 2 is a 1D coordination polymer. In addition, a new synthesis method and some properties of the known [Co(HCOO)2·2H2O]n (3) complex are reported. After in situ synthesis of 3 via decomposition of DMF at 140 °C, it was found that complex 3 can adsorb some solvents repeatedly and is selective for H2O.
This is a preview of subscription content, log in to check access.
Access options
Buy single article
Instant access to the full article PDF.
US$ 39.95
Price includes VAT for USA
Subscribe to journal
Immediate online access to all issues from 2019. Subscription will auto renew annually.
US$ 199
This is the net price. Taxes to be calculated in checkout.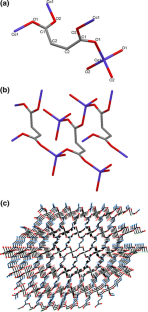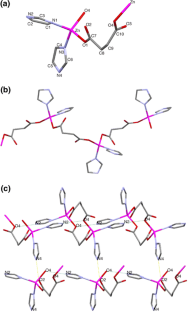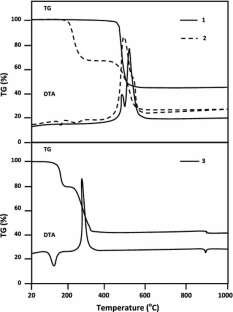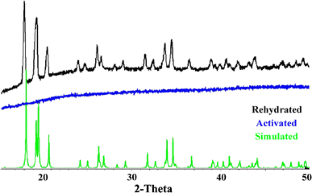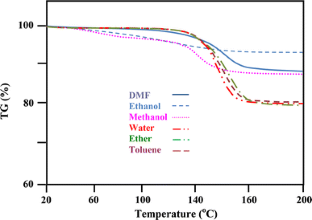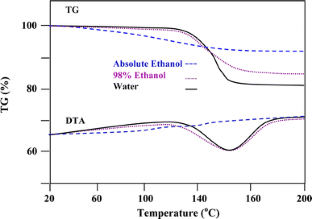 References
1.

Robin AY, Fromm KM (2006) Coord Chem Rev 250:2127–2157

2.

Rao CNR, Cheetham AK, Thirumurugan A (2008) J Phys Condens Matter 20:083202

3.

Rowsell JLC, Yaghi OM (2004) Microporous Mesoporous Mater 73:3–14

4.

Eddaoudi M, Moler D, Li H, Reineke TM, O'Keeffe M, Yaghi OM (2001) Acc Chem Res 34:319–330

5.

Long JR, Yaghi OM (2009) Chem Soc Rev 38:1213–1214

6.

Kuppler RJ, Timmons DJ, Fang Q-R, Li J-R, Makal TA, Young MD, Yuan D, Zhao D, Zhuang W, Zhoua H-C (2009) Coord Chem Rev 253:3042–3066

7.

Kurmoo M (2009) Chem Soc Rev 38:1353–1379

8.

Czaja AU, Trukhan N, Müller U (2009) Chem Soc Rev 38:1284–1293

9.

Allendorf MD, Bauer CA, Bhakta RK, Houk RJT (2009) Chem Soc Rev 38:1330–1352

10.

Murray LJ, Dinca M, Long JR (2009) Chem Soc Rev 38:1294–1314

11.

Guillou N, Livage C, Férey G (2006) Eur J Inorg Chem 24:4963–4978

12.

Forster PM, Stock N, Cheetham AK (2005) Angew Chem Int Ed 44:7608–7611

13.

Long L-S, Chen X-M, Tong M-L, Sun Z-G, Ren Y-P, Huang R-B, Zheng L-S (2001) J Chem Soc Dalton Trans 19:2888–2890

14.

Zheng Y-Q, Lin J-L (2001) Z Kristallogr New Cryst Struct 216:139–140

15.

Rigaku (2005) CrystalClear, Rigaku Corporation, Tokyo, Japan

16.

Altomare A, Burla MC, Camalli M, Cascarano GL, Giacovazzo C, Guagliardi A, Moliterni AGG, Polidori G, Spagna R, SIR97: (1999) J Appl Cryst 32:115

17.

Sheldrick GM (2008) Acta Crystallogr A64:112–122

18.

Farrugia LJ (1999) J Appl Cryst 32:837

19.

McArdle P, Gilligan K, Cunningham D, Dark R, Mahon M (2004) CrystEngCommun 6:303–309

20.

Farrugia LJ (1997) J Appl Cryst 30:565

21.

Kaufman A, Afshar C, Rossi M, Zacharias DE, Glusker JP (1993) Struct Chem 4:191–198

22.

Antsyshkina AS, Guseinova MK, Porai-Koshits MA (1967) Zhurnal Steakturnoi Khimii 8(2):365

23.

Zelenak V, Vargova Z, Györyova K (2007) Spectrochim Acta Part A 66:262–272

24.

Demir S, Kaya G (2011) Z Anorg Allg Chem 637:456–461

25.

Demir S, Yilmaz VT, Yilmaz F, Buyukgungor O (2009) J Inorg Organomet Polym 19:342–347

26.

Bowden TA, Milton HL, Slawin AMZ, Lightfoot P (2003) Dalton Trans 5:936–939

27.

Zhang J, Kang Y, Zhang R-B, Li Z-J, Cheng J-K, Yao Y-G (2005) CrystEngCommun 7(28):177–178

28.

Musie GT, Li X, Powell DR (2004) Acta Cryst E60:m471–m472

29.

Spek AL (2009) Acta Cryst D65:148–155

30.

Arii T, Kishi A (1999) Thermochim Acta 325:157–165

31.

Kim DS, Forster PM, Toquin RL, Cheetham AK (2004) Chem Commun 2148–2149

32.

Rossin A, Ienco A, Costantino F, Montini T, Credico BD, Caporali M, Gonsalvi L, Fornasiero P, Peruzzini M (2008) Cryst Growth Des 9:3302–3308

33.

Mallick A, Saha S, Pachfule P, Roy S, Banerjee R (2011) Inorg Chem 50:1392–1401
Acknowledgments
This work was financially supported by Rize University (No. 2010.102.02.2). S. Demir thanks the Council of Higher Education (YÖK), TURKEY, for a postdoctoral fellowship, Prof. Omar M. Yaghi from Center for Reticular Chemistry, University of California, Los Angeles, for the opportunity to study in his lab and using crystallographic equipment, and Assoc. Prof. Dr. Ertan Şahin from Atatürk University for crystallographic data collection of 2.
About this article
Cite this article
Demir, S., Kantar, G.K., Topcu, Y. et al. Solvothermal synthesis and characterization of coordination polymers of cobalt(II) and zinc(II) with succinic acid. Transition Met Chem 37, 257–263 (2012). https://doi.org/10.1007/s11243-012-9581-8
Received:

Accepted:

Published:

Issue Date:
Keywords
Co3O4

Coordination Polymer

PXRD Pattern

CoSO4

Calculated Mass Loss