Abstract
Four copper complexes with similar trinuclear copper units, [Cu6(Bmshp)2(SO4)2(H2O)7]·2H2O (1), [Cu3(Bmshp)(ClO4)2(H2O)4]·5H2O (2), [Cu3(Bmshp)(DMF)4(H2O)2]·H2O·2DMF·2ClO4 (3) and [Cu3(H2Bcshp)(ClO4)2(H2O)4]·3H2O (4) (H4Bmshp = 2,6-bis[(3-methoxysalicylidene)hydrazinocarbonyl]pyridine, H6Bcshp = 2,6-bis[(3-carboxylsalicylidene)hydrazinocarbonyl]pyridine), were synthesized and characterized by elemental analysis, IR and single crystal X-ray diffraction analysis. Due to the different anions, solvents and ligands used in the syntheses, complexes 1–4 exhibit diverse supramolecular structures constructed from the corresponding trinuclear copper units via H-bonds.
This is a preview of subscription content, log in to check access.
Access options
Buy single article
Instant access to the full article PDF.
US$ 39.95
Price includes VAT for USA
Subscribe to journal
Immediate online access to all issues from 2019. Subscription will auto renew annually.
US$ 199
This is the net price. Taxes to be calculated in checkout.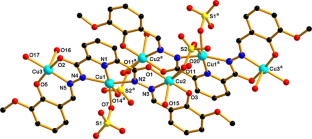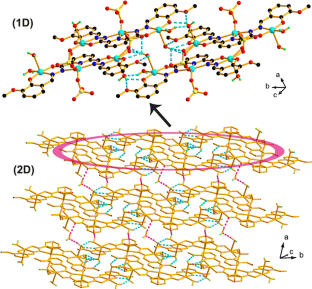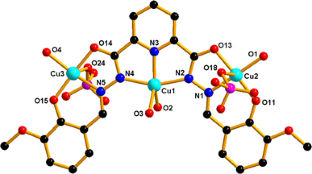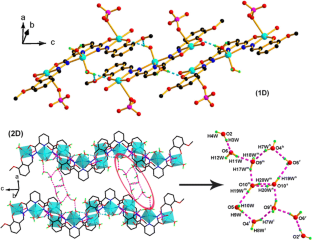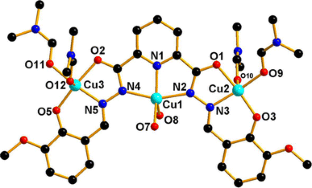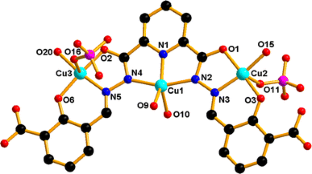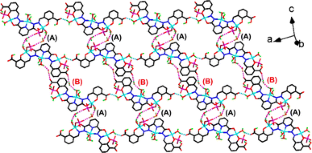 References
1.

Zhao XJ, Zhang ZH, Wang Y, Du M (2007) Inorg Chim Acta 360:1921

2.

Batten SR, Robson R (1998) Angew Chem Int Ed 37:1460

3.

Zubieta J, Hagrman PJ, Hagrman D (1999) Angew Chem Int Ed 38:2638

4.

Aakeröy CB, Beatty AM, Lorimer KR (2000) J Chem Soc Dalton Trans 3869–3872

5.

Gillon AL, Lewis GR, Orpen AG, Rotter S, Starbuck J, Wang XM, Rodríguez-Martín Y, Ruiz-Pérez C (2000) J Chem Soc Dalton Trans 3897–3905

6.

Mitzi DB (2001) J Chem Soc Dalton Trans 1–12

7.

Bünzli JC, Piguet C (2002) Chem Rev 102:1897

8.

Carlucci L, Ciani G, Proserpio D (2003) Coord Chem Rev 246:247

9.

Tzeng BC, Huang YC, Chen BS, Wu WM, Lee SY, Lee GH, Peng SM (2007) Inorg Chem 46:186

10.

Han J, Yau CW, Lam CK, Mak TCW (2008) J Am Chem Soc 130:10315

11.

Wan CQ, Li GS, Chen XD, Mak TCW (2008) Cryst Growth Des 8:3897

12.

Tadokoro M, Shiomi T, Kaneyama M, Miyazato Y (2009) J Nanosci Nanotechnol 9:301

13.

Das A, Choudhury SR, Dey B, Yalamanchili SK, Helliwell M, Gamez P, Mukhopadhyay S, Estarellas C, Frontera A (2010) J Phys Chem B 114:4998

14.

Choudhury SR, Lee HM, Hsiao T-H, Colacio E, Jana AD, Mukhopadhyay S (2010) J Mol Struct 967:131

15.

Keene TD, Zimmermann I, Neels A, Sereda O, Hauser J, Liu SX, Decurtins S (2010) Cryst Growth Des 10:1854

16.

Zhang KL, Chang Y, Hou CT, Diao GW, Wu RT, Ng SW (2010) CrystEngComm 12:1194

17.

Koner R, Goldberg I (2009) CrystEngComm 11:1217

18.

Abrahams BF, Haywood MG, Robson R (2007) Polyhedron 26:300

19.

Kirillova MV, Kirillov AM, Guedes da Silva MFC, Kopylovich MN, Fraústo da Silva JJR, Pombeiro AJL (2008) Inorg Chim Acta 361:1728

20.

Adarsh NN, Kumar DK, Suresh E, Dastidar P (2010) Inorg Chim Acta 363:1367

21.

Tadokoro M, Nakasuji K (2000) Coord Chem Rev 198:205

22.

Zhao L, Xu ZQ, Thompson LK, Heath SL, Miller DO, Ohba M (2000) Angew Chem Int Ed 39:3114

23.

Xu ZQ, Thompson LK, Miller DO (2001) Chem Commun 1170–1171

24.

Thompson LK, Zhao L, Xu ZQ, Miller DO, Reiff WM (2003) Inorg Chem 42:128

25.

Tandon SS, Dawe LN, Milway VA, Collins JL, Thompson LK (2007) Dalton Trans 1948–1953

26.

Niel V, Milway VA, Dawe LN, Grove H, Tandon SS, Abedin TSM, Kelly TL, Spencer EC, Howard JAK, Collins JL, Miller DO, Thompson LK (2008) Inorg Chem 47:176

27.

Dawe LN, Shuvaev KV, Thompson LK (2009) Chem Soc Rev 38:2334

28.

Chen XY, Zhan SZ, Meng QJ (1996) Transition Met Chem 21:345

29.

Gudasi KB, Shenoy RV, Vadavi RS, Patil MS, Patil SA (2006) J Inclusion Phenom Mol Macrocy Chem 55:93

30.

Sheldrick GM (2008) Acta Crystallogr A64:112

31.

van der Sluis P, Spek AL (1990) Acta Crystallogr 46:194

32.

Chen XY, Zhan SZ, Hu CJ, Meng QJ, Liu YJ (1997) J Chem Soc Dalton Trans 245–250

33.

Milway VA, Zhao L, Abedin TSM, Thompson LK, Xu ZQ (2003) Polyhedron 22:1271

34.

Zhao L, Thompson LK, Xu ZQ, Miller DO, Stirling DR (2001) J Chem Soc Dalton Trans 1706–1710
Acknowledgments
This work was supported by the National Natural Science Foundation of China (No. 20971029), Guangxi Natural Science Foundation (No. 2010GXNSFD013018 and 2010GXNSFF013001).
Electronic supplementary material
Below is the link to the electronic supplementary material.
About this article
Cite this article
Qin, S., Huang, H., Chen, Z. et al. Hydrogen-bonded supramolecular structures constructed from trinuclear copper units. Transition Met Chem 36, 653 (2011). https://doi.org/10.1007/s11243-011-9515-x
Received:

Accepted:

Published:
Keywords
Supramolecular Structure

Triclinic Space Group

OCH3 Group

Dark Green Crystal

Guest Water Molecule