Abstract
Dimanganese complexes Mn2 III(L1)(OAc)4 and Mn2 III(L2)(OAc)4 with the phthalazine-based ligands 1,4-di(2′-benzimidazolyl)aminophthalazine (H2L1) and 1,4-di(N-methyl-2′-benzimidazolyl)aminophthalazine (H2L2) have been prepared and characterized. The complexes accelerate the disproportionation of H2O2 into water and dioxygen in buffered aqueous solutions in a near-neutral pH range thus can be regarded as catalase models. Results of kinetic measurements indicate a similar mechanism for the two catalysts, but formation of the proposed peroxo-adduct intermediate is less favored for Mn2 III(L1)(OAc)4. It is presumed to be the reason for the lower rates for this catalyst even at higher pH.
This is a preview of subscription content, log in to check access.
Access options
Buy single article
Instant access to the full article PDF.
US$ 39.95
Price includes VAT for USA
Subscribe to journal
Immediate online access to all issues from 2019. Subscription will auto renew annually.
US$ 199
This is the net price. Taxes to be calculated in checkout.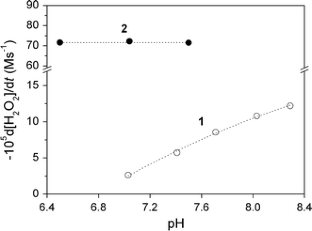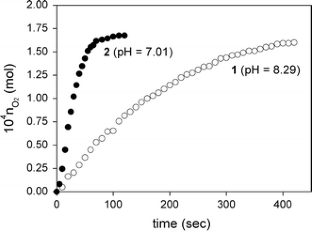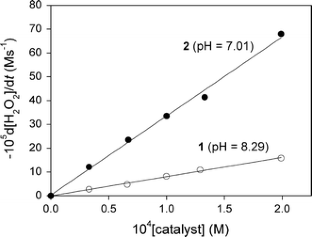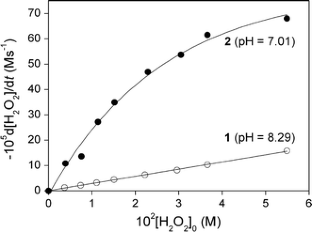 References
1.

Nicholls P, Schonbaum GR (1963) Catalases. In: Boyer PD, Lardy H, Myrback K (eds) The enzymes, vol VIII, 2nd edn. Academic Press, New York, p 147

2.

Halliwell B, Gutteridge JMC (1990) Method Enzymol 186:1

3.

Stadtman ER, Berlett PB, Chock PB (1990) Proc Natl Acad Sci USA 87:384

4.

Messerschmidt A, Huber R, Paulos T, Wieghardt K (eds) (2001) Handbook of metalloproteins. Wiley, New York

5.

Barynin VV, Grebenko AI (1986) Dokl Acad Nauk SSSR 286:461

6.

Allgood GS, Perry JJ (1986) J Bacteriol 168:563

7.

Kono Y, Fridovich I (1983) J Biol Chem 258:6015

8.

Beyer WF, Fridovich I (1985) Biochemistry 24:6460

9.

Antonyuk SV, Melik-Adamyan VR, Popov AN, Lamzin VS, Hempstead PD, Harrison PM, Artymiuk PJ, Barynin VV (2000) Crystallogr Rep 45:105

10.

Barynin VV, Whittaker MM, Antonyuk SV, Lamzin VS, Harrison PM, Artymiuk PJ, Whittaker JW (2001) Structure 9:725

11.

Dismukes GC (1996) Chem Rev 96:2909

12.

Riley DP, Schall OF (2006) Adv Inorg Chem 59:233

13.

Pap JS, Kripli B, Váradi T, Giorgi M, Kaizer J, Speier G (2011) J Inorg Biochem 105:911

14.

Thompson LK, Chaco VT, Elvidge JA, Lever ABP, Parish RV (1969) Can J Chem 47:4141

15.

Balogh-Hergovich É, Speier G, Réglier M, Giorgi M, Kuzmann E, Vértes A (2004) Inorg Chim Acta 357:3689

16.

Pap JS, Kaizer J, Giorgi M, Speier G (2010) Inorg Chem Commun 13:1069

17.

Lever ABP, Thompson LK, Reiff WM (1972) Inorg Chem 11:104

18.

Thompson LK, Hartstock FW, Rosenberg L, Woon TC (1985) Inorg Chim Acta 97:1

19.

Deacon GB, Philips RJ (1980) Coord Chem Rev 33:227

20.

Wu AJ, Penner-Hahn JE, Pecoraro VL (2004) Chem Rev 104:903

21.

Shank M, Barynin V, Dismukes GC (1994) Biochemistry 33:15433

22.

JE Penner-Hahn (1992) Structural properties of the manganese site in the manganese catalases. In: VL Pecoraro (ed) Manganese redox enzymes. VCH Publishers, New York

23.

Allgood GS, Perry JJ (1986) J Bacteriol 168:563

24.

Larson EJ, Pecoraro VL (1991) J Am Chem Soc 113:3810

25.

Larson EJ, Pecoraro VL (1991) J Am Chem Soc 113:7809

26.

Gelasco A, Bensiek S, Pecoraro VL (1998) Inorg Chem 37:3301

27.

Kaizer J, Csay T, Kövári P, Speier G, Párkányi L (2008) J Mol Catal A 280:203

28.

U Bossek,M Saher, T Weyhermüller, K Wieghardt (1992) J Chem Soc Chem Commun 1780

29.

Biava H, Palopoli C, Shova S, De Gaudio M, Daier V, Gonzalez-Sierra M, Tuchagues J-P, Signorella S (2006) J Inorg Biochem 100:1660

30.

Gelasco A, Pecoraro VL (1993) J Am Chem Soc 115:7928

31.

Signorella S, Rompel A, Büldt-Karentzopoulos K, Krebs B, Pecoraro VL, Tuchagues J-P (2007) Inorg. Chem. 46:10864

32.

Kaizer J, Baráth G, Speier G, Réglier M, Giorgi M (2007) Inorg Chem Commun 10:292

33.

Naruta Y, Maruyama K (1991) J Am Chem Soc 113:3595

34.

Kaizer J, Csonka R, Speier G (2008) React Kinet Catal Lett 94:157
Acknowledgments
Financial support of the Hungarian National Research Fund (OTKA K67871, OTKA K75783, and OTKA PD75360) and COST is gratefully acknowledged.
About this article
Cite this article
Pap, J.S., Horváth, B., Speier, G. et al. Synthesis and catalase-like activity of dimanganese complexes with phthalazine-based ligands. Transition Met Chem 36, 603–609 (2011). https://doi.org/10.1007/s11243-011-9508-9
Received:

Accepted:

Published:

Issue Date:
Keywords
Dioxygen

Buffer Aqueous Solution

Benzimidazolyl

Phthalazine

Isoindoline