Abstract
Acid- and base-catalyzed hydrolysis of [Cr(ampy)(ox)2]−, where ampy = 2-(aminomethyl)pyridine, leads to successive dissociation of the ligands via concurrent reaction paths, whereas at pH 1–9 only ampy is liberated as a result of spontaneous processes. The first ligand dissociation proceeds via aqua intermediates with one-end bonded ampy (1) or ox ligands (2), respectively, which in alkaline media undergo rapid deprotonation to give the appropriate hydroxo-forms. The kinetics of two reaction stages, namely the chelate ring opening and the ligand liberation, were studied spectrophotometrically. In acidic media, the first stage is much faster than the second, whereas in alkaline solutions, both the stages are characterized by similar rate constants. The dependences of k obs on [H+] are as follows: k obs1,H = a 1 + b 1/[H+], k obs2,H = a 2 + b 2[H+]. At pH > 13, rate constants k obs1,OH and k obs2,OH are [OH−] independent. The effect of pH on the complex reactivity was rationalized based on proposed mechanisms.
This is a preview of subscription content, log in to check access.
Access options
Buy single article
Instant access to the full article PDF.
US$ 39.95
Price includes VAT for USA
Subscribe to journal
Immediate online access to all issues from 2019. Subscription will auto renew annually.
US$ 199
This is the net price. Taxes to be calculated in checkout.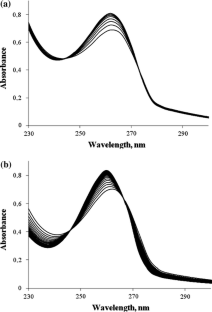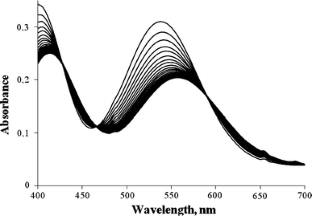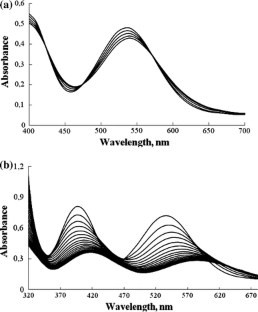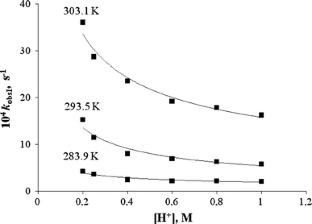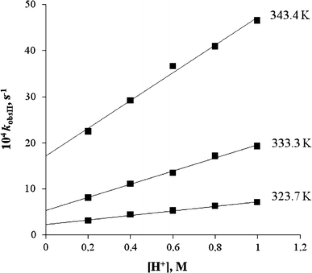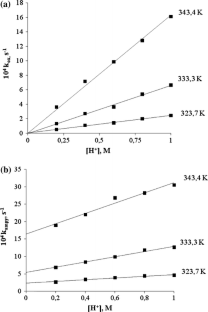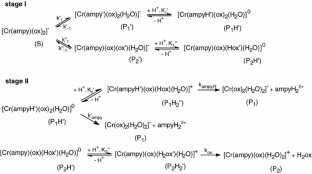 References
1.

Schwartz K, Mertz W (1959) Arch Biochem Biophys 85:292

2.

Vincent JB (2000) Acc Chem Res 33:503

3.

Slesinski RS, Clarke JJ, San RHC, Gudi R (2005) Mutat Res 585:86

4.

Anderson RA (2000) Diabetes Metab 26:22

5.

Kita E, Marai H, Jach K, Orłowska A (2009) Trans Met Chem 34:217

6.

Kita E, Marai H (2009) Trans Met Chem 34:585

7.

Kita E, Marai H, Lisiak M, Jasiński M, Drewa T (2010) Trans Met Chem 35:177

8.

Siltlen LG, Martell AE (1964) Stability constants of metal-ion complexes. Burlington House, London, p 337

9.

Anderegg G (1971) Chim Acta 54:2

10.

Steensholt G, Clausen OG (1962) Acta Pathol Microbiol Scand 56:327

11.

Zhang X, Hayes D, Smith SJ, Friedle S, Lippard SJ (2008) J Chem Am Soc 130:15788

12.

Arranz E, Diaz JA, Ingate ST, Witvrguw M, Pannecouque C, Balzarini J, Clercq ED, Vega S (1998) J Med Chem 41:4109

13.

Utsuno S, Sone K (1964) Bull Chem Soc Jpn 37:1038

14.

Sutton GJ (1961) Aust J Chem 14:550

15.

Sutton GJ (1962) Aust J Chem 15:232

16.

Ayers DJ et al (1998) Inorg Chim Acta 277:177

17.

Michelsen K (1970) Acta Chem Scand 24:2003

18.

Michelsen K (1972) Acta Chem Scand 26:1517

19.

Quiroz-Castro ME (2000) Inorg Chim Acta 297:129

20.

Paraschiv C, Andruch M, Sutter JP (2003) Inorg Chim Acta 351:385

21.

Das S, Banerjee RN, Banerjea D (1984) J Coord Chem 13:123

22.

Kita E, Gołembiewska K (2007) Trans Met Chem 32:56

23.

Kita E, Marai H, Zając K (2008) Trans Met Chem 33:211

24.

Kita E, Marai H, Iglewski Ł (2009) Trans Met Chem 34:75

25.

Kallen TW, Hamm RL (1977) Inorg Chem 16:1147

26.

Rao L, Zhang Z, Friese JI, Ritherdon B, Clark SB, Hess NJ, Rai D (2002) J Chem Soc Dalton Trans 267

27.

Torapava N, Radkevich A, Davidov D, Titov A, Persson I (2009) Inorg Chem 48:10383

28.

Basolo F, Pearson RG (1967) Mechanism of inorganic reactions, 2nd edn. Wiley, New York

29.

Helm L, Merbach AE (2005) Chem Rev 105:1923
About this article
Cite this article
Kita, E., Lisiak, R. Potential biochromium sources; kinetic studies on acid- and base-catalyzed aquation of [Cr(ox)2(2-(aminomethyl)pyridine]− . Transition Met Chem 35, 441–450 (2010). https://doi.org/10.1007/s11243-010-9347-0
Received:

Accepted:

Published:

Issue Date:
Keywords
Chelate Ring

Base Hydrolysis

Ligand Dissociation

Spectroscopic Change

Unreacted Substrate