Abstract
Natural iowaite, magnesium–ferric oxychloride mineral having light green color originating from Australia has been characterized by EPR, optical, IR, and Raman spectroscopy. The optical spectrum exhibits a number of electronic bands due to both Fe(III) and Mn(II) ions in iowaite. From EPR studies, the g values are calculated for Fe(III) and g and A values for Mn(II). EPR and optical absorption studies confirm that Fe(III) and Mn(II) are in distorted octahedral geometry. The bands that appear both in NIR and Raman spectra are due to the overtones and combinations of water and carbonate molecules. Thus EPR, optical, and Raman spectroscopy have proven most useful for the study of the chemistry of natural iowaite and chemical changes in the mineral.
This is a preview of subscription content, log in to check access.
Access options
Buy single article
Instant access to the full article PDF.
US$ 39.95
Price includes VAT for USA
Subscribe to journal
Immediate online access to all issues from 2019. Subscription will auto renew annually.
US$ 199
This is the net price. Taxes to be calculated in checkout.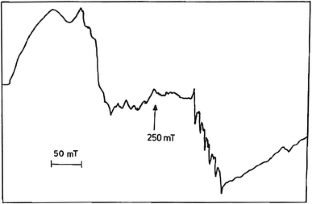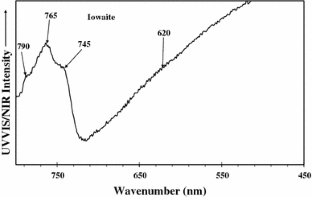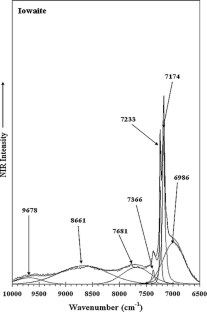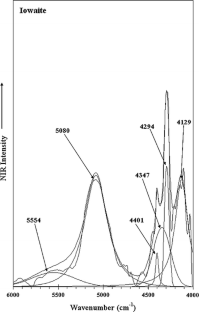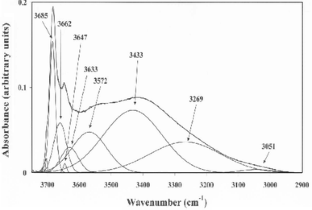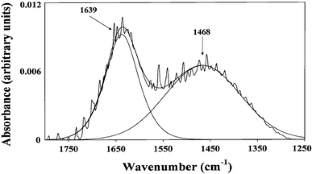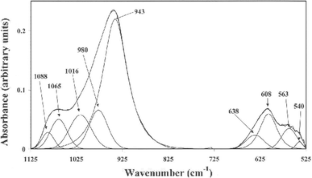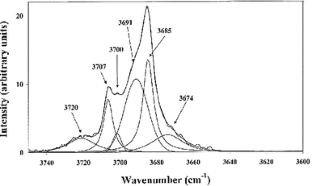 References
1.

Mazurov MP, Korneva TA, Zhitova LM, Istomin VE, Stopipovskaya NA, Titov AT (2000) Zapiski Vserossiiskogo, Mineralogicheskogo Obshchestva 129:8 (Russian)

2.

Frost RL, Adebajo MO, Erickson KL (2005) Spect Chim Act A 61:613

3.

Braithwaite RSW, Dunn PJ, Pritchard RG, Pear WH (1994) Miner Mag 58:79

4.

Atlmann R, Donnay JDH (1969) Am Miner 54:296

5.

Frost RL, Bouzaid JM, Musumeci AW, Kloprogge JT, Martens WN (2006) J Therm Anal Calorim 86:437

6.

Frost RL, Erickson KL (2004) Spectrochim Acta Part A 60:3001

7.

Frost RL, Erickson KL (2004) J Therm Anal Calorim 78:367

8.

Frost RL, Weier RL (2003) Raman Spectrosc 34:776

9.

Frost RL, Weier RL (2004) Thermo Chim Acta 409:79

10.

Sambasiva Rao P, Subramanian S (1985) Mol Phys 54:415

11.

Lakshmi Reddy S, Frost RL, Sowjanya G, Reddy NCG, Siva Reddy G, Reddy BJ (2008) Adv Condenc Matter Phys 2008:8 IDNo: 175862

12.

Low W, Losengasten G (1964) J Mol Spectroscopy 12:319

13.

Nakamoto K (1970) "Infrared spectra of inorganic and coordination compounds". Wiley, New York

14.

Hunt GR, Saliesbury JW (1970) Mod Geol 1:283

15.

Hunt GR, Salisbury JW (1971) Mod Geol 2:23

16.

Herzberg G (1966) In: Infrared and Raman spectra of polyatomic molecules, vol II (Lancaster USA) 178
Acknowledgments
Authors wish to express their sincere thanks to Prof. P.S. Rao, Dept of Chemistry, Pondicherry University, Pondicherry, India for providing EPR instrumental facility. One of us (SLR) is thankful to UGC, New Delhi for financial assistance (Major research no: 38-188/2009).
About this article
Cite this article
Lakshmi Reddy, S., Sesha Maheswaramma, K., Siva Reddy, G. et al. Optical absorption, infrared, Raman, and EPR spectral studies on natural iowaite mineral. Transition Met Chem 35, 331–336 (2010). https://doi.org/10.1007/s11243-010-9331-8
Received:

Accepted:

Published:

Issue Date:
Keywords
Electron Paramagnetic Resonance

Electron Paramagnetic Resonance Spectrum

Hydrotalcites

Electron Paramagnetic Resonance Study

Inter Layer