Abstract
Two novel oxamido-bridged macrocyclic complexes, [LCu(CH3OH)Co(phen)2](ClO4)2·CH3OH (1) and [LCu(CH3OH) Cu(phen)2](ClO4)2·CH3OH (2) (where H2L = 2,3-dioxo-5,6:13,14-dibenzo-7,10,12-trimethyl-1,4,8,11-tetraazacyclo-tetradeca-7,12-diene, phen = 1,10-phenanthroline), have been prepared by stepwise synthesis and characterized. In both complexes, each Cu(II) atom from the precursor ligand CuL is connected to a Co(II) (or Cu(II)) atom via the exo–cis oxygen atoms, resulting in a binuclear subunit. Magnetic susceptibility measurements in the 2–300 K temperature range have been taken for the two complexes.
This is a preview of subscription content, log in to check access.
Access options
Buy single article
Instant access to the full article PDF.
US$ 39.95
Price includes VAT for USA
Subscribe to journal
Immediate online access to all issues from 2019. Subscription will auto renew annually.
US$ 199
This is the net price. Taxes to be calculated in checkout.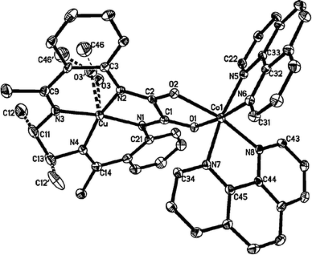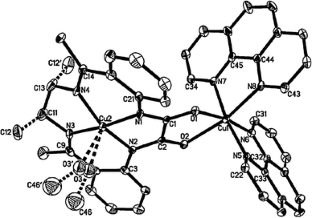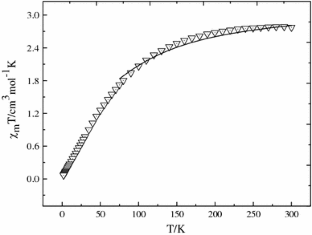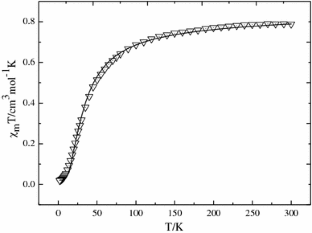 References
1.

Batten SR, Robson R (1998) Angew Chem Int Ed 37:1460–1494

2.

Moulton B, Zaworotko MJ (2001) Chem Rev 101:1629–1658

3.

Kim K (2002) Chem Soc Rev 31:96–107

4.

Kitagawa S, Kondo M (1998) Bull Chem Soc Jpn 71:1739–1753

5.

Yaghi OM, O'Keeffe M, Ockwig NW, Chae HK, Eddaoudi M, Kim J (2003) Nature 423:705–714

6.

James SL (2003) Chem Soc Rev 32:276–288

7.

Kahn O (1993) Molecular magnetism. VCH, New York

8.

Miyasaka H, Matsumoto N, Okawa H, Re N, Gallo E, Floriani C (1996) J Am Chem Soc 118:981–994

9.

Coronado E, Galán-Mascarós JR, Gómez-García CJ, Laukhin V (2000) Nature 408:447–449

10.

Kato R, Kobayashi H, Kobayashi A (1989) J Am Chem Soc 111:5224–5232

11.

Lawrence DS, Jiang T, Levett M (1995) Chem Rev 95:2229–2260

12.

Blake AJ, Champness NR, Hubberste P, Li W-S, Withersby MA, Schröder M (1999) Coord Chem Rev 183:117–138

13.

Ruiz R, Faus J, Lloret F, Julve M, Journaux Y (1999) Coord Chem Rev 193:1069–1117

14.

Konar S, Manna SC, Zangrando E, Chaudhuri NR (2004) Inorg Chim Acta 357:1593–1597

15.

Ribas J, Diaz C, Costa R, Journaux Y, Mathoniere C, Kahn O, Gleizes A (1990) Inorg Chem 29:2042–2047

16.

Livermore JC, Willett RD, Gaura RM, Landee CP (1982) Inorg Chem 21:1403–1405

17.

Billson TS, Crane JD, Fox OD, Heath SL (2000) Inorg Chem Commun 3:718–720

18.

Zhang L, Wang S-B, Yang G-M, Tang J-K, Liao D-Z et al (2003) Inorg Chem 42:1462–1466

19.

Okawa H, Mitsumi M, Ohba M, Kodera M, Matsumoto N (1994) Bull Chem Soc Jpn 67:2139–2144

20.

Pei Y, Joumaux Y, Kahn O (1989) Inorg Chem 28:100–103

21.

Christodoulou D, Kanatzidis MG, Coucouvanis D (1990) Inorg Chem 29:191–201

22.

Burkholder E, Golub V, O'Connor CJ, Zubieta J (2003) Chem Commun 2128–2129

23.

Khan MI, Yohannes E, Nome RC, Ayesh S et al (2004) Chem Mater 16:5273–5279

24.

Reinoso S, Vitoria P, Gutiérrez-Zorrilla JM, Lezama L, Felices LS, Beitia JI (2005) Inorg Chem 44:9731–9742

25.

Miller JS, Epstein AJ, Reiff WM (1988) Chem Rev 88:201–220

26.

Black D, St C, Vanderzalm CHB, Hartshorn AJ (1976) Inorg Nucl Chem Lett 12:657–659

27.

Rigaku MSC (2005) CrystalClear, Rigaku/MSC Inc. The Woodlands, Texas

28.

Sheldrick GM (1990) SHELXS-97, Program for the solution of crystal structures. University of Götingen, Germany

29.

Sheldrick GM (1997) SHELXL-97, program for the refinement of crystal structures. University of Götingen, Germany

30.

Loret F, Journaux Y, Julve M (1990) Inorg Chem 29:3967–3972

31.

Sinn E (1970) Coord Chem Rev 5:313–347
Acknowledgments
This work was supported by the National Natural Science Foundation of China (Nos. 59973008 and 20571046) and Natural Science Foundation of Tianjin (No. 013603711)
About this article
Cite this article
Yang, F., Zhang, Y., Wang, Q. et al. Two oxamido-bridged binuclear Cu–M complexes (M = CoII, CuII): synthesis, crystal structures and magnetic studies. Transition Met Chem 34, 809–813 (2009). https://doi.org/10.1007/s11243-009-9267-z
Received:

Accepted:

Published:

Issue Date:
Keywords
Magnetic Susceptibility

CH3OH

Phen

Phen Ligand

Hydrogen Atom Position