Abstract
A mixed ligand coordination compound of copper with ofloxacin (oflo) and phenanthroline (phen) has been synthesized and characterized by means of X-ray single crystal diffraction and spectroscopic methods. Structural features of the coordination compound are described. CD and CV studies of the interactions of the title complex with calf thymus DNA (CT-DNA) show that the complex can bind to CT-DNA by intercalation and electrostatic binding modes. Antibacterial activities of the title compound, a Cu–oflo complex reported earlier and free oflo have been studied against different microorganisms. Both copper complexes enhance the antibacterial activities of the quinolone drugs. The inhibitory effect of the three compounds on two cancer cell lines was measured and the results indicate that the title complex has strongest inhibitory effect.
This is a preview of subscription content, log in to check access.
Access options
Buy single article
Instant access to the full article PDF.
US$ 39.95
Price includes VAT for USA
Subscribe to journal
Immediate online access to all issues from 2019. Subscription will auto renew annually.
US$ 199
This is the net price. Taxes to be calculated in checkout.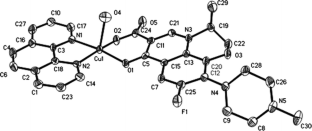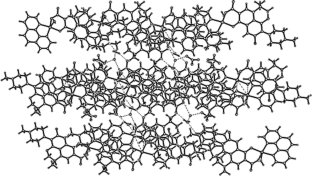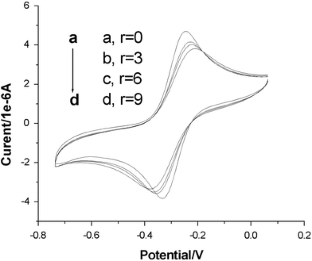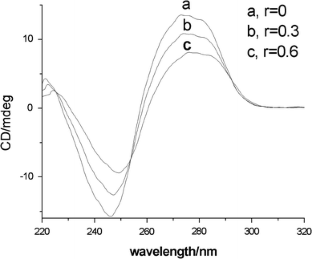 References
1.

Chan S, Wong WT (1995) Coord Chem Rev 138:219–296

2.

Afrasiabi Z, Sinn E, Padhye S, Dutta S, Newton C, Anson CE, Powell AK (2003) J Inorg Biochem 95:306–314

3.

Sigman DS, Graham DR, Aurora VD, Stern AM (1979) J Biol Chem 254:12269–12272

4.

Mitscher LA (2005) Chem Rev 105:559–592

5.

Turel I, Leban I, Bukovec N (1994) J Inorg Biochem 56:273–282

6.

Turel I, Golic L, Ruiz Ramirez OL (1999) Acta Chim Slov 46:203–211

7.

Aleixandre V, Herrera G, Urios A, Blanco M (1991) Antimicrob Agents Chemother 35:20–23

8.

Macias B, Villa MV, Rubio I, Castineiras A, Borras J (2001) J Inorg Biochem 84:163–170

9.

Gameiroa P, Rodriguesb C, Baptistab T, Sousaa I, Castroa B (2007) Int J Pharm 334:129–136

10.

Tselepi-Kalouli E, Katsaros N (1989) J Inorg Biochem 37:271–282

11.

Sheldrick M (1998) SHELX-97, programs for crystal structure analysis. University of Gottingen, Gottingen, Germany, pp 97–98

12.

Golobic T, Klavzar A, Philar B, Buglyo P, Tolis E, Rehder D, Sepcic K (2003) J Inorg Biochem 95:199–207

13.

Deacon GB, Phillips RJ (1980) Coord Chem Rev 33:227–250

14.

Dendrinou-Samara C, Tsotsou G, Raptopoulou CP, Kortsaris A, Kyriakidis D, Kessissoglou DP (1998) J Inorg Biochem 71:171–179

15.

Sorenson JRJ (1989) Prog Med Chem 26:437–586

16.

Saha DK, Sandbhor U, Shirisha K, Padhye S, Deobagkar D, Ansond CE, Powell AK (2004) Bioorg Med Chem Lett 14:3027–3032

17.

King DE, Malone R, Lilley SH (2000) Am Fam Physician 61:2741–2748

18.

Prabhakan B, Lengaiah P, Reddy KL (1990) Polyhedron 9:805–811

19.

Kwaiatkowski M, Kwaiatkowski E, Olechnowicz A, Bandol G (1991) Inorg Chim Acta 182:117–127

20.

Mendoza-Diaz G, Martinez-Aguilera LMR, Perez-Alonso R, Solans X, Moreno-Espanza R (1993) Inorg Chim Acta 211:133–139

21.

Mendoza-Diaz G, Martinez-Auguilera LMR, Moreno-Esparza R, Pannell KH, Cervantes-Lee F (1993) J Inorg Biochem 50:65–78

22.

Psomas G, Raptopoulou CP, Iordanidis L, Dendrinou-Samara C, Tangoulis V, Kessissoglou DP (2000) Inorg Chem 39:3042–3048

23.

Dendrinou-Samara C, Psomas G, Raptopoulou CP, Kessissoglou DP (2001) J Inorg Biochem 83:7–16

24.

Saha DK, Sandbhor U, Shirisha K, Padhye S, Deobagkar D, Anson CE, Powell AK (2004) Med Chem Lett 14:3027–3032

25.

Song G, He Y, Cai Z (2004) J Fluoresc 14:705–710

26.

Rodoriguez M, Bard AJ (1990) Anal Chem 62:2658–2662

27.

Millian KM, Mikkelsen SR (1993) Anal Chem 65:2317–2323

28.

Maheswari PU, Palaniandavar MJ (2004) Inorg Biochem 98:219–230

29.

Song YM, Kang JW, Gao JZ, Feng YF (2000) Chin J Inorg Chem 16:53–57

30.

Krivis AF, Rabb JM (1996) Science 164:1064–1065

31.

Wang GP, Zhu LG, Yu QS (2003) Chin J Inorg Chem 19:179–182
Additional information
Chang-Yun Chen and Quan-Zhan Chen contributed equally to this work.
About this article
Cite this article
Chen, C., Chen, Q., Wang, X. et al. Synthesis, characterization, DNA binding properties, and biological activities of a mixed ligand copper(II) complex of ofloxacin. Transition Met Chem 34, 757–763 (2009). https://doi.org/10.1007/s11243-009-9259-z
Received:

Accepted:

Published:

Issue Date:
Keywords
Phen

Ofloxacin

Antitumour Activity

A549 Cell Line

Title Complex