Abstract
A mononuclear iron(III) complex with 2,6-bis(3,4,5-trimethyl-N-pyrazolyl)pyridine (btmpp) has been synthesized, and characterized by X-ray crystallography, IR, UV–Vis and TGA–DTA methods. The Fe(III/II) couple was characterized by way of cyclic voltammetry using DMF solvent, where the complex was observed to have an irreversible behaviour.
This is a preview of subscription content, log in to check access.
Access options
Buy single article
Instant access to the full article PDF.
US$ 39.95
Price includes VAT for USA
Subscribe to journal
Immediate online access to all issues from 2019. Subscription will auto renew annually.
US$ 199
This is the net price. Taxes to be calculated in checkout.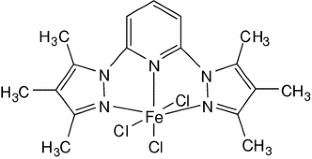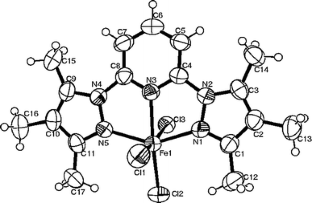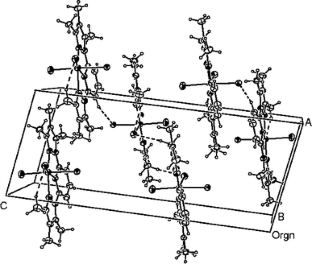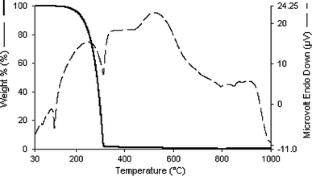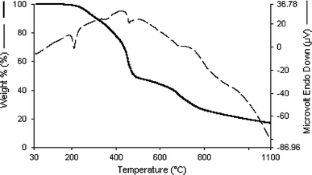 References
1.

Constable EC (1986) Adv Inorg Chem Radiochem 30:69. doi:10.1016/S0898-8838(08)60240-8

2.

Jameson DL, Goldsby KA (1990) J Org Chem 55:17. doi:10.1021/jo00304a007

3.

Campora J, Naz AM, Palma P, Delgado AR, Alvarez E, Tritto I, Boggioni L (2008) Eur J Inorg Chem 2008:1871. doi: 10.1002/ejic.200701220

4.

Yoo DW, Yoo SK, Kim C, Lee JK (2002) J Chem Soc Dalton Trans 3931–3932. doi:10.1039/b208413a

5.

Hayami S, Danjobara K, Shigeyoshi Y, Inoue K, Ogawa Y, Maeda Y (2005) Inorg Chem Commun 8:506

6.

Ayers T, Scott S, Goins J, Caylor N, Hatchcock D, Slattery SJ, Jameson DL (2000) Inorg Chim Acta 307:7. doi:10.1016/S0020-1693(00)00179-1

7.

Money VA, Costa JS, Marcén S, Chastanet G, Elhaik J, Halcrow MA, Howard JAK, Létard JF (2004) Chem Phys Lett 391:273. doi:10.1016/j.cplett.2004.05.020

8.

Kurtaran R, Odabasioglu S, Azizoglu A, Kara H, Atakol O (2007) Polyhedron 26:5069. doi:10.1016/j.poly.2007.07.021

9.

Kurtaran R, Namli H, Kazak C, Turhan O, Atakol O (2007) J Coord Chem 60:2133. doi:10.1080/00958970701340511

10.

Baker W, Buggle KM, McOmie JF, Watkins DAM (1958) J Chem Soc 3594

11.

Elguero J, Jacquier R (1966) Bull Soc Chim Fr 9:2832

12.

Sheldrick GM (1997) SHELXS-97 and SHELXL-97. Programs for crystal structure analysis. University of Göttingen, Germany

13.

Farrugia LJ (1999) WinGX program for crystallography package. J Appl Cryst 32:837–838. doi:10.1107/S0021889899006020

14.

Farrugia LJ (1997) J Appl Cryst 30:565. doi:10.1107/S0021889897003117

15.

Ercan F, Arici C, Ulku D, Kurtaran R, Aksu M, Atakol O (2004) Z Kristallogr 219:295. doi:10.1524/zkri.219.5.295.32745

16.

Willison SA, Jude H, Antonelli RM, Rennekamp JM, Eckert NA, Krause Bauer JA, Connick WB (2004) Inorg Chem 43:8. doi:10.1021/ic035066k

17.

Siddiqi KS, Nishat N, Jabeen A, Zaidi SAA (1993) Transit Met Chem 18:591

18.

Sugiyarto KH, Scudder ML, Craig DC, Goodwin HA (2000) Aust J Chem 53:755. doi:10.1071/CH00087

19.

Holland JM, McAllister JA, Kilner CA, Thornton-Pett M, Bridgeman AJ, Halcrow MA (2002) J Chem Soc Dalton Trans 548

20.

Pelascini F, Wesolek M, Peruch F, De Cian A, Kyritsakas N, Lutz PJ, Kress J (2004) Polyhedron 23:3193. doi:10.1016/j.poly.2004.10.001

21.

Elmali A, Elerman Y (2001) Anal Sci 17:1137. doi:10.2116/analsci.17.1137

22.

Meier R, Heinemann F (2002) Inorg Chim Acta 337:317. doi:10.1016/S0020-1693(02)01107-6

23.

van Gorkum R, Berding J, Mills AM, Kooijman H, Tooke DM, Spek AL, Mutikainen I, Turpeinen U, Reedijk J, Bouwman E (2008) Eur J Inorg Chem 1487

24.

Arora V, Rajesh, Mathur P, Vadera SR (1999) Transit Met Chem 24:92

25.

Hathcock DJ, Stone K, Madden J, Slattery SJ (1998) Inorg Chim Acta 282:131. doi:10.1016/S0020-1693(98)00154-6
Acknowledgement
The financial support of the Scientific and Technical Research Council of Turkey (TÜBİTAK-TBAG (108T622) and Balıkesir University is gratefully acknowledged.
About this article
Cite this article
Hopa, Ç., Alkan, M., Kazak, C. et al. Iron(III) complex of a tridentate NNN type ligand: synthesis, X-ray structure, thermal analysis and voltammetric studies. Transition Met Chem 34, 403 (2009). https://doi.org/10.1007/s11243-009-9209-9
Received:

Accepted:

Published:
Keywords
Pyrazol

Iron Atom

Free Ligand

Terpyridine

Terpy