Abstract
The kinetics of the interaction of diethyldithiocarbamate (Et2DTC) with [Pt(dach)(H2O)2]2+ (dach = cis-1,2-diaminocyclohexane) have been studied spectrophotometrically as a function of [Pt(dach)(H2O)2 2+], [Et2DTC] and temperature at a particular pH (4.0). The reaction proceeds via rapid outer sphere association complex formation followed by two slow consecutive steps. The first step involves the transformation of the outer sphere complex into an inner sphere complex containing a Pt–S bond and one aqua ligand, while the second step involves chelation when the second aqua ligand is replaced. The association equilibrium constant K E and two rate constants k 1 and k 2 have been evaluated. Activation parameters for both the steps have been calculated (∆H 1 # = 66.8 ± 3.7 kJ mol−1, ∆S 1 #  = −81 ± 12 JK−1 mol−1 and ∆H 2 #  = 95.1 ± 2.8 kJ mol−1, ∆S 2 #  = −34.4 ± 9.1 JK−1 mol−1). The low enthalpy of activation and negative entropy of activation indicate an associative mode of activation for both the steps.
This is a preview of subscription content, log in to check access.
Access options
Buy single article
Instant access to the full article PDF.
US$ 39.95
Price includes VAT for USA
Subscribe to journal
Immediate online access to all issues from 2019. Subscription will auto renew annually.
US$ 199
This is the net price. Taxes to be calculated in checkout.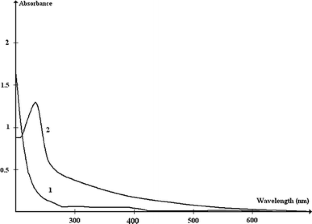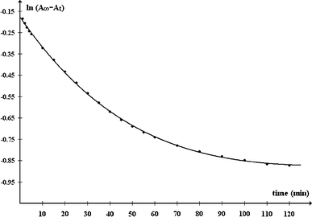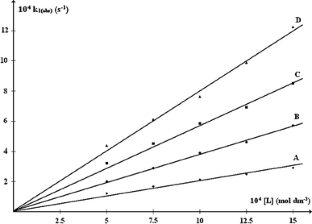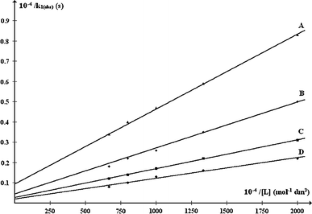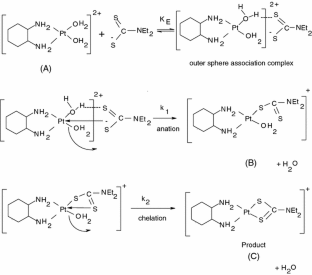 References
1.

Yee-Ping H, Steve CF, Au-Yeung, Kenneth KW (2003) Med Res Rev 23:633. doi:10.1002/med.10038

2.

Han I, Kim OJ, Lee GY, Sung YK, Song R, Soun YS (2003) Bioorg Med Chem 11:5443. doi:10.1016/j.bmc.2003.09.023

3.

Khokhar AR, Brown DB, McCormack JJ, Hacker MP (1989) Cancer Chemother Pharmacol 23:15. doi:10.1007/BF00258451

4.

Bierbach U, Hambley TW, Farrel N (1998) Inorg Chem 37(4):708. doi:10.1021/ic970420y

5.

Banerjee D, Kadam TA, Sigal H (1981) Inorg Chem 20:2548

6.

Umapathy P (1989) Coord Chem Rev 95:129. doi:10.1016/0010-8545(89)80025-6

7.

Khokhar AR, Krakoff IH, Hacker MP, McCormack JJ (1985) Inorg Chim Acta 63:108

8.

Aspila KI, Joris SJ, Chakrabarti CL (1970) J Phys Chem 74:3625. doi:10.1021/j100714a013

9.

Irving HM, Rossotti HS (1954) J Chem Soc 2904. doi:10.1039/jr9540002904

10.

Weyh JA, Hamm RE (1969) Inorg Chem 8:2298. doi:10.1021/ic50081a015

11.

Ghosh S, Sengupta PS, De GS (1999) Transition Met Chem 24:59

12.

Sengupta PS, Ghosh S, De GS (2000) Transition Met Chem 25:279

13.

Ghosh S, Sengupta PS, De GS (1999) Indian J Chem 38A:453

14.

Sinha R, Chaudhury AK, De GS (2003) Indian J Chem 42A:473

15.

Suardi G et al (1997) J Am Chem Soc 119:7716. doi:10.1021/ja970208t

16.

Gimeno M, Jones PG, Laguma A, Sarroca C (2004) Z Naturforsch 59b:1365

17.

Jian F, Wang Z, Chem W, Bai Z, Zhang K, Yon X (1999) Polyhedron 18:2219. doi:10.1016/S0277-5387(99)00090-X

18.

Fan L-Q, Wu J-H (2006) Acta Cryst E62:2891
Acknowledgments
The author thanks the U.G.C., New Delhi for awarding a Minor Research Project that provided the financial assistance, Department of Chemistry, N.I.T., Durgapur-713209, West Bengal, India and Department of Chemistry, J.K. College, Purulia-723101, West Bengal, India
About this article
Cite this article
Mukhopadhyay, S.K. Kinetics and mechanism of aqua ligand substitution from cis-diaqua(cis-1,2-diaminocyclohexane)platinum(II)perchlorate by diethyldithiocarbamate anion in aqueous medium. Transition Met Chem 33, 739–743 (2008). https://doi.org/10.1007/s11243-008-9105-8
Received:

Accepted:

Published:

Issue Date:
Keywords
Ligand Concentration

Aqua Ligand

Outer Sphere Complex

Diaminocyclohexane

Bioactive Ligand