Abstract
In this study, we consider an infinitely long poroelastic circular cylinder saturated with a liquid, whose lateral surface is traction free, impermeable, and subject to a time-dependent thermal shock. The medium is assumed to be initially quiescent. The problem is in the context of the generalised thermo-poroelasticity theory with one relaxation time. The solution is obtained by a direct approach without the customary use of potential functions. Laplace transform technique is used to obtain the general solution for any set of boundary conditions. The inversion process is carried out using a numerical method based on Fourier series expansions. Numerical results for the temperature in the cylinder and fluid, displacement of the cylinder, velocity of the fluid, and stresses for both components are obtained and represented graphically. The problem is solved for the case of one phase only, namely when the solid has no cavities and there is no fluid inside. The solution in this case for the temperature, displacement, and stress distributions is obtained and represented graphically.
This is a preview of subscription content, log in to check access.
Access options
Buy single article
Instant access to the full article PDF.
US$ 39.95
Price includes VAT for USA
Subscribe to journal
Immediate online access to all issues from 2019. Subscription will auto renew annually.
US$ 199
This is the net price. Taxes to be calculated in checkout.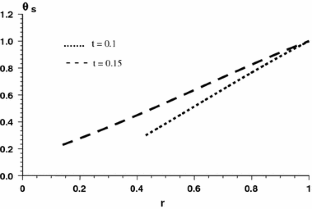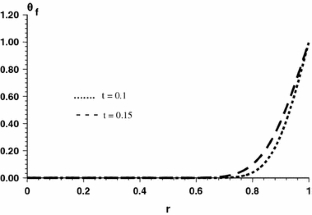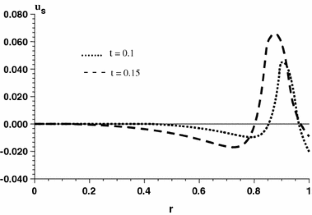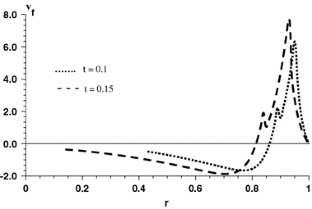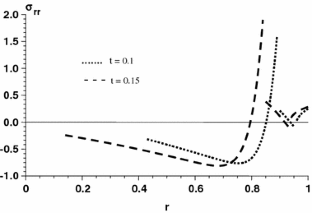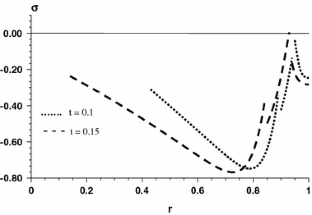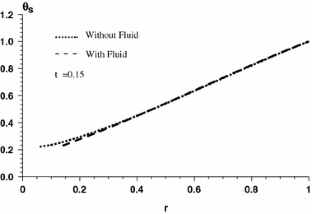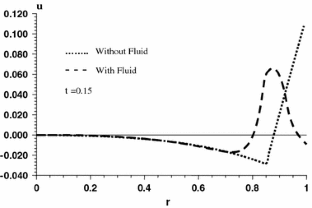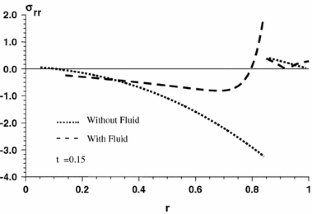 References
Biot, M.: Theory of elasticity and consolidation for a porous anisotropic solid. J. Appl. Phys. 26, 182–198 (1955)

Biot, M.: Theory of propagation of elastic waves in fluid-saturated porous solid. J. Acoust. Soc. Am. 28, 168–171 (1956)

Biot, M.: Variational irreversible thermodynamics of heat and mass-transfer in porous solids: new concepts and methods. Quart. Appl. Math. 36, 19–38 (1978)

Biot, M.: New variational-Lagrangian irreversible thermodynamics with application to viscous-flow, reaction diffusion, and solid mechanics. Adv. Appl. Mech. 24, 1–91 (1984)

Churchill, R.: Oper. Math., 3rd edn. McGraw-Hill, New York (1972)

Coussy, O., Dormieux, L., Detourna, E.: From mixture theory to Biot's approach for porous media. Int. J. Solids Struct. 24, 3508–3524 (1998)

Honig, G., Hirdes, U.: A method for the numerical inversion of the laplace transform. J. Comput. Appl. Math. 10, 113–132 (1984)

Lord, H., Shulman, Y.: A generalised dynamical theory of thermoelasticity. J. Mech. Phys. Solids 15, 299–309 (1967)

Mercer, G., Barry, S.: Flow and deformation in poroelasticity-II numerical method. Math. Comput. Model. 30, 31–38 (1999)

Nowinski, J.L.: Theory of Thermoelasticity with Applications. Sijthoff Noordhooff Int. Pub, Alphen Aan Den Rijn (1978)

Reddy, P., Tajuddin, M.: Exact analysis of the plane-strain vibrations of thick-walled hollow poroelastic cylinders. Int. J. Solids Struct. 37, 3439–3456 (2000)

Shanker, B., Manoj, J., Shah, S., Nageswara, Nath: Radial vibrations of an infinitely long poroelastic composite hollow circular cylinder. Int. J. Eng. Sci. Tech. 4, 17–33 (2012)

Sherief, H., Hussein, E.: Two-dimensional problem for a thick plate with axi-symmetric distribution in the theory of generalised thermoelastic diffusion. Math. Mech. Solids (2014)

Sherief, H., Hamsa, F., Saleh, A.: The theory of generalised thermoelastic diffusion. Int. J. Eng. Sci. 42, 591–608 (2004)

Sherief, H., Hamsa, F., El-Sayed, M.: Theory of generalised micropolar thermoelasticity and an axisymmetric half-space problem. J. Therm. Stress. 28, 409–437 (2005)

Sherief, H., Saleh, H.: A half-space problem in the theory of generalised thermoelastic diffusion. Int. J. Solids Struct. 42, 4484–4493 (2005)

Sherief, H., El-Maghraby, N.: A thick plate problem in the theory of thermoelastic diffusion. Int. J. Thermophys. 30, 2044–2057 (2009)

Sherief, H., Hussein, E.: A mathematical model for short-time filtration in poroelastic media with thermal relaxation and two temperatures. Transp. Porous Med. 91, 199–223 (2012)

Tajuddin, M., Ahmed Shah, S.: Longitudinal shear vibrations of composite poroelastic cylinders. Int. J. Eng. Sci. Tech. 3, 22–33 (2011)

Tajuddin, M., Nageswara, C., Manoj, J.: Axial-shear vibrations of an infinitely long poroelastic composite circular cylinder. Special Top. Rev. Porous Media 2, 133–143 (2011)
Appendix
Appendix
$$\begin{aligned} a&= q_1^2 - q_{2},\\ b&= -(s^{2} (2 p_1 q_1 - p_2 - q_2 ) +\varepsilon _2 s (2 q_1 (R_1 R_3 w(1+s\;\tau _\mathrm{f} )+R_2 (1 +s\;\tau _{\mathrm{s}} ))\\&\quad - q_2 (R_1^2 w (1 +s\;\tau _\mathrm{f} )+\, (1 +s\;\tau _{\mathrm{s}} )) - R_2^2 (1 +s\;\tau _{\mathrm{s}} ) - R_3^2 w (1 +s\;\tau _\mathrm{f} ))\\&\quad +a((1 +s\tau _{\mathrm{s}} ) (\varepsilon _1 +s)+\,(1+s\;\tau _\mathrm{f} ) (\varepsilon _1 w +s\; f_3 ))) / a,\\ c&= (s^{4}( p_1^2 - p_2 ) + \varepsilon _2 s^{3} \zeta _4 + s^{2} \zeta _{5} + \varepsilon _2 s \zeta _{7} +a ((1 +s\tau _{\mathrm{s}} )\\&\quad \times \,(\varepsilon _1 +s)(1 +s\;\tau _\mathrm{f} ) (\varepsilon _1 w +s\;f_3 ) - w (1 +s\tau _{\mathrm{s}} ) (1 +s\tau _\mathrm{f} ) \varepsilon _1^2))/a,\\ d&= -s^{2} (s^{2} (p_1^2 - p_2 )((1+s\;\tau _{\mathrm{s}} ) (\varepsilon _1 +s) + (1 + s \tau _\mathrm{f} ) (\varepsilon _1 w +s\; f_3 )) + \varepsilon _2 s \zeta _{8} \\&\quad +(2 p_1 q_1 - p_2 - q_2 )((1 +s\tau _{\mathrm{s}} ) (\varepsilon _1 +s) (1 +s\;\tau _\mathrm{f} ) (\varepsilon _1 w+s\; f_3\\&\quad - w (1 +s\tau _{\mathrm{s}} )(1 +s\tau _\mathrm{f} ) \varepsilon _1^2 ))/a,\\ e&= \frac{s^{4} (p_1^2 - p_2 )((1 +s\;\tau _{\mathrm{s}} ) (\varepsilon _1 +s) (1 +s\tau _\mathrm{f} ) (\varepsilon _1 w +s \; f_3 ) - w (1 +s\tau _{\mathrm{s}} ) (1 +s\tau _\mathrm{f} ) \varepsilon _1^2 )}{a}, \\ \zeta _4&= 2 p_1 (R_1 R_3 w(1 +s\tau _\mathrm{f} ) + R_2 (1 +s\tau _{\mathrm{s}} ) ) - p_2 (R_1^2 w(1 +s\tau _\mathrm{f} )+(1 +s\tau _{\mathrm{s}} ))\\&\quad -\, R_2^2 (1 +s\tau _{\mathrm{s}} ) - R_3^2 w(1 +s\tau _\mathrm{f} ),\\ \zeta _5&= (2 p_1 q_1 -p_2 - q_2 )((1 +s\tau _{\mathrm{s}} ) (\varepsilon _1 +s)+(1 +s\tau _\mathrm{f} ) (\varepsilon _1 w +s\; f_3 ))- w (1 +s\tau _{\mathrm{s}} )\\&\quad \times \,(1 +s\tau _\mathrm{f} ) ) \varepsilon _2^2 (r_1 r_2 -r_3 )^{2},\\ \zeta _{6}&= r_1 \hbox {w} (1 +s\tau _\mathrm{f} ) (r_2 (1 +s\tau _{\mathrm{s}} ) \varepsilon _1 + r_3 (1 +s\tau _{\mathrm{s}} ) (\varepsilon _1 +s )) + (1 +s\tau _{\mathrm{s}} ) (r_2 (1 +s\tau _\mathrm{f} )\\&\quad (\varepsilon _1 w +s\; f_3 )+ r_3 w (1 +s\;\tau _\mathrm{f} )\varepsilon _1 ),\\ \zeta _7&= 2 q_1 \zeta _6 - q_2 (r_1^2 w (1 +s\tau _\mathrm{f} ) (1 +s\tau _{\mathrm{s}} ) (\varepsilon _1 +s) + 2 r_1 w(1 +s\tau _{\mathrm{s}} ) (1 +s\;\tau _\mathrm{f} ) \varepsilon _1 \\&\quad +\, (1 +s\tau _{\mathrm{s}} ) (1 +s\;\tau _\mathrm{f} ) (\varepsilon _1 w +s\; f_3 ))- r_2^2 (1 +s\tau _{\mathrm{s}} ) (1 +s\tau _\mathrm{f} ) (\varepsilon _1 w+s \; f_3 )\\&\quad -\,r_3 w (1 +s\tau _\mathrm{f} ) (2 r_2 (1 +s\tau _{\mathrm{s}} ) \varepsilon _1 + r_3 (1 +s\tau _{\mathrm{s}} ) (\varepsilon _1 +s)),\\ \zeta _8&= 2 p_1 \zeta _{6} - p_2 ( r_1^2 w \hbox {(1 }+s\tau _\mathrm{f} ) (1 +s\tau _{\mathrm{s}} ) (\varepsilon _1 +s )+\hbox { 2} r_1 w (1 +s\tau _{\mathrm{s}} ) (1 +s\tau _\mathrm{f} ) \varepsilon _1 \\&\quad +\, (1 +s\tau _{\mathrm{s}} ) (1 +s\tau _\mathrm{f} ) (\varepsilon _1 w +s \;f_3 ))- r_2^2 (1+s\tau _{\mathrm{s}} ) (1+s\tau _\mathrm{f} ) (\varepsilon _1 w +s\; f_3 )\\&\quad -\,r_3 w (1+s\;\tau _\mathrm{f} ) \hbox {(2} r_2 (1+s\tau _{\mathrm{s}} ) \varepsilon _1 )+r_3 (1+s\tau _{\mathrm{s}} ) (\varepsilon _1 +s ),\\ \varOmega _{{i}}&= (\tau _{\mathrm{s}} s^{4}( {p_1 r_3 -p_2 r_1 } )+s^{3}( {p_1 ( {r_2 \varepsilon _1 \tau _{\mathrm{s}} +r_3 ( {\varepsilon _1 \tau _{\mathrm{s}} +1} )} )-p_2 ( {r_1 ( {\varepsilon _1 \tau _{\mathrm{s}} +1} )+\varepsilon _1 \tau _{\mathrm{s}} } )} )\\&\quad +\,s^{2}(\varepsilon _1 ( {p_1 ( {r_2 +r_3 } )-p_2 ( {r_1 +1} )} )-ki^{2}( p_1 r_3 -p_2 r_1\\&\quad +\,\tau _{\mathrm{s}} ( {q_1 r_3 -q_2 r_1 -r_2 \varepsilon _2 ( {r_1 r_2 -r_3 } )} ) ))-ki^{2}s(q_1 ( {r_2 \varepsilon _1 \tau _{\mathrm{s}} +r_3 ( {\varepsilon _1 \tau _{\mathrm{s}} +1} )} )\\&\quad -\,q_2 ( {r_1 ( {\varepsilon _1 \tau _{\mathrm{s}} +1} )+\varepsilon _1 \tau _{\mathrm{s}} } )-r_2 \varepsilon _2 ( {r_1 r_2 -r_3 } ))\\&\quad +\,ki^{2}( {ki^{2}( {q_1 r_3 -q_2 } )-\varepsilon _1 ( {q_1 ( {r_2 +r_3 } )-q_2 ( {r_1 +1} )} )} )) \end{aligned}$$
About this article
Cite this article
Hussein, E.M. Problem in Poroelastic Media for an Infinitely Long Solid Circular Cylinder with Thermal Relaxation. Transp Porous Med 106, 145–161 (2015). https://doi.org/10.1007/s11242-014-0393-5
Received:

Accepted:

Published:

Issue Date:
Keywords
Biot's theory

Generalised thermo-poroelasticity

Circular cylinder