Abstract
An efficient protocol was developed to propagate old cypress of Abarkuh under in vitro condition. The explants from upper part of secondary shoots were successfully proliferated in the woody plant medium (WPM) supplemented with 30 g l−1 sucrose, 7.5 g l−1 agar, 0.5 mg l−1 benzyladenine (BA) and 0.01 mg l−1 indolebutyric acid (IBA). The in vitro raised micro shoots were then elongated by culturing in the WPM supplemented with 0.1 mg l−1 BA. Root induction was successfully conducted by pulse treatment (30 s) in high concentration of IBA (5 g l−1) and subsequent culturing in the WPM supplemented with 2 mg l−1 kinetin (Kin) and 0.01 mg l−1 IBA.
Key message
An effective procedure was developed for successful in vitro micropropagation and plantlet regeneration of the cypress of Abarkuh, which is one of the oldest cypresses in the world with about 4000 years old. There were significant differences among basal media, BA concentrations as well as explant types on the proliferation of cypress of Abarkuh. The in vitro raised plantlets were successfully rooted and acclimated to the outdoor conditions. Tissue culture techniques can play an important role in multiplication as well as conservation of this valuable plant.
This is a preview of subscription content, log in to check access.
Access options
Buy single article
Instant access to the full article PDF.
US$ 39.95
Price includes VAT for USA
Subscribe to journal
Immediate online access to all issues from 2019. Subscription will auto renew annually.
US$ 199
This is the net price. Taxes to be calculated in checkout.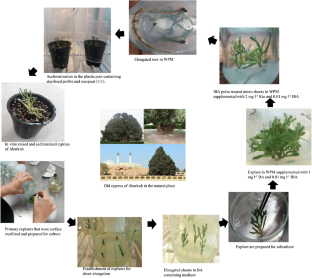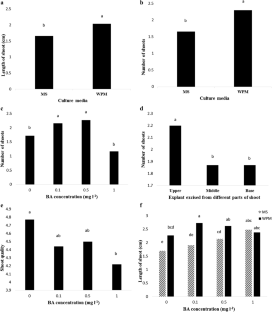 References
Barberini S, Danti R, Lambardi M (2016) Somatic plant regeneration from selected common cypress Cupressus sempervirens L.) clones resistant to the bark canker disease. Plant Cell Tissue Organ Cult 124:393–403

Burrows G, Doley DD, Haines RJ, Nikles DG (1988) In vitro propagation of Araucaria cunninghamii and other species of the Araucariaceae via axillary meristems. Aust J Bot 36(6):665–676

Capuana M, Giannini R (1997) Micropropagation of young and adult plants of cypress (Cupressus sempervirens L.). J Hortic Sci 72(3):453–460

Giovannelli A, De Carlo A (2007) Micropropagation of mediterranean cypress (Cupressus sempervirens L.). In: Mohan Jain S, Haggman H (eds) Protocols for micropropagation of woody trees and fruits. Springer, Dordrecht, pp 93–105

Häggman H, Aronen T, Stomp AM (1996) Early-flowering Scots pines through tissue culture for accelerating tree breeding. Theor Appl Genet 93:840–848

Irannejad Parizi MH, Akbari H, Khoshnevis M, Shams MR, Abedini T, Rad MH, Rasouli SAR, Taheri A, Mahdavi MR (2016) National monument of Abarkooh Cypress. Yazd University Press, Yazd (In Persian)

Lambardi M, Harry IS, Menabeni D, Thorpe TA (1995) Organogenesis and somatic embryogenesis in Cupressus sempervirens. Plant Cell Tissue Organ Cult 40:179–182. https://doi.org/10.1007/BF00037672

Lloyd G, McCown B (1981) Commercially feasible micropropagation of mountain laurel, Kalmia latifolia, by the use of shoot tip culture. Proc Plant Prop Soc 30:421–427

López-Escamilla AL, Olguín-Santos LP, Márquez J, Chávez VM, Bye R (2000) Adventitious bud formation from mature embryos of Picea chihuahuana Martínez, an endangered Mexican spruce tree. Ann Bot 86:921–927. https://doi.org/10.1006/anbo.2000.1257

Mahdinejad N, Fakheri BA, Ghanbari S (2015) Effect of growth regulators on in vitro callogenesis Taxus baccata L. Biol Forum Int J 7(1):142–145

Murashige T, Skoog F (1962) A revised medium for rapid growth and bio-assay with tobacco tissue cultures. Physiol Plant 15:473–497

Schenk RV, Hildebrandt AC (1972) Medium and techniques for induction and growth of monocotyledonous and dicotyledonous plant cell cultures. Can J Bot 50:199–204

Taghipoor M, Haddad R, Ghannadnia M (2015) The effect of media, explants and cytokinin on micropropagation of Araucaria excelsa R. J Appl Crop Breed 3(1):1–12 (In Persian)

Tang W, Harris LC, Outhavong V, Newton RJ (2004) The effect of different plant growth regulators on adventitious shoot formation from Virginia pine (Pinus virginiana) zygotic embryo explants. Plant Cell Tissue Organ Cult 78:237–240. https://doi.org/10.1023/B:TICU.0000025658.73970.57

Trigiano RN, Gray DJ (2011) Plant tissue culture, development and biotechnology. CRC Press, Baca Raton

Zavattieri A, Lima M, Sobral V, Oliveira P, Costa A (2009) Effects of carbon source, carbon concentration and culture conditions on in vitro rooting of Pinus pinea L. microshoots. Acta Hortic 812:173–180
Funding
Funding was provided by Ardakan University.
Additional information
Publisher's Note
Springer Nature remains neutral with regard to jurisdictional claims in published maps and institutional affiliations.
Communicated by Maurizio Lambardi.
About this article
Cite this article
Khamushi, M., Dehestani-Ardakani, M., Zarei, A. et al. An efficient protocol for micropropagation of old cypress of Abarkuh (Cupressus sempervirens var. horizontalis [Mill.]) under in vitro condition. Plant Cell Tiss Organ Cult 138, 597–601 (2019). https://doi.org/10.1007/s11240-019-01645-z
Received:

Accepted:

Published:

Issue Date:
Keywords
Cypress

Culture media

Explant

Proliferation

Pulse treatment