Abstract
Conservation of threatened plant genetic resources is vital for food security and biodiversity maintenance. Wild species of genus Beta are invaluable germplasm which could be utilized for beet breeding programs. In this study, in vitro multiplication and genotypic responses of different species in the section Beta and Corollinae were compared in presence of plant growth regulators. Following the surface sterilization, seeds were cultivated in vitro. Cotyledonary node explants were excised from the germinated young seedlings and treated with BAP, GA3 and TDZ. The obtained results demonstrated a significant difference between the genotypes in terms of in vitro shoot proliferation efficiency when subjected to BAP and GA3. Among the applied growth regulators, effect of BAP on number of multiplied shoots was the highest. Moreover, the genotypic variation in rooting was also evident when the shoots were subjected to IAA and IBA. This study is the first report of in vitro multiplication of wild species in genus Beta that could be exploited in future germplasm maintenance, gene transformation and breeding studies.
This is a preview of subscription content, log in to check access.
Access options
Buy single article
Instant access to the full article PDF.
US$ 39.95
Price includes VAT for USA
Subscribe to journal
Immediate online access to all issues from 2019. Subscription will auto renew annually.
US$ 199
This is the net price. Taxes to be calculated in checkout.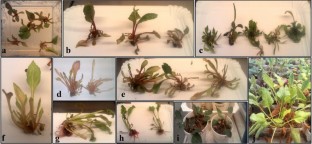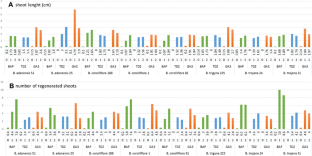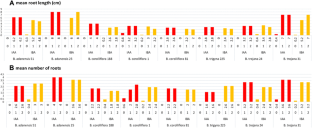 Abbreviations
BAP:

6-Benzylaminopurine

GA3:

Gibberellic acid

IAA:

Indole-3-acetic acid

IBA:

Indole-3-butyric acid

MS:

Murashige and Skoog Basal Medium

TDZ:

Thidiazuron
References
Asher MJC, Luterbacher MC, Frese L (2001) Wild beta species as a source of resistance to sugar beet pests and diseases. Proc IIRB 64:141–152

Astly D (1992) Reservation of genetic diversity and accession integrity. Field Crops Res 29:205–224

Biaggi MD, Biancardi E (2016) Breeding methods. In: Biancardi E, Tamada T (eds) Rhizomania Springer, Cham, pp 233–248

Biancardi E, Panella LW, Lewellen RT (2012) Beta maritima: the origin of beets. Springer, New York

Capistrano-Gossmann GG, Ries D, Holtgräwe D (2017) Crop wild relative populations of Beta vulgaris allow direct mapping of agronomically important genes. Nat Commun 8:15708. https://doi.org/10.1038/ncomms15708

Coons GH (1975) Interspecific hybrids between Beta vulgaris L. and the wild species of Beta. J Am Soc Sugar Beet Technol 18:281–306

Ford-Lloyd BV (2005) Sources of genetic variation, Genus Beta. In: Biancardi E, Campbell LG, Skaracis GN, De Biaggi M (eds) Genetics and breeding of sugar beet, Science Publishers Inc, Enfield, pp 25–33

Ford-Lloyd BV, Schmidt M, Armstrong SJ et al (2011) Crop wild relatives undervalued, underutilized and under threat? BioScience 61(7):559–565. https://doi.org/10.1525/bio.2011.61.7.10

Golden AM (1959) Susceptibility of several Beta species to the sugar beet nematode (Heterodera schachtbii) and root-knot nematodes (Meloidogyne spp.). J Am Soc Sugar Beet Technol 10:444–447

Gürel S, Gürel E, Kaya Z (2001) Callus development and indirect shoot regeneration from seedling explants of sugar beet (Beta vulgaris L.) cultured in vitro. Turk J Bot 25:25–33

Gürel S, Topal E, Gürel E (2003) The effect of pretreating seedlings with TDZ on direct shoot regeneration from petiole explants of sugar beet (Beta vulgaris L.). Asia Pac J Mol Biol Biotechnol 11(1):57–62

Jacq B, Tetu T, Sangwan RS, Laat AD, Sangwan-Norreel BS (1992) Plant regeneration from sugar beet (Beta vulgaris L.) hypocotyls cultured in vitro and flow cytometric nuclear DNA analysis of regenerants. Plant Cell Rep 11: 329–333

Kadereit G, Hohmann S, Kadereit JW (2006) A synopsis of Chenopodiaceae subfam. Betoideae and notes on the taxonomy of Beta. Willdenowia 36:9–19

Kagami H, Taguchi K, Arakawa T, Kuroda Y, Tamagake H, Hereditas TK (2016) Efficient callus formation and plant regeneration are heritable characters in sugar beet (Beta vulgaris L.). Hereditas 153:12. https://doi.org/10.1186/s41065-016-0015-z

Kulshrestha S, Coutts RHA (1997) Direct somatic embryogenesis and plant regeneration from mature sugarbeet (Beta vulgaris L.) zygotic cotyledons. Plant Growth Regul 22(2):87–92

Maxted N, Kell S (2009) Establishment of a global network for the in situ conservation of crop wild relatives: status and needs. FAO Consultancy Report. http://www.fao.org/docrep/013/i1500e/i1500e18a.pdf Accessed 29 Sep 2017

Meilleur BA, Hodgkin T (2004) In situ conservation of crop wild relatives: status and Trends. Biodivers Conserv 13:663–684

Murashige T, Skoog F (1962) A revised medium for rapid growth and bioassays with tobacco tissue cultures. Physiol Plant 15:473–497

Özgür OM (1992) Beta L. of Turkey. The general directorate of the Turkish sugar corp, Ankara**

Panella L, Lewellen RT (2007) Broadening the genetic base of sugarbeet: introgression from wild relatives. Euphytica 154:383–400

Pazuki A, Aflaki F, Gürel S, Ergul A, Gürel E (2018) Production of doubled haploids in sugar beet (Beta vulgaris): an efficient method by a multivariate experiment. Plant Cell Tiss Organ Cult 132(1):85–97. https://doi.org/10.1007/s11240-017-1313-5

Rajpurohit D, Jhang T (2015) In situ and ex situ conservation of plant genetic resources and traditional knowledge. In: Salgotra R, Gupta B (eds) Plant genetic resources and traditional knowledge for food security. Springer, Singapore, pp 137–162

Reamon-Büttner SM, Wricke G (1993) Evidence of tetrasomic inheritance in Beta corolliflora. J Sugar Beet Res 30:321–327

Ren H, Zhang Q, Lu H et al (2012) Wild plant species with extremely small populations require conservation and reintroduction in China. Ambio 41(8):913–917. https://doi.org/10.1007/s13280-012-0284-3

Saunders JW, Doley WP (1986) One step shoot regeneration from callus of whole plant leaf explants of sugarbeet lines and a somaclonal variant for in vitro behavior. J Plant Physiol 124(5):473–479

Scholten OE, De Bock TS, Klein-Lankhorst RM, Lange W (1999) Inheritance of resistance to beet necrotic yellow vein virus in Beta vulgaris conferred by a second gene for resistance. Theor Appl Genet 99:740–746

Seiler GJ, Frese L, Burenin V (1996) Collection of wild beta section Corollinae in the Soviet Union. J Sugar Beet Res 33(1–4):31–43

Tamada T, Baba T (1973) Beet necrotic yellow vein virus from rhizomaniaaffected sugar beet in Japan. Ann Phytopathol Soc Jpn 39:325–332

Yu MH (1989) Callus induction and differentiation from leaf explants of different species of the genus Beta. Crop Sci 29:205–209
Acknowledgements
The financial support from the Scientific and Technological Research Council of Turkey (TUBITAK), Project No: TOVAG-113O096, is deeply appreciated. Also, the authors are thankful to the Aegean Agricultural Research Institute, Izmir, Turkey, for kindly providing the seeds required for the study.
Ethics declarations
Conflict of interest
The authors declare that they have no conflict of interest.
Additional information
Communicated by Sergio J. Ochatt.
About this article
Cite this article
Ergül, A., Khabbazi, S.D., Oğuz, M.Ç. et al. In vitro multiplication of wild relatives in genus Beta conserves the invaluable threatened germplasms. Plant Cell Tiss Organ Cult 134, 169–175 (2018). https://doi.org/10.1007/s11240-018-1410-0
Received:

Accepted:

Published:

Issue Date:
Keywords
Wild beet

In vitro multiplication

Tissue culture

Germplasm conservation