Abstract
The present research investigates the effect of Piriformospora indica, an endophytic fungus, on production of protoberberine alkaloids in in vitro cell suspension cultures of Tinospora cordifolia. Although T. cordifolia produces a number of protoberberine alkaloids, the simultaneous production of jatrorrhizine and palmatine in cell suspension cultures of T. cordifolia was observed for the first time with the use of P. indica as biotic elicitor. The cells in suspension cultures were elicitated with P. indica on 14th day of culture initiation and the production of the alkaloids on 16th day was monitored. The autoclaved as well as filter sterilized cultures of P. indica were used in addition to the use of fungal cell extract. The elicitor effect of P. indica was analyzed and compared with other abiotic elicitor (methyl jasmonate) and biotic elicitors (chitin and chitosan). The culture filtrate of P. indica in the filter sterilized (5.0% v/v) form gave better response with enhanced 4.2-fold production of jatrorrhizine (10.72 mg/g DW) and 4.0-fold production of palmatine (4.39 mg/g DW). The production of these compounds was at par with that achieved in methyl jasmonate (at 250 µM) treated cell suspension cultures.
This is a preview of subscription content, log in to check access.
Access options
Buy single article
Instant access to the full article PDF.
US$ 39.95
Price includes VAT for USA
Subscribe to journal
Immediate online access to all issues from 2019. Subscription will auto renew annually.
US$ 199
This is the net price. Taxes to be calculated in checkout.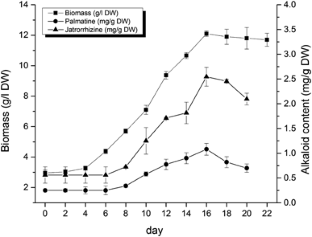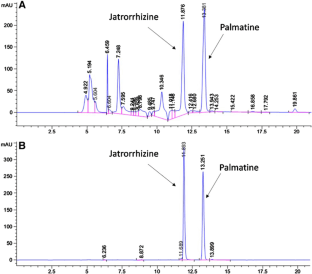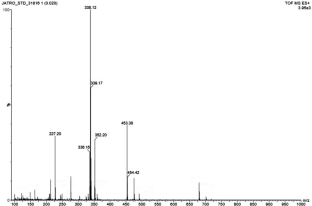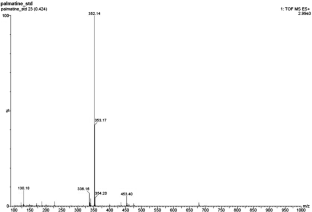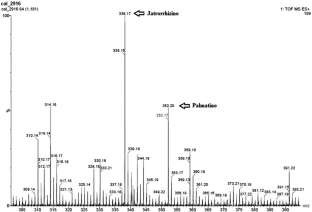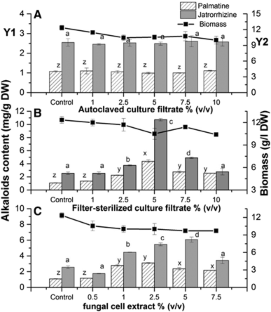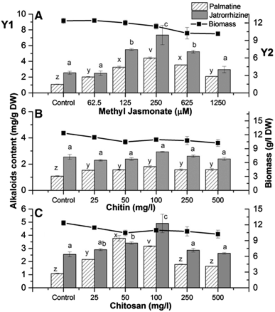 References
Adya AK, Gautam A, Zhang L, Varma A (2013) Characterization of Piriformospora indica culture filtrate. In: Varma A, Kost G, Oelmüller R (eds) Piriformospora indica, soil biology, vol 33. Springer, Berlin, pp 345–375

Ahmed AB, Kim SK (2011) Chitin, chitosan derivatives induce the production of secondary metabolites and plant development through in vitro and in vivo techniques. In: Kim SK (ed) Chitin, chitosan, oligosaccharides and their derivatives: biological activities and applications. CRC Press, Florida, pp 589–603

Bagde US, Prasad R, Varma A (2013) Impact of culture filtrate of Piriformospora indica on biomass and biosynthesis of active ingredient aristolochic acid in Aristolochia elegans Mart. Int J Biol 6:29–37

Bajaj R, Agarwal A, Rajpal K, Asthana S, Kumar R, Prasad R, Kharkwal AC, Sherameti I, Oelmüller R, Varma A (2014) Co-cultivation of Curcuma longa with Piriformospora indica enhances the yield and active ingredients. Am J Curr Microbiol 2:6–17

Baldi A, Farkya S, Jain A, Gupta N, Mehra R, Datta V, Srivastava AK, Bisaria VS (2010) Enhanced production of podophyllotoxins by co-culture of transformed Linum album cells with plant growth-promoting fungi. Pure Appl Chem 82:227–241

Breuling M, Alfermann A, Reinhard E (1985) Cultivation of cell cultures of Berberis wilsonae in 20-L airlift bioreactors. Plant Cell Rep 4:220–223

Cai Z, Kastell A, Mewis I, Knorr D, Smetanska I (2012) Polysaccharide elicitors enhance anthocyanin and phenolic acid accumulation in cell suspension cultures of Vitis vinifera. Plant Cell Tissue Organ Cult 108:401–409

Chintalwar G, Gupta S, Roja G, Bapat V (2003) Protoberberine alkaloids from callus and cell suspension cultures of Tinospora cordifolia. Pharm Biol 41:81–86

Cho HY, Son SY, Rhee HS, Yoon SY, Lee-Parsons CW, Park JM (2008) Synergistic effects of sequential treatment with methyl jasmonate, salicylic acid and yeast extract on benzophenanthridine alkaloid accumulation and protein expression in Eschscholtzia californica suspension cultures. J Biotechnol 135:117–122

Franken P (2012) The plant strengthening root endophyte Piriformospora indica: potential application and the biology behind. Appl Microbiol Biotechnol 96:1455–1464

Godoy-Hernández G, Vázquez-Flota FA (2012) Growth measurements: estimation of cell division and cell expansion. In: Loyola-Vargas VM, Ochoa-Alejo N (eds) Plant cell culture protocols, methods in molecular biology, vol 877. Humana Press, New York, pp 41–48

Hara M, Kitamura T, Fukui H, Tabata M (1993) Induction of berberine biosynthesis by cytokinins in Thalictrum minus cell suspension cultures. Plant Cell Rep 12:70–73

Käfer E (1977) Meiotic and mitotic recombination in Aspergillus and its chromosomal aberrations. Adv Genet 19:33–131

Kumar V, Sahai V, Bisaria VS (2013) Effect of Piriformospora indica on enhanced biosynthesis of anticancer drug, podophyllotoxin, in plant cell cultures of Linum album. In: Varma A, Kost G, Oelmüller R (eds) Piriformospora indica, soil biology, vol 33. Springer, Berlin, pp 119–137

Kumar P, Chaturvedi R, Sundar D, Bisaria VS (2016) Piriformospora indica enhances the production of pentacyclic triterpenoids in Lantana camara L. suspension cultures. Plant Cell Tissue Organ Cult 125:23–29

Nair AJ, Sudhakaran PR, Rao JM, Ramakrishna SV (1992) Berberine synthesis by callus and cell suspension cultures of Coscinium fenestratum. Plant Cell Tissue Organ Cult 29:7–10

Patel MB, Mishra S (2011) Hypoglycemic activity of alkaloidal fraction of Tinospora cordifolia. Phytomedicine 18:1045–1052

Patil D, Gautam M, Mishra S, Kulkarni P, Suresh K, Gairola S, Jadhav S, Patwardhan B (2010) Quantitative determination of protoberberinealkaloids in Tinospora cordifolia by RP-LC-DAD. Chromatographia 71:341–345

Philogene BJ, Arnason JT, Towers GH, Abramowski Z, Campos F, Champagne D, McLachlan D (1984) Berberine: a naturally occurring phototoxic alkaloid. J Chem Ecol 10:115–123

Rai M, Varma A, Pandey A (2004) Antifungal potential of Spilanthes calva after inoculation of Piriformospora indica. Mycoses 47:479–481

Rao BR, Kumar DV, Amrutha RN, Jalaja N, Vaidyanath K, Rao AM, Rao S, Polavarapu R, Kishor P (2008) Effect of growth regulators, carbon source and cell aggregate size on Berberine production from cell cultures of Tinospora cordifolia Miers. Curr Trends Biotechnol Pharm 2:269–276

Schäfer P, Pfiffi S, Voll LM, Zajic D, Chandler PM, Waller F, Scholz U, Pons-Kühnemann J, Sonnewald S, Sonnewald U, Kogel KH (2009) Manipulation of plant innate immunity and gibberellin as factor of compatibility in the mutualistic association of barley roots with Piriformospora indica. Plant J 59:461–474

Sharma G, Agrawal V (2013) Marked enhancement in the artemisinin content and biomass productivity in Artemisia annua L. shoots co-cultivated with Piriformospora indica. World J Microbiol Biotechnol 29:1133–1138

Shields VD, Smith KP, Arnold NS, Gordon IM, Shaw TE, Waranch D (2008) The effect of varying alkaloid concentrations on the feeding behavior of gypsy moth larvae, Lymantria dispar (L.) (Lepidoptera: Lymantriidae). Arthropod-plant Interact 2:101–107

Singh S, Pandey S, Srivastava S, Gupta V, Patro B, Ghosh A (2003) Chemistry and medicinal properties of Tinospora cordifolia (Guduchi). Indian J Pharmacol 35:83–91

Singh A, Rajpal K, Singh M, Kharkwal AC, Arora M, Varma A (2013) Mass cultivation of Piriformospora indica and Sebacina species. In: Varma A, Kost G, Oelmüller R (eds) Piriformospora indica, soil biology, vol 33. Springer, Heidelberg, pp 377–392

Sirrenberg A, Göbel C, Grond S, Czempinski N, Ratzinger A, Karlovsky P, Santos P, Feussner I, Pawlowski K (2007) Piriformospora indica affects plant growth by auxin production. Plant Physiol 131:581–589

van der Plas LH, Eijkelboom C, Hagendoorn MJ (1995) Relation between primary and secondary metabolism in plant cell suspensions. Plant Cell Tissue Organ Cult 43:111–116

Varma A, Verma S, Sahay N, Bütehorn B, Franken P (1999) Piriformospora indica, a cultivable plant-growth-promoting root endophyte. Appl Environ Microbiol 65:2741–2744

Vennerstrom JL, Klayman DL (1988) Protoberberine alkaloids as antimalarials. J Med Chem 31:1084–1087

Wang X, Yao X, Zhu ZA, Tang T, Dai K, Sadovskaya I, Flahaut S, Jabbouri S (2009) Effect of berberine on Staphylococcus epidermidis biofilm formation. Int J Antimicrob Agents 34:60–66

Wiktorowska E, Długosz M, Janiszowska W (2010) Significant enhancement of oleanolic acid accumulation by biotic elicitors in cell suspension cultures of Calendula officinalis L. Enzyme Microb Technol 46:14–20

Yu HH, Kim KJ, Cha JD, Kim HK, Lee YE, Choi NY, You YO (2005) Antimicrobial activity of berberine alone and in combination with ampicillin or oxacillin against methicillin-resistant Staphylococcus aureus. J Med Food 8:454–461

Zhao J, Zhu W-H, Hu Q (2001a) Enhanced catharanthine production in Catharanthus roseus cell cultures by combined elicitor treatment in shake flasks and bioreactors. Enzyme Microb Technol 28:673–681

Zhao J, Zhu W-H, Hu Q (2001b) Selection of fungal elicitors to increase indole alkaloid accumulation in Catharanthus roseus suspension cell culture. Enzyme Microb Technol 28:666–672
Acknowledgements
The authors are thankful to Mr Sumit Singh, Department of Chemical Engineering, Indian Institute of Technology Delhi, New Delhi for assisting in MS data analysis and to Department of Biotechnology, Ministry of Science and Technology, Govt. of India for partially supporting the work.
Additional information
Communicated by Wagner Campos Otoni.
About this article
Cite this article
Kumar, P., Srivastava, V., Chaturvedi, R. et al. Elicitor enhanced production of protoberberine alkaloids from in vitro cell suspension cultures of Tinospora cordifolia (Willd.) Miers ex Hook. F. & Thoms. Plant Cell Tiss Organ Cult 130, 417–426 (2017). https://doi.org/10.1007/s11240-017-1237-0
Received:

Accepted:

Published:

Issue Date:
Keywords
Abiotic elicitor

Biotic elicitor

Jatrorrhizine

Palmatine

Piriformospora indica