Abstract
Ilex paraguariensis: (Aquifoliaceae) is an evergreen tree traditionally used to prepare a caffeine-rich infusion that has several medicinal properties. The in vitro propagation of this species has been studied as an alternative to conventional methods such as cuttings and seedlings. The in vitro culture environment consists of closed flasks with high relative humidity, reduced gas exchange and low luminosity conditions, which may induce physiological, anatomical and histological disruption in the cultivated plants. The occurrence of anatomical and histological alterations to the leaves of I. paraguariensis was examined in plants cultivated under greenhouse and different in vitro conditions. The variations in the microclimate inside the culture vessels generated by the different treatments tested affected the anatomy and histology of I. paraguariensis leaves by causing alterations in their architecture, thickness, vascularization and stomatal differentiation. A temporary immersion system was the best treatment for conserving the anatomical and histological features of the leaves. This treatment led to the lowest stomatal index and an extensive system of intercellular spaces that were similar to the characteristics developed under external environment conditions. Consequently, more than 80% of rooted plantlet transferred to pots were successfully rusticated. Plants from temporary immersion had greater photosynthetic rates due to a higher stomatal conductance.
This is a preview of subscription content, log in to check access.
Access options
Buy single article
Instant access to the full article PDF.
US$ 39.95
Price includes VAT for USA
Subscribe to journal
Immediate online access to all issues from 2019. Subscription will auto renew annually.
US$ 199
This is the net price. Taxes to be calculated in checkout.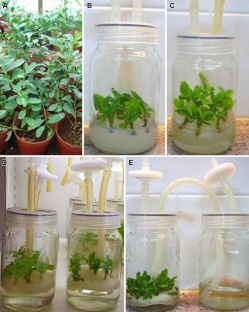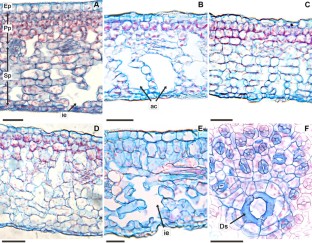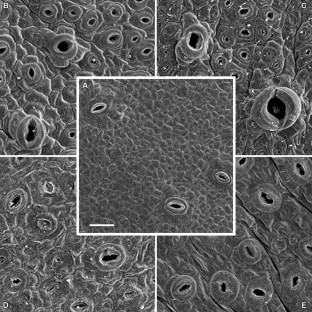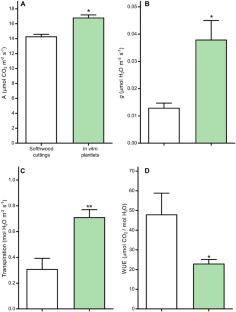 References
Akdemir H, Süzerer Y, Onay A, Tilkat E, Ersali Y, Ozden Çiftçi Y (2014) Micropropagation of the pistachio and its rootstocks by temporary immersion system. Plant Cell Tissue Org Cult 117:65–72. doi:10.1007/s11240-013-0421-0

Ash A, Ellis B, Hickey L, Johnson K, Wilf P, Wing P (1999) Manual of leaf architecture. Morphological description and categorization of dicotyledonous and net-veined monocotyledonous angiosperms. Smithsonian Institution, Washington, DC

Baas P (1975) Vegetative anatomy and the affinities of Aquifoliaceae, Sphenostemon, Phelline, and Oncotheca. Blumea 22:311–407

Caravita Abbade L, Duarte de Oliveira Paiva P, Paiva R, de Castro M, Rabelo Centofante A, de Oliveira C (2009) Anatomia foliar de ipê-branco (Tabebuia roseo alba (Ridl.) Sand.) – Bignoniaceae, proveniente do cultivo ex vitro e in vitro. Acta Sci-Biol Sci 31:307–311. doi:10.4025/actascibiolsci.v31i3.1937

Carvalho Pereira D, Franca Barros C, Rubio Scarano F (2009) In situ variation in leaf anatomy and morphology of Andira legalis (Leguminosae) in two neighboring but contrasting light environments in a Brazilian sandy coastal plain. Acta Bot Bras 23:267–273. doi:10.15446/abc.v21n1.47621

Gago J, Martínez-Núñez L, Landín M, Flexas F, Gallego P (2014) Modeling the effects of light and sucrose on in vitro propagated plants: a multiscale system analysis using artificial intelligence technology. PLoS ONE 9:e85989. doi:10.1371/journal.pone.0085989

Gambero A, Ribeiro M (2015) The positive effects of yerba maté (Ilex paraguariensis) in obesity. Nutrients 7:730–750. doi:10.3390/nu7020730

Gonzalez A, Cristóbal C (1997) Anatomía y ontogenia de semillas de Helicteres lhotzkyana (Sterculiaceae). Bonplandia 9:287–294

Gottlieb A, Giberti G, Poggio L (2005) Molecular analyses of the genus Ilex (Aquifoliaceae) in South America, evidence from AFLP and its sequence data. Amer J Bot 92:352–369. doi:10.3732/ajb.92.2.352.

Gugliucci A (1996) Antioxidant effects of Ilex paraguariensis: Induction of decreased oxidability of human ldl in vivo. Biochem Biophys Res Commun 224:338–344. doi:10.1006/bbrc.1996.1030

Hazarika B (2006) Morpho-physiological disorders in in vitro culture of plants. Sci Hortic 108:105–120. doi:10.1016/j.scienta.2006.01.038

Isah T (2015) Adjustments to in vitro culture conditions and associated anomalies in plants. Acta Biol Cracov Bot 57:9–28. doi:10.1515/abcsb-2015-0026

Ishida A, Yazaki K, Hoe A (2005) Ontogenetic transition of leaf physiology and anatomy from seedlings to mature trees of a rain forest pioneer tree, Macaranga gigantea Tree Physiol 25:513–522. doi:10.1093/treephys/25.5.513

Jackson MB (2005) Aereation stress in plant tissue cultures. In: Hvoslef-Eide A, Preil W (eds) Liquid culture systems for in vitro plant propagation. Springer, Dordrecht, p 459–473. doi:10.1007/1-4020-3200-5_35

Khan P, Kozai T, Nguyen Q, Kubota C, Dhawan V (2003) Growth and water relations of Paulownia fortunei under photomixotrophic and photoautotrophic conditions. Biol Plant 46:161–166. doi:10.1023/A:1022844720795

Korn R, Frederick G (1973) Development of D-type stomata in the leaves of Ilex crenata var. crenata. Ann Bot 37:647–656. doi:10.1093/oxfordjournals.aob.a084731

Kozai T, Kubota C (2005) In vitro aerial environments and their effects on growth and development of plants. In: Kozai T, Afreen F, Zobayed S (eds) Photoautotrophic (sugar-free medium) micropropagation as a new micropropagation and transplant production system. Springer, Dordrecht, p 31–52. doi:10.1007/1-4020-3126-2_4

Lorenzo J, González J, Escalona M, Teisson C, Espinosa P, Borroto C (1998) Sugarcane shoot formation in an improved temporary immersion system. Plant Cell Tissue Org Cult 54:197–200

Luna C, Sansberro P, Mroginski L, Tarragó J (2003) Micropropagation of Ilex dumosa (Aquifoliaceae) from nodal segments in a tissue culture system. BioCell 27:205–212

Luna C, Acevedo M, Gonzalez A, Collavino M, Mroginski L, Sansberro P (2013) Endophytic bacteria in Ilex paraguariensis shoot cultures: localization, characterisation, and control using isothiazolone biocides. In Vitro Cell Dev Biol—Plant 49:326–332. doi:10.1007/s11627-013-9500-5

McAlister B, Finnie J, Watt MP, Blakeway F (2005) Use of the temporary immersion bioreactor system (RITA®) for production of commercial Eucalyptus clones in mondi forests (SA). Plant Cell Tissue Org Cult 81:347–358. doi:10.1007/s11240-004-6658-x

Murashige T, Skoog FA (1962) A revised medium for rapid growth and bioassays with tobacco tissue cultures. Physiol Plant 15:473–497. doi:10.1111/j.1399-3054.1962.tb08052.x

Paganini Stein FL, Schmidt B, Furlong EB, Souza-Soares LA, Soares MC, Vaz MR, Muccillo Baisch AL (2005) Vascular responses to extractable fractions of Ilex paraguariensis in rats fed standard and high-cholesterol diets. Biol Res Nurs 7:146–156. doi:10.1177/1099800405280521

Payne WW (1969) A quick method for clearing leaves. Ward's Bulletin May, p 4–5

Qi Z, Pic E, Zhanga X, Möllerd M, Jiange B, Lua H (2017) Ontogenesis of D-type stomata and cork-warts on the leaf epidermis of Camellia japonica (Theaceae) and functional assessment. Flora. doi:10.1016/j.flora.2017.01.010

Rasband WS (1997–2016) ImageJ, U. S. National Institutes of Health, Bethesda. http://imagej.nih.gov/ij/

Reich P, Wright I, Lusk C (2007) Predicting leaf physiology from simple plant and climate attributes: a global GLOPNET analysis. Ecol Appl 17:1982–1988. doi:10.1890/06-1803.1

Robinson P, Britto J, Senthilkumar S (2009) Comparative anatomical studies on Emilia zeylanica C. B. Clarke with in vitro regenerated plants. Middle-East J Sci Res 4:140–143

Sansberro PA, Rey HY, Bernardis AC, Luna CV, Collavino MM, Mroginski LA (2000) Plant regeneration of Ilex paraguariensis St. Hil. (Aquifoliaceae) by in vitro culture of nodal segments. BioCell 24:53–63

Sansberro, PA, Rey, HY, Mroginski, LA, Krivenki MA (2001) Plant regeneration from Ilex spp. (Aquifoliaceae) in vitro. BioCell 25:139–146

Spegazzini E, Castro M, Carpano S, Nájera M (2002) Taxonomic determination of therapeutic argentine species of Ilex. Pharm Biol 40:2–15. doi:10.1076/phbi.40.1.2.5853

Tarragó J, Sansberro P, Filip R, López P, Gonzalez A, Luna C, Mroginski L (2005) Effect of leaf retention and flavonoids on rooting of Ilex paraguariensis cuttings. Sci Hortic 103:479–488. doi:10.1016/j.scienta.2004.07.004

Tarragó J, Filip R, Mroginski L, Sansberro P (2012) Influence of the irradiance on phenols content and rooting of Ilex paraguariensis cuttings collected from adult plants. Acta Physiol Plant 34:2419–2424. doi:10.1007/s11738-012-1009-8

Toma I, Toma C, Ghiorghita G (2004) Histo-anatomy and in vitro morphogenesis in Hyssopus officinalis L. Acta Bot Croat 63:59–68

Vasco A, Thadeo M, Conover M, Daly DC (2014) Preparation of samples for leaf architecture studies, a method for mounting cleared leaves. Appl Plant Sci 2:1400038. doi:10.3732/apps.1400038.

Vidal N, Blanco B, Cuenca B (2015) A temporary immersion system for micropropagation of axillary shoots of hybrid chestnut. Plant Cell Tissue Org Cult 123:229–243. doi:10.1007/s11240-015-0827-y

Yang S, Yeh D (2008) In vitro leaf anatomy, ex vitro photosynthetic behaviors and growth of Calathea orbifolia (Linden) Kennedy plants obtained from semi-solid medium and temporary immersion systems. Plant Cell Tissue Org Cult 93:201–207. doi:10.1007/s11240-008-9363-3
Acknowledgements
This work was supported by grants from ANPCyT (PICTO 2011 − 0203, PICT 2014 − 1246), SGCyT-UNNE (PI A001/14), and Establecimiento Las Marías S.A.C.I.F.A. We extend our deep appreciation to anonymous reviewers for their critical comments. The authors are members of the Research Council of Argentina (CONICET).
About this article
Cite this article
Luna, C.V., Gonzalez, A.M., Mroginski, L.A. et al. Anatomical and histological features of Ilex paraguariensis leaves under different in vitro shoot culture systems. Plant Cell Tiss Organ Cult 129, 457–467 (2017). https://doi.org/10.1007/s11240-017-1191-x
Received:

Accepted:

Published:

Issue Date:
Keywords
Micropropagation

Temporary immersion

Leaf anatomy

Leaf histology

Ilex paraguariensis