Abstract
Linum album Kotschy ex Boiss accumulates some secondary metabolites from phenylpropanoid pathway: lignans with antiviral and anticancer properties such as podophyllotoxin (PTOX) and 6-methoxy podophyllotoxin (6MPTOX) and phenolic acids with role in plant defense such as cinnamic, coumaric, caffeic, ferulic acid and salicylic acid (SA). In this research, profiles of lignan and phenolic compounds of L. album hairy roots exposed to mycelium extract of Piriformospora indica were investigated. The mycelium extracts 1 % (v/v) reduce the hairy roots growth, while 24 h after the treatment PTOX and 6MPTOX production were stimulated reaching a maximum 91.019 µg g−1 and 11.54 mg g−1 dry weight (DW), respectively. For lariciresinol, the greatest amount was seen 24 h after the elicitation, about 157.3 µg g−1 DW, 1.6 times more than the control. P. indica induced the highest levels of phenols and flavonoids at 72 h and flavonol at 48 h after elicitation in the hairy roots; 422.69, 15.41 and 15.14 µg g−1 DW, respectively. Moreover, the content of phenolic acids such as; cinnamic, coumaric, caffeic and ferulic acid significantly increased in treated hairy roots after 12 h, compared to the control. A moderate increase in SA content in hairy roots exposed to mycelium extract was observed within 12 h after exposure to the elicitor. Also, fungal extract effects were followed by increasing in phenylalanine ammonia-lyase (PAL) activity which peaked at 24 h by 1.37-fold greater than the control. The enhancing effect of fungal elicitor on lignans production was correlated with the increased in PAL activity and phenolic acids contents.
This is a preview of subscription content, log in to check access.
Access options
Buy single article
Instant access to the full article PDF.
US$ 39.95
Price includes VAT for USA
Subscribe to journal
Immediate online access to all issues from 2019. Subscription will auto renew annually.
US$ 199
This is the net price. Taxes to be calculated in checkout.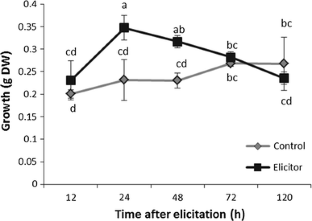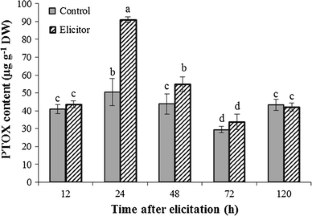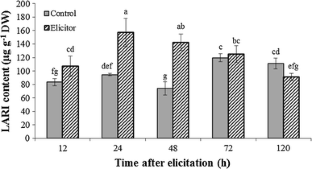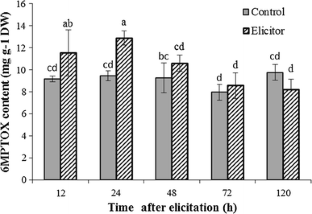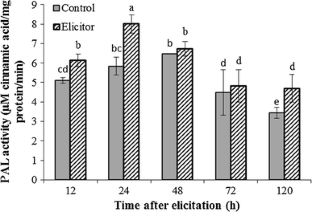 Abbreviations
DW:

Dry weight

ESI/MS:

Electrospray ionization-mass spectrometry

LARI:

Lariciresinol

PAL:

Phenylalanine ammonia-lyase

PTOX:

Podophyllotoxin

6MPTOX:

6-methoxy podophyllotoxin

SA:

Salicylic acid
References
Ahmadian CN, Sharifi M, Yousefzadi M, Behmanesh M, Rezadoost H, Cardillo A, Palazon J (2013) Analysis of 6-methoxy podophyllotoxin and podophyllotoxin in hairy root cultures of Linum album Kotschy ex Boiss. Med Chem Res 22:745–752

Akkol EK, Göger F, Kosar M, Baser HC (2008) Phenolic composition and biological activities of Salvia halophile and Salvia virgata from Turkey. Food Chem 108:942–949

Bais HP, Sudha G, George J, Ravishankar GA (2001) Influence of exogenous hormones on growth and secondary metabolite production in hairy root cultures of Cichorium intybus L. Cv. Lucknow local. In Vitro Cell Dev Biol Plant 37:293–299

Baldi A, Srivastava AK, Bisaria VS (2008) Effect of aeration on production of anticancer lignans by cell suspension cultures of Linum album. Appl Biochem Biotechnol 151:547–555

Baldi A, Srivastava K, Bisaria VS (2009) fungal elicitors for enhanced production of secondary metabolites in plant cell suspension cultures. Soil Biol 18:373–380

Baldi A, Farkya S, Jain A, Gupta N, Mehra R, Datta V, Srivastava AK, Bisaria VS (2010) Enhanced production of podophyllotoxins by co-culture of transformed Linum album cells with plant growth-promoting fungi. Pure Appl Chem 82(1):227–241

Botta B, Delle Monache G, Misiti D, Vitali A, Zappia G (2001) Aryltetralin lignans: chemistry, pharmacology and biotransformation. Curr Med Chem 8:1363–1381

Bradford MM (1976) A rapid and sensitive method for the quantization of microgram quantities of protein utilizing the principle of protein-dye binding. Anal Biochem 72:248–254

Chen SY, Dickson DW, Mitchel DJ (2000) Viability of Heterodera glycines exposed to fungal filtrates. J Nematol 32:190–197

Chong T, Abdula M, Lajis N (2005) Effective elicitation factors in Morinda elliptica cell suspension culture. Process Biochem 40:3397–3405

Cvikrová M, Malá J, Hrubcová M, Eder J, Foretová S (2008) Induced changes in phenolic acids and stilbenes in embryogenic cell cultures of Norway spruce by culture filtrate of Ascocalyx abietina. J Plant Dis Prot 115(2):57–62

Czemplik M, Żuk M, Kulma A, Kuc S, Szopa J (2011) GM flax as a source of effective antimicrobial compounds. Sci Microb Pathog Commun Curr Res Technol Adv 2:1216–1224

Dixon P, Paiva NL (1995) Stress-induced phenylpropanoid metabolism. Plant Cell 7:1085–1097

Esmaeilzadeh S, Sharifi M, Safaei N, Murata J, Araki R, Yamagaki T, Satake H (2011) Increased lignan biosynthesis in the suspension cultures of Linum album by fungal extracts. Plant Biotechnol Rep 5:367–373

Esmaeilzadeh S, Sharifi M, Ahmadian CN, Murata J, Satake H (2014) Significant enhancement of lignan accumulation in hairy root cultures of Linum album using biotic elicitors. Acta Physiol Plant 36:3325–3331

Fuss E (2003) Lignans in plant cell and organ cultures: an overview. Phytochem Rev 2:307–320

Gabr AMM, Mabrok HB, Ghanem KZ, Blaut M, Smetanska I (2016) Lignan accumulation in callus and Agrobacterium rhizogenes-mediated hairy root cultures of flax (Linum usitatissimum). Plant Cell Tiss Organ Cult. doi:10.1007/s11240-016-0995-4

Gadzovska-Simic S, Tusevski O, Antevski S, Atanasova-Pancevska N, Petreska J, Stefova M, Kungulovski D, Spasenoski M (2012) Secondary metabolite production in Hypericum perforatum cell suspensions upon elicitation with fungal mycelia from Aspergillus flavus. Arch Biol Sci 64(1):113–121

Georgiev MI, Pavlov AT, Bley T (2007) Hairy root type plant in vitro systems as sources of bioactive substances. Appl Microbiol Biotechnol 74:1175–1185

Gordaliza M, Garcia PA, del Corral JM, Castro MA, Gomez-Zurita MA (2004) Podophyllotoxin: distribution, sources, applications and new cytotoxic derivatives. Toxicon 44:441–459

Huang JG, Lai M, Fan Z, Shi B, Zhou K, Yu YH, Chen Z (2010) Functional analysis of the Arabidopsis PAL gene family in plant growth, development, and response to enviromental stress. Plant Physiol 153(4):1526–1538

Khan W, Prithiviraj B, Donald L, Smith J (2003) Chitosan and chitin oligomers increase phenylalanine ammonia-lyase and tyrosine ammonia-lyase activities in soybean leaves. Plant Physiol 160:859–863

Kumar V, Rajauria G, Sahai V, Bisaria VS (2012) Culture filtrate af root endophytic fungus Piriformospora indica promotes the growth and lignan production of Linum album hairy root cultures. Process Biochem 47:901–907

Lattanzio V, Lattanzio VMT, Cardinali A (2006) Role of phenolics in the resistance mechanisms of plants against fungal pathogens and insects. Phytochem Adv Res 661:23–67

Mishra AK, Sharma K, Misra RS (2012) Elicitor recognition, signal transduction and induced resistance in plants. J Plant Interact 7:95–120

Murashige T, Skoog F (1962) A revised medium for rapid growth and bioassay of tobacco tissue culture. Physiol Plant 15:473–497

Namdeo A, Patil S, Fulzele DP (2002) Influence of fungal elicitors on production of ajmalicine by cell cultures of Catharanthus roseus. Biotechnol Prog 18:159–162

Owen RW, Haubner R, Mier W, Giacosa A, Hull WE, Spiegelhalder B, Bartsch H (2003) Isolation, structure elucidation and antioxidant potential of the major phenolic and flavonoid compounds in brined olive drupes. Food Chem Toxicol 41:703–717

Ramachandra RS, Ravishankar GA (2002) Plant cell cultures: chemical factories of secondary metabolites. Biotechnol Adv 20:101–153

Ryan D, Lawrence H, Prenzler PD, Antolovich M, Robards K (2001) Recovery of phenolic compounds from Olea europaea. Anal Chim Acta 445:67–77

Sahu R, Gangopadhyay M, Dewanjee S (2013) Elicitor-induced rosmarinic acid accumulation and secondary metabolism enzyme activities in Solenostemon scutellarioides. Acta Physiol Plant 35(5):1473–1481

Shein IV, Polyakova GG, Zrazhevskaya GK, Pashenova NV, Vetrova VP (2001) Accumulation of phenolic compounds in conifer callus cultures in response to wood blue-stain fungi. Russ J Plant Physiol 48(2):216–221

Sreelakshmi Y, Sharma R (2008) Differential regulation of phenylalanine ammonia lyase activity and protein level by light in tomato seedlings. Plant Physiol Biochem 46:444–451

Szopa A, Ekiert H (2016) The importance of applied light quality on the production of lignans and phenolic acids in Schisandra chinensis (Turcz.) Baill cultures in vitro. Plant Cell Tiss Organ Cult. doi:10.1007/s11240-016-1034-1

Tahsili J, Sharifi M, Safaie N, Esmaeilzadeh-Bahabadi S, Behmanesh M (2014) Induction of lignans and phenolic compounds in cell culture of Linum album by culture filtrate of Fusarium graminearum. J Plant Interact 9(1):412–417

Vasconsuelo A, Boland R (2007) Molecular aspects of the early stages of secondary metabolites in plants. Plant Sci 172:861–875

Wang CG, Wu JY (2001) Enhancement of taxol production and excretion in Taxus chinensis cell culture by fungal elicitation and medium renewal. Appl Microbiol Biotechnol 55:404–410

Wang JW, Zheng LP, Wu JY, Tan RX (2006) Involvement of nitric oxide in oxidative burst, phenylalanine ammonia-lyase activation and taxol production induced by low-energy ultrasound in Taxus yunnanensis cell suspension cultures. Nitric Oxide 15:351–358

Westcott ND, Muir AD (2003) Flax seed lignan in disease prevention and health promotion. Phytochem Rev 2:401–417

Yousefzadi M, Sharifi M, Ahmadian Chashmi N, Behmanesh M, Ghasempour A (2010) Optimization of podophyllotoxin extraction method from Linum album cell cultures. Pharm Biol 48:1421–1425

Yousefzadi M, Sharifi M, Behmanesh M, Ghasempour A, Moyano E, Palazon J (2012) The effect of light on gene expression and podophyllotoxin biosynthesis in Linum album cell culture. Plant Physiol Biochem 56:41–46
Acknowledgments
The research is financed by grant from Iran National Science Foundation (No. 89002108), and by Tarbiat Modares University, Tehran, Iran.
Authors Contribution
This research paper was accomplished with the collaboration of authors. Hannaneh Tashackori performed the experiments, analyzed data and wrote the manuscript. Mohsen Sharifi designed the study, supervised the study and wrote the manuscript. Najmeh Ahmadian Chashmi established hairy root cultures and advised the study. Naser Safaei provided fungi Piriformospora indica and advised the study. Mehrdad Behmanesh advised the study and edited the manuscript.
About this article
Cite this article
Tashackori, H., Sharifi, M., Ahmadian Chashmi, N. et al. Induced-differential changes on lignan and phenolic acid compounds in Linum album hairy roots by fungal extract of Piriformospora indica . Plant Cell Tiss Organ Cult 127, 187–194 (2016). https://doi.org/10.1007/s11240-016-1041-2
Received:

Accepted:

Published:

Issue Date:
Keywords
Hairy root

Lignan

Linum album
Piriformospora indica

Phenolic acid