Abstract
The co-cultivation of tissue explants with beneficial microbes induces numerous developmental and metabolic alterations in the resulting plantlets conferring enhanced tolerance to abiotic and biotic stresses. In the present study we have co-cultivated plant growth promoting rhizobacteria (PGPR) exhibiting multiple plant growth promoting activities with the in vitro raised saffron cormlets for evaluating various morphogenetic responses like proliferation, germination and weight increment of cormlets. The results obtained indicate the significant effect of Pseudomonas sp., Bacillus subtilis and Pantoea sp. in weight increment of cormlets. Proliferation of cormlets was also significantly improved with Pantoea sp. + Bacillus subtilus + Pseudomonas sp. on MS liquid medium. Similarly, the co-cultivation with Acinetobacter haemolyticus, Accintobacter lwoffii and Pantoea sp. resulted in 100 % germination of cormlets. The root system of cormlets was found denser and thicker than the control cormlets. However, rhizobacterial cormlets exhibited lower values of root length than non-treated cormlets. This study represents earliest report across the globe with suitable and reproducible protocol for corm development through PGPRs.
This is a preview of subscription content, log in to check access.
Access options
Buy single article
Instant access to the full article PDF.
US$ 39.95
Price includes VAT for USA
Subscribe to journal
Immediate online access to all issues from 2019. Subscription will auto renew annually.
US$ 199
This is the net price. Taxes to be calculated in checkout.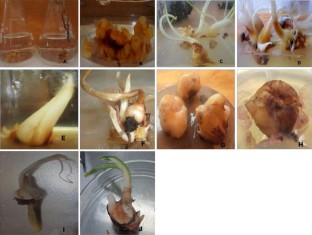 Abbreviations
BAP:

Benzyl aminopurine

NAA:

Naphthalene acetic acid

IAA:

Indole acetic acid

PGP:

Plant growth promoting

PGPR:

Plant growth promoting rhizobacteria

PSB:

Phosphate solubilizing bacteria
References
Ambardar S, Vakhlu J (2013) Plant growth promoting bacteria from bacteria from Crocus sativus rhizosphere. World J Microbiol Biotechnol 29:2271–2279

Brick JM, Bostock RM, Silversone SE (1991) Rapid in situ assay for indole acetic acid production by bacteria immobilized on nitrocellulose membrane. Appl Environ Microbiol 57:535–538

Carletti SM, Llorente BE, Rodriguez EA, Tandecarz JS (1998) Jojoba inoculation with Azospirillum brasilense stimulates in vitro root formation. Plant Tissue Cult Biotechnol 4:165–174

Chandra S, Bandopadhyay R, Kumar V, Chandra R (2010) Acclimatization of tissue cultured plantlets from laboratory to land. Biotechnol Lett 32(9):1199–1205

Devi K, Sharma K, Singh M, Ahuja PS (2011) In vitro cormlet production and growth evaluation under greenhouse conditions in saffron (Crocus sativus L.) - A commercially important crop. Eng Life Sci 11:189–194

Frommel M, Nowak J, Lazarovits G (1991) Growth enhancement and developmental modifications of in vitro grown potato (Solanum tuberosum ssp. tuberosum) as affected by a nonfluorescent Pseudomonas sp. Plant Physiol 96:928–936

Gaspar T, Kevers C, Penel C, Greppin H, Reid DM, Thorpe TA (1996) Plant hormones and plant growth regulators in plant tissue culture. Vitro Plant Cell Div Biol 32:272–289

Hugh R, Leifson E (1953) The taxonomic significance of fermentative versus oxidative metabolism of carbohydrates by various gram negative rods. J Bacteriol 66:24–26

Huo W, Chun-hua Z, Ya C, Meng P, Hui Y, Lai-qing L, Qing-sheng C (2012) Paclobutrazol and plant-growth promoting bacterial endophyte Pantoea sp. enhance copper tolerance of guinea grass (Panicum maximum) in hydroponic culture. Acta Physiol Plant 34:139–150

Husaini AM, Kamili AN, Wani MH, Teixeira da Silva JA, Bhat GN (2010) Sustainable Saffron (Crocus sativus L. Kashmirianus) Production: technological and policy interventions for Kashmir. FPSB 4:116–127

Jimtha JC, Smitha PV, Anisha C, Deepthi T, Meekha G, Radhakrishnan EK, Gayatri GP, Remakanthan A (2014) Isolation of endophytic bacteria from embryogenic suspension culture of banana and assessment of their plant growth promoting properties. Plant Cell Tiss Organ Cult 118:57–66

Kado CI, Heskett MG (1970) Selective media for isolation of Agrobacterium, Corynebacterium, Erwinia, Pseudomonas, and Xanthomonas. Phytopath 60:969–976

Kamili AS, Nehvi FA, Trag AR (2007) Saffron-A legendry crop of Kashmir Himalaya. J Himal Ecol Sustain Dev 2:1–12

Kende H (1993) Ethylene biosynthesis. Annu Rev Plant Physiol Plant Mol Biol 44:283–307

King A (1932) An improved method for the colorimetric determination of phosphate. Biochem J 26(2):292–297

Kloepper JW, Rodriguez-Kabana R, McInroy JA, Collins DJ (1991) Analysis of population and physiological characterization of microorganism in rhizosphere of plants with antagonistic properties to phytopathogenic nematodes. Plant Soil 136:95–102

Kovacs N (1956) Identification of Pseudomonas pyocyanea by the oxidase reaction. Nature 178:703

Lalande R, Bissonnette N, Coutlee D, Antoun H (1989) Identification of rhizobacteria from maize and determination of their plant growth promoting potential. Plant Soil 115:7–11

Mahmood M, Rahman ZA, Saud HM, Shamsuddin ZH, Subramaniam S (2010) Influence of rhizobacterial and agrobacterial inoculation on selected physiological and biochemical changes of banana cultivar, berangan (AAA) plantlets. J Agric Sci 2(1):115–137

Melo IS (1998) Rizobacterias promotoras de crescimento de plantas: descriçao e potencial de uso na 98 ERTURK ET AL. Biol Res 43, 2010, 91–98 agricultura. In: Melo IS, Azevedo JL (eds). Ecologia Microbiana. EMBRAPA Meio Ambiente, Jaguariuna, p. 86–116

Mohan V, Radhakrishnan A (2012) Screening of phosphate solubilizing bacterial rhizobacteria (PGPR) and endophytes with medicinal plants-new avenues for phytochemicals. J Phytol 2(7):91–100

Murashige T, Skoog F (1962) A revised medium for rapid growth and bioassay with tobacco tissue culture. Physiol Plant 15:473–497

Nowak J (1998) Benefits of in vitro "Biotization" of plant tissue cultures with microbial inoculants. Vitro Cell Dev Biol Plant 34(2):122–130

Om AC, Amir HA, Chan LK, Zamzuri I (2009) Microbial inoculation improves growth of oil palm plants (Elaeis guineensis Jacq). Trop Life Sci Res 20(2):71–77

Ortiz-Castro R, Contreras-Cornejo HA, Macias-Rodríguez L, Lopez-Bucio J (2009) The role of microbial signals in plant growth and development. Plant Signal Behav 4(8):701–712

Pandey A, Palni LMS, Bagm N (2000) Biological hardening of tissue culture raised tea plants through rhizosphere bacteria. Biotech Lett 22:1087–1091

Parray JA, Kamili AN, Hamid R, Husaini AM (2012) In vitro cormlet production of saffron (Crocus sativus L. Kashmirianus) and their flowering response under greenhouse. GM Crops Food biotechnol agric Food 3(4):289–295

Parray JA, Kamili AN, Reshi ZA, Hamid R, Qadri RA (2013) Screening of beneficial properties of rhizobacteria isolated from Saffron (Crocus sativus L.) rhizosphere. Afr J Microbiol Res 7(23):2905–2910

Rennie RJ, Larson RI (1979) Nitrogen fixation associated with disomic chromosome substitution lines of spring wheat. Can J Bot 57:2771–2775

Richardson AE (2001) Prospects for using soil microorganisms to improve the acquisition of phosphorus by plants. Aust J. Plant Physiol 28:897–906

Schwyn B, Neilands JB (1987) Universal chemical assay for the detection and determination of siderophores. Anal Biochem 160:47–56

Sharaf-Eldin M, Shereen E, Jose-Antonio F, Helmut J, Ronald C, Jose G, Pamela W (2008) Bacillus subtilis FZB24 affects flower quantity and quality of Saffron (Crocus sativus). Planta Med 74:732–734

Smith KP, Goodman RM (1999) Host variation for interactions with beneficial plant-associated microbes. Ann Rev Phytopathol 37:473–491

Souissi T, Kremer RJ, White JA (1997) Interaction of rhizobacteria with leafy spurge (Euphorbia esula L.) callus tissue cells. Plant Cell Tissue Organ Cul 47(3):279–287

Soundarapandian S, Dhandayuthapani K (2010) Interaction of plant growth promoting isolates for the growth improvement of Tectona grandis Linn. Res J Microbiol 7:101–113

Thomas J, Ajay D, Kumar RR, Mandal AKA (2010) Influence of beneficial microorganisms during in vivo acclimatization of in vitro-derived tea (Camellia sinensis) plants. Plant Cell Tissue Organ Cul 101(3):365–370

Weller DM (2007) The nature and application of biocontrol microbes III: Pseudomonas spp. Pseudomonas biocontrol agents of soilborne pathogens. Am Pathol Soc 97:2–0250

Yang T, Law DM, Davies PJ (1993) Magnitude and kinetics of stem elongation induced by exogenous indole 3-acetic acid in intact light grown pea seedlings. Plant Physiol 102:717–724

Yang YS, Wada K, Goto M (1991) In vitro formation of nodular calli in soybean (Glycine max L.) induced by co-cultivated Pseudomonas maltophilia. Jpn J Breed 41:595–604
Acknowledgments
This study was supported by DBT, GoI, New Delhi funded project vide letter no: BT/PR5525/PVD/16/980/2012 Dtd.20/11/2012, the assistance of which is highly acknowledged. The authors are thankful to department of Microbiology SKIMS Soura Srinagar and Dr. Qadri's Lab, Karanagar, J&K for helping in identifying rhizobacterial strains.
Conflict of interest
The authors hereby declare no conflict of interest
About this article
Cite this article
Parray, J.A., Kamili, A.N., Reshi, Z.A. et al. Interaction of rhizobacterial strains for growth improvement of Crocus sativus L. under tissue culture conditions. Plant Cell Tiss Organ Cult 121, 325–334 (2015). https://doi.org/10.1007/s11240-014-0703-1
Received:

Accepted:

Published:

Issue Date:
Keywords
Co-cultivation

In vitro culture

Rhizobacteria

Saffron