Abstract
Functional studies and exploitation of pharmacological potential of sundews (Droseraceae) require efficient and reliable transformation protocol. However, the routine applicability of available procedures appears limited and transformation of sundew remains a difficult task. Here we report on in-depth evaluation of the previously published method and bring some modifications. We suggest addition of glutathione in cultivation media and protection from light for suppression of necrosis. Further we show that sundew leaf extracts exert antimicrobial activity, therefore we recommend selection of tolerant Agrobacterium strain. At the same time we conclude that A. rhizogenes is not suitable for sundew transformation since produces only albino plants. To support regeneration of transformed shoots we propose to use GFP as a vital marker for early identification and removal of escapes and chimeras. The modified protocol we provide enables a routine and reliable selection of stably transformed sundew plants.
This is a preview of subscription content, log in to check access.
Access options
Buy single article
Instant access to the full article PDF.
US$ 39.95
Price includes VAT for USA
Subscribe to journal
Immediate online access to all issues from 2019. Subscription will auto renew annually.
US$ 199
This is the net price. Taxes to be calculated in checkout.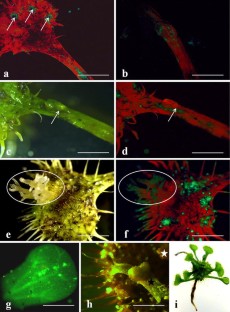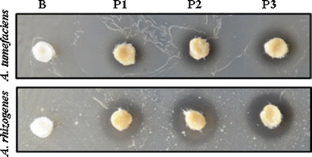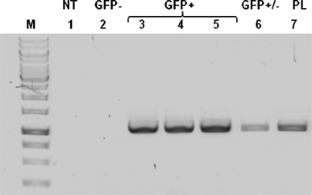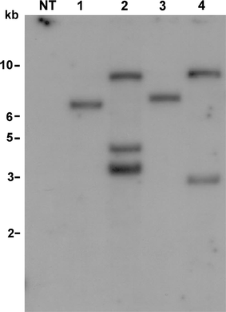 References
Banasiuk R, Kawiak A, Królicka A (2012) In vitro cultures of carnivorous plants from the Drosera and Dionaea genus for the production of biologically active secondary metabolites. BioTechnologia 93:87–96

Bauer U, Clemente CJ, Renner T, Federle W (2012) Form follows function: morphological diversification and alternative trapping strategies in carnivorous Nepenthes pitcher plants. J Evol Biol 25:90–102

Bekesiova I, Nap JP, Mlynarova L (1999) Isolation of high quality DNA and RNA from leaves of the Carnivorous plant Drosera rotundifolia. Plant Mol Rep 17:269–277

Berthomieu P, Béclin C, Charlot F, Doré C, Jouanin L (1994) Routine transformation of rapid cycling cabbage (Brassica oleracea). Molecular evidence for regeneration of chimeras. Plant Sci 96:223–225

Bleho J, Obert B, Takáč T, Petrovská B, Heym C, Menzel D, Šamaj J (2012) ER disruption and GFP degradation during non-regenerable transformation of flax with Agrobacterium tumefaciens. Protoplasma 249:53–63

Bobák M, Blehová A, Erdelský K (1989) Histological and cytological studies of early phases of organogenesis on excised leaves of Drosera spathulata Labill. in vitro. Biologia 44:785–792

Bobák M, Blehová A, Krištín J, Ovečka M, Šamaj J (1995) Direct plant regeneration from leaf explants of Drosera rotundifolia cultured in vitro. Plant Cell Tissue Organ Cult 43:43–49

Boisson-Dernier A, Chabaud M, Garcia F, Becard G, Rosenberg C, Barker DG (2001) Agrobacterium rhizogenes-transformed roots of Medicago truncatula for the study of nitrogen-fixing and endomycorrhizal symbiotic associations. Mol Plant Microbe Interact 14:695–700

Boszoradova E, Libantova J, Matusikova I, Poloniova Z, Jopcik M, Berenyi M, Moravcikova J (2011) Agrobacterium-mediated genetic transformation of economically important oilseed rape cultivars. Plant Cell Tissue Org Cult 107:317–323

Dan Y (2008) Biological functions of antioxidants in plant transformation. In Vitro Cell Dev Biol Plant 44:149–161

Domínguez A, Cervera M, Pérez RM, Romero J, Fagoaga C, Cubero J, López MM, Juárez JA, Navarro L, Peña L (2004) Characterisation of regenerants obtained under selective conditions after Agrobacterium-mediated transformation of citrus explants reveals production of silenced and chimeric plants at unexpected high frequencies. Mol Breed 22:581–591

Dutt M, Vasconcellos M, Grosser JW (2011) Effects of antioxidants on Agrobacterium-mediated transformation and accelerated production of transgenic plants of Mexican lime (Citrus aurantifolia Swingle). Plant Cell Tissue Organ Cult 107:79–89

Givnish TJ, Barfuss MHJ, Van Ee B, Riina R, Schulte K, Horres R, Gonsiska PA, Jabaily RS, Crayn DM, Smith AC, Winter K, Brown GK, Evans TM, Holst BK, Luther H, Till W, Zizka G, Berry PE, Sytsma KJ (2011) Phylogeny, adaptive radiation, and historical biogeography in Bromeliaceae: insights from an eight-locus plastid phylogeny. Am J Bot 98:872–895

Grevenstuk T, Coelho N, Gonçalves S, Romano A (2010) In vitro propagation of Drosera intermedia in single step. Biol Plant 54:391–394

Gupta SD, Datta S (2003/2004) Antioxidant enzyme activities during in vitro morphogenesis of gladiolus and the effect of application of antioxidants on plant regeneration. Biol Plant 47:179–183

Hamamoto H, Boulter ME, Shirsat AH, Croy EJ, Ellis JR (1990) Recovery and morphogenetically normal transgenic tobacco from hairy roots co-transformed with Agrobacterium rhizogenes and a binary vector plasmid. Plant Cell Rep 9:88–92

Han KH, Keathley DE, Davis JM, Gordon MP (1993) Regeneration of a transgenic woody legume (Robinia pseudoacacia L. black locust) and morphological alterations induced by Agrobacterium rhizogenes-mediated transformation. Plant Sci 88:149–157

Haseloff J, Siemering KR, Prasher DC, Hodge S (1997) Removal of a cryptic intron and subcellular localization of green fluorescent protein are required to mark transgenic Arabidopsis plants brightly. Proc Natl Acad Sci USA 94:2122–2127

Hirsikorpi M, Kämäräinen T, Teeri T, Hohtola A (2002) Agrobacterium-mediated transformation of round leaved sundew (Drosera rotundifolia L.). Plant Sci 162:537–542

Jayaram K, Prasad MNV (2008) Rapid in vitro multiplication of Drosera burmanii Vahl.: a vulnerable and medicinally important insectivorous plant. Indian J Biotechnol 7:260–265

Kawiak A, Królicka A, Lojkowska E (2003) Direct regeneration of Drosera from leaf explants and shoot tips. Plant Cell Tissue Organ Cult 75:175–178

Koperdáková J, Komarovská H, Košuth J, Giovannini A, Čellárová E (2009) Characterization of hairy root-phenotype in transgenic Hypericum perforatum L. clones. Acta Physiol Plant 31:351–358

Królicka A, Szpitter A, Maciag M, Biskup E, Gilgenast E, Romanik G, Kaminski M, Wegrzyn G, Lojkowska E (2009) Antibacterial and antioxidant activity of the secondary metabolites from in vitro cultures of Drosera aliciae. Biotechnol Appl Biochem 53:175–184

Królicka A, Szpitter A, Stawujak K, Baranski R, Gwizdek-Wisniewska A, Skrzypczak A, Kaminski M, Lojkowska E (2010) Teratomas of Drosera capensis var. alba as a source of naphthoquinone: ramentaceone. Plant Cell Tissue Organ Cult 103:285–292

Kumar V, Satyanarayana KV, Itty SS, Indu EP, Giridhar P, Chandrashekar A, Ravishankar GA (2006) Stable transformation and direct regeneration in Coffea canephora P ex. by Agrobacterium rhizogenes mediated transformation without hairy-root phenotype. Plant Cell Rep 25:214–222

Matušíková I, Salaj J, Moravčíková J, Mlynárová L, Nap JP, Libantová J (2005) Tentacles of in vitro-grown round-leaf sundew (Drosera rotundifolia L.) show induction of chitinase activity upon mimicking the presence of prey. Planta 222:1020–1027

Michalko J, Socha P, Mészáros P, Blehová A, Libantová J, Moravčíková J, Matušíková I (2013) Glucan-rich diet is digested and taken up by the carnivorous sundew (Drosera rotundifolia L.): implication for a novel role of plant β-1,3-glucanases. Planta 238:715–725

Murashige T, Skoog F (1962) A revised medium for rapid growth and bioassay with tobacco tissue cultures. Physiol Plant 15:473–497

Oksam-Caldentey KM, Kivelä O, Hiltunen R (1991) Spontaneous shoot organogenesis and plant regeneration from hairy root cultures of Hyoscyamus muticus. Plant Sci 78:129–136

Ooms G, Hooykaas PJ, Van Veen RJ, Van Beelen P, Regensburg-Tuink T, Schilperoort RA (1982) Octopine Ti-plasmid deletion mutants of Agrobacterium tumefaciens with emphasis on the right side of the T-region. Plasmid 7:15–29

Petri C, Hily JM, Vann C, Dardick C, Scorza R (2011) A high-throughput transformation system allows the regeneration of marker-free plum plants (Prunus domestica). Ann Appl Biol 159:302–315

Putalun W, Udomsin O, Yusakul G, Juengwatanatrakul T, Sakamoto S, Tanaka H (2010) Enhanced plumbagin production from in vitro cultures of Drosera burmanii using elicitation. Biotechnol Lett 32:721–724

Quandt HJ, Pühler A, Broer I (1993) Transgenic root nodules of Vicia hirsuta: a fast and efficient system for the study of gene expression in indeterminate-type nodules. Mol Plant Microb Interact 6:699–706

Rejthar J, Viehmannova I, Cepkova PH, Fernández E, Milella L (2014) In vitro propagation of Drosera intermedia as influenced by cytokinins, pH, sucrose, and nutrient concentration. Emir J Food Agric 26:558–564

Renner T, Specht CD (2012) Molecular and functional evolution of class I chattiness for plant carnivory in the Caryophyllales. Mol Biol Evol 29:2971–2985

Šamaj J, Blehová A, Repčák M, Ovečka M, Bobák M (1999) Drosera species (sundew): in vitro culture and the production of plumbagin and other secondary metabolites. Biotechnology in agriculture and forestry. In: Bajaj YPS (ed) Medicinal and aromatic plants XI. Springer, Heidelberg, pp 105–135. ISBN: 3-540-63911-4

Shri M, Rai A, Verma PK, Misra P, Dubey S, Kumar S, Verma S, Gautam N, Tripathi RD, Trivedi PK, Chakrabarty D (2013) An improved Agrobacterium-mediated transformation of recalcitrant indica rice (Oryza sativa L.) cultivars. Protoplasma 250:631–636

Taraszkiewicz A, Jafra S, Skrzypczak A, Kaminski M, Królicka A (2012) Antibacterial activity of secondary metabolites from in vitro culture of Drosera gigantea against the plant pathogenic bacteria Pseudomonas syringae pv. syringae and P. syringae pv. morsprunorum. J Plant Pathol 94:S1.63–S1.68

Uchendu EE, Muminova M, Gupta S, Reed BM (2010) Antioxidant and anti-stress compounds improve regrowth of cryopreserved Rubus shoot tips. In Vitro Cell Dev Biol Plant 46:386–393

Wei M, Wi SH, Yang CY (2010) Effect of putrescine on the conversion of protocorm-like bodies of Dendrobium officinale to shoots. Plant Cell Tissue Organ Cult 102:145–151

Yevtushenko DP, Misra S (2010) Efficient Agrobacterium-mediated transformation of commercial hybrid poplar Populus nigra L. × P. maximowiczii A. Henry. Plant Cell Rep 29:211–221

Yookongkaew N, Srivatanakul M, Narangajavana J (2007) Development of genotype independent regeneration system for transformation of rice (Oryza sativa ssp. indica). J Plant Res 120:237–245
Acknowledgments
This work was supported by the Slovak Research and Development Agency under the Contract No. APVV-0140-10, COST FA 1006 and VEGA Project No. 2/0090/14. We would like to thank to Prof. J. Šamaj, Centre of the Region Haná for Biotechnological and Agricultural Research, Department of Cell Biology, Faculty of Science Palacký University, Olomouc, Czech Republic, for providing the construct used in this work.
Conflict of interest
The authors declare that they have no conflict of interest.
About this article
Cite this article
Blehová, A., Švubová, R., Lukačová, Z. et al. Transformation of sundew: pitfalls and promises. Plant Cell Tiss Organ Cult 120, 681–687 (2015). https://doi.org/10.1007/s11240-014-0635-9
Received:

Accepted:

Published:

Issue Date:
Keywords
Agrobacterium

Antioxidants

Drosera rotundifolia

Escapes

Green fluorescent protein

Chimera

Necrosis