Abstract
Potato virus X (PVX) is widely used as a peptide presentation system in plant biotechnology, mostly by fusion of desired peptides to the N-terminus of its capsid protein (CP). Considering that some epitopes can interfere with the stability and/or self-assembly of PVX CP when fused to its N-terminus, we evaluated four other possible sites for fusion using the E7 epitope derived from human papillomavirus type 16 with different tags. We prepared eight different PVX CP constructs modified with the E7 epitope fused with the 6xHis tag in both orientations (6xHis-E7, E7-6xHis), cloned them into the PVX-based vector pGR106 and expressed them transiently in Nicotiana benthamina plants. Only the fusion site located after amino acid 23 led to systemic infection of plants and the production of recombinant proteins, but no viral particles were detected. When we replaced the 6xHis with StrepII tag, the modified virus infected plants systemically, expressed proteins assembled into viral particles and the epitopes were located on the particle surface. The results of this study indicate that the new position within the PVX CP can be used for peptide presentation on the surface of PVX particles and is promising for PVX based production of therapeutic compounds in plants.
This is a preview of subscription content, log in to check access.
Access options
Buy single article
Instant access to the full article PDF.
US$ 39.95
Price includes VAT for USA
Subscribe to journal
Immediate online access to all issues from 2019. Subscription will auto renew annually.
US$ 199
This is the net price. Taxes to be calculated in checkout.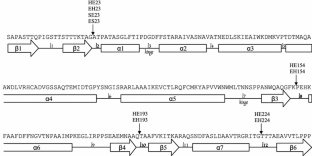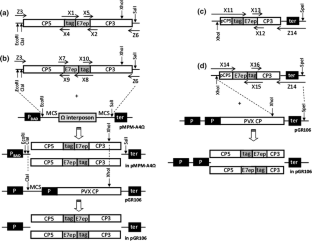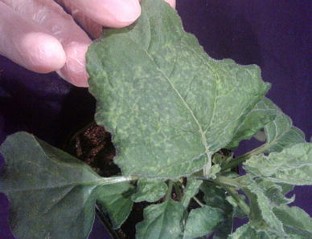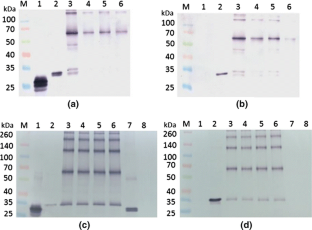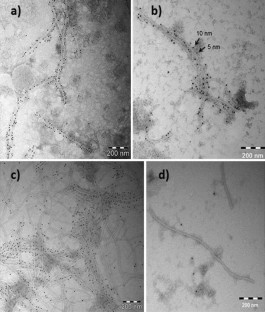 References
Baratova LA, Grebenshchikov NI, Dobrov EN, Gedrovich AV, Kashirin IA, Shishkov AV, Efimov AV, Järvekülg L, Radavsky YuL, Saarma M (1992a) The organization of Potato virus X coat proteins in virus particles studied by tritium planigraphy and model building. Virology 188:175–180

Baratova LA, Grebenshchikov NI, Shishkov AV, Kashirin IA, Radavsky JL, Järvekülg L, Saarma M (1992b) The topography of the surface of potato virus X: tritium planigraphy and immunological analysis. J Gen Virol 73:229–235

Bendahmane M, Koo M, Karrer E, Beachy R (1999) Display of epitopes on the surface of tobacco mosaic virus: impact of charge and isoelectric point of the epitope on virus-host interactions. J Mol Biol 290:9–20

Canizares M, Nicholson L, Lomonossoff G (2005) Use of viral vectors for vaccine production in plants. Immunol Cell Biol 83:263–270

Cerovska N, Hoffmeisterova H, Pecenkova T, Moravec T, Synkova H, Plchova H, Veleminsky J (2008) Transient expression of HPV16 E7 peptide (aa 44-60) and HPV16 L2 peptide (aa 108–120) on chimeric potyvirus-like particles using Potato virus X-based vector. Protein Expr Purif 58:154–161

Cerovska N, Hoffmeisterova H, Moravec T, Plchova H, Folwarczna J, Synkova H, Ryslava H, Ludvikova V, Smahel M (2012) Transient expression of human papillomavirus type 16 L2 epitope fused to N- and C-terminus of coat protein of Potato virus X in plants. J Biosci 37:125–133

Cerovska N, Moravec T, Hoffmeisterova H, Plchova H, Synkova H, Polakova I, Duskova M, Smahel M (2013) Expression of a recombinant human papillomavirus 16 E6GT oncoprotein fused to N- and C-termini of Potato virus X coat protein in Nicotiana benthamiana. Plant Cell, Tissue Organ Cult 113:81–90

Dantur K, Alonso L, Castano E, Morelli L, Centeno-Crowley JM, Vighi S, de Prat-Gay G (2009) Cytosolic accumulation of HPV16 E7 oligomers supports different transformation routes for the prototypic viral oncoprotein: the amyloid-cancer connection. Int J Cancer 125:1902–1911

Fedorkin ON, Solovyev AG, Yelina NE, Zamyatnin AA Jr, Zinovkin RA, Mäkinen K, Schiemann J, Morozov S (2001) Cell-to-cell movement of potato virus X involves distinct functions of the coat protein. J Gen Virol 82:449–458

Foster G, Taylor S (1998) Plant virology protocols: from virus isolation to transgenic resistance. Humana Press, New Jersey

Giorgi C, Franconi R, Rybicki EP (2010) Human papillomavirus vaccines in plants. Expert Rev Vaccines 9:913–924

Hefferon K (2013) Plant-derived pharmaceuticals for the developing world. Biotechnol J 8:1193–1202

Hoffmeisterova H, Cerovska N, Moravec T, Plchova H, Folwarczna J, Veleminsky J (2008) Transient expression of fusion gene coding for the HPV-16 epitopes fused to the sequence of potyvirus coat protein using different means of inoculation of Nicotiana benthamiana and Brassica rapa, cv. Rapa plants. Plant Cell, Tissue Organ Cult 94:261–267

Jokerst J, Lobovkina T, Zare R, Gambhir S (2011) Nanoparticle PEGylation for imaging and therapy. Nanomedicine (Lond) 6:715–728

Lico C, Capuano F, Renzone G, Donini M, Marusic C, Scaloni A, Benvenuto E, Baschieri S (2006) Peptide display on Potato virus X: molecular features of the coat protein-fused peptide affecting cell-to-cell and phloem movement of chimeric virus particles. J Gen Virol 87:3103–3112

Lico C, Schoubben A, Baschieri S, Blasi P, Santi L (2013) Nanoparticles in biomedicine: new insights from plant viruses. Curr Med Chem 20:3471–3487

Lukashina E, Badun G, Fedorova N, Ksenofontov A, Nemykh M, Serebryakova M, Mukhamedzhanova A, Karpova O, Rodionova N, Baratova L, Dobrov E (2009) Tritium planigraphy study of structural alterations in the coat protein of Potato virus X induced by binding of its triple gene block 1 protein to virions. FEBS J 276:7006–7015

Lukashina E, Ksenofontov A, Fedorova N, Badun G, Mukhamedzhanova A, Karpova O, Rodionova N, Baratova L, Dobrov E (2012) Analysis of the role of the coat protein N-terminal segment in Potato virus X virion stability and functional activity. Mol Plant Pathol 13:38–45

Massa S, Simeone P, Muller A, Benvenuto E, Venuti A, Franconi R (2008) Antitumor activity of DNA vaccines based on the human papillomavirus-16 E7 protein genetically fused to a plant virus coat protein. Hum Gene Ther 19:354–364

Monie A, Hung CF, Wu TC (2007) Preventive and therapeutic HPV vaccines. Curr Opin Investig Drugs 8:1038–1050

Montgomery K, Bloch J (2010) The human papillomavirus in women over 40: implications for practice and recommendations for screening. J Am Acad Nurse Pract 22:92–100

Morgenfeld M, Eugenia Segretin M, Wirth S, Lentz E, Zelada A, Mentaberry A, Gissmann L, Bravo-Almonacid F (2009) Potato virus x coat protein fusion to human papillomavirus 16 E7 oncoprotein enhance antigen stability and accumulation in tobacco chloroplast. Mol Biotechnol 43:243–249

Nemykh MA, Efimov AV, Novikov VK, Orlov VN, Arutyunyan AM, Drachev VA, Lukashina EV, Baratova LA, Dobrov EN (2008) One more probable structural transition in potato virus X virions and a revised model of the virus coat protein structure. Virology 373:61–71

Nuzzaci M, Piazzolla G, Vitti A, Lapelosa M, Tortorella C, Stella I, Natilla A, Antonaci S, Piazzolla P (2007) Cucumber mosaic virus as a presentation system for a double hepatitis C virus-derived epitope. Arch Virol 152:915–928

O'Brien G, Bryant C, Voogd C, Greenberg H, Gardner R, Bellamy A (2000) Rotavirus VP6 expressed by PVX vectors in Nicotiana benthamiana coats PVX rods and also assembles into virus-like particles. Virology 270:444–453

Plchova H, Moravec T, Hoffmeisterova H, Folwarczna J, Cerovska N (2011) Expression of human papillomavirus 16 E7ggg oncoprotein on N- and C-terminus of Potato virus X coat protein in bacterial and plant cells. Protein Expr Purif 77:146–152

Pokorna D, Cerovska N, Smahel M, Moravec T, Ludvikova V, Mackova J, Synkova H, Duskova M, Hozak P, Veleminsky J (2005) DNA vaccines based on chimeric potyvirus-like particles carrying HPV16 E7 peptide (aa 44-60). Oncol Rep 14:1045–1053

Pozzi E, Basavecchia V, Zanotto C, Pacchioni S, Morghen CDG, Radaelli A (2009) Construction and characterization of recombinant fowlpox viruses expressing human papilloma virus E6 and E7 oncoproteins. J Virol Methods 158:184–189

Radaelli A, Morghen CDG, Zanotto C, Pacchioni S, Bissa M, Franconi R, Massa S, Paolini F, Muller A, Venuti A (2012) A prime/boost strategy by DNA/fowlpox recombinants expressing a mutant E7 protein for the immunotherapy of HPV-associated cancers. Virus Res 170:44–52

Sainsbury F, Cañizares M, Lomonossoff G (2010) Cowpea mosaic virus: the plant virus-based biotechnology workhorse. Annu Rev Phytopathol 48:437–455

Smahel M, Sima P, Ludvikova V, Vonka V (2001) Modified HPV16 E7 genes as DNA vaccine against E7-containing oncogenic cells. Virology 281:231–238

Smith M, Lindbo J, Dillard-Telm S, Brosio P, Lasnik A, McCormick A, Nguyen L, Palmer K (2006) Modified tobacco mosaic virus particles as scaffolds for display of protein antigens for vaccine applications. Virology 348:475–488

Techniques in Plant Virology (1997) CIP training manual, protocols for the purification of plant viruses. http://cipotato.org/training/Materials/PVTechs/Fasc5.2(99).pdf

Uhde K, Fischer R, Commandeur U (2005) Expression of multiple foreign epitopes presented as synthetic antigens on the surface of Potato virus X particles. Arch Virol 150:327–340

Uhde-Holzem K, Fischer R, Commandeur U (2007) Genetic stability of recombinant potato virus X virus vectors presenting foreign epitopes. Arch Virol 152:805–811

Van Die IM, Bergmans HEN, Hoekstra WPM (1983) Transformation in Escherichia coli: studies on the role of the heat shock in induction of competence. J Gen Microbiol 129:663–670

Verchot-Lubicz J, Ye C, Bamunusinghe D (2007) Molecular biology of potexviruses: recent advances. J Gen Virol 88:1643–1655

Westermeier R (2005) Electrophoresis in practise: a guide to methods and applications of DNA and protein separations, 4th edn. Wiley-VCH, Weinheim

Wise A, Liu Z, Binns A (2006) Three methods for the introduction of foreign DNA into Agrobacterium. Methods Mol Biol 343:43–54

Zayakina O, Arkhipenko M, Kozlovsky S, Nikitin N, Smirnov A, Susi P, Rodionova N, Karpova O, Atabekov J (2008) Mutagenic analysis of Potato virus X movement protein (TGBp1) and the coat protein (CP): in vitro TGBp1-CP binding and viral RNA translation activation. Mol Plant Pathol 9:37–44

Zhao Y, Hammond R (2005) Development of a candidate vaccine for Newcastle disease virus by epitope display in the Cucumber mosaic virus capsid protein. Biotechnol Lett 27:375–382

zur Hausen H (2002) Papillomaviruses and cancer: from basic studies to clinical application. Nat Rev Cancer 2:342–350
Acknowledgments
This research was supported by the Grant No. P501/12/1761 of the Czech Science Foundation, CZ.2. 16/3.1.00/24014 from the European Regional Development Fund, Operational Programme Prague-Competitiveness and Grant No. 631412 of the Charles University Grant Agency. We acknowledge the skilled technical assistance of Mrs. R. Hadamkova and D. Cibochova.
About this article
Cite this article
Vaculik, P., Plchova, H., Moravec, T. et al. Potato virus X displaying the E7 peptide derived from human papillomavirus type 16: a novel position for epitope presentation. Plant Cell Tiss Organ Cult 120, 671–680 (2015). https://doi.org/10.1007/s11240-014-0634-x
Received:

Accepted:

Published:

Issue Date:
Keywords
Potato virus X
Human papillomavirus
Nicotiana benthamiana

E7 oncoprotein

Transient expression