Abstract
An efficient micropropagation system for Oxytropis glabra, a poisonous grass species, had been developed. Shoot organogenesis occurred from O. glabra leaf explants on medium with appropriate supplements of plant growth regulators. 85.6 % of shoot regeneration frequency and 8.2 shoots per leaf explant were achieved when cultured on a medium containing 10 μM 6-benzylaminopurine and 1.0 μM naphthaleneacetic acid. Histological studies of these explants confirmed their organogenic nature, by demonstrating the formation of shoots. Shoot organogenesis was further improved when the leaf explants were pre-incubated at 4 °C by a 7-day pretreatment, and shoot regeneration frequency of 88.4 % was recorded with 12.6 shoots per leaf explant. Up to 86.8 % of the regenerated roots formed complete plantlets on a medium containing 1.0 μM indole-3-butyric acid within 35 days. The micropropagated plants were similar to wild plants. Swainsonine was presented in wild O. glabra, but were not detected in O. glabra in vitro culture.
This is a preview of subscription content, log in to check access.
Access options
Buy single article
Instant access to the full article PDF.
US$ 39.95
Price includes VAT for USA
Subscribe to journal
Immediate online access to all issues from 2019. Subscription will auto renew annually.
US$ 199
This is the net price. Taxes to be calculated in checkout.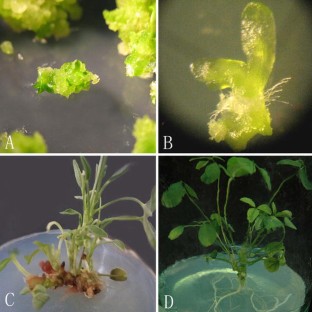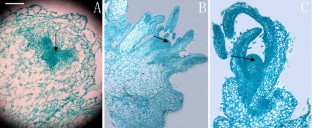 Abbreviations
BAP 6:

Benzylaminopurine

2, 4-D:

2, 4-dichlorophenoxyacetic acid

IBA:

Indole-3-butyric acid

MS:

Murashige and Skoog

NAA:

Naphthaleneacetic acid

TDZ:

Thidiazuron
References
Andersone U, Levinah G (2005) In vitro regeneration of mature Pinus sylvestris leaves stored at freezing temperatures. Biol Plant 49:281–284

Braun K, Romero J, Liddell C, Creamer R (2003) Production of swainsonine by fungal endophytes of locoweed. Mycol Res 107:980–988

Che P, Lall S, Nettleton D, Howell SH (2006) Gene expression programs during shoot, root, and callus development in Arabidopsis tissue culture. Plant Physiol 141:620–637

Cheng C (2009) Oxytropis glabra endophyte and its relationship with seedling hardness resistance. Dissertation, Inner Mongolia Agricultural University

Cook D, Gardner DR, Ralphs MH, Pfister JA, Welch KD, Green BT (2009) Swainsonine concentrations and endophyte amounts of Undifilum oxytropis in different plant parts of Oxytropis sericea. J Chem Ecol 35:1272–1278

Cook D, Gardner DR, Grum D, Pfister JA, Ralphs MH, Welch KD, Green BT (2011) Swainsonine concentrations and endophyte amounts of Undifilum oxytropis in different plants parts of Astragalus mollissimus and Astragalus lentiginosus. J Agric Food Chem 59:1281–1287

Delaney KJ, Klypina N, Maruthavanan J, Lange C, Sterling TM (2011) Locoweed dose response to nitrogen: positive for biomass and primary physiology, but inconsistent for an alkaloid. Am J Bot 98:1956–1965

Gao XL, Cook D, Ralphs MH, Yan L, Gardner DR, Lee ST, Panter KE, Han B, Zhao ML (2012) Detection of swainsonine and isolation of the endophyte Undifilum from the major locoweeds in Inner Mongolia. Biochem Syst Ecol 45:79–85

Gardner DR, Molyneux RJ, Ralphs MH (2001) Analysis of swainsonine: extraction methods, detection, and measurement in populations of locoweeds (Oxytropis spp.). J Agric Food Chem 49:4573–4580

Ge PB, Zhao BY, Tong DW, Qiao SY, Guo X, Cao GR, Zhang YK, Dong Q (2003) Extraction and fractionation and identification of swainsonine on structure from Oxytropis glabra. Chin Agric Sci Bull 19:1–4

Ghimire BK, Seong ES, Goh EJ, Kim NY, Kang WH, Kim EH, Yu CY, Chung IM (2010) High-frequency direct shoot regeneration from Drymaria cordata Willd. leaves. Plant Cell, Tissue Organ Cult 100:209–217

Guo B, Abbasi BH, Zeb A, Xu LL, Wei YH (2011) Thidiazuron: a multi-dimensional plant growth regulator. Afr J Biotechnol 10:8984–9000

Guo B, Stiles AR, Liu CZ (2012) Thidiazuron enhances shoot organogenesis from leaf explants of Saussurea involucrata Kar. et Kir 48:609–612

Hou BK, Yu HM, Teng SY (1997) Effects of low temperature on induction and differentiation of wheat calluses. Plant Cell, Tissue Organ Cult 49:35–38

Huberman M, Riov J, Aloni B, Goren R (1997) Role of ethylene biosynthesis and auxin content and transport in high temperature-induced abscission of pepper reproductive organs. J Plant Growth Regul 16:129–135

Laukkanen H, Häggman H, Kontunen Soppela S, Hohtola A (1999) Tissue browning of in vitro cultures of Scots pine: role of peroxidase and polyphenol oxidase. Physiol Plant 106:337–343

Liu ZB (2006) Studies on the techniques of extracting swainsonine from locoweed. Dissertation, Northwest Agriculture and Forestry University

Liu X, Yang G (2012) Adventitious shoot regeneration of oriental lily (Lilium orientalis) and genetic stability evaluation based on ISSR marker variation. In Vitro Cell Dev Biol Plant 48:172–179

Lu P, Zhao ML, Han GD (2009) Hazards and utilization on toxicity of Oxytropis glabra. Pratacultural Sci 26:97–101

Lu W, Lu H, Zhao BY, Rong J, Chen JP, Wang R, Gao WC, Chen ZL (2011) Screening and identification of swainsonsine-producing endophytic fungi from Oxytropis glabra. Acta Veterinaria et Zootechnica Sinica 42:429–436

Mayer AM (1987) Polyphenol oxidases in plant-recent progress. Phytochemistry 26:11–20

Merce B, Rosa MC, Javier P, Esther C, Teresa PM, Carmen M (2003) Relationship between peroxidase activity and organogenesis in Panax ginsengs calluses. Plant Cell, Tissue Organ Cult 73:37–44

Murashige T, Skoog F (1962) A revised medium for rapid growth and bioassays with tobacco tissue culture. Physiol Plant 15:473–497

Oldrup E, Mclain-Romero J, Padilla A, Moya A, Gardner D, Creamer R (2010) Localization of endophytic Undifilum fungi in locoweed seed and influence of environmental parameters on a locoweed in vitro culture system. Botany 88:512–521

Phillips GC (2004) In vitro morphogenesis in plants: recent advances. In Vitro Cell Dev Biol Plant 40:342–345

Pryor BM, Creamer R, Shoemaker RA, McLain-Romero J, Hambleton S (2009) Undifilum, a new genus for endophytic Embellisia oxytropis and parasitic Helminthosporium bornmulleri on legumes. Botany 87:178–194

Ralphs MH, Creamer R, Baucom D, Gardner DR, Welsh SL, Graham JD, Hart C, Cook D, Stegelmeier BL (2008) Relationship between the endophyte Embellisia spp. and the toxic alkaloid swainsonine in major locoweed species (Astragalus and Oxytropis). J Chem Ecol 34:32–38

Ralphs MH, Cook D, Gardener DR, Grum DS (2011) Transmission of the locoweed endophyte to the next generation of plants fungal ecology. Fungal Ecol 4:251–255

Shi ZC (1997) Important poisonous plants in Chinese grassland. Chinese Agriculture Press, Beijing, pp 45–66

Singh R, Srivastava K, Jaiswal HK, Amla DV, Singh BD (2002) High frequency multiple shoot regeneration from decapitated embryo axes of chickpea and establishment of plantlets in the open environment. Biol Plant 45:505–508

Tang W, Newton RJ, Outhavong V (2004) Exogenously added polyamines recover browning tissues into normal callus cultures and improve plant regeneration in pine. Physiol Plant 122:386–395

Tembe RP, Deodhar MA (2011) Clonal propagation and hydroxycitric acid production from in vitro shoot cultures of Garcinia indica using root suckers as explants. In Vitro Cell Dev Biol 47:399–409

Vallotton A, Murray LM, Delaney K, Sterling TM (2012) Water deficit induces swainsonine of some locoweed taxa, but with no swainsonine: growth trade-off. Acta Oecol 43:140–149

Yang GD, Gao R, Wang Y, Li JC, Hu YC, Kang DJ, Li YH, Li HL, Geng GX, Wang JH (2012) Determination of swainsonine in the endophytic Undifilum fungi by high-performance liquid chromatography with evaporative light-scattering detector. Toxicon 60:44–49

Yu YT, Zhao QM, Wang JN, Wang JH, Wang Y, Song YM, Geng GX, Li QF (2010) Swainsonine-producing fungal endophytes from major locoweed species in China. Toxicon 56:330–338

Zhang XX, Li CJ, Nan ZB (2010) Effects of cadmium stress on growth and anti-oxidative systems in Achnatherum inebrians symbiotic with Neotyphodium gansuense. J Hazard Mater 175:703–709

Zhao XH, Cui ZH, Geng GX, Wang JH, Zhang ZM (2007) Gas Chromatography-Methyl-α-D-mannopyranoside internal standard method determine the swainsonine concentration in A.variabilis Bunge. Chin J Chromatogr 25:781–782

Zhao BY, Liu ZY, Lu H, Wang ZX, Sun LS, Wan XP, Guo X, Zhao YT, Wang JJ, Shi ZC (2010) Damage and control of poisonous weeds in western grassland of China. Agric Sci China 9:1512–1521

Zhao QM, Yu YT, Zhao MS, Li J (2012) Study on seed germination characteristics of Oxytropis ochrocephal Bunge. J Agric Sci 33:13–17

Zimmerman JL (1993) Somatic embryogenesis: a model for early development in higher plants. Plant Cell 5:1411–1423
Acknowledgments
The work was supported by Special Fund for Agro-scientific Research in the Public Interest of China (No. 201203062), and research fund from Northwest University (No. PR12082 and No. NH13030).
Additional information
Wei He and Bin Guo have contributed equally to this work.
About this article
Cite this article
He, W., Guo, B., Fan, P. et al. In vitro propagation of a poisonous plant Oxytropis glabra (Lam.) DC. Plant Cell Tiss Organ Cult 120, 49–55 (2015). https://doi.org/10.1007/s11240-014-0577-2
Received:

Accepted:

Published:

Issue Date:
Keywords
Oxytropis glabra

Micropropagation

Poisonous plant

Phytochemicals

Swainsonine