Abstract
A simple efficient in vitro plant regeneration system was developed by direct and indirect somatic embryogenesis of Drimia robusta, a medicinal plant extensively used in South African traditional medicine. Different developmental stages of somatic embryos (SEs: globular embryos, partial pear-shaped embryos and club-shaped embryos), club-shaped cotyledon initiation, plumule initiation and plantlets were directly obtained from leaf explants on Murashige and Skoog (MS) medium containing 3.5 % (w/v) sucrose and different plant growth regulators (PGRs). In MS medium containing 3.5 % (w/v) sucrose and supplemented with 10 μM picloram, 1 μM thidiazuron (TDZ) and 20 μM glutamine, a higher number of SEs and plantlets were achieved. These were established onto half-strength MS medium followed by successful acclimatization (100 %) in the greenhouse. Liquid somatic embryo medium (SEML) containing 500 mg of friable embryogenic callus on MS medium supplemented with different concentrations and combinations of PGRs and organic elicitors produced different stages of SEs. Somatic embryo production was enhanced by 0.5 μM picloram, 1 μM TDZ and mebendazole treatment. The highest number of plantlets (9.0 ± 0.70) was obtained in SEML containing 0.5 μM picloram, 1 μM TDZ and 25 mg l−1 haemoglobin. All the cotyledon and plumule embryos germinated on half-strength MS medium, however 90 % of SEs germinated on half-strength MS medium containing 0.5 μM naphthaleneacetic acid. All plantlets were successfully acclimatized in the greenhouse. This first report of D. robusta somatic embryogenesis provides an opportunity to control extinction threats, ensure germplasm conservation and provides a system for analysis of bioactive compounds and bioactivity.
This is a preview of subscription content, log in to check access.
Access options
Buy single article
Instant access to the full article PDF.
US$ 39.95
Price includes VAT for USA
Subscribe to journal
Immediate online access to all issues from 2019. Subscription will auto renew annually.
US$ 199
This is the net price. Taxes to be calculated in checkout.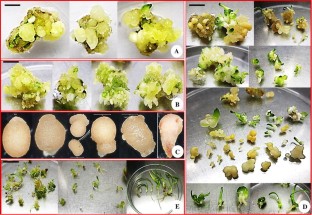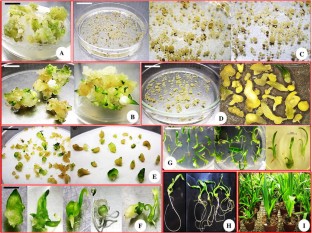 Abbreviations
2,4-D:

2,4-Dichlorophenoxyacetic acid

BA:

6-Benzyladenine

FEC:

Friable embryogenic callus

HB:

Haemoglobin

MS:

Murashige and Skoog medium

MBZ:

Mebendazole

NAA:

α-Naphthaleneacetic acid

OEs:

Organic elicitors

PGRs:

Plant growth regulators

PPF:

Photosynthetic photon flux

SEs:

Somatic embryos

SCV:

Settled cell volume

SEML :

Liquid somatic embryo medium

TDZ:

Thidiazuron
References
Al-Khayri JM (2013) Complex organic additives-induced changes during somatic embryogenesis in plant system. In: Aslam J, Srivastava PS, Sharma MP (eds) Somatic embryogenesis and gene expression. Narosa Publishing House, New Delhi, pp 82–123

Anthony P, Davey MR, Power JB, Lowe KC (1997) Enhanced mitotic division of cultured Passiflora and Petunia protoplasts by oxygenated perfluorocarbon and haemoglobin. Biotechnol Technol 11:581–584

Azhakanandam K, Lowe KC, Power JB, Davey MR (1997) Haemoglobin (Erythrogen)-enhanced mitotic division and plant regeneration from cultured rice protoplasts (Oryza sativa L.). Enzyme Microb Technol 21:572–577

Bakhshaie M, Babalar M, Mirmasoumi M, Khalighi A (2010) Somatic embryogenesis and plant regeneration of Lilium ledebourii (Baker) Boiss., an endangered species. Plant Cell Tissue Organ Cult 102:229–235

Baskaran P, Jayabalan N (2009) In vitro propagation of Psoralea corylifolia L. by somatic embryogenesis in cell suspension culture. Acta Physiol Plant 31:1119–1127

Baskaran P, Van Staden J (2012) Somatic embryogenesis of Merwilla plumbea (Lindl.) Speta. Plant Cell Tissue Organ Cult 109:517–524

Baskaran P, Ncube B, Van Staden J (2012) In vitro propagation and secondary product production by Merwilla plumbea (Lindl.) Speta. Plant Growth Regul 67:235–245

Baskaran P, Singh S, Van Staden J (2013) In vitro propagation, proscillaridin A production and antibacterial activity in Drimia robusta. Plant Cell Tissue Organ Cult 114:259–267

Carloni E, Ribotta A, Colomba EL, Griffa S, Quiroga M, Tommasino E, Grunberg K (2014) Somatic embryogenesis from in vitro anther culture of apomictic buffel grass genotypes and analysis of regenerated plants using flow cytometry. Plant Cell Tissue Organ Cult. doi:10.1007/s11240-014-0441-4

Deo PC, Taylor M, Harding RM, Tyagi AP, Becker DK (2010) Initiation of embryogenic cell suspensions of taro (Colocasia esculenta var. esculenta) and plant regeneration. Plant Cell Tissue Organ Cult 100:283–291

Eloff JN (1998) A sensitive and quick microplate method to determine the minimal inhibitory concentration of plant extracts for bacteria. Plant Med 64:711–713

Fouche G, Cragg GM, Pillay P, Kolesnikova N, Maharaj VJ, Senabe J (2008) In vitro anticancer screening of South African plants. J Ethnopharmacol 119:455–461

Ganesan M, Jayabalan N (2004) Evaluation of haemoglobin (erythrogen): for improved somatic embryogenesis and plant regeneration in cotton (Gossypium hirsutum L. cv. SVPR 2). Plant Cell Rep 23:181–187

Guo Y, Zhang ZX (2005) Establishment and plant regenerations of somatic embryogenic cell suspension cultures of the Zingiber officinale Rosc. Sci Hortic 107:90–96

Hua YM, Rong HN (2010) A simple cryopreservation protocol of Dioscorea bulbifera L. embryogenic calli by encapsulation-vitrification. Plant Cell Tissue Organ Cult 101:349–358

Huang S, Hill RD, Wally OS, Dionisio G, Ayele BT, Jami SK, Stasolla C (2014) Hemoglobin control of cell survival/death decision regulates in vitro plant embryogenesis. Plant Physiol 165:810–825

Hutchings A (1989) A survey and analysis of traditional medicinal plants as used by the Zulu, Xhosa and Sotho. Bothalia 19:111–123

Jayabalan N, Anthony P, Davey MR, Power JB, Lowe KC (2004) Hemoglobin promotes somatic embryogenesis in peanut cultures. Artif Cells Blood Subst Immobil Biotechnol 32:149–157

Jayanthi M, Mohan N, Mandal PK (2011) Direct somatic embryogenesis and plantlet regeneration in oil palm. J Plant Biochem Biotechnol 20:249–251

Jeong JH, Jung SJ, Murthy HN, Yu KW, Paek KY, Moon HK, Choi YE (2005) Production of eleutherosides in in vitro regenerated embryos and plantlets of Eleutherococcus chiisanensis. Biotechnol Lett 27:701–704

Kackar A, Bhat SR, Chandel KPS, Malik SK (1993) Plant regeneration via somatic embryogenesis in ginger. Plant Cell Tissue Organ Cult 32:289–292

Lincy AK, Remashree AB, Sasikumar B (2009) Indirect and direct somatic embryogenesis from aerial stem explants of ginger (Zingiber officinale Rosc.). Acta Bot Croat 68(1):93–103

Luyt RP, Jäger AK, Van Staden J (1999) The rational usage of Drimia robusta Bak. in traditional medicine. S Afr J Bot 65:1–4

Manjkhola S, Dhar U, Joshi M (2005) Organogenesis, embryogenesis, and synthetic seed production in Arnebia euchroma—a critically endangered medicinal plant of the Himalaya. In Vitro Cell Dev Biol Plant 41:244–248

Martin KP (2004a) Plant regeneration through somatic embryogenesis in medicinally important Centella asiatica L. In Vitro Cell Dev Biol Plant 40:586–591

Martin KP (2004b) Plant regeneration protocol of medicinally important Andrographis paniculata (Burm. F.) Wallich ex Nees via somatic embryogenesis. In Vitro Cell Dev Biol Plant 40:204–209

Murashige T, Skoog F (1962) A revised medium for rapid growth and bio assays with tobacco tissue cultures. Physiol Plant 15:473–497

Ngugi G, Jager AK, Van Staden J (1998) In vitro propagation of Drimia robusta Bak. S Afr J Bot 64:266–268

Parimalan R, Akshatha V, Giridhar P, Ravishankar GA (2010) Somatic embryogenesis and Agrobacterium-mediated transformation in (Bixa orellana L.). Plant Cell Tissue Organ Cult 105:317–328

Pujol J (1990) Nature Africa: the Herbalist handbook. Jean Pujol Natural Healers Foundation, Durban

Raju CS, Kathiravan K, Aslam A, Shajahan A (2013) An efficient regeneration system via somatic embryogenesis in mango ginger (Curcuma amada Roxb.). Plant Cell Tissue Organ Cult 112:387–393

SANBI (2013) Statistics: Red List of South African Plants version 2013.1. http://redlist.sanbi.org/stats.php

Savitha BC, Timmaraju R, Bhagyalaksami N, Ravishankar GA (2006) Different biotic and abiotic elicitors influence betalain production in hairy root cultures of Beta vulgaris in shake flasks and bioreactor. Process Biochem 41:50–60

Shah CK (1982) Morpho-histochemical and SEM studies of some monocotyledonous embryos. Phytomorphol 32:211–221

Shoyama Y, Zhu XX, Nakai R, Shiraishi S, Kohda H (1997) Micropropagation of Panax notoginseng by somatic embryogenesis and RAPD analysis of regenerated plantlets. Plant Cell Rep 16:450–453

Tribulato A, Remotti PC, Loffler HJM (1997) Somatic embryogenesis and plant regeneration in Lilium longiflorum Thunb. Plant Cell Rep 17:113–118

Van Wyk BE, Gericke N (2000) People's plants, a guide to useful plants of Southern Africa. Briza Publications, Pretoria

Vasil IK (1988) Progress in the regulation and genetic manipulation of cereal crops. Biotechnol 6:397–402

Wang S, Yang F, Jiu L, Zhang W, Zhang W, Tian W, Wang F (2013) Plant regeneration via somatic embryogenesis from leaf explants of Muscari armeniacum. Biotechnol Biotechnol Equip 27:4243–4247
Acknowledgments
The financial support by National Research Foundation (NRF), Pretoria and the University of KwaZulu-Natal, Pietermaritzburg is gratefully acknowledged. The authors are grateful to the Microscopy & Microanalysis Unit (MMU), UKZN, Pietermaritzburg for microscopic assistance.
About this article
Cite this article
Baskaran, P., Van Staden, J. Plant regeneration via somatic embryogenesis in Drimia robusta . Plant Cell Tiss Organ Cult 119, 281–288 (2014). https://doi.org/10.1007/s11240-014-0532-2
Received:

Accepted:

Published:

Issue Date:
Keywords
Cell suspension

Drimia robusta

Medicinal plant

Organic elicitors

Picloram

Somatic embryogenesis

Thidiazuron