Abstract
Anisodus luridus hairy root cultures were established to test biological effects of acetylsalicylic acid (ASA) and ultraviolet ray-B (UV-B) on gene expression, tropane alkaloid (TA) biosynthesis and efflux. The TAs-pathway gene expression was ASA dosage dependant. The expression of PMT, TRI and CYP80F1 showed no significant difference in hairy root cultures in treatment of 0.01 and 0.1 mM ASA, compared with those without ASA treatment; while 0.01 or 0.1 mM ASA slightly upregulated H6H expression. All the four genes including PMT, TRI, CYP80F1 and H6H had a dramatic increase in 1 mM ASA-treated hairy root cultures compared with control. The expressing levels of all the four genes were much significantly higher in 1 mM ASA-treated hairy root cultures than those in 0.01 and 0.1 mM ASA-treated ones. As expected, hairy root cultures treated with 1 mM ASA had the highest capacity of TAs biosynthesis, in which the content of scopolamine and hyoscyamine reached respectively 57.2 and 14.7 μg g−1 DW. Surprisingly, it was found that 1 mM ASA dramatically induced the efflux of scopolamine. In the liquid medium with 1 mM ASA, the content of scopolamine was 153.4 μg flask−1, about 6.2 folds compared with that of control. At the same time, hyoscyamine was detected at trace levels in liquid medium. In the UV-B stressed hairy root cultures, all the four genes had a very strong increase of gene expression that led to more accumulation of scopolamine and lower accumulation of hyoscyamine. Only trace amounts of hyoscyamine and scopolamine were detected in the liquid medium when hairy root cultures were stressed under UV-B, and this suggested that UV-B did not affect TAs efflux.
This is a preview of subscription content, log in to check access.
Access options
Buy single article
Instant access to the full article PDF.
US$ 39.95
Price includes VAT for USA
Subscribe to journal
Immediate online access to all issues from 2019. Subscription will auto renew annually.
US$ 199
This is the net price. Taxes to be calculated in checkout.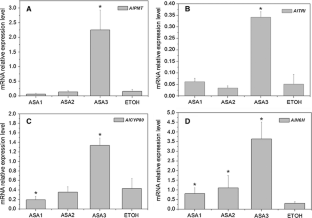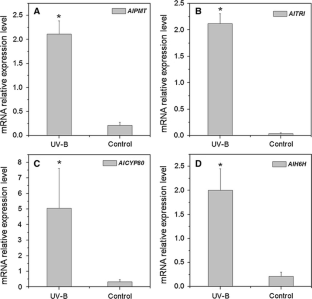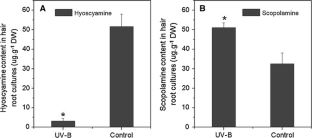 References
Binder BYK, Peebles CAM, Shanks JV, San KY (2009) The effects of UV-B stress on the production of terpenoid indole alkaloids in Catharanthus roseus hairy roots. Biotechnol Progr 25:861–865

De Luca V, St Pierre B (2000) The cell and developmental biology of alkaloid biosynthesis. Trends Plant Sci 5:168–173

Dehghan E, Hakkinen ST, Oksman-Caldentey KM, Ahmadi FS (2012) Production of tropane alkaloids in diploid and tetraploid plants and in vitro hairy root cultures of Egyptian henbane (Hyoscyamus muticus L.). Plant Cell Tissue Organ Cult 110:35–44

Doma M, Abhayankar G, Reddy VD, Kavi Kishor PB (2012) Carbohydrate and elicitor enhanced withanolide (withaferin A and withanolide A) accumulation in hairy root cultures of Withania somnifera (L.). Indian J Exp Biol 50:484–490

el Jaber-Vazdekis N, Barres ML, Ravelo AG, Zarate R (2008) Effects of elicitors on tropane alkaloids and gene expression in Atropa baetica transgenic hairy roots. J Nat Prod 71:2026–2031

Favali MA, Musetti R, Benvenuti S, Bianchi A, Pressacco L (2004) Catharanthus roseus L. plants and explants infected with phytoplasmas: alkaloid production and structural observations. Protoplasma 223:45–51

Giri A, Narasu ML (2000) Transgenic hairy roots. Recent trends and applications. Biotechnol Adv 18:1–22

GodoyHernandez G, LoyolaVargas VM (1997) Effect of acetylsalicylic acid on secondary metabolism of Catharanthus roseus tumor suspension cultures. Plant Cell Rep 16:287–290

Guillon S, Tremouillaux-Guiller J, Pati PK, Rideau M, Gantet P (2006) Hairy root research: recent scenario and exciting prospects. Curr Opin Plant Biol 9:341–346

Hashimoto T, Matsuda J, Yamada Y (1993) Two-step epoxidation of hyoscyamine to scopolamine is catalyzed by bifunctional hyoscyamine 6 beta-hydroxylase. FEBS Lett 329:35–39

Hibi N, Fujita T, Hatano M, Hashimoto T, Yamada Y (1992) Putrescine N-methyltransferase in cultured roots of Hyoscyamus albus: n-butylamine as a potent inhibitor of the transferase both in vitro and in vivo. Plant Physiol 100:826–835

Jeong GT, Park DH, Ryu HW, Hwang B, Woo JC, Doman KF, Kim SW (2005) Production of antioxidant compounds by culture of Panax ginseng CA Meyer hairy roots I. Enhanced production of secondary metabolite in hairy root cultures by elicitation. Appl Biochem Biotechnol 121:1147–1157

Jovankovics K (1966) Himalayan scopola (Anisodus luridus) roots cultivated in Hungarian Research Institute of Medical Plants. Herba Hungarica 5:41–44

Kai GY, Li L, Jiang YX, Yan XM, Zhang Y, Lu X, Liao P, Chen JB (2009) Molecular cloning and characterization of two tropinone reductases in Anisodus acutangulus and enhancement of tropane alkaloid production in AaTRI-transformed hairy roots. Biotechnol Appl Biochem 54:177–186

Kai GY, Yang S, Luo XQ, Zhou WT, Fu XQ, Zhang A, Zhang Y, Xiao JB (2011) Co-expression of AaPMT and AaTRI effectively enhances the yields of tropane alkaloids in Anisodus acutangulus hairy roots. BMC Biotechnol 11:43

Kai GY, Yang S, Zhang Y, Luo XQ, Fu XQ, Zhang A, Xiao JB (2012) Effects of different elicitors on yield of tropane alkaloids in hairy roots of Anisodus acutangulus. Mol Biol Rep 39:1721–1729

Kang SM, Jung HY, Kang YM, Yun DJ, Bahk JD, Yang JK, Choi MS (2004) Effects of methyl jasmonate and salicylic acid on the production of tropane alkaloids and the expression of PMT and H6H in adventitious root cultures of Scopolia parviflora. Plant Sci 166:745–751

Lan XZ, Quan H (2010) Hairy root culture of Przewalskia tangutica for enhanced production of pharmaceutical tropane alkaloids. J Med Plants Res 4:1490–1494

Li R, Reed DW, Liu EW, Nowak J, Pelcher LE, Page JE, Covello PS (2006) Functional genomic analysis of alkaloid biosynthesis in Hyoscyamus niger reveals a cytochrome P450 involved in littorine rearrangement. Chem Biol 13:513–520

Li JD, Chen M, Qiu F, Qin BF, Liu WH, Wu NB, Lan XZ, Wang Q, Liao ZH, Tang KX (2014) Reference gene selection for gene expression studies using quantitative real-time PCR normalization in Atropa belladonna. Plant Mol Biol Rep. doi:10.1007/s11105-014-0701-9

Liu WH, Chen R, Chen M, Zhang HX, Peng MF, Yang CX, Ming XJ, Lan XZ, Liao ZH (2012) Tryptophan decarboxylase plays an important role in ajmalicine biosynthesis in Rauvolfia verticillata. Planta 236:239–250

Mano Y, Nabeshima S, Matsui C, Ohkawa H (1986) Production of tropane alkaloids by hairy root cultures of Scopolia japonica. Agric Biol Chem Tokyo 50:2715–2722

Oksman-Caldentey KM (2000) Commentary on Verpoorte's review—engineering the plant cell factory for secondary metabolite production. Transgenic Res 9:321–331

Pavlov A, Berkov S, Weber J, Bley T (2009) Hyoscyamine biosynthesis in Datura stramonium hairy root in vitro systems with different ploidy levels. Appl Biochem Biotechnol 157:210–225

Portsteffen A, Drager B, Nahrstedt A (1994) The reduction of tropinone in Datura stramonium root cultures by two specific reductases. Phytochemistry 37:391–400

Stachel SE, Messens E, Van Montagu M, Zambrysky P (1985) Identification of the signal molecules produced by wounded plant cells that activate T-DNA transfer in Agrobacterium tumefaciens. Nature 318:624–629

Teli NP, Timko MP (2004) Recent developments in the use of transgenic plants for the production of human therapeutics and biopharmaceuticals. Plant Cell Tissue Organ 79:125–145

Wang Y, Meng LH, Yang YP, Duan YW (2010) Change in floral orientation in Anisodus luridus (Solanaceae) protects pollen grains and facilitates development of fertilized ovules. Am J Bot 97:1618–1624

Wang XR, Chen M, Yang CX, Liu XQ, Zhang L, Lan XZ, Tang KX, Liao ZH (2011) Enhancing the scopolamine production in transgenic plants of Atropa belladonna by overexpressing pmt and h6h genes. Physiol Plant 143:309–315

Wielanek M, Urbanek H (2006) Enhanced glucotropaeolin production in hairy root cultures of Tropaeolum majus L. by combining elicitation and precursor feeding. Plant Cell Tissue Organ Cult 86:177–186

Wu JY, Shi M (2008) Ultrahigh diterpenoid tanshinone production through repeated osmotic stress and elicitor stimulation in fed-batch culture of Salvia miltiorrhiza hairy roots. Appl Microbiol Biotechnol 78:441–448

Yang CX, Chen M, Zeng LJ, Zhang L, Liu XQ, Lan XZ, Tang KX, Liao ZH (2011) Improvement of tropane alkaloids production in hairy root cultures of Atropa belladonna by overexpressing pmt and h6h genes. Plant Omics 4:29–33

Zarate R, El Jaber-Vazdekis N, Medina B, Ravelo AG (2006) Tailoring tropane alkaloid accumulation in transgenic hairy roots of Atropa baetica by over-expressing the gene encoding hyoscyamine 6 beta-hydroxylase. Biotechnol Lett 28:1271–1277

Zhang WJ, Björn LO (2009) The effect of ultraviolet radiation on the accumulation of medicinal compounds in plants. Fitoterapia 80:207–218

Zhang L, Ding RX, Chai YR, Bonfill M, Moyano E, Oksman-Caldentey KM, Xu TF, Pi Y, Wang ZN, Zhang HM, Kai GY, Liao ZH, Sun XF, Tang KX (2004) Engineering tropane biosynthetic pathway in Hyoscyamus niger hairy root cultures. Proc Natl Acad Sci USA 101:6786–6791

Zhang L, Yang B, Lu BB, Kai GY, Wang ZN, Xia Y, Ding RX, Zhang HM, Sun XF, Chen WS, Tang KX (2007) Tropane alkaloids production in transgenic Hyoscyamus niger hairy root cultures over-expressing putrescine N-methyltransferase is methyl jasmonate-dependent. Planta 225:887–896
Acknowledgments
This work was financially supported by the NSFC Project (31370333), the National 863 Hi-Tech Plans (2011AA100605; 2011AA100607), Chongqing Sciences and Technology Project (CSTC2012GGYYJS80013), the Program for New Century Excellent Talents in University (NECT-12-0930) and the Fundamental Research Funds for the Central Universities (XDJK2013A024).
Additional information
Baifu Qin and Lili Ma have contributed equally to this work.
About this article
Cite this article
Qin, B., Ma, L., Wang, Y. et al. Effects of acetylsalicylic acid and UV-B on gene expression and tropane alkaloid biosynthesis in hairy root cultures of Anisodus luridus . Plant Cell Tiss Organ Cult 117, 483–490 (2014). https://doi.org/10.1007/s11240-014-0454-z
Received:

Accepted:

Published:

Issue Date:
Keywords
Anisodus luridus

Elicitor

Gene expression

Alkaloid biosynthesis

Efflux