Abstract
An efficient and reliable transformation system for a very important medicinal plant Papaver bracteatum was developed through optimization of several factors that affect the rate of effective A. rhizogenes-mediated transformation and growth rate of hairy root. Five bacterial strains, A4, ATCC15834, LBA9402, MSU440 and A13, and three explants types, hypocotyls, leaves and excised shoots were examined. The highest frequency of transformation was achieved using LBA9402 strain in the excised shoots. Several inoculation and co-cultivation media and different concentration of arginine were evaluated using LBA9402 strain and the excised shoots as explant. Interestingly, a drastic increase in the frequency of transformation (47.3 %) was observed when Murashige and Skoog medium containing 1 mM arginine and lacking NH4NO3 KH2PO4, KNO3 and CaCl2 was used. The effect of sucrose concentration and the ratio of NH4 +: NO3 − on hairy root biomass was examined. Maximum biomass was obtained in 30 g/l sucrose and 20:10 mM ratio of NH4 + to NO3 − on MS medium. Transgenic hairy root lines were confirmed by polymerase chain reaction (PCR) and Southern hybridization.
This is a preview of subscription content, log in to check access.
Access options
Buy single article
Instant access to the full article PDF.
US$ 39.95
Price includes VAT for USA
Subscribe to journal
Immediate online access to all issues from 2019. Subscription will auto renew annually.
US$ 199
This is the net price. Taxes to be calculated in checkout.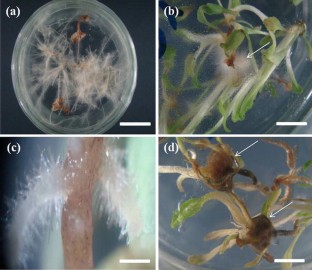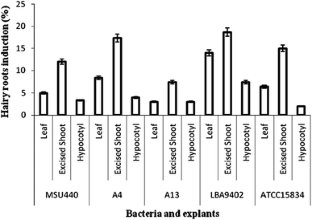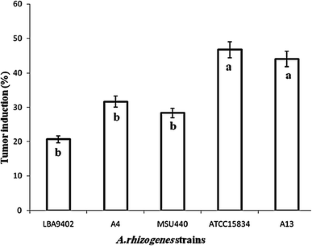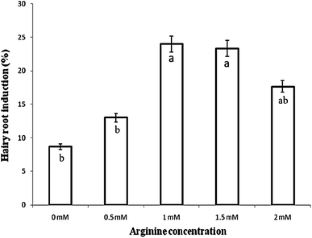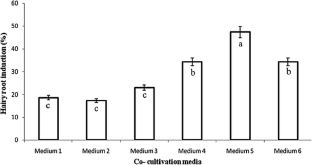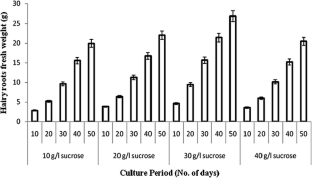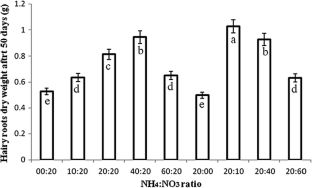 References
Azadi P, Chin DP, Kuroda K, Khan RS, Mii M (2010) Macro elements in inoculation and co-cultivation medium strongly affect the efficiency of Agrobacterium-mediated transformation in Lilium. Plant Cell Tissue Organ Cult 101:201–209

Azadi P, Valentaine Otange N, Supaporn H, Khan RS, Chin DP, Nakamura I, Mii M (2011) Increased resistance to Cucumber Mosaic Virus (CMV) in Lilium transformed with a defective CMV replicase gene. Biotechnol Lett 33:1249–1255

Bensaddek L, Gillet F, Saucedo JN (2001) The effect of nitrate and ammonium concentration on growth and alkaloid accumulation of Atropa belladonna hairy root. J Biotechnol 85:35–40

Bulgakov VP (2008) Function of rol gene in plant secondary metabolism. Biotechnol Adv 26:318–324

Cao D, Hou W, Song S, Sun H, Wu C, Gao Y, Han T (2009) Assessment of conditions affecting Agrobacterium rhizogenes-mediated transformation of soybean. Plant Cell Tissue Organ Cult 96:45–52

Carolan JC, Hook ILI, Walsh JJ, Hodkinson TR (2002) Using AFLP markers for species differentiation and assessment of genetic variability of in vitro cultured Papaver bracteatum (section oxytona). In vitro Cell Dev Biol Plant 39:300–307

Chaudhuri KN, Ghosh B, Tepfer D, Jha S (2005) Genetic transformation of Tylophora indica with Agrobacterium rhizogenes A4: growth and tylophorine productivity in different transformed root clones. Plant Cell Rep 24:25–35

Danhorn T, Hentzer M, Givskov M, Parsek MR, Fuqua C (2004) Phosphorus limitation enhances biofilm formation of the plant pathogen Agrobacterium tumefaciens through the PhoR–PhoB regulatory system. J Bacteriol 186:4492–4501

Danphitsanuparn P, Boonsnongcheep P, Boribonkaset T, Chintapakorn Y, Prathanturarug S (2012) Effect of Agrobacterium rhizogenes strains and other parameters on production of isoflavonoids in hairy roots of Pueraria candollei Grah. Ex Benth. Var. candollei. Plant Cell Tissue Organ Cult. doi:10.1007/s11240-012-0196-8

Dupre P, Lacoux Y, Neutelings G, Mattar-Lavrain D, Fliniaux MA, David A, Jacquin-Dubreuil A (2000) Genetic transformation of Ginkgo biloba by Agrobacterium tumefaciens. Physiol Plant 108:413–419

Flego D, Pirhonen M, Saarilahti H, Palva TK, Palva ET (1997) Control of virulence gene expression by plant calcium in the phytopathogen Erwinia carotovora. Mol Microbiol 25:831–838

Fu CX, Zho DX, Xue XF, Jin Z, Ma FS (2005) Transformation of Saussurea involucrata by Agrobacterium rhizogenes: hairy root induction and syringin production. Process Biochem 40:3789–3794

Gangopadhyay M, Chakraborty D, Bhattacharyya S, Bhattacharya S (2010) Regeneration of transformed plants from hairy root of Plumbago indica. Plant Cell Tissue Organ Cult 102:109–114

Geng L, Niu L, Gresshoff PM, Shu C, Song F, Huang D, Zhang J (2012) Efficient production of Agrobacterium rhizogenes-transformed roots and composite plants in peanut (Arachis hypogaea L.). Plant Cell Tissue Organ Cult 109:491–500

Georgiev M, Pavlov A, Bley T (2007) Hairy root type plant in vitro systems as sources of bioactive substances. Appl Microbiol Biotechnol 74:1175–1185

Guillon S, Temouillaux-Guiller J, Pati PK, Rideau M, Gantet P (2006) Hairy root research: recent scenario and exciting prospects. Curr Opin Plant Biol 9:341–346

Henzi MX, Christey MC, McNeil DL (2000) Factors influence Agrobacterium rhizogenes mediated transformation of broccoli (Brassica oleracea L. var.italica). Plant Cell Rep 19:994–999

Hoshi Y, Kondo M, Mori S, Adachi Y, Nakano M, Kobayashi H (2004) Production of transgenic lily plants by Agrobacterium mediated transformation. Plant Cell Rep 22:359–364

Hu ZB, Du M (2006) Hairy root and its application in plant genetic engineering. J Integr Plant Biol 48:121–127

Jung KH, Kwak SS, Choi CY, Liu JR (1994) Development of two stage culture process by optimization of inorganic salts for improving. Catharanthin production in hairy root cultures of Catharanthus roseus. J Ferment Bioeng 77:57–61

Kutchan TM (1998) Molecular genetics of plant alkaloid biosynthesis. Alkaloids 50:253–316

Le Flem-Bonhomme V, Laurin-Mattar D, Fliniaux MA (2000) Effect of the rolC gene on hairy root: induction development and tropane alkaloid production by Atropa belladonna. J Nat Prod 63:1249–1252

Le Flem-Bonhomme V, Laurain-Matter D, Fliniavx MA (2004) Hairy root induction of Papaver somniferum var. album, a difficult-to-transform plant, by A. rhizogenes LBA 9402. Planta 218:890–893

Leonard E, Runguphan W, Connor SO, Prather KJ (2009) Opportunity in metabolic engineering to facilitate scalable alkaloid production. Nat Chem Biol 5:292–300

Li L, Wang J, Lu Y, Wang Y, Zhou G, Kai G (2008) Optimization of induction and culture conditions and tropane alkaloid production in hairy roots of Anisodus acutangulus. Biotech Bioprocess Eng 13:606–612

Lourenco PML, Castro SD, Martins TM, Clemente A, Domingos A (2002) Growth and proteolytic activity of hairy roots from Centaurea calcitrapa: effect of nitrogen and sucrose. Enzym Microb Technol 31:242–249

Metz TD, Roush RT, Tang GD, Shelton MA, Earlc DE (1995) Transgenic broccoli expressing a Bacillus thuringiensis insecticidal crystal protein: implications for pest resistance management strategies. Mol Breed 1:309–317

Milo J, Levy A, Palevitch D, Ladlzinsky G (1990) Genetic evidence for the conversion of the morphinan alkaloid thebaine to oripavine in inter specific hybrids between Papaver bracteatum and Papaver orientale. Heredity 64:367–370

Montoro P, Toinseree N, Rattana W, Kongsawad WP, Michaux Ferriere N (2000) Effect of exogenous calcioum on Agrobacterium tumefaciens-mediated gene transfer in Hevea brasiliensis (rubber tree) friable calli. Plant Cell Rep 19:851–855

Murashige T, Skoog FA (1962) A revised medium for rapid growth and bioassays with tobacco tissue culture. Physiol Plant 15:473–497

Neguyen C, Bourgaud F, Forlot P, Guckert A (1992) Establishment of hairy root cultures of Psoralea species. Plant Cell Rep 11:424–427

Ono NN, Tain L (2011) The multiplicity of hairy root cultures: prolific possibilities. Plant Sci 180:439–446

Park SU, Facchini PJ (2000) Agrobacterium rhizogenes-mediated transformation of opium poppy, Papaver somniferum L., and California poppy, Eschscholzia californica cham., root cultures. J Exp Bot 51:1005–1016

Ping SH, Yue LY, Shan ST, Eric TPK (2011) Induction of hairy root and plant regeneration from medicinal plant Pogostemon cablin. Plant Cell Tissue Organ Cult 107:251–260

Rostampour S, Sohi HH, Jourabchi E, Ansari E (2009) Influence of Agrobacterium rhizogenes on induction of hairy roots and benzylisoquinoline alkaloid production in Persian poppy (papaver bracteatum). World J Microbiol Biotechnol 25:1807–1814

Saleh NM, Thus LV (2009) Assessment of hairy roots induction in Solenostemon scutellarioides leaves by different strains of Agrobacterium rhizogenes. Afr J Biotechnol 8:3519–3523

Shanks JV, Morgan J (1999) Plant hairy root culture. Curr Opin Biotechnol 10:151–155

Shinde AN, Malpathak N, Fulzele DP (2010) Impact of nutrient components on production of the phytoestrogens daidzein and genistein by hairy roots of Psoralea corylifolia. J Nat Med 64:346–353

Shkryl YN, Vermeichik GN, Bulgakov VP, Tchernoded GK, Mischenko NP, Fedoreyev SA, Zhuraulev YN (2008) Individual and combined effect of the rol A, B and C genes on anthraquinone production in Rubia cordifolion transformed Calli. Biotechnol Bioeng 100:118–125

Sudha CG, Sherina TV, Anand VP, Reji JV, Padmesh P, Sonia EV (2012) Agrobacterium rhizogenes mediated transformation of the medicinal plant Decalepis arayalpathra and production of 2-hydroxy-4-methoxy benzaldehyde. Plant Cell Tissue Organ Cult. doi:10.1007/s11240-012-0226-6

Tisserat B, Berhow M (2009) Production of pharmaceutical from papaver cultivars. In vitro Eng Life Sci 3:190–196

Winans SC (1990) Transcriptional induction of an Agrobacterium regulatory gene at tandem promoters by plant-released phenolic compounds, phosphate starvation, and acidic growth media. J Bacteriol 172:2433–2438

Wu J, Wang Y, Zhang LX, Zhang XZ, Kong J, Lu J, Han ZH (2012) High-efficiency regeneration of Agrobacterium rhizogenes-induced hairy root in apple rootstock Malus baccata (L.) Borkh. Plant Cell Tissue Organ Cult. doi:10.1007/s11240-012-0182-1

Yoshimatsu K, Shimomura K (1992) Transformation of opium poppy (Papaver somniferum L.) with Agrobacterium rhizogenes MAFF 03–01724. Plant Cell Rep 11:132–136
About this article
Cite this article
Sharafi, A., Sohi, H.H., Mousavi, A. et al. A reliable and efficient protocol for inducing hairy roots in Papaver bracteatum . Plant Cell Tiss Organ Cult 113, 1–9 (2013). https://doi.org/10.1007/s11240-012-0246-2
Received:

Accepted:

Published:

Issue Date:
Keywords
Agrobacterium rhizogenes

Transformation

Co-cultivation

Macro elements

Hairy root

Papaver bracteatum