Abstract
In this study, an efficient procedure was established for successful induction of tetraploid Arachis paraguariensis by treating diploid explants with colchicine. Quartered-seed, callus and shoot-tips were treated with colchicine at concentrations of 0.05, 0.1, 0.2 and 0.5 % (w/v) for 4, 8, 16, 20 and 24 h before they were transferred unto modified Murashige and Skoog medium for either callus induction or shoot regeneration. Results showed that quartered-seed displayed the highest frequency of in vitro plantlet regeneration and tetraploid induction, as well as the lowest mortality rate. Flow cytometric analysis also confirmed that the induced tetraploids from quartered-seed were true-to-type. The 0.5 % colchicine treatment for 4 to 8 h gave the best results with 39 and 43 % of the explants yielding tetraploid plants, respectively. Two months following transfer to ex vitro environment, morphological and growth characteristics of the induced tetraploids were measured. Overall, increasing the ploidy level from 2× to 4× resulted in fewer stomata but more trichomes per unit leaf area. Tetraploid plants obtained in this study should expand the genetic base of Arachis, and can also be used in overcoming the existing hybridization barriers that may be due to ploidy differences within the genus Arachis.
This is a preview of subscription content, log in to check access.
Access options
Buy single article
Instant access to the full article PDF.
US$ 39.95
Price includes VAT for USA
Subscribe to journal
Immediate online access to all issues from 2019. Subscription will auto renew annually.
US$ 199
This is the net price. Taxes to be calculated in checkout.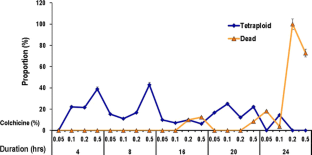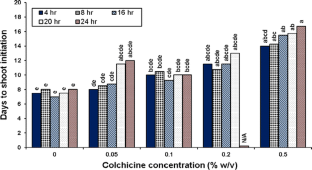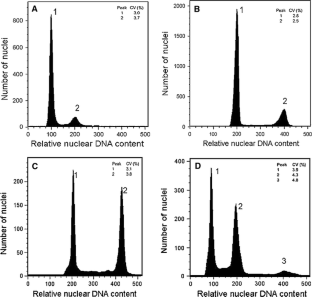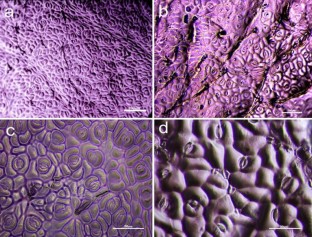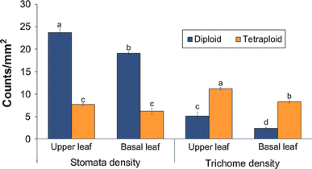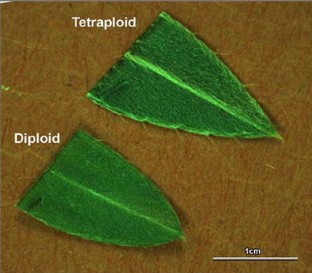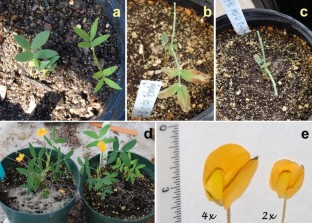 References
Adaniya S, Shirai D (2001) In vitro induction of tetraploid ginger (Zingiber officinale Roscoe) and its pollen fertility and germinability. Sci Hortic 88:277–287. doi:10.1016/S0304-4238(00)00212-0

Aina O, Quesenberry K, Gallo M (2012) Thidiazuron-induced tissue culture regeneration from quartered-seed explants of Arachis Paraguariensis. Crop Sci 52:1076–1083. doi:10.2135/cropsci2011.07.0367

Burns SP, Gallo M, Tillman BL (2011) Expansion of a direct shoot organogenesis system in peanut (Arachis hypogaea L.) to include US cultivars. In Vitro Cell Dev-Pl 48:58–66. doi:10.1007/s11627-011-9384-1

Dewey DR (1980) Some application and misapplication of induced polyploidy to plant breeding. In: Lewis WH (ed) Polyploidy: biological relevance, vol 13. Plenum Press, New York, pp 445–470. doi:10.1007/978-1-4613-3069-1_23

Dhooghe E, Van Laere K, Eeckhaut T, Leus L, Van Huylenbroeck J (2011) Mitotic chromosome doubling of plant tissues in vitro. Plant Cell Tiss Organ Cult 104:359–373. doi:10.1007/s11240-010-9786-5

Doležel J, Greilhuber J, Suda J (2007) Flow cytometry with plants: an overview. In: Doležel J, Greilhuber J, Suda J (eds) Flow cytometry with plant cells. Wiley, Weinheim, pp 41–65. doi:10.1002/9783527610921.ch3

Eigsti O, Dustin P (1955) Colchicine in agriculture, medicine, biology, chemistry. Iowa University Press, Ames. doi:10.5962/bhl.title.5991

Ewald D, Ulrich K, Naujoks G, Schröder MB (2009) Induction of tetraploid poplar and black locust plants using colchicine: chloroplast number as an early marker for selecting polyploids in vitro. Plant Cell Tissue Organ Cult 99:353–357. doi:10.1007/s11240-009-9601-3

Gamborg O, Miller R, Ojima K (1968) Nutrient requirement suspensions cultures of soybean root cells. Exp Cell Res 50:151–158. doi:10.1016/0014-4827(68)90403-5

Lema-Ruminska J (2011) Flow cytometric analysis of somatic embryos, shoots, and calli of the cactus Copiapoa tenuissima Ritt. forma monstruosa. Plant Cell Tiss Organ Cult 106:531–535. doi:10.1007/s11240-011-9941-7

Leus L, Van Laere K, Dewitte A, Van Huylenbroeck J (2009) Flow cytometry for plant breeding. Acta Hort 836:221–226

Li Z, Jarret RL, Pittman RN et al (1993) Efficient plant regeneration from protoplasts of Arachis paraguariensis Chodat & Hassl. Using a nurse culture method. Plant Cell Tiss Organ Cult 4:83–90. doi:10.1007/BF00048467

Li WD, Biswas DK, Xu H, Xu CQ, Wang XZ, Liu JK, Jiang GM (2009) Photosynthetic responses to chromosome doubling in relation to leaf anatomy in Lonicera japonica subjected to water stress. Funct Plant Biol 36:783–792. doi:10.1071/FP09022

Meyer EM, Touchell DH, Ranney TG (2009) In vitro shoot regeneration and polyploid induction from leaves of Hypericum species. Hortic Sci 44(7):1957–1961

Murashige T, Skoog F (1962) A revised medium for rapid growth and bioassays with tobacco tissue cultures. Physiol Plant 15:473–497. doi:10.1111/j.1399-3054.1962.tb08052.x

Nielen S, Vidigal BS, Leal-Bertioli SCM, Ratnaparkhe M, Paterson AH, Garsmeur O, D'Hont A, Guimarães PM, BertioliMatita DJ (2012) A new retroelement from peanut: characterization and evolutionary context in the light of the Arachis A-B genome divergence. Mol Genet Genomics 287:21–38. doi:10.1007/s00438-011-0656-6

Ochatt SJ, Patat-Ochatt EM, Moessner A (2011) Ploidy level determination within the context of in vitro breeding. Plant Cell Tiss Organ Cult 104:329–341. doi:10.1007/s11240-011-9918-6

Quesenberry K, Dampier J, Lee Y, Smith R, Acuña C (2010) Doubling the chromosome number of bahiagrass via tissue culture. Euphytica 175:43–50. doi:10.1007/s10681-010-0165-4

Sellars RM, Southward GM, Phillips GC (1990) Adventitious somatic embryogenesis from cultured immature zygotic embryos of peanut and soybean. Crop Sci 30:408–414. doi:10.2135/cropsci1990.0011183X003000020035x

Sharma KK, Anjaiah V (2000) An efficient method for the production of transgenic plants of peanut (Arachis hypogaea L.) through Agrobacterium tumefaciens-mediated genetic transformation. Plant Sci 159:7–19. doi:10.1016/S0168-9452(00)00294-6

Simpson CE (2001) Use of wild Arachis species/introgression of genes into A. hypogaea L. Peanut Sci 28:114–116. doi:10.3146/i0095-3679-28-2-12

Singh AK (1986) Utilization of wild relatives in the genetic improvement of Arachis hypogaea L. 8. Sythetic amphidiploids and their importance in interspecific breeding. Theor Appl Genet 72:433–439. doi:10.1007/BF00289523

Singh AK (1998) Hybridization barriers among the species of Arachis L., namely of the sections Arachis (including the groundnut) and Erectoides. Genet Resour Crop Evol 45:41–45. doi:10.1023/A:1008681020851

Singh AK, Moss JP (1982) Utilization of wild relatives in genetic improvement of Arachis hypogaea L. Part 2. Chromosome complements of species in section Arachis. Theor Appl Genet 61:305–314. doi:10.1007/BF00272846

Stalker HT, Wynne JC (1979) Cytology of interspecific hybrids in section Arachis of peanuts. Peanut Sci 6:110–114. doi:10.3146/i0095-3679-6-2-12

Still PE, Plata MI, Campbell RJ, Bueno LC, Chichester EA, Niblett CL (1987) Regeneration of fertile Arachis paraguariensis plants from callus and suspension cultures. Plant Cell Tiss Organ Cult 9:37–43. doi:10.1007/BF00046077

Subrahmanyam P, Moss JP, McDonald D, Rao PV, Rao VR (1985) Resistance to Cercosporidium personatum leafspot in wild Arachis species. Plant Dis 69:951–954. doi:10.1094/PD-69-951

Sun Q, Sun H, Bell RL, Li H, Xin L (2011) Variation of phenotype, ploidy level, and organogenic potential of in vitro regenerated polyploids of Pyrus communis. Plant Cell Tiss Organ Cult 107:131–140. doi:10.1007/s11240-011-9965-z

Yu Z, Haage Z, Streit VE, Gierl A, Ruiz RAT (2009) A large number of tetraploid Arabidopsis thaliana lines, generated by a rapid strategy, reveal high stability of neo-tetraploids during consecutive generations. Theor Appl Genet 118:1107–1119. doi:10.1007/s00122-009-0966-9

Zhang Z, Dai H, Xiao M, Liu X (2008) In vitro induction of tetraploids in Phlox subulata L. Euphytica 159:59–65. doi:10.1007/s10681-007-9457-8

Zhang XY, Hu CG, Yao JL (2010) Tetraploidization of diploid Dioscorea results in activation of the antioxidant defense system and increased heat tolerance. J Plant Physiol 167:88–94. doi:10.1016/j.jplph.2009.07.006
About this article
Cite this article
Aina, O., Quesenberry, K. & Gallo, M. In vitro induction of tetraploids in Arachis paraguariensis . Plant Cell Tiss Organ Cult 111, 231–238 (2012). https://doi.org/10.1007/s11240-012-0191-0
Received:

Accepted:

Published:

Issue Date:
Keywords
Colchicine

Flow cytometry

Tissue culture

Explant

Mixoploids

Callus