Abstract
A protocol for in vitro propagation of cineraria (Senecio cruentus) was developed. The highest frequency of shoot proliferation was obtained from nodal explants cultured on Murashige and Skoog (MS) medium supplemented with 2.0 mg L−1 6-benzyladenine (BA) and 0.5 mg L−1 α-naphthalene acetic acid (NAA), with a mean number of 14 shoots per explant. A high concentration of BA (4.0 mg L−1) and repeated subcultures resulted in hyperhydric shoots. Decreasing the BA concentration to 1.0 mg L−1 in the culture medium eliminated hyperhydricity. The concentration of ammonium nitrate (NH4NO3) and temperature had marked effects on somaclonal variation. Variation was observed when the cultures were maintained at 15 °C but not at 25 °C. Variants with blue-colored leaves and stems were identified; whereas, normal plants maintained their green-colored leaves and stems. The highest frequency of variation (67.5 %), with a mean number of 3.0 variant shoots per explants, was obtained on shoot proliferation medium (MS + 2.0 mg L−1 BA and 0.5 mg L−1 NAA) devoid of NH4NO3. The best rooting (100 %), with the highest number of roots per shoot (10.8) and the greatest root length (6.8 cm) was obtained on medium supplemented with 0.1 mg L−1 NAA. In vitro-grown plantlets were successfully acclimatized in a greenhouse, and transferred to the field.
This is a preview of subscription content, log in to check access.
Access options
Buy single article
Instant access to the full article PDF.
US$ 39.95
Price includes VAT for USA
Subscribe to journal
Immediate online access to all issues from 2019. Subscription will auto renew annually.
US$ 199
This is the net price. Taxes to be calculated in checkout.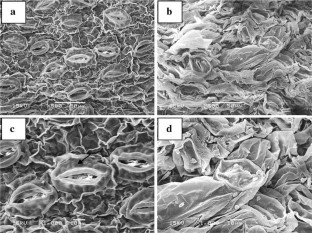 Abbreviations
2-iP:

2-Isopentyl adenine

BA:

6-Benzyladenine

Kn:

Kinetin

MS:

Murashige and Skoog medium

NAA:

α-Naphthaleneacetic acid

SEM:

Scanning electron microscopy
References
Bairu MW, Aremu AO, Van Staden J (2011) Somaclonal variation in plants: causes and detection methods. Plant Growth Regul 63:147–173

Bongue-Bartelsman M, Phillips DA (1995) Nitrogen stress regulates gene expression of enzymes in the flavonoid biosynthetic pathway of tomato. Plant Physiol Biochem 33:539–546

Christie PJ, Alfenito MR, Walbot V (1994) Impact of low-temperature stress on general phenylpropanoid and anthocyanin pathways: enhancement of transcript abundance and anthocyanin pigmentation in maize seedlings. Planta 194:541–549

Colgecen H (2011) Plant regeneration of Senecio hypochionaeus var. argaeus. Afr J Biotechnol 10:3567–3570

Gertsson UE (1988) Large-scale in vitro propagation of Senecio × hybridus Hyl. J Hort Sci 63:131–136

Gupta SD, Prasad VSS (2010) Shoot multiplication kinetics and hyperhydric status of regenerated shoots of gladiolus in agar solidified and matrix-supported liquid cultures. Plant Biotechnol Rep 4:85–94

Huang Z, Liang M, Peng J, Xing T, Wang X (2008) Exogenous ammonium inhibits petal pigmentation and expansion in Gerbera hybrida. Physiol Plant 133:254–265

Ivanova M, Van Staden J (2011) Influence of gelling agent and cytokinins on the control of hyperhydricity in Aloe polyphylla. Plant Cell Tissue Organ Cult 104:13–21

Jain SM (2001) Tissue culture-derived variation in crop improvement. Euphytica 118:153–166

Kaeppler SM, Kaeppler HF, Rhee Y (2000) Epigenetic aspects of somaclonal variation in plants. Plant Mol Biol 43:179–188

Kevers C, Franck T, Strasser RJ, Dommes J, Gasper T (2004) Hyperhydricity of micropropagated shoots: a typically stress-induced change of physiological state. Plant Cell Tissue Organ Cult 77:181–191

Leyva A, Jarillo JA, Salinas J, Martinez-Zapater JM (1995) Low temperature induces the accumulation of phenylalanine ammonia-lyase and chalcone synthase mRNAs of Arabidopsis thaliana in a light-dependent manner. Plant Physiol 108:39–46

Ma G, Teixeira da Silva JA, Lu J, Zhang X, Zhao J (2011) Shoot organogenesis and plant regeneration in Metabriggsia ovalifolia. Plant Cell Tissue Organ Cult 105:355–361

Magyar-Tabori K, Dobranskzi J, Teixeira da Silva JA, Bulley SM, Hudak I (2010) The role of cytokinins in shoot organogenesis in apple. Plant Cell Tissue Organ Cult 101:251–267

Malueg KR, McDaniel GL, Graham ET, Trigiano RN (1994) A three media transfer system for direct somatic embryogenesis from leaves of Senecio xhybridus Hyl. (Asteraceae). Plant Cell Tissue Organ Cult 36:249–253

Miguel C, Marum L (2011) An epigenetic view of plant cells cultured in vitro: somaclonal variation and beyond. J Exp Bot 62:3713–3725

Murashige T, Skoog F (1962) A revised medium for rapid growth and bio assays with tobacco tissue cultures. Physiol Plant 15:473–497

Nam EY, Kim GH, Jeong BR (2005) Direct somatic embryogenesis and plant regeneration in cineraria (Senecio cruentus). J Korean Soc Hort Sci 46:210–216

Paek KY, Hahn EJ (2000) Cytokinins, auxins and activated charcoal affect organogenesis and anatomical characteristics of shoot-tip cultures of Lisianthus [Eustoma grandiflorum (Raf.) Shinn.]. In Vitro Cell Dev Biol Plant 36:128–132

Pei HM, Han KT, Hu K, Sun QL, Dai SL (2011) Plant regeneration of five color series of Senecio cruentus 'Jester'. J Beijing For Univ 33:108–114

Picoli EAT, Otoni WC, Figueira ML, Carolino SMB, Almeida RS, Silva EAM, Carvalho CR, Fontes EPB (2001) Hyperhydricity in in vitro eggplant regenerated plants: structural characteristics and involvement of BiP (Binding Protein). Plant Sci 160:857–868

Pietsch GM, Anderson NO (2007) Epigenetic variation in tissue cultured Gaura lindheimeri. Plant Cell Tissue Organ Cult 89:91–103

Quiala E, Cañal MJ, Meijón M, Rodríguez R, Chávez M, Valledor L, Feria M, Barbón R (2011) Morphological and physiological responses of proliferating shoots of teak to temporary immersion and BA treatments. Plant Cell, Tissue Organ Cult. doi:10.1007/s11240-011-0088-3

Rajendran L, Ravishankar GA, Venkataraman LV, Prathiba KR (1992) Anthocyanin production in callus cultures of Daucus carota as influenced by nutrient stress and osmoticum. Biotechnol Lett 14:707–712

Sivanesan I, Jeong BR (2009) In vitro propagation of Sphagneticola trilobata (L.) Pruski. Propag Ornam Plants 9:10–15

Sivanesan I, Song JY, Hwang SJ, Jeong BR (2011) Micropropagation of Cotoneaster wilsonii Nakai—a rare endemic ornamental plant. Plant Cell Tissue Organ Cult 105:55–63

Sun Q, Sun H, Bell RL, Li H, Xin L (2011) Variation of phenotype, ploidy level, and organogenic potential of in vitro regenerated polyploids of pyrus communis. Plant Cell Tissue Organ Cult 107:131–140

Trejgell A, Michalska M, Tretyn A (2010) Micropropagation of Senecio macrophyllus M. Bieb. Acta Biol Cracov Bot 52(1):67–72

Winarto B, Rachmawati F, Pramanik D, Teixeira da Silva JA (2011) Morphological and cytological diversity of regenerants derived from half-anther cultures of anthurium. Plant Cell Tissue Organ Cult 105:363–374

Zeng X, Wen J, Wan Z, Yi B, Shen J, Ma C, Tu J, Fu T (2010) Effects of bleomycin on microspore embryogenesis in Brassica napus and detection of somaclonal variation using AFLP molecular marker. Plant Cell Tissue Organ Cult 101:23–29

Zielinska S, Piatczak E, Kalemba D, Matkowski A (2011) Influence of plant growth regulators on volatiles produced by in vitro grown shoots of Agastache rugosa (Fischer & C.A. Meyer) O. Kuntze. Plant Cell Tissue Organ Cult 107:161–167
About this article
Cite this article
Sivanesan, I., Jeong, B.R. Identification of somaclonal variants in proliferating shoot cultures of Senecio cruentus cv. Tokyo Daruma. Plant Cell Tiss Organ Cult 111, 247–253 (2012). https://doi.org/10.1007/s11240-012-0186-x
Received:

Accepted:

Published:

Issue Date:
Keywords
Ammonium nitrate

Cineraria

Cytokinin

Hyperhydricity

Micropropagation

Somaclonal variation

Temperature