Abstract
Antiviral effects of acyclic nucleoside phosphonates PMEA, (S)-HPMPC, PMEDAP, and ribavirin on double-stranded DNA Cauliflower mosaic virus (CaMV) were evaluated in Brassica pekinensis plants grown in vitro on liquid medium. A double-antibody sandwich ELISA was used for relative quantification of viral protein and PCR for detection of CaMV nucleic acid in plants. Ribavirin and PMEA had no significant antiviral effect. (S)-HPMPC at concentration 50 mg l−1 and PMEDAP at concentrations 50 and 12.5 mg l−1 significantly (P < 0.05) reduced CaMV concentration in plants within 42–63 days to levels detectable neither by ELISA nor by PCR. A phytotoxicity experiment resulted in progressive yellowing of leaves and dwarfing in plants cultured 42 days on media with concentrations 12.5, 25 and 50 mg l−1 of (S)-HPMPC and PMEDAP. Reduction in fresh and dry weights of plants was significant (P < 0.05) already at 12.5 mg l−1 with both compounds.
This is a preview of subscription content, log in to check access.
Access options
Buy single article
Instant access to the full article PDF.
US$ 39.95
Price includes VAT for USA
Subscribe to journal
Immediate online access to all issues from 2019. Subscription will auto renew annually.
US$ 199
This is the net price. Taxes to be calculated in checkout.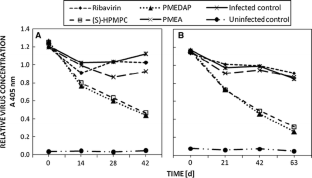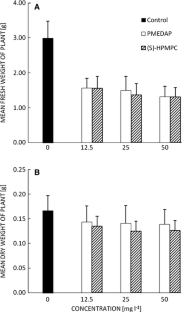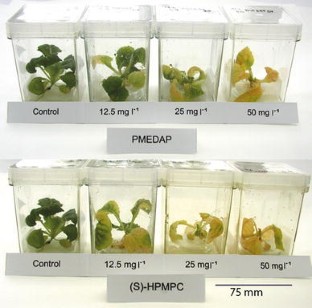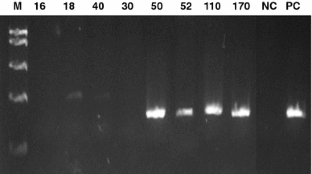 Abbreviations
ANP:

Acyclic nucleoside phosphonate

CaMV:

Cauliflower mosaic virus

MS:

Murashige and Skoog medium

(R)-PMPA:

(R)-9-[2-(phosphonomethoxy)propyl]adenine

PMEA:

9-[2-(phosphonomethoxy)ethyl]adenine

PMEDAP:

2,6-diamino-9-[2-(phosphonomethoxy)ethyl]purine

(S)-HPMPC:

(S)-1-[3-hydroxy-2-(phosphonomethoxy)propyl]cytosine
References
Acquadro A, Papanice MA, Lanteri S, Bottalico G, Portis E, Campanale A, Finetti-Sialer MM, Mascia T, Sumerano P, Gallitelli D (2010) Production and fingerprinting of virus-free clones in a reflowering globe artichoke. Plant Cell Tissue Organ Cult 100:329–337

Cheong EJ, Mock R, Li R (2012) Elimination of five viruses from sugarcane using in vitro culture of axillary buds and apical meristems. Plant Cell Tissue Organ Cult. doi:10.1007/s11240-011-0108-3

De Clercq E (2011) The clinical potential of the acyclic (and cyclic) nucleotide phosphonates. The magic of the phosphonate bond. Biochem Pharmacol 82:99–109

Hansen AJ (1989) Antiviral chemicals for plant disease control. Crit Rev Plant Sci 8:45–88

Hanzliková-Vašková D, Špak J, Petrzik K (2006) Variability in sequence of Strawberry vein banding virus. Biol Plant 50:660–666

Helliot B, Panis B, Frison E, De Clercq E, Swennen R, Lepoivre P, Neyts J (2003) The acyclic nucleoside phosphonate analogues, adefovir, tenofovir and PMEDAP, efficiently eliminate banana streak virus from banana (Musa ssp.). Antiviral Res 59:121–126

Holý A, Rosenberg I, Dvořáková H (1989) Synthesis of N-(2-phosphonylmethoxy-ethyl) derivatives of heterocyclic bases. Collect Czech Chem Commun 54:2190–2210

Murashige TF, Skoog F (1962) A revised medium for rapid growth and bioassay with tobacco tissue cultures. Physiol Plant 15:473–497

Ramgareeb S, Snyman SJ, van Antwerpen T, Rutherford RS (2010) Elimination of virus and rapid propagation of disease-free sugarcane (Saccharum spp. cultivar NCo376) using apical meristem culture. Plant Cell Tissue Organ Cult 100:175–181

Rommens CMT, Kneppers TJA, Haring MA, Nijkamp HJJ, Hille J (1991) A transposon tagging strategy with/Ac/on plant cell level in heterologous plant species. Plant Sci 74:99–106

Špak J (1989a) Characterisation of Czechoslovak isolates of Cauliflower mosaic virus from brassica crops. Ochrana rostlin 25:177–181

Špak J (1989b) Purification and serodiagnosis of Cauliflower mosaic virus. Ochrana rostlin 25:241–247

Špak J, Holý A, Pavingerová D, Votruba I, Špaková V, Petrzik K (2010) New in vitro method for evaluating antiviral activity of acyclic nucleoside phosphonates against plant viruses. Antiviral Res 88:296–303

Špak J, Votruba I, Pavingerová D, Holý A, Špaková V, Petrzik K (2011) Antiviral activity of tenofovir against Cauliflower mosaic virus and its metabolism in B. pekinensis plants. Antiviral Res 92:378–381

Tan R, Wang L, Hong N, Wang G (2010) Enhanced efficiency of virus eradication following thermotherapy of shoot-tip cultures of pear. Plant Cell Tissue Organ Cult 101:229–235
Acknowledgments
This project was funded by grants nos. 522/09/0707 from the Grant Agency of the Czech Republic and AV0Z50510513 from the Academy of Sciences of the Czech Republic, as well as by Research Project OZ40550506 of the Institute of Organic Chemistry and Biochemistry. The authors thank Dr. I. Dostálková, Ph.D., Faculty of Science, University of South Bohemia, for consultations on statistical processing of the data.
About this article
Cite this article
Špak, J., Votruba, I., Pavingerová, D. et al. Antiviral activity of acyclic nucleoside phosphonates PMEA, (S)-HPMPC, PMEDAP and ribavirin against Cauliflower mosaic virus in Brassica pekinensis . Plant Cell Tiss Organ Cult 110, 63–68 (2012). https://doi.org/10.1007/s11240-012-0130-0
Received:

Accepted:

Published:

Issue Date:
Keywords
Caulimovirus

dsDNA

Chemotherapy

Pararetrovirus

Phytotoxicity

Virus eradication