Abstract
Four cultivars of common bean (Phaseolus vulgaris L.) were tested for regeneration efficiency. Embryo axes from mature seeds were incubated on Murashige and Skoog or Gamborg media containing 6-benzyladenine (10 mg/l), without and with adenine hemisulphate (20 mg/l). Efficient regeneration was achieved when explants were incubated on Gamborg media amended with 6-benzyladenine, without adenine hemisulphate. This medium provided high regeneration efficiency in the four cultivars tested: Apetito G13637 (98–100%), Flor de Mayo Anita (96–98%), ICA Palmar G4523 (88–97%) and Pinto Saltillo (83–84%). The division and transfer of organogenic shoot of all cultivars to induction and multiplication medium every 15 days resulted in the formation of three to five new organogenic embryo axes per transfer. A single 5-mm cluster formed up to 20 shoots, from which two to three whole plants were regenerated. Regeneration efficiency differed significantly between the two basic media; Gamborg induced high organogenic shoot formation (98–100%) and whole plant regeneration (93%), whereas Murashige and Skoog media showed lower and inconsistent organogenic shoot formation (15–73%) and whole plant regeneration (29%). The protocol that included Gamborg media show high regeneration efficiency across different bean genotypes, resulting in whole plants comparable to seed-produced plants.
This is a preview of subscription content, log in to check access.
Access options
Buy single article
Instant access to the full article PDF.
US$ 39.95
Price includes VAT for USA
Subscribe to journal
Immediate online access to all issues from 2019. Subscription will auto renew annually.
US$ 199
This is the net price. Taxes to be calculated in checkout.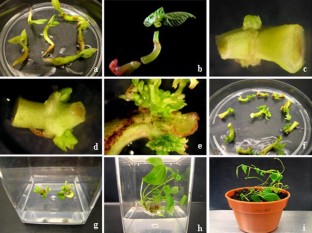 Abbreviations
AH:

Adenine hemisulphate

BA:

6-benzyladenine

GM:

Gamborg basal medium

GMA:

Gamborg with AH

GM0:

Gamborg without AH

MS:

Murashige and Skoog basal medium

MSA:

Murashige and Skoog with AH

MS0:

Murashige and Skoog without AH
References
Arellano J, Fuentes SI, Castillo-España P, Hernández G (2009) Regeneration of different cultivars of common bean (Phaseolus vulgaris L.) via indirect organogenesis. Plant Cell Tiss Organ Cult 96:11–18. doi:10.1007/s11240-008-9454-1

Castellanos-Ramos JZ, Guzmán-Maldonado H, Muñoz-Ramos JJ, Acosta-Gallegos JA (2003) Flor de Mayo Anita, nueva variedad de frijol para la región central de México. Rev Fitotec Mex 26:209–211

CIAT (2008) Base de datos de frijol. Unidad de Recursos Genéticos. Available online at: http://isa.ciat.cgiar.org/urg/bsearchacc.do. Accessed 14 Jan 2008

Cruz de Carvalho M, Van Le B, Zuily-Fodil Y, Pharm Thi AT, Tran Thanh Van K (2000) Efficient whole plant regeneration of common bean (Phaseolus vulgaris L.) using thin-cell layer culture and silver nitrate. Plant Sci 159:223–232. doi:10.1016/S0168-9452(00)00346-0

Delgado-Sánchez P, Saucedo-Ruiz M, Guzmán-Maldonado SH, Villordo-Pineda E, González-Chavira M, Fraire-Velázquez S, Acosta-Gallegos JA, Mora-Avilés A (2006) An organogenic plant regeneration system for common bean (Phaseolus vulgaris L.). Plant Sci 170:822–827. doi:10.1016/j.plantsci.2005.11.015

Dillen W, De Clercq J, Van Montagu M, Angenon G (1996) Plant regeneration from callus in a range of Phaseolus acutifolius A. Gray genotypes. Plant Sci 118:81–88. doi:10.1016/0168-9452(96)04419-6

FAOSTAT (2007) United nations food and agriculture organization. Statistical database. http://faostat.fao.org/site/339/default.aspx

Franklin CI, Trieu TN, Gonzales RA, Dixon RA (1991) Plant regeneration from seedling explants of green bean (Phaseolus vulgaris L.) via organogenesis. Plant Cell Tiss Organ Cult 24:199–206. doi:10.1007/BF00033477

Gamborg OL, Miller RA, Ojima K (1968) Nutrient requirements of suspension cultures of soybean root cells. Exp Cell Res 50:151–158. doi:10.1016/0014-4827(68)90403-5

Jacobsen HJ (1999) Genetic transformation. In: Singh SP (ed) Common bean improvement in the twenty-first century. Kluwer, Dordrecht, pp 125–132

Lal R, Lal S (1993) Genetic engineering of plants for crop improvement, 1st edn. CRC Press, Boca Raton

López ML (1999) Inducción y propagación in vitro de frijol Phaseolus vulgaris L. por embriogénesis somática. Dissertation Instituto de Ciencias Agropecuarias, Irapuato, Gto., México

Malik KA, Saxena PK (1991) Regeneration in Phaseolus vulgaris L. Promotive role of N6-benzylaminopurine in cultures from juvenile leaves. Planta 184:148–150. doi:10.1007/BF00208248

Martins IS, Sondahl MR (1984) Early stages of somatic embryo differentiation from callus cells of bean (Phaseolus vulgaris L.) grown in liquid medium. J Plant Physiol 117:97–103

McClean P, Grafton KF (1989) Regeneration of dry bean (Phaseolus vulgaris L.) via organogenesis. Plant Sci 60:117–122. doi:10.1016/0168-9452(89)90051-4

Mohamed MF, Read PE, Coyne DP (1991) Plant regeneration in vitro from the embryonic axes of common and tepary beans. Ann Rep Bean Improv Coop 34:150–151

Mohamed MF, Coyne DP, Read PE (1993) Shoot organogenesis in callus induced from pedicel explants of common bean (Phaseolus vulgaris L.). J Am Soc Hort Sci 118:158–162

Muñoz J, Valdez M, Ramírez P, Gatica A (2007) Cultivos celulares morfogénicos para el mejoramiento genético del frijol (Phaseolus vulgaris) en variedades de Costa Rica. In: RedBio VI Encuentro Latino americano y del Caribe de Biotecnología Agropecuaria, Octubre 22–26, Viña del Mar

Murashige T, Skoog F (1962) A revised medium for rapid growth and bioassays with tobacco tissue cultures. Physiol Plant 15:473–497. doi:10.1111/j.1399-3054.1962.tb08052.x

Sánchez-Valdez I, Acosta-Gallegos JA, Ibarra-Pérez FJ, Rosales-Serna R, Singh SP (2004) Registration of 'Pinto Saltillo' common bean. Crop Sci 44:1865–1866

Santalla M, Power JB, Davey MR (1998) Efficient in vitro shoot regeneration responses of Phaseolus vulgaris and P. coccineus. Euphytica 102:195–202. doi:10.1023/A:1018317327302

Teran H, Singh SP (2002) Comparison of sources and lines selected for drought resistance in common bean. Crop Sci 42:64–70

Valdez M, Sánchez E, Lizano V, Jiménez M, Gatica A, Ramírez P (2007) Optimización del proceso morfogénico y de la regeneración in vitro de variedades costarricenses del frijol (Phaseolus vulgaris L.) por medio de estudios anatómicos e histológicos. In: RedBio VI Encuentro Latino americano y del Caribe de Biotecnología Agropecuaria, Octubre 22–26, Viña del Mar

Zambre M, De Clercq J, Van Montagu M, Angenon G, Dillen W (1998a) Shoot regeneration from callus in wild genotypes of Phaseolus vulgaris L. Ann Rep Bean Improv Coop 41:119–120

Zambre M, De Clercq J, Vranová E, Van Montagu M, Angenon G, Dillen W (1998b) Plant regeneration from embryo-derived callus in Phaseolus vulgaris L. (common bean) and P. acutifolius A. Gray (tepary bean). Plant Cell Rep 17:626–630. doi:10.1007/s002990050455

Zambre M, Geerts P, Maquet A, Van Montagu M, Dillen W, Angenon G (2001) Regeneration of fertile plants from callus in Phaseolus polyanthus Greenman (Year Bean). Ann Bot 88:371–377. doi:10.1006/anbo.2001.1468
About this article
Cite this article
Quintero-Jiménez, A., Espinosa-Huerta, E., Acosta-Gallegos, J.A. et al. Enhanced shoot organogenesis and regeneration in the common bean (Phaseolus vulgaris L.). Plant Cell Tiss Organ Cult 102, 381–386 (2010). https://doi.org/10.1007/s11240-010-9744-2
Received:

Accepted:

Published:

Issue Date:
Keywords
Organogenesis

Gamborg medium

Adenine hemisulphate

Benzyladenine

Embryonic axes