Abstract
Cynara cardunculus suspension cells were transformed by particle bombardment to overexpress the cypro11 gene coding for cyprosin B. Green fluorescent protein, used as a visual reporter through mgfp4-ER gene, facilitates the screening of transformed cells at the initial stages when antibiotics cause generalized cell death. mgfp4-ER lacks a cryptic intron and has an endoplasmic reticulum target sequence, these traits conferring an adequate use as screenable marker for transformed cells. Selected transformed cells, grown in a bioreactor, produced 3.8 g dcw l−1 of biomass, 80 mg l−1 of total protein and 2,060 U ml−1 of enzymatic activity. Specific activity of cyprosin B, purified by anionic-exchange chromatography, was 215 U mg−1 with a purification degree of 8.3-fold. The cyprosin B activity is optimal at 42°C for pH 5.1 and is inhibited by pepstatin A. The results encourage the overexpression of cypro11 gene in transformed C. cardunculus cells leading to high yields of cyprosin B production in bioreactor, which can be considered adequate for industrial production.
This is a preview of subscription content, log in to check access.
Access options
Buy single article
Instant access to the full article PDF.
US$ 39.95
Price includes VAT for USA
Subscribe to journal
Immediate online access to all issues from 2019. Subscription will auto renew annually.
US$ 199
This is the net price. Taxes to be calculated in checkout.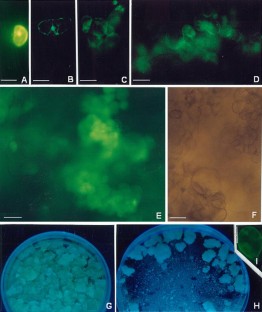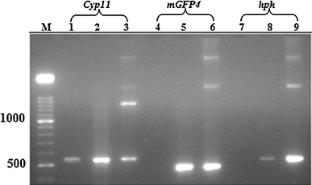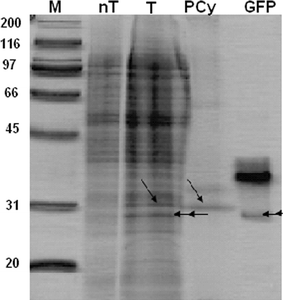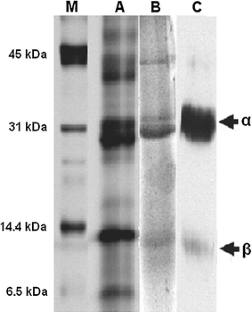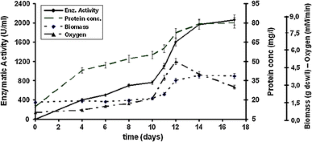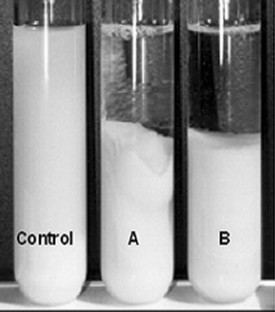 Abbreviations
BA:

Benzyladenine

CaMV:

Cauliflower mosaic virus

CTAB:

Cetyltrimethylammonium bromide

DEAE:

Diethylamino-ethyl

2,4-D:

2,4-Dichlorophenoxy acetic acid

ER:

Endoplasmic reticulum

FITC:

Fluorescein isothiocyanate

GFP:

Green fluorescence protein

hph :

Hygromycin phosphotransferase gene

nptII :

Neomycin phosphotransferase II gene

PMSF:

Phenylmethylsulphonyl fluoride

KLA:

Oxygen transport coefficient

VVM:

Bioreactor volume per minute
References
Baranski R, Klocke E, Schumann G (2006) Green fluorescent protein as an efficient selection marker for Agrobacterium rhizogenes mediated carrot transformation. Plant Cell Rep 25:190–197. doi:10.1007/s00299-005-0040-2

Baranski R, Klocke E, Ryschka U (2007) Monitoring the expression of green fluorescent protein in carrot. Acta Physiol Plant 29:239–246. doi:10.1007/s11738-007-0030-9

Berridge N (1987) Some observations on the determination of the activity of rennet. (Norma FIL-IDF, 110-A). Analyst (London) 77:57–62

Beyond RJ, Bond JS (1996) Proteolytic enzymes: a practical approach, 5th edn. Oxford University Press, Oxford

Borisjuk N, Borisjuk G, Logendra S, Petersen F, Gleba Y, Raskin I (1999) Production of recombinant proteins in plant root exudates. Nat Biotechnol 17:466–469. doi:10.1038/8643

Bradford M (1976) A rapid and sensitive method for the quantification of microgram quantities of protein utilizing the principle of protein-dye binding. Anal Biochem 72:248–254

Brodelius P, Cordeiro M, Mercke P, Domingos A, Clemente A, Pais MS (1997) Molecular cloning of aspartic proteases from flowers of Cynara cardunculus subsp. flavescens cv. cardoon and Centaurea calcitrapa. In: Jones M (ed) Aspartic proteinases. Plenum, New York, pp 435–439

Cooper C, Fernstrom G, Miller S (1944) Gas liquid contactor. Ind Eng Chem 36:504–509

Cordeiro M, Xue Z-T, Pais MS, Brodelius P (1993) Proteinases from cell suspension cultures of Cynara cardunculus. Phytochemistry 33:1323–1326

Cordeiro M, Pais MS, Brodelius PE (1994a) Tissue-specific expression forms of cyprosin (aspartic proteinase) in flowers of Cynara cardunculus. Physiol Plant 92:645–653

Cordeiro M, Xue Z-T, Pietrzak M, Pais MS, Brodelius PE (1994b) Isolation and characterization of a cDNA from flowers of Cynara cardunculus encoding cyprosin (an aspartic proteinase) and its use to study the organ-specific expression of cyprosin. Plant Mol Biol 24:733–741

Costa J, Ashford D, Nimtz M, Bento I et al (1997) The glycosylation of the aspartic proteinases from barley (Hordeum vulgare L.) and cardoon (Cynara cardunculus L.). Eur J Biochem 243:695–700

Elliott A, Campbell J, Dugdale B, Brettlell R, Grof C (1999) Green-fluorescent protein facilitates rapid in vivo detection of genetically transformed plant cells. Plant Cell Rep 18:707–714

Gamborg O, Miller R, Ojima K (1968) Nutrient requirement of suspension culture of soy bean root cells. Exp Cell Res 50:151–158

Haseloff J, Siemering K, Prasher D, Hodge S (1997) Removal of a cryptic intron and subcellular localization of green fluorescent protein are required to mark transgenic Arabidopsis plants brightly. Proc Natl Acad Sci USA 94:2122–2127

Heimgartner U, Pietrzak M, Geertsen R, Brodelius P, Figueiredo A, Pais MS (1990) Purification and partial characterization of milk clotting proteases from flowers of Cynara cardunculus. Phytochemistry 29:1405–1410

Hellwig S, Drossard J, Twyman RM, Fischer R (2004) Plant cell cultures for the production of recombinant proteins. Nat Biotechnol 22:1415–1422

James E, Lee J (2006) Loss and recovery of protein productivity in genetically modified plant cell lines. Plant Cell Rep 25:723–727. doi:10.1007/ss00299-005-0096-z

Kieran PM, MacLoughlin PF, Malone DM (1997) Plant cell suspension culture: some engineering considerations. J Biotech 59:39–52

Laemmli UK (1970) Cleavage of structure proteins during the assembly of the head of bacteriophage T4. Nature 227:680–686

Lima-Costa ME (1987) Cultura de células vegetais em fermentador. Dissertation, University of Lisbon

Lima-Costa ME, van Gulik W, ten Hoopen H, Pais MS, Cabral JM (1996) Protease and phenol production of Cynara cardunculus L. cell suspension in a chemostat. Enzyme Microb Technol 19:493–500

Niedz RP, Sussman MR, Satterlee JS (1995) Green fluorescent protein: an in vivo reporter of plant gene expression. Plant Cell Rep 14:403–406

Ramalho-Santos M, Veríssimo P, Cortes L, Samyn B, Van Beeumen J, Pires E, Faro C (1998) Identification and proteolytic processing of pro-cardosin A. Eur J Biochem 255:133–138

Raposo S, Lima-Costa ME (2006) Rheology and shear stress of Centaurea calcitrapa cell suspension cultures grown in bioreactor. Biotechnol Lett 28:431–438

Rogers SO, Bendich AJ (1988) Extraction of DNA from plant tissues. In: Gelvin S, Schilperoort RA (eds) Plant molecular biology manual A6. Kluwer, Dordrecht, pp 1–10

Sagar B, Berenger B, Levine A (2002) Oxidative stress increased respiration and generation of reactive oxygen species, resulting in ATP depletion, opening of mitochondrial permeability transition, and programmed cell death. Plant Physiol 128:1271–1281

Sampaio PN, Fortes AM, Cabral JMS, Pais MS, Fonseca LP (2008) Production and characterization of recombinant cyprosin B in Saccharomyces cerevisiae (W303–1A) strain. J Biosc Bioeng 105:305–312. doi:10.1263/JBB.105.305

Sanford J, Smith F, Russell J (1993) Optimizing the biolistic process for different biological applications. Methods Enzymol 217:483–509

Siemering K, Golbik R, Sever R, Haseloff J (1996) Mutations that suppress the thermosensivity of green fluorescent protein. Curr Biol 6:1653–1663

Silva SV, Malcata FX (1999) On the activity and specificity of cardosin B, a plant proteinase, on ovine caseins. Food Chem 67:373–378

Silva SV, Barros RM, Malcata FX (2002) Hydrolysis of caseins by extracts of Cynara cardunculus precipitated by ammonium sulphate. J Food Sci 67:1746–1751

Stewart CN (2001) The utility of green fluorescent protein in transgenic plants. Plant Cell Rep 20:376–382

Stewart CN (2005) Monitoring the presence and expression of transgenes in living plants. Trends Plant Sci 10:390–396

Storey R, Wagner F (1986) Plant proteases: a need for uniformity. Phytochemistry 25:2701–2709

Su W, Arias R (2003) Continuous plant cell perfusion culture: bioreactor characterization and secreted enzyme production. J Bios Bioeng 95:13–20

Tian L, Levee V, Mentag R, Charest PJ, Seguin A (1999) Green fluorescent protein as a tool for monitoring transgene expression in forest tree species. Tree Physiol 19:541–546

Tsien R (1998) The green fluorescent protein. Annu Rev Biochem 67:509–544

Twining S (1984) Fluorescein isothiocyanate–labeled casein assay for proteolytic enzymes. Anal Biochem 143:30–34

Vain P, Worland B, Kohli A, Snape J, Christou P (1998) The green fluorescent protein (GFP) as a vital screenable marker in rice transformation. Theor Appl Genet 96:164–169

Valentão P, Fernandes E, Carvalho F (2002) Antioxidant properties of cardoon (Cynara cardunculus L.) infusion against superoxide radical, hydroxyl radical, and hypochlorous acid. J Agric Food Chem 50:4989–4993

Veríssimo P, Esteves C, Faro C, Pires E (1995) The rennet of Cynara cardunculus L. contains two proteases with chymosin and pepsin-like specificities. Biotechnol Lett 17:621–626

Veríssimo P, Faro C, Moir A, Lin Y, Tang J, Pires E (1996) Purification, characterization and partial amino acid sequencing of two new aspartic proteinases from fresh flowers of Cynara cardunculus L. Eur J Biochem 235:762–768

White P, Cordeiro M, Arnold D, Brodelius P, Kay J (1999) Processing, activity and inhibition of recombinant cyprosin, an aspartic proteinase from cardoon (Cynara cardunculus). J Biol Chem 274:16685–16693

Yancheva SD, Shlizerman LA, Golubowicz S, Yabloviz Z, Perl A, Hanania U, Flaishman MA (2006) The use of green fluorescent protein (GFP) improves Agrobacterium-mediated transformation of 'Spadona' pear (Pyrus communis L.). Plant Cell Rep 25:183–189. doi:10.1007/s00299-005-0025-1
Acknowledgments
The authors wish to thank Dr. M. Pietrzak for providing the cypro11 gene. We also thank G. Jach for supplying the constructs used for co-transformation experiments (pCATgfp, p35Sm-gfp4-ER). The first author also acknowledges the Foundation for Science and Technology, Portugal, for financial support under the PhD grant no SFRH/BD/8780/2002.
About this article
Cite this article
Sampaio, P.N., Neto, H., Poejo, P. et al. Overexpression and characterization of cyprosin B in transformed suspension cells of Cynara cardunculus . Plant Cell Tiss Organ Cult 101, 311–321 (2010). https://doi.org/10.1007/s11240-010-9690-z
Received:

Accepted:

Published:

Issue Date:
Keywords
Plant cell transformation

Bioreactor

GFP

Cynara cardunculus

Cyprosin B