Abstract
Efficient plant regeneration systems both from shoot segments and via callus organogenesis were developed for Kosteletzkya pentacarpos (L.) Ledeb., a rare and endangered Eurasian species. In the experiments with existing meristems, factors affecting shoot proliferation, including explant type, i.e. decapitated and intact shoots, and plant growth regulators, indole-3-acetic acid or kinetin, were investigated. Shoot proliferation was significantly affected by the type of explant, the hormones and their interaction. The highest shoot multiplication rate was obtained from decapitated shoots. Increasing kinetin concentration promoted shoot elongation regardless of explant type. In intact shoots, shoot length was also affected by increasing auxin concentration, although this effect tends to decrease with higher concentration. Decapitated shoots were not responsive to the addition of auxin. Micropropagation through organogenesis from callus was also investigated. Calli were obtained from leaf, stem internode and root explants. Only the leaf-derived calli produced shoots and indole-3-acetic acid favoured increased numbers of shoots. A number of experiments were conducted for rooting of in vitro produced shoots. All of them induced high rooting frequency, the number and the length of roots being dependent on the strength of the basal medium. The use of 1–2 mg l−1 indole-3-butyric acid resulted in refining the optimal concentration for root elongation. The regenerated plants (70%) survived and flowered in their first vegetative period.
This is a preview of subscription content, log in to check access.
Access options
Buy single article
Instant access to the full article PDF.
US$ 39.95
Price includes VAT for USA
Subscribe to journal
Immediate online access to all issues from 2019. Subscription will auto renew annually.
US$ 199
This is the net price. Taxes to be calculated in checkout.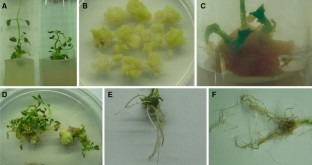 Abbreviations
B5 :

Gamborg medium

IAA:

Indole-3-acetic acid

IBA:

Indole-3-butyric acid

NAA:

α-Naphtaleneacetic acid

Kin:

Kinetin

MS:

Murashige and Skoog medium

2,4-D:

2,4-Dichlorophenoxyacetic acid
References
Baskaran P, Jayabalan N (2006) In vitro mass propagation and diverse callus orientation on Sesamum indicum L. an important oil plant. J Agric Tech 2:259–269

Chandra B, Palni LMS, Nandi SK (2006) Propagation and conservation of Picrorhiza kurrooa Royle ex Benth.: an endangered Himalayan medicinal herb of high commercial value. Biodivers Conserv 15:2325–2338

Conti F, Manzi A, Pedrotti F (1997) Liste rosse regionali delle piante d'Italia. Tipar, Roma

Council of Europe (1979) Convention of the conservation of European wildlife and natural habitats. Strasbourg, document 104

Council of Europe (1992) Convention of the conservation of European wildlife and natural habitats. Appendices to the convention. Strasbourg, document T-PVS(92) 10

Council of European Communities (1992) Council directive 92/43/EEC of 21 May on the conservation of natural habitats and of wild fauna and flora. Off J Eur Commun 35:7–50

de Paiva Neto VB, da Mota TR, Otoni WC (2003) Direct organogenesis from hypocotyls-derived explants of annatto (Bixa orellana). Plant Cell Tiss Org Cult 75:159–167

Dun EA, Ferguson BJ, Beveridge CA (2006) Apical dominance and shoot branching. Divergent opinions or divergent mechanisms? Plant Physiol 142:812–819

Fay MF (1994) In what situations is in vitro culture appropriate to plant conservation? Biodivers Conserv 3:176–183

Filippini R, Caniato R, Cappelletti EM, Piovan A, Innocenti G, Cassina G (1994) In vitro regeneration of Haplophyllum patavinum (L) G. Don fil., a rare and endangered plant. Bot Gard Microprop News 1:87–90

Gamborg OL, Miller RA, Ojima K (1968) Nutrient requirements of suspension cultures of soybean root cells. Exp Cell Res 50:151–158

George EF (1993) Plant propagation by tissue culture. Exegetics Limited, Edington

Hazarika BN (2003) Acclimatization of tissue-cultured plants. Curr Sci 85:1704–1712

Hazarika BN (2006) Morpho-physiological disorders in in vitro culture of plants. Sci Hortic 108:105–120

Muday GK, DeLong A (2001) Polar auxin transport: controlling where and how much. Trends Plant Sci 6:535–542

Murashige T, Skoog F (1962) A revised medium for rapid growth and bio assays with tobacco tissue culture. Physiol Plant 15:473–497

Osuna L, Tapia-Pérez ME, Figueroa O, Jiménez-Ferrer E, Garduño-Ramírez ML, González-Garza MT, Carranza-Rosales P, Cruz-Vega DE (2006) Micropropagation of Lepidium virginicum (Brassicaceae), a plant with antiprotozoal activity. In Vitro Cell Dev Biol-Plant 42:596–600

Petersen KK, Hansen J, Krogstrup P (1999) Significance of different carbon sources and sterilization methods on callus induction and plant regeneration of Miscanthus × ogiformis Honda "Giganteus". Plant Cell Tiss Org Cult 58:189–197

Pignatti S (1982) Flora d'Italia. Edagricola, Bologna

Pino J, de Roa E (2007) Population biology of Kosteletzkya pentacarpos (Malvaceae) in the Llobregat delta (Catalonia, NE of Spain). Plant Ecol 188:1–16

Pino J, Picό FX, de Roa E (2007) Population dynamics of the rare plant Kosteletzkya pentacarpos (Malvaceae): a nine-year study. Bot J Linn Soc 153:455–462

Piovan A, Filippini R, Caniato R, Dalla Vecchia R, Innocenti G, Cappelletti EM, Puricelli L (2000) Somatic embryogenesis and indole alkaloid production in Catharanthus roseus. Plant Biosyst 134:179–184

Rugini E, Biasi R, Muleo R (2000) Olive (Olea europea var. sativa) transformation. In: Jain SM, Minocha SC (eds) Molecular biology of woody plants, vol 2. Kluwer Academic Publishers, Dordrecht, pp 245–279

Sarasan V, Cripps R, Ramsay MM, Atherton C, McMichen M, Prendergast G, Rowntree JK (2006) Conservation in vitro of threatened plants—progress in the past decade. In Vitro Cell Dev Biol Plant 42:206–214

Scoppola A, Spampinato G (2005) Atlante delle specie a rischio di estinzione. CDROM SBI, Palombi, Roma

Thiem B (2003) In vitro propagation of isoflavone-producing Pueraria lobata (Willd.) Ohwi. Plant Sci 165:1123–1128

Webb DA (1964) Malvaceae. In: Tutin TG, Heywood VH, Burges NA, Moore DM, Valentine DH, Walters SM, Webb DA (eds) Flora Europaea. Cambridge University Press, Cambridge, pp 248–256

Zacchini M, Morini S (1995) The effect of photoperiod reduction on growth of Prunus insititia GF655/2 cultures during multiplication and rooting. Plant Propag 7:14–16
Acknowledgments
This research was financially supported by MIUR (Ministero dell'Istruzione, dell'Università e della Ricerca, Italy, ex-60% funds).
About this article
Cite this article
Piovan, A., Caniato, R., Cappelletti, E.M. et al. Organogenesis from shoot segments and via callus of endangered Kosteletzkya pentacarpos (L.) Ledeb.. Plant Cell Tiss Organ Cult 100, 309–315 (2010). https://doi.org/10.1007/s11240-009-9652-5
Received:

Accepted:

Published:

Issue Date:
Keywords
Conservation

Biotechnology

Endangered species

In vitro culture