Abstract
The influence of the basal medium and different plant growth regulators on micropropagation of nodal explants from mature trees of lemon cultivars was investigated. Although the basal medium did not affect any of the variables, explants on DKW medium were greener. Several combinations of 6-benzyladenine (BA) and gibberellic acid (GA) were used to optimise the proliferation phase. The number of shoots was dependent on the BA and GA concentrations and the best results were obtained with 2 mg l−1 BA and 1 or 2 mg l−1 GA. Explants length was shorter with the higher BA concentrations and, in all genotypes, shoot length was greater with 2 mg l−1 GA. The best results for productivity (number of shoots × the average shoot length) were obtained with 2 mg l−1 BA and 2 mg l−1 GA, although explants with chlorosis and narrow leaves were observed. The presence of BA and GA in the proliferation medium was essential for the explant multiplication but GA had a greater influence. The transfer of in vitro shoots to rooting media, containing different concentrations of indole butyric acid (IBA) and indole acetic acid (IAA) produced complete plantlets. Lemon shoots rooted well in all rooting combinations. The highest rooting percentages were obtained on media containing 3 mg l−1 IBA alone or IBA in combination with 1 mg l−1 IAA and on these media the highest numbers of roots were produced. The average root length was affected significantly by the IBA and IAA concentrations. Root length was greater when only 3 mg l−1 IBA was used, and in this rooting medium explants had a better appearance, with greener and larger leaves. The success during the acclimatisation was close to 100% and the plantlets exhibited normal growth in soil under greenhouse conditions.
This is a preview of subscription content, log in to check access.
Access options
Buy single article
Instant access to the full article PDF.
US$ 39.95
Price includes VAT for USA
Subscribe to journal
Immediate online access to all issues from 2019. Subscription will auto renew annually.
US$ 199
This is the net price. Taxes to be calculated in checkout.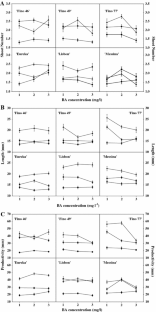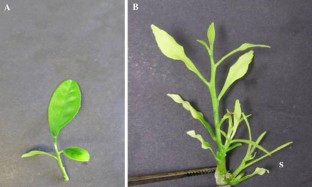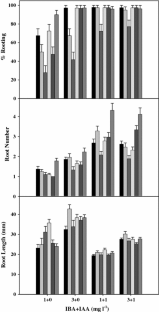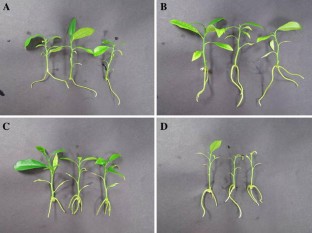 Abbreviations
BA:

6-Benzyladenine

DKW medium:

Driver and Kuniyuki medium

GA:

Gibberellic acid

IAA:

Indole acetic acid

IBA:

Indole butyric acid

LSD:

Least significant difference test

MS medium:

Murashige and Skoog medium

NAA:

Naphthalene acetic acid

RH:

Relative humidity
References
Abdulaziz M, Al Bahrany AM (2002) Effect of phytohormones on in vitro shoot multiplication and rooting of lime Citrus aurantifolia (Christm.) Swing. Sci Hortic 95:285–295

Al Khayri JM, Al Bahrany AM (2001) In vitro micropropagation of Citrus aurantifolia (lime). Curr Sci 81:1242–1246

Altman A, Goren R (1974) Growth and dormancy cycle in citrus bud culture and their hormonal control. Physiol Plant 30:240–245

Barlass M, Skene KGM (1982) In vitro plantlet formation from Citrus species and hybrids. Sci Hortic 17:333–341

Barlass M, Skene KGM (1986) Citrus (Citrus species). In: Bajaj YPS (ed) Biotechnology in agriculture and forestry. Springer, Berlin, pp 207–219

Begum F, Amin MN, Islam S, Azad MAK (2004) A comparative study of axillary shoot proliferation from the nodal explants of three varieties pummelo (Citrus grandis L. Osb.). Biotechnology 3:46–62

Bonga JM (1982) Vegetative propragation in relation to juvenility, maturity and rejuvenation. In: Bonga JM, Durzan DJ (eds) Tissue culture in forestry. Martinus Nijhoff/Dr. W. Junk publishers, Dordrecht, Boston, Lancaster. pp 387–412

Carimi F, De Pasquale F (2003) Micropropagation of Citrus. In: Jain SM, Ishii K (eds) Micropropagation of woody trees and fruits. Kluwer, Netherlands, pp 589–619

Chaturvedi HC, Singh SK, Sharma AK, Agnihotri S (2001) Citrus tissue culture employing vegetative explants. Indian J Exp Biol 39:1080–1095

De Fossard RA, De Fossard H (1988) Micropropagation of some members of the Myrtaceae. Acta Hortic 227:346–351

Drew RA (1988) Rapid clonal propagation of papaya in vitro from mature field grow trees. HortScience 23:609–611

Driver JA, Kuniyuki AH (1984) In vitro propagation of Paradox walnut rootstock. HortScience 19:507–509

George EF (ed) (1993) Plant propagation by tissue culture (Part 1): the technology. Exegetics Ltd, London, pp 231–272

Gmitter FG, Grosser JW, Moore GA (1992) Citrus. In: Litz RE, Hammerschlag F (eds) Biotechnology of perennial fruit crops. CAB International, Oxon, pp 335–369

Goh CJ, Sim GE, Morales CL, Loh CS (1995) Plantlet regeneration through different morphogenic pathways in pommelo tissue culture. Plant Cell Tissue Organ Cult 43:301–303

Hassanein AM, Azooz MM (2003) Propagation of Citrus reticulata via in vitro seed germination and shoot cuttings. Biol Plant 47:173–177

Kitto SL, Young MJ (1981) In vitro propagation of Carrizo citrange. HortScience 16:305–306

Kotsias D, Roussos PA (2001) An investigation on the effect of different plant growth regulating compounds in in vitro shoot tip and node culture of lemon seedlings. Sci Hortic 89:115–128

Lane WD (1978) Regeneration of apple plants from shoot meristem tips. Plant Sci Lett 13:281–285

Maggon R, Singh BD (1995) Promotion of adventitious bud regeneration by ABA in combination with BAP in epicotyl and hypocotyl explants of sweet orange (Citrus sinensis L. Osbeck). Sci Hortic 63:123–128

Marín ML, Duran-Vila N (1991) Conservation of citrus germplasm in vitro. J Am Soc Hortic Sci 116:740–746

Moshkov IE, Novikova GV, Hall MA, George EF (2008) Plant growth regulators III: gibberellins, ethylene, abscisic acid, their analogues and inhibitors; miscellaneous compounds. In: George EF, Hall MA, De Klerk GJ (eds) Plant propagation by tissue culture. Springer, The Netherlands, pp 227–282

Murashige T, Skoog F (1962) A revised medium for rapid growth and bio assays with tobacco tissue cultures. Physiol Plant 15:473–497

Omura M, Hidaka T (1992) Shoot tip culture of Citrus. I. Longevity of cultured shoots. Bull Fruit Tree Res Stn 22:37–47

Pattnaik SK, Chand PK (1997) Rapid clonal propagation of three mulberries, Morus cathayana Hemsl, M. ihou Koiz, M. serrata Roxb, through in vitro culture of apical shoot buds and nodal explants from mature trees. Plant Cell Rep 16:503–508

Pérez-Molphe E, Ochoa-Alejo N (1997) In vitro plant regeneration of Mexican lime and mandarin by direct organogenesis. HortScience 32:931–934

Pérez-Tornero O, Porras I (2008) Assessment of polyembryony in lemon: rescue and in vitro culture of immature embryos. Plant Cell Tissue Organ Cult 93(2):173–180

Randall PN (1994) Growth of embryogenic sweet orange callus on media varying in the ratio of nitrate to ammonium nitrogen. Plant Cell Tissue Organ Cult 39:1–5

Sim GE, Goh CJ, Loh CS (1989) Micropropagation of Citrus mitis Blanco—multiple bud formation from shoot and root explants in the presence of 6-benzylaminopurine. Plant Sci 59:203–210

Singh S, Ray BK, Bhattacharya S, Deka PC (1994) In vitro propagation of Citrus reticulata Blanco and Citrus limon Burm F. HortScience 29:214–216

Wochok ZS, Sluis CJ (1980) Gibberellic acid promotes Atriplex shoot multiplication and elongation. Plant Sci Lett 17:363–369
Acknowledgments
We wish to thank Eva Mª Arques and Fernando Córdoba for their excellent assistance.
About this article
Cite this article
Pérez-Tornero, O., Tallón, C.I. & Porras, I. An efficient protocol for micropropagation of lemon (Citrus limon) from mature nodal segments. Plant Cell Tiss Organ Cult 100, 263–271 (2010). https://doi.org/10.1007/s11240-009-9643-6
Received:

Accepted:

Published:

Issue Date:
Keywords
Adult explant

Basal medium

Plant growth regulators

Proliferation

Elongation

Rooting