Abstract
A protocol for plantlet regeneration through shoot formation was developed for the neotropical shrub Brunfelsia calycina. This shrub is unique in its change in flower color from dark purple to white. Explants from young and mature leaves were incubated on MS medium (pH 5.7, 30 g/l sucrose, 7.5 g/l agar) with various combinations of Indole-3-acetic acid (IAA) and 6-Benzyladenine (BA) under a 16 h photoperiod at a constant temperature of 25°C. Shoot emergence was best at 4.44 μM BA and 2.85 μM IAA for young leaf explants, and at 8.88 μM BA, 2.85 μM IAA for mature leaf explants. When shoots were transferred to MS medium supplemented with 1.23–2.46 μM indole butrytic acid (IBA), they developed roots.
This is a preview of subscription content, log in to check access.
Access options
Buy single article
Instant access to the full article PDF.
US$ 39.95
Price includes VAT for USA
Subscribe to journal
Immediate online access to all issues from 2019. Subscription will auto renew annually.
US$ 199
This is the net price. Taxes to be calculated in checkout.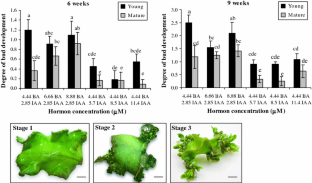 Abbreviations
Aux:

Auxin

BA:

6-Benzyladenine

Ck:

Cytokinin

IAA:

Indole-3-acetic acid

IBA:

Indole-3-butyric acid

MS:

Murashige and Skoog (1962)

NAA:

2-Naphthaleneacetic acid

TDZ:

Thidiazuron (N-phenyl N′ 1,2,3-thidiazol-5-yl urea)
References
Brenzel KN (2001) Western garden book, 7th edn. Sunset Publishing Corporation, Menlo Park

Halevy AH (1985) Handbook of flowering. CRC Press, Boca Raton

Heide OM (1963) Effect of temperature and day-length on flower initiation in Brunfelsia calycina (Hook) Benth. Physiol Plant 16:104–107

Mohamed AA, Aly AA (2004) Iron deficiency stimulated enzyme activity, lipid peroxidation and free radical production in Borago officinalis induced in vitro. Int J Agri Biol 6:179–184

Murashige T, Skoog F (1962) A medium for rapid growth and bio-assay with tobacco tissue culture. Physiol Plant 15:437–497

Plowman T (1977) Brunfelsia in ethnomedicine. Bot Mus Leafl (Harvard Univ) 25:289–320

Reuveni M, Evenor D, Ben-Jaacov J (2003) On the road to micro-propagation of Banksia ashbyi. In: Proceedings of 2002 international protea meeting. Acta Hort 602:149–154

Reuveni M, Evenor D, Kagan S, Ben-Jaacov J (2005) Rejuvenation by in vitro propagation from mature Hermannia stricta (Sterculiaceae) plants. Int J Appl Agri Res 1(1):20–26

Vaknin H, Bar-Akiva A, Ovadia R, Nissim-Levi A, Forer I, Weiss D, Oren-Shamir M (2005) Active anthocyanin degradation in Brunfelsia calycina (Yesterday–Today–Tomorrow) flowers. Planta 222:19–26
Additional information
Raya Liberman and Liat Shahar have equally contributed to this work.
About this article
Cite this article
Liberman, R., Shahar, L., Nissim-Levi, A. et al. Shoot regeneration from leaf explants of Brunfelsia calycina . Plant Cell Tiss Organ Cult 100, 345–348 (2010). https://doi.org/10.1007/s11240-009-9642-7
Received:

Accepted:

Published:

Issue Date:
Keywords
Regeneration

Solanaceae

Brunfelsia