Abstract
The 2c3 embryogenic culture was obtained as a result of transferring the rolC oncogene from Agrobacterium rhizogenes to the callus cells of Panax ginseng. Calcium-dependent protein kinases (CDPKs) are known to play a role in the development of somatic embryos in the 2c3 cell culture. Ten CDPK genes with altered expressions in the 2c3 embryogenic cell culture have previously been described. In this study, the importance of the ginseng CDPK gene for stimulation of somatic embryogenesis was investigated. Frequency analysis of RT-PCR products and real-time PCR were used to analyze CDPK gene expression in the 2c3 callus at different stages of somatic embryo development. Our results suggest that members of the PgCDPK2d subfamily (PgCDPK2d, PgCDPK2ds, and PgCDPK2dL) play a role in the initialization and development of somatic embryos. It was also found that the kinase domain of these genes was subjected to insertion and deletion modifications. The observed transcriptional and post-transcriptional modifications (alternative splicing, RNA editing or nonsense-mediated mRNA decay) of the PgCDPK2d genes could contribute to the formation of somatic embryos initiated by the rolC oncogene.
This is a preview of subscription content, log in to check access.
Access options
Buy single article
Instant access to the full article PDF.
US$ 39.95
Price includes VAT for USA
Subscribe to journal
Immediate online access to all issues from 2019. Subscription will auto renew annually.
US$ 199
This is the net price. Taxes to be calculated in checkout.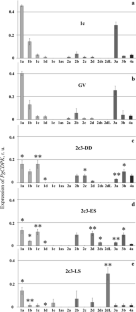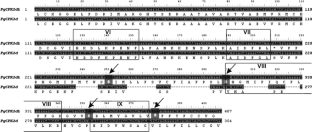 Abbreviations
CDPK:

Calcium-dependent protein kinases

RT-PCR:

Reverse transcription PCR
References
Asano T, Tanaka N, Yang G, Hayashi N, Komatsu S (2005) Genome-wide identification of the rice calcium-dependent protein kinase and its closely related kinase gene families: comprehensive analysis of the CDPKs gene family in rice. Plant Cell Physiol 46:356–366

Baker KE, Parker R (2004) Nonsense-mediated mRNA decay: terminating erroneous gene expression. Curr Opin Cell Biol 16:293–299

Benfey PN, Chua NH (1990) The cauliflower mosaic virus 35S promoter: combinatorial regulation of transcription in plants. Science 250:959–966

Bonhomme V, Laurain Mattar D, Fliniaux MA (2000) Effects of the rolC gene on hairy root: Induction development and tropane alkaloid production by Atropa belladonna. J Nat Prod 63:1249–1252

Bulgakov VP, Veselova MV, Tchernoded GK, Kiselev KV, Fedoreyev SA, Zhuravlev YN (2005) Inhibitory effect of the Agrobacterium rhizogenes rolC gene on rabdosiin and rosmarinic acid production in Eritrichium sericeum and Lithospermum erythrorhizon transformed cell cultures. Planta 221:471–478

Chang WC, Hsing Y (1980) In vitro flowering of embryoids derived from mature root callus of ginseng (Panax ginseng). Nature 284:341–342

Cheng SH, Willmann MR, Chen HC, Sheen J (2002) Calcium signaling through protein kinases. The Arabidopsis calcium-dependent protein kinase gene family. Plant Physiol 129:469–485

Costantino P, Capone I, Cardarelli M, De Paolis A, Mauro ML, Trovato M (1994) Bacterial plant oncogenes—the rol genes saga. Genetica 94:203–211

Delbarre A, Muller P, Imhoff V, Barbier-Brygoo H, Maurel C, Leblanc N, Perrot-Rechenmann C, Guern J (1994) The rolB gene of Agrobacterium rhizogenes does not increase the auxin sensitivity of tobacco protoplasts by modifying the intracellular auxin concentration. Plant Physiol 105:563–569

Dubrovina AS, Kiselev KV, Veselova MV, Isaeva GA, Fedoreyev SA, Zhuravlev YN (2009) Enhanced resveratrol accumulation in rolB transgenic cultures of Vitis amurensis correlates with unusual changes in CDPK gene expression. J Plant Physiol 166:1194–1206

Estruch JJ, Chriqui D, Grossmann K, Schell J, Spena A (1991) The plant oncogene rolC is responsible for the release of cytokinins from glucoside conjugates. EMBO J 10:2889–2895

Faiss M, Strnad M, Redig P, Dolezal K, Hanus J, VanOnckelen H, Schmulling T (1996) Chemically induced expression of the rolC encoded β-glucosidase in transgenic tobacco plants and analysis of cytokinin metabolism: rolC does not hydrolyze endogenous cytokinin glucosides in planta. Plant J 10:33–46

Giulietti A, Overbergh L, Valckx D, Decallonne B, Bouillon R, Mathieu C (2001) An overview of real-time quantitative PCR: applications to quantify cytokine gene expression. Methods 25:386–401

Gorpenchenko TY, Kiselev KV, Bulgakov VP, Tchernoded GK, Bragina EA, Khodakovskaya MV, Koren OG, Batygina TB, Zhuravlev YN (2006) The Agrobacterium rhizogenes rolC-gene-induced somatic embryogenesis and shoot organogenesis in Panax ginseng transformed calluses. Planta 223:457–467

Harper JF, Harmon A (2005) Plants, symbiosis and parasites: a calcium signaling connection. Nat Rev Mol Cell Biol 6:555–566

Kiselev KV, Tchernoded GK (2009) Somatic embryogenesis in the Panax ginseng cell culture induced by the rolC oncogene is associated with increased expression of WUS and SERK genes. Russ J Genet 45:445–452

Kiselev KV, Kusaykin MI, Dubrovina AS, Bezverbny DA, Zvyagintseva TN, Bulgakov VP (2006) The rolC gene induces expression of a pathogenesis-related beta-1, 3-glucanase in transformed ginseng cells. Phytochemistry 67:2225–2231

Kiselev KV, Dubrovina AS, Veselova MV, Bulgakov VP, Fedoreyev SA, Zhuravlev YN (2007) The rolB gene-induced overproduction of resveratrol in Vitis amurensis transformed cells. J Biotechnol 128:681–692

Kiselev KV, Gorpenchenko TY, Tchernoded GK, Dubrovina AS, Grishchenko OV, Bulgakov VP, Zhuravlev YN (2008) Calcium-dependent mechanism of somatic embryogenesis in Panax ginseng cell cultures expressing the rolC oncogene. Mol Biol 42:243–252

Lecourieux D, Ranjeva R, Pugin A (2006) Calcium in plant defence-signalling pathways. New Phytol 171:249–269

Ludwig AA, Romeis T, Jones JD (2004) CDPK-mediated signalling pathways: specificity and cross-talk. J Exp Bot 55:181–188

Nagy E, Maquat LE (1998) A rule for termination-codon position within intron-containing genes: when nonsense affects RNA abundance. Trends Biochem Sci 23:198–199

Nilsson O, Olsson O (1997) Getting to the root: the role of the Agrobacterium rhizogenes rol genes in the formation of hairy roots. Physiol Plant 100:463–473

Nilsson O, Moritz T, Sundberg B, Sandberg G, Olsson O (1996) Expression of the Agrobacterium rhizogenes rolC gene in a deciduous forest tree alters growth and development and leads to stem fasciation. Plant Physiol 112:493–502

Nishiyama R, Mizuno H, Okada S, Yamaguchi T, Takenaka M, Fukuzawa H, Ohyama K (1999) Two mRNA species encoding calcium-dependent protein kinases are differentially expressed in sexual organs of Marchantia polymorpha through alternative splicing. Plant Cell Physiol 40:205–212

Park SH, Choi J, Kang JI, Choi SY, Hwang SB, Kim JP, Ahn BY (2006) Attenuated expression of interferon-induced protein kinase PKR in a simian cell devoid of type I interferons. Mol Cells 21:21–28

Schmulling T, Shell J, Spena A (1988) Single genes from Agrobacterium rhizogenes influence plant development. EMBO J 7:2621–2629

Schmulling T, Fladung M, Grossman K, Schell J (1993) Hormonal content and sensitivity of transgenic tobacco and potato plants expressing single rol genes of Agrobacterium rhizogenes T-DNA. Plant J 3:371–382

Spena A, Schmulling T, Koncz C, Schell JS (1987) Independent and synergistic activity of rolA, B and C loci in stimulating abnormal growth in plants. EMBO J 6:3891–3899

Wei YH, Fu GL, Hu HR, Lin G, Yang JC, Guo JH, Zhu QQ, Yu L (2007) Isolation and characterization of mouse testis specific ser/thr kinase 5 possessing four alternatively spliced variants. J Biochem Mol Biol 40:749–756

Xiong LZ, Yang YN (2003) Disease resistance and abiotic stress tolerance in rice are inversely modulated by an abscisic acid-inducible mitogen-activated protein kinase. Plant Cell 15:745–759

Yue PY, Mak NK, Cheng YK, Leung KW, Ng TB, Fan DT, Yeung HW, Wong RN (2007) Pharmacogenomics and the Yin/Yang actions of ginseng: anti-tumor, angiomodulating and steroid-like activities of ginsenosides. Chin Med 6:1–21
Acknowledgments
This work was supported by grants from the Russian Foundation for Basic Research (06-04-48149-a), the President of Russia (MК-714.2008.4), the Far East Division of the Russian Academy of Sciences (06-III-A-06-146), and the Russian Science Support Foundation.
About this article
Cite this article
Kiselev, K.V., Turlenko, A.V. & Zhuravlev, Y.N. CDPK gene expression in somatic embryos of Panax ginseng expressing rolC . Plant Cell Tiss Organ Cult 99, 141–149 (2009). https://doi.org/10.1007/s11240-009-9586-y
Received:

Accepted:

Published:

Issue Date:
Keywords
Agrobacterium rhizogenes
CDPK
Genes rol
Panax ginseng
rolC

Somatic embryogenesis