Abstract
Sclerocarya birrea (marula) is an indigenous South African tree with highly valued medicinal and nutritional properties. Induction of nodular meristemoids from leaf explants was achieved on Murashige and Skoog (MS) and woody plant medium (WPM) supplemented with 6-benzyladenine (BA) in combination with naphthalene acetic acid (NAA), indole-3-butryric acid (IBA) and indole-3-acetic acid (IAA). Induction of nodular meristemoids from 86% of the leaf cultures was achieved on MS medium with 4.0 μM BA and 1.0 μM NAA. High levels (78–100%) of induction were also achieved on WPM with different concentrations of BA (1.0–4.0 μM) and IBA (1.0–4.0 μM). The highest conversion of meristemoids into shoots was only 22% for 4.0 μM BA and 1.0 μM NAA on MS initiation medium. This was improved to 62% when nodular clusters were cultured in a MS liquid medium. Histological studies revealed the globular stage of the nodular meristemoids. This protocol has potential for application in mass micropropagation and plant breeding of S. birrea.
This is a preview of subscription content, log in to check access.
Access options
Buy single article
Instant access to the full article PDF.
US$ 39.95
Price includes VAT for USA
Subscribe to journal
Immediate online access to all issues from 2019. Subscription will auto renew annually.
US$ 199
This is the net price. Taxes to be calculated in checkout.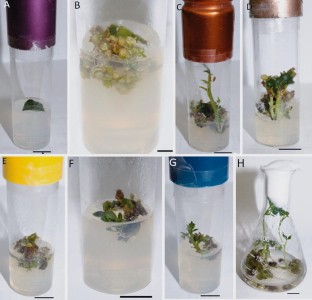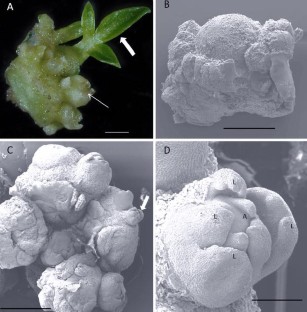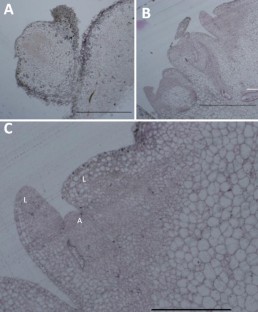 Abbreviations
BA:

6-Benzyladenine

IAA:

Indole-3-acetic acid

IBA:

Indole-3-butyric acid

MS:

Murashige and Skoog

NAA:

α-Naphthalene acetic acid

PVP:

Polyvinylpyrrolidone

WPM:

Woody plant medium
References
Bandyopadhyay S, Hamill D (2000) Ultrastructural studies of somatic embryos of Eucalyptus nitens and comparisons with zygotic embryos found in mature seeds. Ann Bot 86:237–244

Bassuner BM, Lam R, Lukowitz W, Yeung EC (2007) Auxin and root initiation in somatic embryos of Arabidopsis. Plant Cell Rep 26:1–11

Batista D, Ascensão L, Sousa MJ, Pais MS (2000) Adventitous shoot mass production of hop (Humulus lupulus L.) var. Eroica in liquid medium from organogenic nodule cultures. Plant Sci 151:47–57

Bomal C, Tremblay FM (2000) Dried cryopreserved somatic embryos of two Picea species provide suitable material for direct plantlet regeneration and germplasm storage. Ann Bot 86:177–183

Ferreira S, Batista D, Serrazina S, Pais MS (2009) Morphogenesis induction and organogenic nodule differentiation in Populus euphratica Oliv. Leaf explants. Plant Cell Tissue Organ Cult 96:35–43. doi:10.1007/s11240-008-9457-y

Gomes FLA, Heredia FF, Silva PB, Facó O, Campos F (2006) Somatic embryogenesis and plant regeneration in Opuntia ficus-indica (L.) Mill. (Cactaceae). Sci Hortic 108:15–21

Haensch KT (2004) Morpho-histological study of somatic embryo-like structures in hypocotyl cultures of Pelargonium x hortorum Bailey. Plant Cell Rep 22:376–381

Hicks GS (1994) Shoot induction and organogenesis in vitro: a developmental perspective. In Vitro Cell Dev Biol Plant 30:10–15

Jayasankar S, Bondada BR, Li Z, Gray DJ (2003) Comparative anatomy and morphology of Vitis vinifera (Vitaceae) somatic embryos from solid- and liquid-culture-derived proembryogenic masses. Am J Bot 90:973–979

Lloyd G, McCown B (1981) Commerciallyfeasible micropropagation of mountain laurel, Kalmia latifolia, by use of shoot-tip culture. Proc Int Plant Prop Soc 30:421–427

McCown BH, Zeldin EL, Pinkalla HA, Dedolph RR (1988) Nodule culture: a developmental pathway with high potential for regeneration, automated micropropagation and plant metabolite production from woody plants. In: Hanover JW, Keathley DE (eds) Genetic manipulation of woody plants. Plenum, New York, pp 149–166

Murashige T, Skoog F (1962) A revised medium for rapid growth and bio assays with tobacco tissue cultures. Physiol Plant 15:473–497

Piéron S, Belaizi M, Boxus Ph (1993) Nodule culture, a possible morphogenetic pathway in Cichorium intybus L. propagation. Sci Hortic 53:1–11

Rugkhla A, Jones MGK (1998) Somatic embryogenesis and plantlet formation in Santalum album and S. spicatum. J Exp Bot 49:563–571

Salaj J, Petrovská B, Obert B, Pret'ová A (2005) Histological study of embryo-like structures initiated from hypocotyl segments of flax (Linum usitatissimum L.). Plant Cell Rep 24:590–595

Schwarz OJ, Sharma AR, Beaty RM (2005) Propagation from nonmeristematic tissues: organogenesis. In: Trigiano RN, Gray DJ (eds) Plant development and biotechnology. CRS Press, Boca Raton, Florida, pp 159–172

Teng WL (1997) An alternative propagation method of Ananas through nodule culture. Plant Cell Rep 16:454–457

Tian C, Chen Y, Zhao X, Zhao L (2008) Plant regeneration through protocorm-like bodies induced from rhizoids using leaf explants of Rosa spp. Plant Cell Rep 27:823–831

Woo SM, Wetzstein HY (2008) Morphological and histological evaluations of in vitro regeneration in Elliottia racemosa leaf explants induced on media with thidiazuron. J Am Soc Hort Sci 133:167–172

Xie D, Hong Y (2001) In vitro regeneration of Acacia mangium via organogenesis. Plant Cell Tissue Organ Cult 66:167–171

Young PS, Murthy HN, Yoeup PK (2000) Mass multiplication of protocorm-like bodies using bioreactor system and subsequent plant regeneration in Phalaenopsis. Plant Cell Tissue Organ Cult 63:67–72

Ziv M, Kahany S, Lilien-Kinis H (1994) Scaled-up proliferation and regeneration of Nerine in liquid cultures Part I. The induction and maintenance of proliferating meristematic clusters by paclobutrazol in bioreactors. Plant Cell Tissue Organ Cult 39:109–115
Acknowledgments
We gratefully acknowledge the financial support by the National Research Foundation (NRF), Pretoria and the University of KwaZulu-Natal. We would also like to thank Pricilla Donnelly, Shirley Mackellar, Tutuzwa Xuma and Pat Joubert of the Centre for Electron Microscopy, University of KwaZulu-Natal, Pietermaritzburg for the technical support rendered.
About this article
Cite this article
Moyo, M., Finnie, J.F. & Van Staden, J. In vitro morphogenesis of organogenic nodules derived from Sclerocarya birrea subsp. caffra leaf explants. Plant Cell Tiss Organ Cult 98, 273–280 (2009). https://doi.org/10.1007/s11240-009-9559-1
Received:

Accepted:

Published:

Issue Date:
Keywords
Morphogenesis

Nodular meristemoids

Sclerocarya birrea

Micropropagation

Histology