Abstract
Cotyledon explants of two Oriental melons produced hairy roots when cultured on Murashige and Skoog basal medium after infection by the Agrobacterium rhizogenes. Hairy roots were produced from the wounded surface of the cotyledon explants of Cucumis melo L. cv. Geumssaragi-euncheon on Murashige and Skoog selective medium and 86% of the GUS stained hairy roots were positive for the expression of beta-glucuronidase. The insertion of the gfp-gus fusion gene in the genomic DNA and the presence of the gfp-gus-specific transcript in the total RNAs of transgenic hairy roots were confirmed by PCR and RT-PCR, respectively. An immunoblot analysis of the transgenic hairy root extract revealed 97 kDa single bands coincident with the molecular weight of the GFP-GUS fusion proteins. ELISA demonstrated that the highest level of GFP-GUS fusion protein expression was 0.47% of the total soluble protein in a transgenic hairy root. The MS medium showed the fastest growth among three media types tested. Infection of the hairy roots with a root-knot nematode resulted in the development of a mature egg mass about 4–5 weeks after inoculation. The highest number of egg mass was obtained on the hairy roots cultured in SH medium containing 0.3% agar.
This is a preview of subscription content, log in to check access.
Access options
Buy single article
Instant access to the full article PDF.
US$ 39.95
Price includes VAT for USA
Subscribe to journal
Immediate online access to all issues from 2019. Subscription will auto renew annually.
US$ 199
This is the net price. Taxes to be calculated in checkout.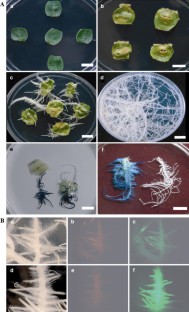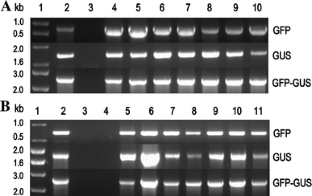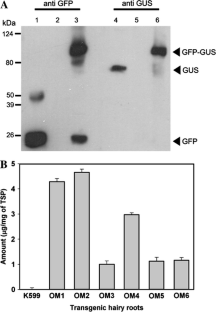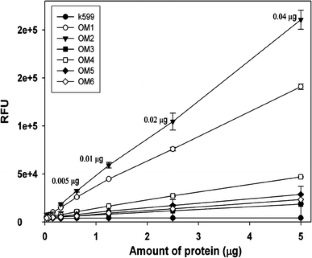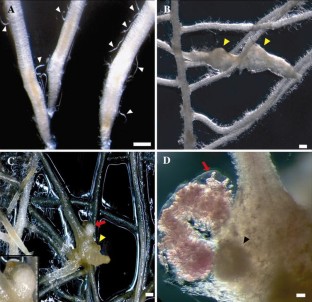 Abbreviations
B5:

Gamborg B5

CAPS:

N-Cyclohexyl-3-aminopropanesulfonic acid

ELISA:

Enzyme-linked immunosorbent assay

GFP:

Green fluorescent protein

GUS:

Beta-glucuronidase

M-MLV RT:

Moloney murine leukemia virus reverse transcriptase

MS:

Murashige and Skoog

SH:

Schenk & Hildebrandt

TSP:

The total soluble protein
References
Bradford MM (1976) A rapid and sensitive method for the quantitation of microgram quantities of protein utilizing the principle of protein dye binding. Anal Biochem 72:248–254. doi:10.1016/0003-2697(76)90527-3

Chilton MD, Tepfer DA, Petit A, David C, Casse-Delbart F, Tempe J (1982) Agrobacterium rhizogenes inserts T-DNA into the genome of the host plant root cells. Nature 295:432–434. doi:10.1038/295432a0

Cho H-J, Widholm JM, Tanaka N, Nakanishi Y, Murooka Y (1998) Agrobacterium rhizogenes-mediated transformation and regeneration of the legume Astragalus sinicus (Chinese milk vetch). Plant Sci 138:53–65. doi:10.1016/S0168-9452(98)00149-6

Cho H-J, Farrand SK, Noel GR, Widholm JM (2000) High efficiency induction of soybean hairy roots and propagation of the soybean cyst nematode. Planta 210:195–204. doi:10.1007/PL00008126

Chung KJ, Hwang SK, Hahn BS, Kim KH, Kim JB, Kim YH, Yang JS, Ha SH (2008) Authentic seed-specific activity of the Perilla oleosin 19 gene promoter in transgenic Arabidopsis. Plant Cell Rep 27:29–37. doi:10.1007/s00299-007-0440-6

Costantino P, Spano L, Pomponi M, Benvenuto E, Ancora G (1984) The T-DNA of Agrobacterium rhizogenes is transmitted through meiosis to the progeny of hairy root plants. J Mol Appl Genet 2:465–470

Guillon S, Tremouillaux-Guiller J, Pati PK, Rideau M, Gantet P (2006) Harnessing the potential of hairy roots: dawn of a new era. Trends Biotechnol 24:403–409. doi:10.1016/j.tibtech.2006.07.002

Hernalsteens J-P, Van Vliet F, De Beuckeleer M, Depicker A, Engler G, Lemmers M, Holsters M, Van Montagu M, Schellet J (1980) The Agrobacterium tumefaciens Ti plasmid as a host vector system for introducing foreign DNA in plant cells. Nature 287:654–657. doi:10.1038/287654a0

Karimi M, Inze D, Depicker A (2002) Gateway vectors for Agrobacterium-mediated plant transformation. Trends Plant Sci 7:193–195. doi:10.1016/S1360-1385(02)02251-3

Kim DG, Ferris H (2002) Relationship between crop losses and initial population densities of Meloidogyne arenaria in winter-grown Oriental melon in Korea. J Nematol 34:43–49

Matsuda Y, Toyoda H, Sawabe A, Maeda K, Shimizu N, Fujita N, Fujita T, Nonomura T, Ouchi S (2000) A hairy root culture of melon produces aroma compounds. J Agric Food Chem 48:1417–1420. doi:10.1021/jf9906580

Mugnier J (1987) Infection by Polymyxa betae and Plasmodiophora brassicae of roots containing root inducing transferred DNA of Agrobacterium rhizogenes. Phytopathology 77:539–542. doi:10.1094/Phyto-77-539

Mugnier J, Mosse B (1987) Vesiculararbuscular mycorrhizal infection in transformed root inducing T-DNA roots grown axenically. Phytopathology 77:1045–1050. doi:10.1094/Phyto-77-1045

Mugnier J, Ready PW, Riedeh GE (1986) Root culture system useful in the study of biotrophic root pathogens in vitro. In: Agustine PC, Danforth HD, Bakst MR (eds) Biotechnology for solving agricultural problems. Martinus Nijhoff Publishers, Dordrecht, pp 147–153

Murashige T, Skoog F (1962) A revised medium for rapid growth and bioassays with tobacco tissue cultures. Physiol Plant 15:473–497. doi:10.1111/j.1399-3054.1962.tb08052.x

Schröder J, Schröder G, Huisman H, Schilperoort RA, Schell J (1981) The mRNA for lysopine dehydrogenase in plant. Tumor cells is complementary to a Ti-plasmid fragment. FEBS Lett 129:166–168. doi:10.1016/0014-5793(81)80781-8

Sijmons PC, Grundler FMW, von Mende N, Burrows PR, Wyss U (1991) Arabidopsis thaliana as a new model host for plant-parasitic nematodes. Plant J 1:245–254. doi:10.1111/j.1365-313X.1991.00245.x

Tepfer D (1984) Transformation of several species of higher plants by Agrobacterium rhizogenes: sexual transmission of the transformed genotype and phenotype. Cell 37:959–967. doi:10.1016/0092-8674(84)90430-6

Verdejo S, Jaffee BA, Mankau R (1988) Reproduction of Meloidogyne javanica on plant roots genetically transformed by Agrobacterium rhizogenes. J Nematol 20:599–604

Verdejo-Lucas S, Pinochet J (1992) Population densities of five migratory endoparasitic nematodes in carrot diskcultures. J Nematol 24:96–98
Acknowledgments
We are grateful to Drs. Dong-Ro Choi and Hye–Rim Hahn (National Academy of Agricultural Science) for providing M. incognita. We thank Ms. Mi-Ra Yang for technical assistance. This work was supported by the grants (code no. 20080401034031) from BioGreen21 program and National Academy of Agricultural Science, Rural Development Administration, Korea.
About this article
Cite this article
Pak, H., Sim, J., Rhee, Y. et al. Hairy root induction in Oriental melon (Cucumis melo) by Agrobacterium rhizogenes and reproduction of the root-knot nematode (Meloidogyne incognita). Plant Cell Tiss Organ Cult 98, 219–228 (2009). https://doi.org/10.1007/s11240-009-9556-4
Received:

Accepted:

Published:

Issue Date:
Keywords
Oriental melon

Hairy root

A. rhizogenes

Root-knot nematode

Egg mass