Abstract
Callus browning is a typical feature of callus cultures derived from the hypocotyl of Jatropha curcas. Brown callus results in decreased regenerative ability, poor growth and even death. In this study, we investigated the effect of browning on callus morphology and biochemical indices. Light microscopy and scanning electron microscopy showed striking differences in callus morphology. During browning, chlorophylls and carotenoids concentrations decreased steadily. Polyphenol oxidase (PPO) and peroxidase (POD) enzymatic activities patterns were similar during callus culture with a higher activity level at week 3 compared to week 2 or later weeks. Grey relation degree analysis indicated that PPO played a more important role than POD in enzymatic callus browning. Polyacrylamide gel electrophoresis results showed differences between browning and non-browning callus. Gas chromatography–mass spectrometry results showed that saturated and unsaturated fatty acid quantities differed significantly but there was little difference in fatty acid composition between non-browning and browning callus. Differences in 17, 18.4 and 25 kDa protein concentrations were also observed in browning and non-browning callus using sodium dodecyl sulfate–polyacrylamide gel electrophoresis.
This is a preview of subscription content, log in to check access.
Access options
Buy single article
Instant access to the full article PDF.
US$ 39.95
Price includes VAT for USA
Subscribe to journal
Immediate online access to all issues from 2019. Subscription will auto renew annually.
US$ 199
This is the net price. Taxes to be calculated in checkout.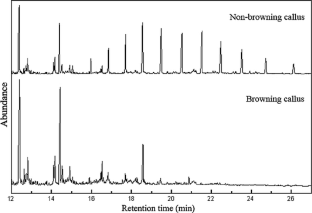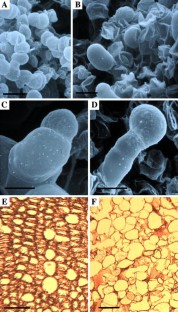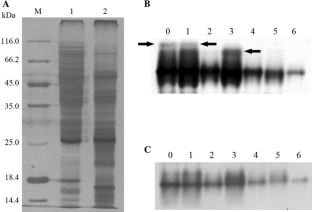 Abbreviations
LM:

Light microscopy

SEM:

Scanning electron microscopy

BA:

Benzylaminopurine

IBA:

Indole-3-butyric acid

MS:

Murashige and skoog medium

PPO:

Polyphenol oxidase

POD:

Peroxidase

PBS:

Phosphate buffer solution

SDS:

Sodium dodecyl sulfate

PAGE:

Polyacrylamide gel electrophoresis

d:

Day
References
Aly MA, Amer EA, Al-Zayadneh WA, Eldin AE (2008) Growth regulators influence the fatty acid profiles of in vitro induced jojoba somatic embryos. Plant Cell Tissue Organ Cult 93:107–114. doi:10.1007/s11240-008-9348-2

Blum H, Beier H, Gross HJ (1987) Silver staining of proteins in polyacrylamide gels. Electrophoresis 8:93–99. doi:10.1002/elps.1150080203

Campa A (1991) Biological role of plant peroxidases: known and potential functions. In: Everse J, Everse KE, Grisham MB (eds) Peroxidases in chemistry and biology. CRC Press, FL, pp 25–50

Degl'Innocenti E, Guidi L, Paradossi A, Tognoni F (2005) Biochemical study of leaf browning in minimally processed leaves of lettuce (Lactuca sativa L. var. Acephala). J Agric Food Chem 52:9980–9984

Deng JL (1989) Introduction to the grey system theory. J Grey Syst 1:1–24

Goodwin TW (1976) Chemistry and biochemistry of plant pigments, 2nd edn. Academic Press, London, pp 38–155

Häsler J, Wüest J, Gaspar T, Crèvecoeur M (2003) Long term in vitro-cultured plant cells show typical neoplastic features at the cytological level. Biol Cell 95:357–364. doi:10.1016/S0248-4900(03)00077-7

He XZ, Zhang SZ (1999) Electrophoresis, 2nd edn. Science Press, Beijing, pp 108–110

Jha TB, Mukherjee P, Datta MM (2007) Somatic embryogenesis in Jatropha curcas Linn., an important biofuel plant. Plant Biotechnol Rep 1:135–140. doi:10.1007/s11816-007-0027-2

Jiang Y, Miles PW (1993) Generation of H2O2 during enzymic oxidation of catechin. Phytochemistry 33:29–34. doi:10.1016/0031-9422(93)85391-4

Kormutak A, Vookova B (2001) Peroxidase activity in non-embryogenic and embryogenic calli and in developing somatic embryos of white fir (Abies concolor Gord. et Glend). Plant Biosyst 135:101–105. doi:10.1080/11263500112331350710

Lee CY, Whitaker JR (1995) Enzymatic browning and its prevention. American Chemical Society, Washington DC, pp 2–22

Li HS (2000) Principles and techniques of plant physiological biochemical experiment. Higher Education Press, Beijing, pp 164–169

Lin J, Zhou XW, Tang KX, Chen F (2004) A survey of the studies on the resources of Jatropha curcas. J Trop Subtrop Bot 12:285–290

Mampane KJ, Joubert PH, Hay IT (2006) Jatropha curcas: use as a traditional Tswana medicine and its role as a cause of acute poisoning. Phytother Res 1:50–51. doi:10.1002/ptr.2650010112

Martinez MV, Whitaker JR (1995) The biochemistry and control of enzymatic browning. Trends Food Sci Technol 6:195–200. doi:10.1016/S0924-2244(00)89054-8

Matile P, Hortensteiner S, Thomas H (1999) Chlorophyll degradation. Annu Rev Plant Physiol Plant Mol Biol 50:67–95. doi:10.1146/annurev.arplant.50.1.67

Mayer AM, Harel E (1979) Polyphenol oxidases in plants. Phytochemistry 18:193–215. doi:10.1016/0031-9422(79)80057-6

Murashige T, Skoog F (1962) A revised medium for rapid bioassays with tobacco tissue cultures. Physiol Plant 15:473–497. doi:10.1111/j.1399-3054.1962.tb08052.x

Openshaw K (2000) A review of Jatropha curcas: an oil plant of unfulfilled promise. Biomass Bioenergy 19:1–15. doi:10.1016/S0961-9534(00)00019-2

Pandey B, Gadgil VN (1984) Fatty acids in callus cultures: influence of growth factors on fatty acid composition of total lipids in callus cells. Phytochemistry 23(1):51–53. doi:10.1016/0031-9422(84)83076-9

Rajore S, Batra A (2005) Efficient plant regeneration via shoot tip explant in Jatropha curcas. J Plant Biochem Biotechnol 14:73–75

Richard-Forget FC, Gauillard FA (1997) Oxidation of chlorogenic acid, catechins, and 4-methylcatechol in model solutions by combinations of pear (Pyrus communis Cv.Williams) polyphenol oxidase and peroxidase: a possible involvement of peroxidase in enzymatic browning. J Agric Food Chem 45:2472–2476. doi:10.1021/jf970042f

Sardana J, Batra A, Ali DJ (2000) An expeditious method for regeneration of somatic embryos in Jatropha curcas L. Phytomorphology 50:239–242

Schmook B, Serralta-Peraza L (1997) J. curcas: distribution and uses in the Yucatan Peninsula of Mexico. In: Gubitz GM, Mittelbach M, Trabi M (eds) Biofuels and industrial products from Jatropha curcas. Dbv-Verlag, Graz, pp 53–57

Slun BS, Mangold HK, Staba EJ (1971) in Proc Les Cullures de Ttssus de Plantes, Strausbourg CNRS Paris, pp 51

Staubmann R, Ncube I, Gubitz GM, Steiner W, Read JS (1999) Esterase and lipase activity in Jatropha curcas L. J Biotechnol 75:117–126. doi:10.1016/S0168-1656(99)00151-0

Stevens LH, Davelaar E (1996) Isolation and characterization of blackspot pigments from potato tubers. Phytochemistry 42:941–947. doi:10.1016/0031-9422(96)00088-X

Sujatha M, Mukta N (1996) Morphogenesis and plant regeneration from tissue cultures of Jatropha curcas. Plant Cell Tissue Organ Cult 44:135–141. doi:10.1007/BF00048191

Sujatha M, Makkar HPS, Becker K (2005) Shoot bud proliferation from axillary nodes and leaf sections of non-toxic Jatropha curcas L. Plant Growth Regul 47:83–90. doi:10.1007/s10725-005-0859-0

Thygesen PW, Dry IB, Robinson SP (1994) Polyphenol oxidase in potato tubers. In: Belknap WR, Vayda ME, Park WD (eds) The molecular and cellular biology of the potato, 2nd edn. CAB International, Wallingford, pp 151–159

Toivonen PMA, Brummell DA (2008) Biochemical bases of appearance and texture changes in fresh-cut fruit and vegetables. Postharvest Biol Technol 48:1–14. doi:10.1016/j.postharvbio.2007.09.004

Tonon T, Harvey D, Larson TR, Graham IA (2002) Long chain polyunsaturated fatty acid production and partitioning to triacylglycerols in four microalgae. Phytochemistry 61:15–24. doi:10.1016/S0031-9422(02)00201-7

Vamos-Vigyazo L (1981) Polyphenoloxidase and peroxidase in fruits and vegetables. Crit Rev Food Sci Nutr 15:49–127

Veljovic-Jovanovic S, Noctor G, Foyer CH (2002) Are leaf hydrogen peroxide concentrations commonly overestimated? The potential influence of artefactual interference by tissue phenolics and ascorbate. Plant Physiol Biochem 40:501–507. doi:10.1016/S0981-9428(02)01417-1

Wei T, Newton RJ (2004) Increase of polyphenol oxidase and decrease of polyamines correlate with tissue browning in Virginia pine (Pinus virginiana Mill). Plant Sci 167:621–628. doi:10.1016/j.plantsci.2004.05.024

Wei Q, Lu WD, Liao Y, Pan SL, Xu Y, Tang L, Chen F (2004) Plant regeneration from epicotyl explants of Jatropha curcas. J Plant Physiol Mol Biol 30:475–478

Whitaker JR (1994) Effect of pH on enzyme catalysed reactions. In: Fennema OR, Karel M, Sanderson GW, Tannenbaum SR, Walstra P, Whitaker JR (eds) Principles of enzymology for the food science, 2nd edn. Marcel Dekker, New York, pp 271–300

Yamamoto A, Yano I, Masui M, Yabuuchi E (1978) Isolation of a novel sphingoglycolipid containing glucuronic acid and 2-hydroxy fatty acid from flavobacterium devorans ATCC 10829. J Biochem 83:1213–1216

Zhu GL, Zhong HW, Zhang AQ (1990) Experiments of plant physiology. Peking University Press, Beijing, pp 37–40
Acknowledgments
We would like to thank Yongjiong Jia, Shenghua Wang, and Lin Tang for their invaluable suggestions. This work was supported by the grants from ["Eleventh Five Years" Key Project of Chinese Minisity of Science and Technology (no. 2006BAD07A04 and no. 2007BAD50B05); and Key Project of Chinese Minisity of Education (no. 307023 and no. 20060610015)].
About this article
Cite this article
He, Y., Guo, X., Lu, R. et al. Changes in morphology and biochemical indices in browning callus derived from Jatropha curcas hypocotyls. Plant Cell Tiss Organ Cult 98, 11–17 (2009). https://doi.org/10.1007/s11240-009-9533-y
Received:

Accepted:

Published:

Issue Date:
Keywords
Jatropha curcas

Browning

Callus

PPO

POD

Tissue culture