Abstract
Nodal segments (4 ± 1 mm long) of Hibiscus moscheutos (hardy hibiscus) were excised from in vitro proliferating microshoots and utilized to evaluate initial factors involved in bulk alginate encapsulation. The factors evaluated were; storage vessel type, volume and multiple rinse effects of CaCl2 solutions, and sodium alginate concentrations (2.5, 2.75, 3.0 or 3.25%) for bulk alginate encapsulation. Results indicate that vessels utilized for bulk alginate encapsulation should have a lower base area (L × W) to height ratio to reduce the amount of alginate matrix shrinkage resulting in exposure of nodal segments. Increased volumes and multiple 50 mM CaCl2 solution rinses did not have an effect on alginate solidification. Shoot length, root number, and root length significantly decreased in a linear manner from nodal explants stored for 4 weeks with increasing concentrations of sodium alginate. This research suggests an innovative technique for alginate encapsulation of H. moscheutos utilizing bulk methods as an alternative to single bead alginate encapsulation.
This is a preview of subscription content, log in to check access.
Access options
Buy single article
Instant access to the full article PDF.
US$ 39.95
Price includes VAT for USA
Subscribe to journal
Immediate online access to all issues from 2019. Subscription will auto renew annually.
US$ 199
This is the net price. Taxes to be calculated in checkout.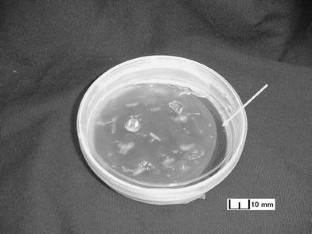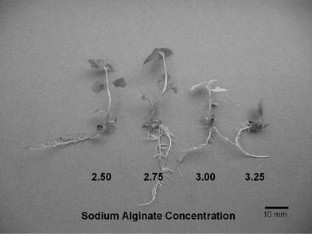 Abbreviations
DKW:

Driver and Kuniyuki Walnut nutrient salt formulation

TDZ:

Thidiazuron, N-phenyl-N′-1,2,3-thiadiazol-5-yl urea
References
Bandeoğlu E, Eyidoğan F, Yücel M, Öktem HA (2004) Antioxidant responses of shoots and roots of lentil to NaCl-salinity stress. Plant Growth Regul 42:69–77. doi:10.1023/B:GROW.0000014891.35427.7b

Bapat VA, Rao PS (1990) In vivo growth of encapsulated axillary buds of mulberry (Morus indica L.). Plant Cell Tissue Organ Cult 20:69–70. doi:10.1007/BF00034760

Bolu WH, Polle A (2004) Growth and stress reactions in roots and shoots of a salt-sensitive poplar species (Populus × canescens). Trop Ecol 45(1):161–171

Brischia R, Piccioni E, Standardi A (2002) Micropropagation and synthetic seed in M. 26 apple rootstock (II): a new protocol for production of encapsulated differentiating propagules. Plant Cell Tissue Organ Cult 68:137–141. doi:10.1023/A:1013802723018

Castillo B, Smith MAL, Yadava UL (1998) Plant regeneration from encapsulated somatic embryos of Carica papaya L. Plant Cell Rep 17:172–176. doi:10.1007/s002990050373

Driver JA, Kuniyuki AH (1984) In vitro propagation of paradox walnut rootstock. Hort Sci 19(4):507–509

Garrett RE (1993) Encapsulation machinery. In: Redenbaugh K (ed) Synseeds: application of synthetic seeds to crop improvement. CRC Press Inc., Boca Raton, pp 203–214

Hasegawa PM, Bressan RA, Zhu J-K, Bohnert HJ (2000) Plant cellular and molecular responses to high salinity. Annu Rev Plant Physiol Plant Mol Biol 51:463–499. doi:10.1146/annurev.arplant.51.1.463

Preece JE, West T (2006) Greenhouse growth and acclimatization of encapsulated Hibiscus moscheutos nodal segments. Plant Cell Tissue Organ Cult 87:127–138. doi:10.1007/s11240-006-9146-7

Prube U, Dalluhn J, Bredford J, Vorlop K (2000) Production of spherical beads by jetcutting. Chem Eng Technol 23(12):1105–1110. doi:10.1002/1521-4125(200012)23:12<1105::AID-CEAT1105>3.0.CO;2-V

Refouvelet E, Le Nours S, Tallon C, Daguin F (1998) A new method for in vitro propagation of lilac (Syringa vulgaris L.): regrowth and storage conditions for axillary buds encapsulated in alginate beads, development of a pre-acclimatisation stage. Sci Hortic (Amsterdam) 74:233–241. doi:10.1016/S0304-4238(98)00088-0

SAS Institute, Inc. (2003) SAS proprietary software version 9.1. SAS Inst, Cary

Sicurani M, Piccioni E, Standardi A (2001) Micropropagation and preparation of synthetic seed in M. 26 apple rootstock I: attempts towards saving labor in the production of adventitious shoot tips suitable for encapsulation. Plant Cell Tissue Organ Cult 66:207–216. doi:10.1023/A:1010627720368

Steel RGD, Torrie JH (1980) Principles and procedures of statistics. A biometrical approach, 2nd edn. McGraw-Hill, New York

West TP, Preece JE (2004) Effects of thidiazuron and nutrient salt formulations on micropropagation of hardy hibiscus (Hibiscus moscheutos L.). Acta Hortic 630:293–297

West TP, Preece JE (2006) Use of acephate, benomyl and alginate encapsulation for eliminating culture mites and fungal contamination from in vitro cultures of hardy hibiscus (Hibiscus moscheutos L.). In Vitro Cell Dev Biol Plant 42:301–304. doi:10.1079/IVP2006774

West TP, Ravindra MB, Preece JE (2006) Encapsulation, cold storage, and growth of Hibiscus moscheutos nodal segments. Plant Cell Tissue Organ Cult 87:223–231. doi:10.1007/s11240-006-9155-6
About this article
Cite this article
West, T.P., Preece, J.E. Bulk alginate encapsulation of Hibiscus moscheutos nodal segments. Plant Cell Tiss Organ Cult 97, 345–351 (2009). https://doi.org/10.1007/s11240-009-9525-y
Received:

Accepted:

Published:

Issue Date:
Keywords
Germplasm preservation

Hardy hibiscus

In vitro conservation

Microencapsulation

Micropropagation