Abstract
The effects of genotype, pollen or growth regulator-pretreatment of pistils, developmental stage of the ovule (embryo sac) and culture media on induction of gynogenesis, and subsequent plantlet regeneration in vitro were assessed in interspecific Gossypium barbadense × G. hirsutum cotton hybrids. Gynogenesis occurred in all genotypes used when the pistils had been pre-treated with pollen from Hibiscus cannabinus and ovaries were harvested 5 or 10 days after anthesis. The use of culture media, SH and MS, showed no significant differences in responding ovules, embryogenic ovules or embryo germination frequency. Recovered progeny were characterized cytogenetically and microscopically to help documenting their reproductive basis. Root tip chromosome counts of 17 plants established from ovule culture revealed that chromosome numbers ranged from 27 to 44. Although the reproductive mechanisms need to be characterized more extensively by cytological and molecular means, the observations suggest that gynogenesis in cotton involves some unusual reproductive events. Aneuploids could be useful for functional genomic characterization of genome shock, deletion mapping, and germplasm introgression.
This is a preview of subscription content, log in to check access.
Access options
Buy single article
Instant access to the full article PDF.
US$ 39.95
Price includes VAT for USA
Subscribe to journal
Immediate online access to all issues from 2019. Subscription will auto renew annually.
US$ 199
This is the net price. Taxes to be calculated in checkout.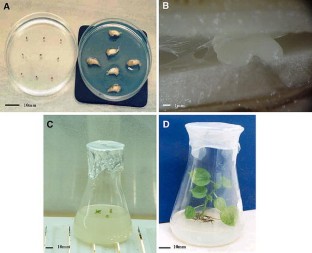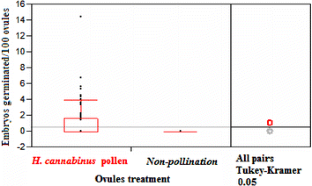 References
Barrow JR, Katterman F, Williams D (1978) Haploid and diploid callus from anther culture. Crop Sci 18:619–622

Bohanec B, Javornik B, Bohanec B, Kreft I (1994) Induction of gynogenesis in agricultural crops: a review. In: Bohanec B, Javornik B (eds) Proceedings on international colloquium plant biotechnology on agriculture. Ljubljana, Slovenia, pp 43–55

Brazauskas G, Pasakinskiene I, Jahoor A (2004) AFLP analysis indicates no introgression of maize DNA in wheat × maize crosses. Plant Breed 123:117–121. doi:10.1046/j.1439-0523.2003.00927.x

Gamborg OL, Miller RA, Ojima K (1968) Nutrient requirements of suspension cultures of soybean root cells. Exp Cell Res 50:151–158. doi:10.1016/0014-4827(68)90403-5

Gao W, Chen ZJ, Yu JZ, Raska D, Kohel RJ, Womack JE, Stelly DM (2004) Wide-cross whole-genome radiation hybrid mapping of cotton (Gossypium hirsutum L.). Genetics 167:1317–1329. doi:10.1534/genetics.103.020479

Hoseman D, Bossoutrot D (1983) Induction of haploid plants from in vitro culture of unpollinated beet (Beta vulgaris L.). Z Pflanzenzuchtg 91:74–77

Kantartzi SK, Roupakias DG (2008a) Breeding barriers between Gossypium spp. and species of the Malvaceae family. J Bot 56:241–245

Kantartzi SK, Roupakias DG (2008b) Production of aneuploids of the cotton hybrid G. barbadense × G. hirsutum L. via intergeneric pollination with Abelmoschus esculentus. Euphytica 161:319–327. doi:10.1007/s10681-007-9550-z

Kumlehn J, Schieder O, Lörz H (1997) In vitro development of wheat (Triticum aestivum L.) from zygote to plant via ovule culture. Plant Cell Rep 16:663–667. doi:10.1007/s002990050298

Lacape JM, Nguyen TB, Courtois B, Belot JL, Giband M, Gourlot JP, Gawryziak G, Roques S, Hau B (2005) QTL analysis of cotton fiber quality using multiple Gossypium hirsutum × Gossypium barbadense backcross generations. Crop Sci 45:123–140

Laurie DA, Bennett MD (1989) The timing of chromosome elimination in hexaploid wheat × maize crosses. Genome 32:953–961

Lux H, Herrman L, Wetzel C (1990) Production of haploid sugar beet (Beta vulgaris L.) by culturing unpollinated ovules. Plant Breed 104:177–183. doi:10.1111/j.1439-0523.1990.tb00420.x

Mavromatis AG, Kantartzi SK, Vlachostergios DN, Xynias IN, Skarakis GN, Roupakias DG (2005) Induction of embryo development and fixation of partial interspecific lines after pollination of F1 cotton interspecific hybrids (Gossypium barbadense × Gossypium hirsutum) with pollen from Hibiscus cannabinus. Aust J Agric Res 56:1101–1109. doi:10.1071/AR04241

Mukhambetzhanov SK (1997) Culture of nonfertilized female gametophytes in vitro. Plant Cell Tissue Organ Cult 48:111–119. doi:10.1023/A:1005838113788

Murashige T, Skoog F (1962) A revised medium for rapid growth and bioassays with tobacco tissue cultures. Physiol Plant 15:473–497. doi:10.1111/j.1399-3054.1962.tb08052.x

Saha S, Wu J, Jenkins JN, McCarty JC, Gutierrez OA Jr, Stelly DM, Percy RG, Raska DA (2004) Effect of chromosome substitutions from Gossypium barbadense L. 3–79 into G. hirsutum L. TM-1 on agronomic and fiber traits. J Cotton Sci 8:162–169

San Noeum LH, Gelebart P (1986) Production of gynogenic haploids. In: Vasil IK (ed) Cell culture and somatic cell genetics of plants, vol 3. Academic Press, New York, pp 305–322

Sibi ML, Kobbaissi A, Shekafandeh A (2001) Green haploid plants from unpollinated ovary culture in tetraploid wheat (Triticum durum Defs.). Euphytica 122:351–359. doi:10.1023/A:1012991325228

Stewart JMD, Hsu CL (1978) Hybridization of diploid and tetraploid cottons through in ovule embryo culture. J Hered 69:404–408

Truong-Andre I, Demarly (1984) Obtaining plants by in vitro culture of unfertilized maize ovaries (Zea mays L.) and preliminary studies on the progeny of gynogenetic plant. Z Pflanzenzuchtg 92:309–320

Wise RR, Sassenrath-Cole GF, Percy R (2000) A comparison of leaf anatomy in field-grown Gossypium hirsutum and G. barbadense. Ann Bot (Lond) 86:731–738. doi:10.1006/anbo.2000.1235

Wu BJ, Chen KC (1982) Cytological and embryological studies on haploid plant production from cultured unpollinated ovaries of Nicotiana tabacum L. Acta Bot Sin 24:125–129

Zhou C, Yang HY (1981) Induction of haploid rice plantlets by ovary culture. Plant Sci Lett 20:231–237. doi:10.1016/0304-4211(81)90267-4

Zhou SQ, Qian DQ, Cao XY (1991) Induction of parthenogenesis and chromosome behavior in plants of parthenogenetic origin in cotton (Gossypium hirsutum). Genome 34:255–260

Znamenskaya VV, Podvigina OA, Zhuzhzhalova TP (1994) Production of new breeding material. Sakharnaya Svekla 6:8
About this article
Cite this article
Kantartzi, S.K., Roupakias, D.G. In vitro gynogenesis in cotton (Gossypium sp.). Plant Cell Tiss Organ Cult 96, 53–57 (2009). https://doi.org/10.1007/s11240-008-9459-9
Received:

Accepted:

Published:

Issue Date:
Keywords
Gossypium barbadense
Gossypium hirsutum

Malvaceae

Aneuploid