Abstract
Some factors influencing in vitro cultures of potted Hibiscus rosa-sinensis L. using nodal cuttings were investigated. A protocol using a modified MS medium helped to overcome chlorosis, shoot tip necrosis (STN) and leaf drop. These disorders have been caused by mineral imbalance associated with calcium and iron deficiency. STN and leaf drop were overcome by increasing calcium level from 3 mM (MS standard concentration) to 9 mM, and this increase, in addition, enhanced shoot dry weight and shoot extension. The chlorophyll content and leaf area increased by increasing the iron concentration 3-fold from 98 μM to 295 μM. Furthermore, substituting Fe-EDTA with Fe-EDDHA resulted in an increase in chlorophyll content, leaf area and shoot extension. The most suitable multiplication medium for H. rosa-sinensis L. was demonstrated to be a modified MS medium containing 2.2 μM BAP and increased concentrations of calcium at 9 mM and iron at 295 μM provided as Fe-EDDHA. The shoots were rooted in half-strength modified MS medium containing 2.7 μM NAA. Acclimatization was successful with all shoots with or without roots.
This is a preview of subscription content, log in to check access.
Access options
Buy single article
Instant access to the full article PDF.
US$ 39.95
Price includes VAT for USA
Subscribe to journal
Immediate online access to all issues from 2019. Subscription will auto renew annually.
US$ 199
This is the net price. Taxes to be calculated in checkout.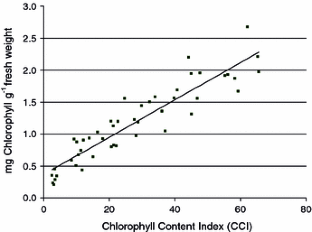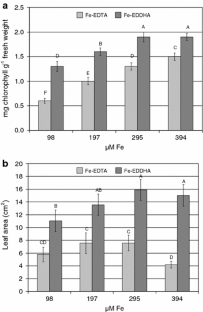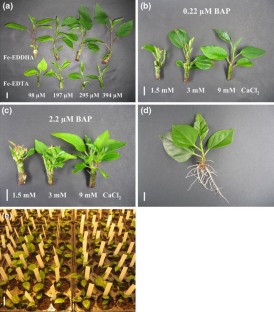 Abbreviations
BAP:

6-Benzylaminopurine

CCI:

Chlorophyll content index

Fe-EDDHA:

Ethylenediamine di-2-hydroxy-phenyl acetate ferric

Fe-EDTA:

Ethylenediamine tetraacetate ferric sodium iron

IBA:

Indole-3-butyric acid

NAA:

α-Naphtaleneacetic acid

PAR:

Photosynthetically active radiation

STN:

Shoot tip necrosis

TDZ:

Phenyl-N1-1,2,3,-thiadiazol-5-ylurea (Thidiazuron)

WPM:

McCown Woody Plant Medium
References
Adkins S, Kamenova I, Achor D, Lewandowski DJ (2003) Biological and molecular characterization of a novel tobamovirus with a unique host range. Plant Dis 87:1190–1196

Arnon DI (1949) Copper enzymes in isolated chloroplasts. Polyphenoloxidase in Beta vulgaris. Plant Physiol 24:1–15

Baker R, Phillips DJ (1962) Obtaining pathogen-free stock by shoot tip culture. Phytopathology 52:1242–1244

Barghchi M, Alderson PG (1996) The control of shoot tip necrosis in Pistacia vera L. in vitro. Plant Growth Regul 20:31–35

Biddulph O, Cory R, Biddulph S (1959) Translocation of calcium in the bean plant. Plant Physiol 34:512–519

Chalupa V (1988) Large-scale micropropagation of Quercus robur L. using adenine type cytokinins and thidiazuron to stimulate shoot proliferation. Biol Plantarum 30:414

Cooke RC (1979) Homogenization as an aid in tissue culture propagation of Platycerium and Davallia. Hortscience 14:21–22

George EF (1996) Plant propagation by tissue culture. Part 2. The practice, 2nd edn. Exegetics Limited, Edington, pp 1–1361

Grout BWW, Aston MJ (1978) Transplanting of cauliflower plants regenerated from meristem culture. II. Carbon-dioxide fixation and development of photosynthetic ability. Hortic Res 17:65–71

Herath SP, Suzuki T, Hattori K (2004) Multiple shoot regeneration from young shoots of kenaf (Hibiscus cannabinus). Plant Cell Tiss Org Cult 77:49–53

Huang JG, Fan ZF, Li HF, Tian GZ, Hu JS (2004) First report of tomato mosaic virus on Hibiscus rosa-sinensis in China. Plant Dis 88:683

Jenderek MM, Olney AJ (2001) Hibiscus syriacus plant regeneration from callus. Int Plant Propag Soc Prod 50:565–568

Kasseanis B (1957) The use of tissue culture to produce virus-free clones from infected potato varieties. Ann App Biol 45:422–427

Lloyd G, McCown B (1980) Commercial-feasible micropropagation of mountain laurel, Kalmia latifolia, by use of shoot-tip culture. Int Plant Propag Soc Prod 30:421–427

Martin C (1985) Plant breeding in vitro. Endeavour 9:81–86

Murashige T, Skoog F (1962) A revised medium for rapid growth and bio assays with tobacco tissue cultures. Physiol Plantarum 15:473–497

Murthy BNS, Murch SJ, Saxena PK (1998) Thidiazuron: a potent regulator of in vitro plant morphogenesis. In Vitro Cell Dev-Pl 34:267–275

Phillips GC, Hubstenberger JF (1985) Organogenesis in pepper tissue cultures. Plant Cell Tiss Org Cult 4:261–269

Preece JE, Mackowiak CL (1987) Micropropagation with special reference to hibiscus. Amer Hib Soc Bull 4:1–30

Rajeshwari R, Reddy RVC, Maruthi MN, Colvin J, Seal SE, Muniyappa V (2005) Host range, vector relationships and sequence comparison of a begomovirus infecting hibiscus in India. Ann App Biol 147:15–25

Reynolds BD, Blackmon WJ (1983) Embryogenesis and plantlet regeneration from callus of Hibiscus acetosella. J Am Soc Hortic Sci 108:307–310

Scoville RE, West TP (2006) Effects of nutrient salt formulations and PGR on axilliary shoot proliferation of tropical hibiscus. Hortscience 41:1024

Sharma SK, Ramamurthy V (2000) Micropropagation of 4-year-old elite Eucalyptus tereticornis trees. Plant Cell Rep 19:511–518

Shibli RA, Mohammad MJ, Ajlouni ZI (2002) Growth and micronutrient acquisition of in vitro grown bitter almond and sour orange in response to iron concentration from different iron chelates. J Plant Nutr 25:1599–1606

Srivatanakul M, Park SH, Sanders JR, Salas MG, Smith RH (2000) Multiple shoot regeneration of kenaf (Hibiscus cannabinus L.) from a shoot apex culture system. Plant Cell Rep 19:1165–1170

Staba EJ (1969) Plant tissue culture as a technique for the phytochemist. Recent Adv Phytochemistry 2:75–106

Stasinopoulos TC, Hangarter RP (1990) Preventing photochemistry in culture media by long-pass light filters alters growth of cultured tissues. Plant Physiol 93:1365–1369

Thomas P (2000) Microcutting leaf area, weight and position on the stock shoot influence root vigour, shoot growth and incidence of shoot tip necrosis in grape plantlets in vitro. Plant Cell Tiss Org Cult 61:189–198

Van der Salm TPM, Van der Toorn CJG, Hänisch ten Cate CH, Dubois LAM, De Vries DP, Dons HJM (1994) Importance of the iron chelate formula for micropropagation of Rosa-Hybrida 'Moneyway'. Plant Cell Tiss Org Cult 37:73–77

West TP, Preece JE (2004) Effects of thidiazuron and nutrient salt formulation on micropropagation of hardy hibiscus (Hibiscus moscheutos L.). Acta Hortic 630:293–297

West TP, Preece JE (2006) Use of acephate, benomyl and alginate encapsulation for eliminating culture mites and fungal contamination from in vitro cultures of hardy hibiscus (Hibiscus moscheutos L.). In Vitro Cell Dev-Pl 42:301–304

Yang LJ, Hidaka M, Masaki HUT (1995) In vitro plant regeneration from leaf and petiole explants of Hibiscus syriacus L. Plant Tiss Cult Lett 12:173–177

Zapata C, Srivatanakul M, Park SH, Lee BM, Salas MG, Smith RH (1999) Improvements in shoot apex regeneration of two fiber crops: cotton and kenaf. Plant Cell Tiss Org Cult 56:185–191
Acknowledgements
The study was funded by a PhD grant from the University of Copenhagen, Faculty of Life Sciences, and the authors would like to thank Graff Kristensen A/S, Sabro, Denmark for providing the plant material for the study.
About this article
Cite this article
Christensen, B., Sriskandarajah, S., Serek, M. et al. In vitro culture of Hibiscus rosa-sinensis L.: Influence of iron, calcium and BAP on establishment and multiplication. Plant Cell Tiss Organ Cult 93, 151–161 (2008). https://doi.org/10.1007/s11240-008-9354-4
Received:

Accepted:

Published:

Issue Date:
Keywords
Calcium chloride

Fe-EDDHA

Fe-EDTA

Iron chlorosis

Micropropagation