Abstract
To explore the possibility of an effectively long-term preservation of the germplasm of the HR lines of medicinal plant Astragalus membranaceus, Gentiana macrophylla Pall., and Eruca sativa Mill., both cold storage and cryopreservation approaches were attempted and compared. After 5-month cold storage on half strength Murashige and Skoog (1962) (1/2 MS) agar medium (AM), up to 82.9, 75.7, and 100% of the A. membranaceus, G. macrophylla and E. sativa hairy roots (HRs) recovered growth, respectively. The survival rates of A. membranaceus and G. macrophylla HRs significantly decreased, whereas that of E. sativa HR was unchanged with the addition of increased levels of exogenous abscisic acid (ABA) during cold storage. Using the encapsulation–vitrification (EV) method for cryopreservation, the G. macrophylla HRs died, whereas up to 6 and 73% of the A. membranaceus and E. sativa HRs survived, respectively. The HR lines evaluated with both methods showed no significant differences in morphology and growth rate compared with controls that were not subjected to preservation methods. These results suggest that cold storage is a more suitable alternative for the HR lines of the three studied plant species and that specificity of plant species have profound effects on the effectiveness of preservation.
This is a preview of subscription content, log in to check access.
Access options
Buy single article
Instant access to the full article PDF.
US$ 39.95
Price includes VAT for USA
Subscribe to journal
Immediate online access to all issues from 2019. Subscription will auto renew annually.
US$ 199
This is the net price. Taxes to be calculated in checkout.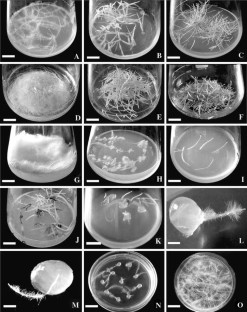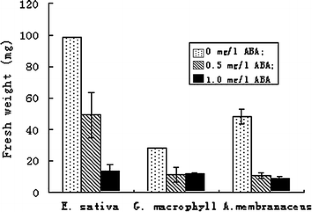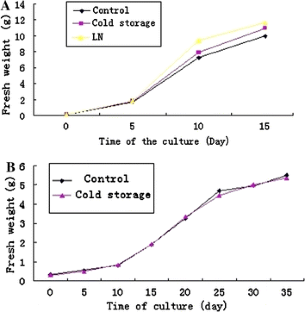 Abbreviations
ABA:

Abscisic acid

AM:

Agar medium

DMSO:

Dimethyl sulphoxide

EV:

Encapsulation–vitrifcation

ED:

Encapsulation–dehydration

FW:

Fresh weight

HRs:

Hairy roots

LN:

Liquid nitrogen

LM:

Liquid medium

LS:

Loading solution

MS:

Murashinge and Skoog (1962) medium

PVS:

Plant vitrification solution
References
An CS, Wang XD, Yuan XF, Zhao B, Wang YC (2003) Optimization of cryopreservation of Artemisia annua L. callus. Biotechnol Lett 25:35–38

Benson EE, Hamill JD (1991) Cryopreservation and post freezing molecular and biosynthetic stability in transformed roots of Beta vulgaris and Nicotiana rustica. Plant Cell Tiss Organ Cult 24:163–172

Bourgaud F, Bouque V, Gontier E, Guckert A (1997) Hairy root cultures for the production of secondary metabolites. AgBiotech News Inf 9:205–208

Finkelstein RR, Gampala S, Rock CD (2002) Abscisic acid signaling in seeds and seedlings. The Plant Cell Suppl S15–S45

Flem-Bonhomme Le V, Laurain-Mattar D, Fliniaux MA (2004) Hairy root induction of Papaver somniferum var. album, a difficult-to-transform plant, by A. rhizogenes LBA 9402. Planta 218:890–893

Ford CS, Jones NB, Van Staden J (2000) Cryopreservation and plant regeneration from somatic embryos of Pinus patula. Plant Cell Rep 19:610–615

Georgiev MI, Pavlov I, Bley T (2007) Hairy root type plant in vitro systems as sources of bioactive substances. Appl Microbiol Biot 74:1175–1185

Guo BZ, Zhang HZ, Pan JT, Yang YC, Wu ZL, He TN, Zhou LH, Huang RF (1987) Flora of Qinghai economic plants, Section I. Qinghai People's Press, Xining, China, pp 312–314

Hirai D, Sakai A (1999) Cryopreservation of in vitro-grown meristems of potato (Solanum tuberosum L.) by encapsulation–vitrification. Potato Res 42:153–160

Hirata K, Mukai M, Goda S, Ishio-kinugasa M, Yoshida K, Sakai A, Miyamoto K (2002) Cryopreservation of hairy root cultures of Vinca minor (L.) by encapsulation–dehydration. Biotechnol Lett 24:371–376

Iori R, Bernadi R, Gueyrard D, Rollin P, Palmieri S (1999) Formation of glucoraphanin by chemoselective oxidation of natural glucoerucin: a chemoenzymatic route to sulforaphane. Bioorg Med Chem Lett 9:1047–1048

Johnson IT (2002) Glucosinolates in the human diet: bioavailability and implications for health. Phytochem Rev 1:183–188

Kumar V, Satyanarayana KV, Sarala IS, Indu EP, Giridhar P, Chandrashekar A, Ravishankar GA (2006) Stable transformation and direct regeneration in Coffea canephora Pex. Fr. by Agrobacterium rhizogenes mediated transformation without hairy-root phenotype. Plant Cell Rep 25:214–222

Lai ZX, Chen ZG, He BZ, Lin SQ (1997) In vitro germplasm preservation of Citrus microcarpa Bge. embryo. Crop Variety Resour 4:44–46

Lambardi M, Fabbri A, Caccavale A (2000) Cryopreservation of white poplar (Populus alba L.) by vitrification of in vitro-grown shoot tips. Plant Cell Rep 19:213–218

Murashige T, Skoog F (1962) A revised medium for rapid growth and bioassays with tobacco tissue cultures. Plant Physiol 15:473–497

Nishizawa S, Sakai A, Amano Y, Matsuzawa T (1993) Cryopreservation of asparagus (Asparagus officinalis L.) embryonic suspension cells and subsequent plant regeneration by vitrification. Plant Sci 91:67–73

Parr AJ, Peerless AC, Hamill JD, Walton NJ, Robins RJ, Rhodes MJC (1988) Alkaloid production by transformed root cultures of Catharanthus roseus. Plant Cell Rep 7:309–312

Peng MZ, Deng JS, Gan L (1996) Preservation of Avocado in vitro under low temperature. J Fruit Sci 13:96–98

Pennycooke JC, Towill LE (2000) Cryopreservation of shoot tips from in vitro plants of sweet potato [Ipomoea batatas (L.) Lam.] by vitrification. Plant Cell Rep 19:733–737

Phunchindawan M, Hirata K, Sakai A, Miyamoto K (1997) Cryopreservation of encapsulated shoot primordia induced in horseradish (Armoracia rusticana) hairy root cultures. Plant Cell Rep 16:469–473

Sakai A, Kobayashi S, Oiyama I (1990) Cryopreservation of nucellar cells of Naval orange (Colocasia esculenta (L.) Schott) by vitrification. Plant Cell Rep 9:30–33

Shiota H, Tachibana K, Watabe K, Kamada H (1999) Successful long-term preservation of abscisic-acid-treated and desiccated carrot somatic embryos. Plant Cell Rep 18:749–753

Sinclair S (1998) Chinese herbs: a clinical review of Astragalus, Ligusticum, and Schizandrae. Altern Med Rev 3:338–344

Sun WC, Guan CY, Meng YX, Liu ZG, Zhang T, Li X , Yang SZ, Ling LJ, Chen SY, Zeng XC, Wang HL (2005) Intergeneric crosses between Eruca sativa Mill. and Brassica Species. Acta Agronomica Sinica 31:36–42

Teoh KH, Weathers PJ, Cheetham RD, Walcerz DB (1996) Cryopreservation of transformed (hairy) roots of Artemisia annua. Cryobiology 33:106–117

Tewari JP, Bansal VK, Stringam GR, Thiagarajah MR (1995) Reaction of some wild and cultivated Eruca accessions against Leptosphaeria maculans. Can J Plant Pathol 17:362–363

Wagner H, Bauer R, Xiao PG, Chen JM, Michler G (1997) Radix astragali (Huang Qi). Chinese Drug Monographs Anal 1:1–17

Xu PW, Qu SS, Liu HY, Zhang J, Sun JB, Huang BY (2002) A preliminary study on in vitro conservation of the garlic germplasm resources in China. Scientia Agricultura Sinica 35(3):314–319

Yoshikawa T, Furuya T (1987) Saponin production by cultures of Panax ginseng transformed with Agrobacterium rhizogenes. Plant Cell Rep 6:449–453

Yoshimatsu K, Yamaguchi H, Shimomura K (1996) Traits of Panax ginseng hairy root after cold storage and cryopreservation. Plant Cell Rep 15:555–560

Yu FR, Li RD, Wang R (2004) Inhibitory effects of the Gentiana macrophylla (Gentianaceae) extract on rheumatoid arthritis of rats. J Ethnopharmacol 95:77–81

Zhang XL, Jin L, Liu LS (2003) Progress on research of Gentiana macrophylla Pall. in the resent decade. J Tradit Chin Med 9:62–63
Acknowledgments
We would like to show our thanks to Ph.D. Michael Kirberger in the Department of Chemistry and Max Oginsky in the Department of Biology, Georgia State University for spending precious time to revise our paper.
About this article
Cite this article
Xue, S., Luo, X., Wu, Z. et al. Cold storage and cryopreservation of hairy root cultures of medicinal plant Eruca sativa Mill., Astragalus membranaceus and Gentiana macrophylla Pall.. Plant Cell Tiss Organ Cult 92, 251–260 (2008). https://doi.org/10.1007/s11240-007-9329-x
Received:

Accepted:

Published:

Issue Date:
Keywords
Astragalus membranaceus

Cryopreservation

Cold storage

Encapsulation–vitrification

Eruca sativa Mill.
Gentiana macrophylla Pall.

Hairy root