Abstract
The occurrence of somaclonal variation among regenerants derived through indirect shoot organogenesis from leaf explants of three Dieffenbachia cultivars Camouflage, Camille and Star Bright was evaluated. Three types of somaclonal variants (SV1, SV2, and SV3) were identified from regenerated plants of cv. Camouflage, one type from cv. Camille, but none from cv. Star Bright. The three variants had novel and distinct foliar variegation patterns compared to cv. Camouflage parental plants. Additionally, SV1 was taller with a larger canopy and longer leaves than parental plants and SV2. SV2 and SV3 did not produce basal shoots (single stem) but basal shoot numbers between SV1 and parental plants were similar ranging from three to four. The variant type identified from regenerated cv. Camille had lanceolate leaves compared to the oblong leaves of the parent. This variant type also grew taller and had a larger canopy than parental plants. The rates of somaclonal variation were up to 40.4% among regenerated cv. Camouflage plants and 2.6% for regenerated cv. Camille. The duration of callus culture had no effect on somaclonal variation rates of cv. Camouflage as the rates between plants regenerated from 8 months to 16 months of callus culture were similar. The phenotypes of the identified variants were stable as verified by their progenies after cutting propagation. This study demonstrated the potential for new cultivar development by selecting callus-derived somaclonal variants of Dieffenbachia.
This is a preview of subscription content, log in to check access.
Access options
Buy single article
Instant access to the full article PDF.
US$ 39.95
Price includes VAT for USA
Subscribe to journal
Immediate online access to all issues from 2019. Subscription will auto renew annually.
US$ 199
This is the net price. Taxes to be calculated in checkout.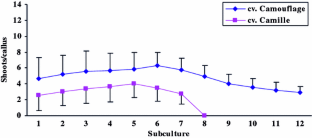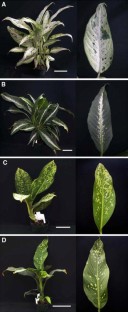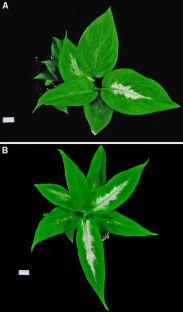 Abbreviations
2,4-D:

2,4-dichlorophenoxyacetic acid

2iP:

N6-(Δ2-isopentenyl) adenine

IAA:

Indole-3-acetic acid

TDZ:

Thidiazuron
References
Bairu MW, Fennell CW, van Staden J (2006) The effect of plant growth regulators on somaclonal variation in Cavendish banana (Musa AAA cv. 'Zelig'). Sci Hortic 108:347–351

Bouman H, De Klerk G (1997) Somaclonal variation. In: Geneve RL, Preece JE, Merkle SA (eds) Biotechnology of Ornamental Plants. CAB International, pp 165–183

Chen J, Devanand PS, Norman D, Henny RJ, Chao CT (2004) Analysis of genetic relatedness of Dieffenbachia cultivars using AFLP markers. J Am Soc Hortic Sci 129:81–87

Chen J, Henny RJ (2006) Somaclonal variation: an important source for cultivar development of floriculture crops. In: Teixeira da Silva JA (ed) Floriculture, ornamental and plant biotechnology. Global Science Books, London, UK, pp 244–253

Henny RJ, Chen J (2003) Cultivar development of ornamental foliage plants. Plant Breed Rev 23:245–289

Khalid N, Davey MR, Power JB (1989) An assessment of somaclonal variation in Chrysanthemum morifolium: the generation of plants of potential commercial value. Sci Hortic 38:287–294

Kuznetsova OI, Ash OA, Gostimsky SA (2006) The effect of the duration of callus culture on the accumulation of genetic alternation in pea Pisum sativum L. Russ J Genet 42:555–562

Larkin PJ, Scowcroft WR (1981) Somaclonal variation—a novel source of variability from cell cultures for plant improvement. Theor Appl Genet 60:197–214

Legkobit MP, Khadeeva NV (2004) Variation and morphogenetic characteristics of different Stachys species during microclonal propagation. Russ J Genet 40:743–750

Murashige T, Skoog F (1962) A revised medium for rapid growth and bioassay with tobacco tissue culture. Physiol Plant 15:473–495

Najaran P, Walton PD (1987) A comparison of somatic chromosome instability in tissue culture regenerants from Medicago-media Pers. Plant Cell Rep 6:109–113

Rodrigues PHV, Neto AT, Neto PC, Mendes BMJ (1998) Influence of the number of subcultures on somaclonal variation in micropropagated nanicao (Musa spp., AAA Group). Acta Hortic 490:469–473

SAS Institute Inc. (1999) Version 8.02. SAS Institute, Inc., Cary, NC, U. S. A

Shen X, Chen J, Kane ME (2007) Indirect shoot organogenesis from leaves of Dieffenbachia cv. Camouflage. Plant Cell Tissue Organ Cult 89:83–90

Skirvin RM, McPheeters KD, Norton M (1994) Sources and frequency of somaclonal variation. Hortic Sci 29:1232–1236
About this article
Cite this article
Shen, X., Chen, J., Kane, M.E. et al. Assessment of somaclonal variation in Dieffenbachia plants regenerated through indirect shoot organogenesis. Plant Cell Tiss Organ Cult 91, 21–27 (2007). https://doi.org/10.1007/s11240-007-9273-9
Received:

Accepted:

Published:

Issue Date:
Keywords
Dieffenbachia

Organogenesis

Somaclonal variation