Abstract
Leaves of Solanum virginianum plants were used for protoplast isolation. To support cell wall formation and cell division, protoplasts were cultured in thin alginate layers floated in liquid medium. When protoplasts were plated at a density of 1.0 × 106/ml in Kao and Michyaluk (KMp8) medium supplemented with 0.5 mg/l zeatin, 1.0 mg/l 2,4-dichlorophenoxyacetic acid, and 1.0 mg/l α-naphthaleneacetic acid, 42.3% of the dividing cells developed microcalli in 3–4 weeks. Shoot formation via organogenesis of protoplast-derived calli was achieved for 28% of calli transferred to solidified KMp8 medium supplemented with 2.0 g/l zeatin and 0.1 mg/l 3-indol acetic acid in about 2 weeks. Further shoot development was observed in Murashige and Skoog (MS) medium without growth regulators and roots were induced after transfer to MS medium containing 1.0 mg/l 3-indol butyric acid. Regenerated plants have normal morphology.
This is a preview of subscription content, log in to check access.
Access options
Buy single article
Instant access to the full article PDF.
US$ 39.95
Price includes VAT for USA
Subscribe to journal
Immediate online access to all issues from 2019. Subscription will auto renew annually.
US$ 199
This is the net price. Taxes to be calculated in checkout.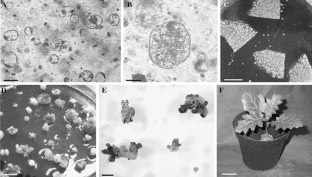 Abbreviations
MS:

Murashige and Skoog medium

KMp8:

Kao and Michyaluk medium

PVP:

Polyvinylpirrolidone

IAA:

3-indol acetic acid

NAA:

α-naphthaleneacetic acid

IBA:

3-indol butyric acid

2,4-

d

:

2,4-dichlorophenoxyacetic acid

Kin:

Kinetin
References
Assani A, Haicour R, Wenzel G, Côte F, Bakry F, Foroughi-Wehr B, Ducreux G, Aguillar M-E, Grapin A (2001) Plant regeneration from protoplasts of dessert banana cv. Grande Naine (Musa spp., Cavendish sub-group AAA) via somatic embryogenesis. Plant Cell Rep 20:482–488

Collonnier C, Sihachakr D (1998) Somatic hybridization for improvement of eggplant (Solanum melongena L.). In: Proceedings of Xth meeting on genetics and breeding of capsicum and eggplant, Avignon (FRA), 7–11 September 1998, pp 195–199

D'Arcy WG (1991) The Solanaceae since 1976 with a review of its biogeography. In: Hawkes JG, Lester RN, Nee M, Estrada N (eds) Solanaceae III: taxonomy-chemistry-evolution. Royal Botanical Gardens Kew, London, pp 75–138

Daunay MC, Chaput MH, Sihachakr D, Allot M, Vedel F, Ducreux G (1993) Production and characterization of fertile somatic hybrids of eggplant (S. melongena L.) with Solanum aethiopicum L. Theor Appl Genet 85:841–850

Daunay MC, Dalmon A, Lester RN (1999) Management of a collection of Solanum species for eggplant (Solanum melongena) breeding purposes. In: Nee M, Symon DE, Lester RN, Jessop JP (eds) Solanaceae IV: advances in biology and utilization. Royal Botanical Gardens Kew, London, pp 369–383

Daunay MC, Lester RN, Laterrot H (1991) The use of wild species for the genetic improvement of Brinjal eggplant (Solanum melongena) and tomato (Lycopersicum esculentum). In: Hawkes JG, Lester RN, Nee M, Estrada N (eds) Solanaceae III: taxonomy-chemistry-evolution. Royal Botanical Gardens Kew, London, pp 389–412

Daunay MC, Lester RN, Dalmon A, Ferri M, Kapilima W, Poveda-Aguilar MM, Jullian E (1998) The use of wild genetic resources for eggplant (Solanum melongena) breeding. II Crossability and fertility of interspecific hybrids. In: Proceedings of Xth meeting on genetics and breeding of capsicum and eggplant, Avignon (FRA), 7–11 September 1998, pp 19–24

Daunay MC, Lester RN, Gebhardt CH, Hennart JW, Jahn M, Frary A, Doganlar S (2001) Genetic resources of eggplant (Solanum melongena) and allied species: a new challenge for molecular geneticists and eggplant breeders. In: van den Berg RG, Barendse GWM, van der Weerden GM, Mariani C (eds) Solanaceae V advances in taxonomy and utilization. Nijmegen University Press, Nijmegen, pp 251–274

Dörr I, Milteny S, Salamini F, Uhrig H (1994) Selecting somatic hybrid plants using magnetic protoplast sorting. Biotechnology 12:511–515

Fári M, Nagy I, Csányi M, Mitykó J, Andrasfalvy A (1995) Agrobacterium mediated genetic transformation and plant regeneration via organogenesis and via somatic embryogenensis from cotyledon leaves in eggplant (Solanum melongena L. cv. 'Kecskeméti lila') Plant Cell Rep 15:82–86

Fillati JJ, Kiser J, Rose R, Comai L (1987) Efficient transfer of glycosate tolerance gene into tomato using a binary Agrobacterium tumefaciens vector. Biotechnology 5:726–730

Govindan S, Viswanathan S, Vijayasekaran V, Alagappan R (1999) A pilot study on the clinical efficacy of Solanum xanthocarpum and Solanum trilobatum in bronchial asthma. J Ethnopharmacol 66:205–210

Govidan S, Viswanathan S, Vijayasekaran V, Alagappan R (2004) Further studies on the clinical efficacy of Solanum xanthocarpum and Solanum trilobatum in bronchial asthma. Phytother Res 18:805–809

Jarl CI, Rietveld ED, De Haas JM (1999) Transfer of fungal tolerance through interspecific somatic hybridization between Solanum melongena and S. torvum. Plant Cell Rep 18:791–796

Kao KN, Michayluk MR (1975) Nutritional requirements for growth of Vicia hajastana cells and protoplasts at very low density in liquid media. Planta 126:105–110

Kuchuk N, Hermann RG, Koop H-U (1998) Plant regeneration from leaf protoplasts of evening primrose (Oenothera hookeri). Plant Cell Rep 17:601–604

Lester RN, Hasan SMZ (1991) Origin and domestication of the brinjal eggplant, Solanum melongena, from Solanum incanum, in Africa and Asia. In: Hawkes JG, Lester RN, Nee M, Estrada N (eds) Solanaceae III: taxonomy-chemistry-evolution. Royal Botanical Gardens Kew, London, pp 369–387

Luo J-P, Jia J-F (1998) Plant regeneration from callus protoplasts of the forage legume Astragalus adsurgens Pall. Plant Cell Rep 17:313–317

Murashige T, Skoog F (1962) A revised medium for rapid growth bioassay with tobacco tissue cultures. Physiol Plant 15:473–479

Nitsch JP, Nitsch C (1969) Haploid plants from pollen grains. Science 163:85–87

Samantaray S, Rout GR, Das P (2001) Heavy metal and nutrient concentration in soil and plants growing on a metalliferous chromite minespoil. Environ Technol 22:1147–1154

Sihachakr D, Daunay MC, Serraf I, Chaput MH, Mussio I, Haicour R, Rossignol L, Ducreux G (1994) Somatic hybridization of eggplant (Solanum melongena L.) with its closed and wild relatives. In: Bajaj YPS (eds) Biotechnology in agriculture and forestry, 27: somatic hybridization in crop improvement. Springer, Berlin Heidelberg New York, pp 255–278

Wildholm JM (1972) The use of fluorescein diacetate and phenosafranine for determining viability of cultured plant cells. Stain Technol 47:189–194
About this article
Cite this article
Borgato, L., Pisani, F. & Furini, A. Plant regeneration from leaf protoplasts of Solanum virginianum L. (Solanaceae). Plant Cell Tiss Organ Cult 88, 247–252 (2007). https://doi.org/10.1007/s11240-006-9196-x
Received:

Accepted:

Published:

Issue Date:
Keywords
Organogenesis

Plant regeneration

Protoplast culture

Solanum virginianum