This is a preview of subscription content, log in to check access.
Access options
Buy single article
Instant access to the full article PDF.
US$ 39.95
Price includes VAT for USA
Subscribe to journal
Immediate online access to all issues from 2019. Subscription will auto renew annually.
US$ 99
This is the net price. Taxes to be calculated in checkout.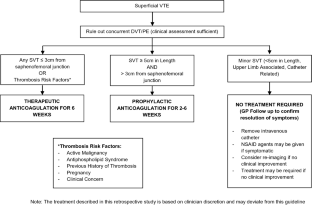 References
1.

Kitchens CS (2011) How I treat superficial venous thrombosis. Blood 117:39–44

2.

Kearon C, Akl EA, Comerota AJ, Prandoni P, Bounameaux H, Goldhaber SZ, Nelson ME, Wells PS, Gould MK, Dentali F, Crowther M, Kahn SR (2012) Antithrombotic therapy for VTE disease: antithrombotic therapy and prevention of thrombosis: American College of Chest Physicians evidence-based clinical practice guidelines. Chest 141:e419S–e496S

3.

Decousus H, Prandoni P, Mismetti P, Bauersachs RM, Boda Z, Brenner B, Laporte S, Matyas L, Middeldorp S, Sokurenko G, Leizorovicz A; CALISTO Study Group (2010) Fondaparinux for the treatment of superficial-vein thrombosis in the legs. N Engl J Med 363:1222–1232

4.

Beyer-Westendorf J (2017) Controversies in venous thromboembolism: to treat or not to treat superficial vein thrombosis. Haematology Am Soc Hematol Educ Program 2017:223–230

5.

Bates SM, Rajasekhar A, Middeldorp S, McLintock C, Rodger MA, James AH, Vazquez SR, Greer IA, Riva JJ, Bhatt M, Schwab N, Barreett D, LaHaye A, Rochwerg B (2018) American Society of Hematology 2018 guidelines for management of venous thromboembolism: venous thromboembolism in the context of pregnancy. Blood Adv 2:3317–3359

6.

Ho P, Lim HY, Chua CC, Sleeman M, Tacey M, Donnan G, Nandurkar H (2016) Retrospective review on isolated distal deep vein thrombosis (IDDVT)—a benign entity or not? Thromb Res 142:11–16

7.

Lim HY, Chua CC, Tacey M, Sleeman M, Donnan G, Nandurkar H, Ho P (2017) Venous thromboembolism management in Northeast Melbourne: how does it compare to international guidelines and data? Internal Med J 47:1034–1042

8.

Decousus H, Quéré I, Presles E, Becker F, Barrellier M-T, Chanut M, Gillet J-L, Guenneguez H, Leandri C, Mismetti P (2010) Superficial venous thrombosis and venous thromboembolism: a large, prospective epidemiologic study. Ann Intern Med 152:218–224

9.

Cosmi B, Fillippini M, Campana F, Avruscio G, Ghirarduzzi A, Bucherini E, Camporese G, Imberti D, Legnani C, Palareti G; STEFLUX Investigators (2014) Risk factors for recurrent events in subjects with superficial vein thrombosis in the randomized clinical trial SteFlux (Superficial Thromboembolism Fluxum). Thromb Res 133:196–202

10.

Lozano FS, Almazan A (2003) Low-molecular-weight heparin versus saphenofemoral disconnection for the treatment of above-knee greater saphenous thrombophlebitis: a prospective study. Vasc Endovasc Surg 37:415–420

11.

Beyer-Westendorf J, Schellong SM, Gerlach H, Rabe E, Weitz JI, Jersemann K, Sahin K, Bauersachs R; SURPRISE Investigators (2017) Prevention of thromboembolic complications in patients with superficial-vein thrombosis given rivaroxaban or fondaparinux: the open-label, randomised, non-inferiority SURPRISE phase 3b trial. Lancet Haematol 4:e105–e113
Additional information
Publisher's Note
Springer Nature remains neutral with regard to jurisdictional claims in published maps and institutional affiliations.
About this article
Cite this article
Lui, B., Ho, P. & Lim, H.Y. Superficial venous thrombosis: is it as benign as we think?. J Thromb Thrombolysis (2020). https://doi.org/10.1007/s11239-020-02059-x