Abstract
Enoxaparin is one of the most commonly used anticoagulants in the management of thromboembolic events. Herein we report a unique case of enoxaparin induced eruptive angiokeratomas in a patient with a history of ischemic cardiomyopathy who presented with acute decompensated heart failure and a new-onset generalized skin rash that bleeds on trauma, suggestive of angiokeratomas. Dermoscopic examination, as well as skin biopsy, were done upon clinical suspicion of eruptive angiokeratomas, to confirm the diagnosis. Dermoscopy showed dark lacunae surrounded by erythema, while skin biopsy revealed dilated congested capillaries lined by flat endothelial cells in the papillary dermis, both confirming the diagnosis of angiokeratoma. Enoxaparin induced eruptive angiokeratomas was suspected when the skin eruption showed spontaneous dramatic resolution upon withdrawal of enoxaparin followed by its substitution with warfarin, during the course of the patient's treatment. Enoxaparin induced eruptive angiokeratoma is an extremely rare side effect. Physicians should have a high index of clinical suspicion, and promptly discontinue the drug, as this is the only proven treatment for this condition.
This is a preview of subscription content, log in to check access.
Access options
Buy single article
Instant unlimited access to the full article PDF.
US$ 39.95
Price includes VAT for USA
Subscribe to journal
Immediate online access to all issues from 2019. Subscription will auto renew annually.
US$ 99
This is the net price. Taxes to be calculated in checkout.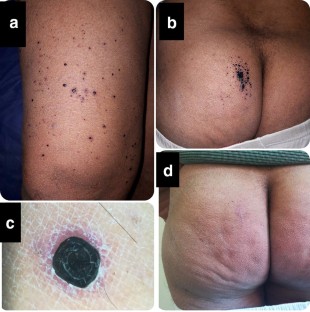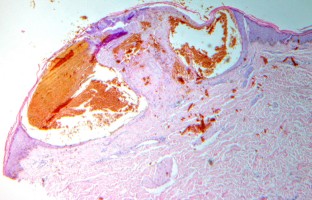 References
1.

Coelho J, Izadi D, Gujral S (2016) Enoxaparin-induced skin necrosis. Eplasty 16:ic40.

2.

Schindewolf M, Schwaner S, Wolter M et al (2009) Incidence and causes of heparin-induced skin lesions. CMAJ 181:477–481. https://doi.org/10.1503/cmaj.081729

3.

Sonthalia S, Errichetti E (2017) Dermoscopy—not just for diagnosis and not just for Dermatologists ! Kathmandu Univ Med J KUMJ 15:1–2

4.

Ranjan N, Mahajan VK (2009) Oral angiokeratomas: proposed clinical classification. Int J Dermatol 48:778–781. https://doi.org/10.1111/j.1365-4632.2009.04011.x

5.

Sonthalia S, Jha A, Bosseila M, Errichetti E (2018) Dermoscopy—master by analysis and patience, not haste and nonchalance. Pigment Int 5:117–119

6.

Kim JH, Kim MR, Lee S-H et al (2012) Dermoscopy: a useful tool for the diagnosis of angiokeratoma. Ann Dermatol 24:468–471. https://doi.org/10.5021/ad.2012.24.4.468

7.

Schliep S, Kiesewetter F, Simon M et al (2014) Drug-induced dilemma: angiokeratomas and decreased renal function. Am J Med 127:598–600. https://doi.org/10.1016/j.amjmed.2014.03.034

8.

Ali H, Bennett DD, Muchard L (2016) An eruption of angiokeratomas in the setting of enoxaparin injections. Int J Dermatol 55:e561–563. https://doi.org/10.1111/ijd.13284

9.

Bathelier E, Gunera-Saad N, Bérard F, Nicolas J-F (2008) Angiokeratoma induced by injection of etanercept for psoriasis. J Am Acad Dermatol 59:S124–S125. https://doi.org/10.1016/j.jaad.2008.07.019

10.

Schiller PI, Itin PH (1996) Angiokeratomas: an update. Dermatol Basel Switz 193:275–282. https://doi.org/10.1159/000246270

11.

Mittal R, Aggarwal A, Srivastava G (2005) Angiokeratoma circumscriptum: a case report and review of the literature. Int J Dermatol 44:1031–1034. https://doi.org/10.1111/j.1365-4632.2005.02252.x

12.

Ostlere L, Hart Y, Misch KJ (1996) Cutaneous and cerebral haemangiomas associated with eruptive angiokeratomas. Br J Dermatol 135:98–101

13.

Trattner A, Krichely D, David M (1997) Blue rubber bleb nevus syndrome associated with diffuse angiokeratoma. Cutis 59:264–266

14.

Marks E, Dorokhova O, Amin B, Jacobson M (2016) Eruptive angiokeratomas and porokeratosis in the setting of sclerodermatous graft-vs.-host disease. J Cutan Pathol 43:516–519. https://doi.org/10.1111/cup.12685

15.

Cohen PR (2019) A case report of scrotal rejuvenation: laser treatment of angiokeratomas of the scrotum. Dermatol Ther 9:185–192. https://doi.org/10.1007/s13555-018-0272-z
Ethics declarations
Conflict of interest
There are no conflicts of interest.
Informed consent
The authors certify that they have obtained all appropriate patient consent forms. In the form, the patient has given his consent for his images and other clinical information to be reported in the journal. The patients understand that their names and initials will not be published, and due efforts will be made to conceal their identity, but anonymity cannot be guaranteed.
Additional information
Publisher's Note
Springer Nature remains neutral with regard to jurisdictional claims in published maps and institutional affiliations.
About this article
Cite this article
Elantably, D., El-Komy, M.H.M., El-Nabarawy, E.A. et al. Enoxaparin induced eruptive angiokeratoma, an extremely rare side effect. J Thromb Thrombolysis (2020) doi:10.1007/s11239-020-02039-1
Keywords
Enoxaparin

Angiokeratoma

Anticoagulants