Abstract
A case is described in which the short-acting glycoprotein IIb/IIIa receptor antagonist tirofiban was used in combination with heparin, aspirin and prasugrel to successfully treat extensive intracoronary thrombus in a delayed presentation STEMI, illustrating the utility of this approach.
This is a preview of subscription content, log in to check access.
Access options
Buy single article
Instant unlimited access to the full article PDF.
US$ 39.95
Price includes VAT for USA
Subscribe to journal
Immediate online access to all issues from 2019. Subscription will auto renew annually.
US$ 99
This is the net price. Taxes to be calculated in checkout.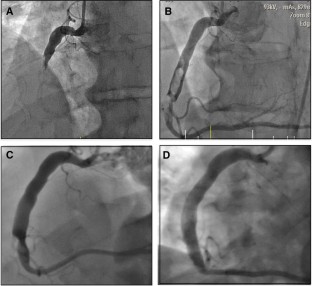 References
1.

Chew DP, Scott IA, Cullen L et al (2016) National heart foundation of Australia & cardiac society of Australia and new zealand: Australian Clinical Guidelines for the management of acute coronary syndromes 2016. Heart Lung Circ 25:895–951

2.

Hernandez J, Sagredo M, Arrieta M et al (2017) Antithrombotic treatment during coronary angioplasty after failed thrombolysis: strategies and prognostic implications: Results of the RESPIRE registry. BMC Cardiovasc Disord 17:212

3.

Petronio AS, Musumeci G, Limbruni IJ et al (2002) Abciximab improves 6-month clinical outcome after rescue coronary angioplasty. Am Heart J 143:334–341

4.

Apps.tga.gov.au

5.

Neuman FJ, Hockholzer W, Pogatsa-Murray G, Schomig A, Gawaz M (2001) Antiplatelet effects of abciximab, tirofiban and eptifibatide in patients undergoing coronary stenting. J Am Coll Cardiol 37:1323–1328

6.

The RESTORE investigators (1997) Effects of platelet glycoprotein IIB/IIIa blockade with tirofiban on adverse cardiac events in patients with unstable angina or myocardial infarction undergoing coronary angioplasty. Circulation 96:1445–1453

7.

Wang HL, Xing SY, Dong PS, Han YH, Zhu JH, Lai LH, Zhao JF (2014) Safety and efficay of intracoronary tirofiban administration in patients with serious thrombus burden and ST-elevation myocardial infarction undergoing percutaneous coronary intervention. Eur Rev Med Pharmocol Sci 18:3690–3695

8.

Motovaska Z, Hlimononaz O, Miklik M, Vrvaroovsk I et al (2016) Prasugrel versus ticagrelor in patients with acute myocardial infarction treated with primary percutaneous coronary intervention-multicenter randomized PRAGUE-18 study. Circulation 134:1603–1612

9.

Montalescot G, Wiviott S, Braunwald E, Murphy S et al (2009) Prasugrel compared with clopidogel in patients undergoing percutaneous coronary intervention for ST-elevation myocardial infarction (TRITON-TIMI 38): double blind, randomised controlled trial. Lancet 373:723–732

10.

De Srvi S, Goedicke J, Ferlini M, Palmerini T (2016) Parasugrel versus clopidogrel in acute coronary syndromes treated with PCI: effects on clinical outcome according to culprit artery location. Int J Cardiol 223:632–638
Additional information
Publisher's Note
Springer Nature remains neutral with regard to jurisdictional claims in published maps and institutional affiliations.
About this article
Cite this article
McGhie, D., Amos, D., Elder, A. et al. Life after abciximab; what's next for intracoronary thrombus?. J Thromb Thrombolysis 49, 138–140 (2020). https://doi.org/10.1007/s11239-019-01977-9
Keywords
Abciximab

Tirofiban

Coronary

Stent

Thrombus