Abstract
Warfarin is one of the most commonly used anticoagulants in the management of thromboembolic events. Herein we report a rare case of warfarin induced leukocytoclastic vasculitis in a patient with history of rheumatic heart disease and a mechanical mitral valve prosthesis who presented with heart failure and palpable purpura. Upon clinical suspicion of cutaneous small vessel vasculitis, a comprehensive laboratory panel was performed. Warfarin induced vasculitis was suspected when withdrawal of warfarin, due to rising INR, led to improvement of the skin lesions. The diagnosis was finally confirmed when re-instatement of warfarin reproduced the skin lesions and a skin biopsy showed evidence for leukocytoclastic vasculitis with eosinophilic infiltration. A third of cases of leukocytoclastic vasculitis are due to drug hypersensitivity which being a diagnosis of exclusion with varying manifestations, requires a high index of clinical suspicion. Since drug induced leukocytoclastic vasculitis may affect multiple organ systems and even cause mortality, clinicians must be aware of this rare adverse event, promptly discontinue the drug, and commence anti-inflammatory or immunosuppressive treatment when necessary.
This is a preview of subscription content, log in to check access.
Access options
Buy single article
Instant unlimited access to the full article PDF.
US$ 39.95
Price includes VAT for USA
Subscribe to journal
Immediate online access to all issues from 2019. Subscription will auto renew annually.
US$ 99
This is the net price. Taxes to be calculated in checkout.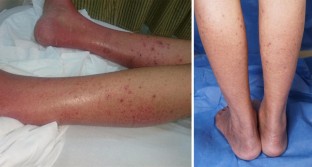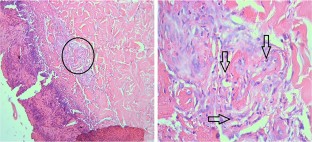 References
1.

Nishimura RA, Otto CM, Bonow RO et al (2014) 2014 AHA/ACC guideline for the management of patients with valvular heart disease: a report of the American College of Cardiology/American Heart Association Task Force on Practice Guidelines. Circulation 129:e521–e643. https://doi.org/10.1161/CIR.0000000000000031

2.

Pirmohamed M (2006) Warfarin: almost 60 years old and still causing problems. Br J Clin Pharmacol 62:509–511. https://doi.org/10.1111/j.1365-2125.2006.02806.x

3.

Grau RG (2015) Drug-induced vasculitis: new insights and a changing lineup of suspects. Curr Rheumatol Rep 17:1. https://doi.org/10.1007/s11926-015-0545-9

4.

Hsu C-Y, Chen W-S, Sung S-H (2012) Warfarin-induced leukocytoclastic vasculitis: a case report and review of literature. Intern Med Tokyo Jpn 51:601–606

5.

Yaghoubian B, Ngo B, Mak M et al (2005) Warfarin-induced leukocytoclastic vasculitis. Cutis 75:329–338

6.

Tanay A, Yust I, Brenner S et al (1982) Dermal vasculitis due to coumadin hypersensitivity. Dermatologica 165:178–185

7.

Jumean K, Arqoub AA, Hawatmeh A et al (2016) Warfarin-induced leukocytoclastic vasculitis and proteinuria. J Fam Med Prim Care 5:160–162. https://doi.org/10.4103/2249-4863.184643

8.

Jennette JC, Falk RJ, Bacon PA et al (2013) 2012 Revised international Chapel Hill consensus conference nomenclature of vasculitides. Arthritis Rheum 65:1–11. https://doi.org/10.1002/art.37715

9.

Howitt AJ, Williams AJ, Skinner C (1982) Warfarin-induced vasculitis: a dose-related phenomenon in susceptible individuals? Postgrad Med J 58:233–234

10.

Di Minno A, Frigerio B, Spadarella G et al (2017) Old and new oral anticoagulants: Food, herbal medicines and drug interactions. Blood Rev 31:193–203. https://doi.org/10.1016/j.blre.2017.02.001

11.

Reaves AB, Clarke CJ, Tillman EM (2013) Supratherapeutic international normalized ratio due to reduced vitamin K intake secondary to prolonged vomiting in a patient on warfarin. Ann Pharmacother 47:e28. https://doi.org/10.1345/aph.1R688

12.

Radić M, Martinović Kaliterna D, Radić J (2012) Drug-induced vasculitis: a clinical and pathological review. Neth J Med 70:12–17

13.

Gota CE, Calabrese LH (2013) Diagnosis and treatment of cutaneous leukocytoclastic vasculitis. Int J Clin Rheumatol 8:49–60. https://doi.org/10.2217/ijr.12.79

14.

Eikelboom JW, Connolly SJ, Brueckmann M et al (2013) Dabigatran versus warfarin in patients with mechanical heart valves. N Engl J Med 369:1206–1214. https://doi.org/10.1056/NEJMoa1300615

15.

Anderson SL, Marrs JC (2018) Direct oral anticoagulant use in valvular heart disease. Clin Med Insights Ther 10:1179559X1775163. https://doi.org/10.1177/1179559X17751638
Ethics declarations
Conflict of interest
The authors declare that they have no conflict of interest.
Informed consent
The authors certify that they have obtained all appropriate patient consent forms. In the form, the patient has given his consent for his images and other clinical information to be reported in the journal. The patients understand that their names and initials will not be published and due efforts will be made to conceal their identity, but anonymity cannot be guaranteed.
Additional information
Publisher's Note
Springer Nature remains neutral with regard to jurisdictional claims in published maps and institutional affiliations.
About this article
Cite this article
Elantably, D., Mourad, A., Elantably, A. et al. Warfarin induced leukocytoclastic vasculitis: an extraordinary side effect. J Thromb Thrombolysis 49, 149–152 (2020). https://doi.org/10.1007/s11239-019-01924-8
Keywords
Warfarin

Leukocytoclastic vasculitis

Drug induced hypersensitivity

anticoagulants