Abstract
Very limited but promising experiences with the use of direct factor Xa inhibitors for the treatment of heparin-induced thrombocytopenia (HIT) have been reported. This contribution features our first experience with the use of apixaban (without a pre-treatment with parenteral anticoagulant) to treat a case of HIT which developed in a patient after multiple heart replacement surgery. Apixaban was effective, well tolerated and safe. An apixaban-calibrated chromogenic anti-Xa activity assessment was used to monitor apixaban activity throughout the therapy. Patient continued on apixaban for the prevention of thrombosis in the settings of atrial fibrillation. No ischemic or bleeding events occurred during the clinical follow up and the platelet count was stable. Our experience suggests that apixaban might be effectively used for the treatment of HIT and for the long-term prevention of embolism in patients after multiple valve replacement with biological prostheses and atrial fibrillation.
This is a preview of subscription content, log in to check access.
Access options
Buy single article
Instant access to the full article PDF.
US$ 39.95
Price includes VAT for USA
Subscribe to journal
Immediate online access to all issues from 2019. Subscription will auto renew annually.
US$ 99
This is the net price. Taxes to be calculated in checkout.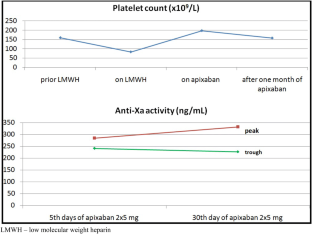 References
1.

Delgado-García G, Monreal-Robles R (2017) Acuteapixaban treatment of heparin-induced thrombocytopenia. J Thromb Thrombolysis 43:289–290

2.

Ezekwudo DE, Chacko R, Gbadamosi B, Batool S, Gaikazian S, Warkentin TE, Sheppard JI, Jaiyesimi I (2017) Apixaban for treatment of confirmed heparin-induced thrombocytopenia: a case report and review of literature. Exp Hematol Oncol 6:21

3.

Trujillo Agudelo D, Ramirez Quintero JD, Arango Barrientos M (2018) Successful treatment of heparin-induced thrombocytopenia with apixaban in a patient with chronic kidney disease requiring hemodialysis. Clin Case Rep 6:2147–2149

4.

Owens RE, Kabra R, Oliphant CS (2017) Direct oral anticoagulant use in nonvalvular atrial fibrillation with valvular heart disease: a systematic review. Clin Cardiol 40:407–412

5.

Sharii M, Freeman W, Bay C, Sharii M, Breed C, Schwartz F (2014) Treatment of heparin-induced thrombocytopenia with new oral anticoagulants [abstract]. J Am Coll Cardiol 63:A2096

6.

Delgado-García G, Monreal-Robles R, Gallegos-Arguijo D, Marfil-Rivera J (2015) Apixaban as therapeutic option in nephropathy patients with heparin-induced thrombocytopenia (HIT). Gac Med Mex 151:798–801

7.

Larsen PB, Jørgensen M, Friis-Hansen L, Ingeberg S (2015) Apixaban used for the management of heparin-induced thrombocytopenia in a 72-year-old woman with lung cancer. Clin Case Rep 3:987–989

8.

Davis KA, Davis DO (2017) Direct acting oral anticoagulants for the treatment of suspected heparin-induced thrombocytopenia. Eur J Haematol 99:332–335

9.

Samoš M, Bolek T, Ivanková J, Stančiaková L, Kovář F, Galajda P, Kubisz P, Staško J, Mokáň M (2016) Heparin-induced thrombocytopenia presenting with deep venous thrombosis and pulmonary embolism successfully treated with rivaroxaban: clinical case report and review of current experiences. J CardiovascPharmacol 68:391–394

10.

Testa S, Paoletti O, Legnani C, Dellanoce C, Antonucci E, Cosmi B, Pengo V, Poli D, Morandini R, Testa R, Tripodi A, Palareti G (2018) Low drug levels and thrombotic complications in high-risk atrial fibrillation patients treated with direct oral anticoagulants. J Thromb Haemost 16:842–848

11.

Linkins LA, Warkentin TE, Pai M, Shivakumar S, Manji RA, Wells PS, Wu C, Nazi I, Crowther MA (2016) Rivaroxaban for treatment of suspected or confirmed heparin-induced thrombocytopenia study. J Thromb Haemost 14:1206–1210

12.

Nasiripour S, Saif M, Farasatinasab M, Emami S, Amouzegar A, Basi A, Mokhtari M (2019) Dabigatran as a treatment option for heparin-induced thrombocytopenia. J Clin Pharmacol 59:107–111

13.

Seeger J, Gonska B, Rodewald C, Rottbauer W, Wöhrle J (2017) Apixaban in patients with atrial fibrillation after transfemoral aortic valve replacement. JACC Cardiovasc Interv 10:66–74

14.

Berry N, Sawlani N, Kim A, Kaneko T, Shah P, Pelletier M, Sobieszczyk P (2017) Very early subclinical valve thrombosis after transcatheter aortic valve replacement. Circ Cardiovasc Interv 10:e005593

15.

Khan S, Achike O, Nekkanti R, Carabello B (2018) Successful apixaban treatment of TAVR thrombosis after warfarin failure. Cardiology 140:199–203

16.

Collet JP, Berti S, Cequier A, Van Belle E, Lefevre T, Leprince P, Neumann FJ, Vicaut E, Montalescot G (2018) Oral anti-Xa anticoagulation after trans-aortic valve implantation for aortic stenosis: the randomized ATLANTIS trial. Am Heart J 200:44–50
Acknowledgments
This study was supported by APVV Project 16-0020 (Slovak Research and Development Agency). The authors would like to thank Mr. Paul McCullough for proofreading.
Ethics declarations
Conflict of interest
Matej Samoš, Tomáš Bolek, Ingrid Škorňová, Jakub Benko, Ján Staško, Peter Kubisz, Peter Galajda, and MariánMokáň declare that they have no conflicts of interest that might be relevant to the content of this manuscript.
Funding
This study was supported by APVV Project 16-0020 (Slovak Research and Development Agency).
Ethical approval and inform consent
This research was conducted according to ethical standards and was approved by the local ethical committee (Jessenius Faculty of Medicine in Martin, Comenius University in Bratislava). The patient agreed to participate in the research and signed the informed consent for participation.
Additional information
Publisher's Note
Springer Nature remains neutral with regard to jurisdictional claims in published maps and institutional affiliations.
About this article
Cite this article
Samoš, M., Bolek, T., Škorňová, I. et al. Apixaban: a novel agent to treat heparin induced thrombocytopenia and to prevent embolism in patient with atrial fibrillation after multiple valve replacement?. J Thromb Thrombolysis 48, 619–622 (2019). https://doi.org/10.1007/s11239-019-01910-0
Keywords
Apixaban

Heparin-induced thrombocytopenia

Heart valve replacement

Atrial fibrillation

Anti-Xa activity assessment