Abstract
Venous thromboembolism (VTE) is often accompanied by co-morbidities, which complicate and confound data interpretation concerning VTE-related mortality, costs and quality of life. We aimed to assess the contribution of co-morbidities to the burden of VTE. The PREFER in VTE registry, across seven European countries, documented and followed acute VTE patients over 12 months. Patients with co-morbidities were grouped in major co-morbidity groups: cancer, cardiovascular (CV) comorbidity (other than VTE), CV risks, venous, renal, liver, respiratory, bone and joint diseases, and lower extremity paralysis. Mortality rates and health-related quality of life (HrQoL) utility values grouped per co-morbidity were compared to the UK general population. Regression analyses were performed to determine the impact of co-morbidities on mortality and HrQoL. VTE were analyzed together and separately as pulmonary embolism (PE) and deep vein thrombosis (DVT). In total, 3455 patients were included, 40.5% with PE and 59.5% with DVT. 13% and 16% of the PE and DVT patients had no co-morbidities and had a 12-month mortality rate of 1.8% and 1.7%, respectively. Frequency and severity of co-morbidities increased mortality rates up to 30%. The EQ-5D-5L index in patients without co-morbidities were 0.826 and 0.838 for PE and DVT. These scores decreased to 0.638 and 0.555 in the presence of co-morbidities. Co-morbidities in VTE patients are common. VTE had an impact on mortality and HrQoL, and additional impact of co-morbidities was seen. Awareness of the presence of co-morbidities is important when making VTE-related treatment decisions. The presence of co-morbidities in PE and DVT patients is common and their frequency and severity in VTE patients have a substantial impact on mortality rates and HrQoL. When adjusting for co-morbidities, the impact of VTE on mortality as well as health-related quality of life remains present. Assessing patients without consideration of co-morbidities might lead to misinterpretations of the disease burden of PE and DVT.
This is a preview of subscription content, log in to check access.
Access options
Buy single article
Instant access to the full article PDF.
US$ 39.95
Price includes VAT for USA
Subscribe to journal
Immediate online access to all issues from 2019. Subscription will auto renew annually.
US$ 99
This is the net price. Taxes to be calculated in checkout.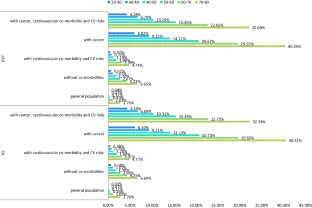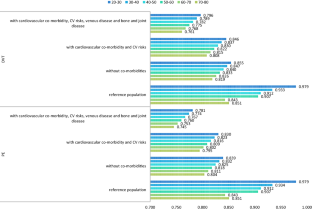 Data availability
The dataset analyzed during the current study are from the PREFER in VTE registry and are not publicly available.
Abbreviations
CV:

Cardiovascular

DVT:

Deep-vein thromboembolism

PE:

Pulmonary embolism

VTE:

Venous thromboembolism
References
1.

Oger E group E-Gs (2000) Incidence of venous thromboembolism: a community-based study in Western France. Thromb Haemost 84(05):657–660

2.

Cohen AT, Agnelli G, Anderson FA, Arcelus JI, Bergqvist D, Brecht JG, Greer IA, Heit JA, Hutchinson JL, Kakkar AK (2007) Venous thromboembolism (VTE) in Europe. Thromb Haemost 98(04):756–764

3.

Spencer FA, Emery C, Lessard D, Anderson F, Emani S, Aragam J, Becker RC, Goldberg RJ (2006) The worcester venous thromboembolism study: a population-based study of the clinical epidemiology of venous thromboembolism. J Gen Intern Med 21(7):722–727

4.

Arshad N, Isaksen T, Hansen J-B, Brækkan SK (2017) Time trends in incidence rates of venous thromboembolism in a large cohort recruited from the general population. Eur J Epidemiol 32(4):299–305

5.

Agnelli G, Gitt AK, Bauersachs R, Fronk E-M, Laeis P, Mismetti P, Monreal M, Willich SN, Wolf W-P, Cohen AT (2015) The management of acute venous thromboembolism in clinical practice–study rationale and protocol of the European PREFER in VTE Registry. Thromb J 13(1):41

6.

Willich SN, Chuang L-H, van Hout B, Gumbs P, Jimenez D, Kroep S, Bauersachs R, Monreal M, Agnelli G, Cohen A (2018) Pulmonary embolism in Europe—Burden of illness in relationship to healthcare resource utilization and return to work. Thromb Res. https://doi.org/10.1016/j.thromres.2018.02.009

7.

Cohen AT, Gitt AK, Bauersachs R, Fronk E-M, Laeis P, Mismetti P, Monreal M, Willich SN, Bramlage P, Agnelli G (2017) The management of acute venous thromboembolism in clinical practice. Results from the European PREFER in VTE Registry. Thromb Haemost 13(1):41

8.

Gouin B, Blondon M, Jiménez D, Fernández-Capitán C, Bounameaux H, Soler S, Duce R, Sahuquillo JC, Ruiz-Giménez N, Monreal M (2017) Clinical prognosis of nonmassive central and noncentral pulmonary embolism: a registry-based cohort study. Chest 151(4):829–837

9.

Sindet-Pedersen C, Pallisgaard JL, Staerk L, Gerds TA, Fosbøl EL, Torp-Pedersen C, Gislason G, Olesen JB (2017) Comparative safety and effectiveness of rivaroxaban versus VKAs in patients with venous thromboembolism. Thromb Haemost 117(06):1182–1191

10.

UK mortality rate 2013 (2013) Office for National Statistics. https://www.ons.gov.uk/peoplepopulationandcommunity/birthsdeathsandmarriages/deaths. Accessed Apr 2017

11.

Steyerberg EW, Eijkemans MJ, Habbema JDF (1999) Stepwise selection in small data sets: a simulation study of bias in logistic regression analysis. J Clin Epidemiol 52(10):935–942

12.

Devlin NJ, Shah KK, Feng Y, Mulhern B, van Hout B (2018) Valuing health-related quality of life: an EQ-5 D-5 L value set for England. Health Econ 27(1):7–22

13.

Gouveia M, Pinheiro L, Costa J, Borges M (2016) Pulmonary embolism in Portugal: epidemiology and in-hospital mortality. Acta Med Port 29(7–8):432–440

14.

Luong NV, Kroll MH, Vu K (2017) Recurrence of venous thromboembolism among adults acute leukemia patients treated at the University of Texas MD Anderson Cancer Center: Incidence and risk factors. Thromb Res 156:14–19

15.

Choi S, Lee K-W, Bang S-M, Kim S, Lee J-O, Kim YJ, Kim JH, Park YS, Kim D-W, Kang S-B (2011) Different characteristics and prognostic impact of deep-vein thrombosis/pulmonary embolism and intraabdominal venous thrombosis in colorectal cancer patients. Thromb Haemost 105(06):1084–1094

16.

Al Diab AI (2010) Cancer-related venous thromboembolism: insight into underestimated risk factors. Hematol/Oncol Stem Cell Ther 3(4):191–195

17.

Sawant S, Banumathy S, Daddi A, Dhir A (2012) Pulmonary embolism in cancer patients. Indian J Cancer 49(1):119

18.

Smith TR, Nanney AD, Lall RR, Graham RB, McClendon J, Lall RR, Adel JG, Zakarija A, Cote DJ, Chandler JP (2015) Development of venous thromboembolism (VTE) in patients undergoing surgery for brain tumors: results from a single center over a 10 year period. J Clin Neurosci 22(3):519–525

19.

Jameson SS, Rankin KS, Desira NL, James P, Muller SD, Reed MR, Rangan A (2014) Pulmonary embolism following ankle fractures treated without an operation—an analysis using National Health Service data. Injury 45(8):1256–1261
Acknowledgements
The authors would like to acknowledge the invaluable contribution of the PREFER in VTE Registry investigators and patients.
Ethics declarations
Conflict of interest
S. Kroep, LH. Chuang and B. van Hout have served as consultants for Daiichi-Sankyo; A. Cohen, M. Monreal, S. Willich, A. Gitt, R. Bauersachs and G. Agnelli have received honoraria from Daiichi-Sankyo for participating in the advisory committee; P. Gumbs is an employee of Daiichi-Sankyo Europe GmbH.
Ethics approval and consent to participate
Prior to study commencement, the registry protocol was approved by the responsible ethics committees for the participating countries and the relevant hospital-based institutional review boards. All patients enrolled in the registry first provided written informed consent. The design and methods of the PREFER in VTE registry have previously been described, including more information concerning patients, data collection and definitions [5].
Electronic supplementary material
Below is the link to the electronic supplementary material.
About this article
Cite this article
Kroep, S., Chuang, L., Cohen, A. et al. The impact of co-morbidity on the disease burden of VTE. J Thromb Thrombolysis 46, 507–515 (2018). https://doi.org/10.1007/s11239-018-1732-0
Keywords
Pulmonary embolism

Deep vein thrombosis

Risk factors

Quality of Life

Mortality