This is a preview of subscription content, log in to check access.
Access options
Buy single article
Instant access to the full article PDF.
US$ 39.95
Price includes VAT for USA
Subscribe to journal
Immediate online access to all issues from 2019. Subscription will auto renew annually.
US$ 99
This is the net price. Taxes to be calculated in checkout.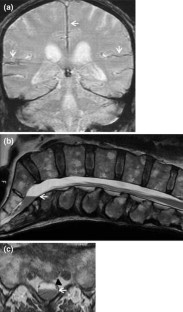 References
1.

Kim YH, Cho KT, Chung CK, Kim HJ (2004) Idiopathic spontaneous spinal subarachnoid hemorrhage. Spinal Cord 42:545–547

2.

Oji Y, Noda K, Tokugawa J, Yamashiro K, Hattori N, Okuma Y (2013) Spontaneous spinal subarachnoid hemorrhage after severe coughing. J Med Case Rep 7:274

3.

Cihangiroglu M, Bulut S, Nayak S (2001) Spinal subarachnoid hemorrhage complicating oral anticoagulant therapy. Eur J Radiol 39:176–179

4.

Heckmann JG, Möbius C, Lang C, Richter G, Schwab S (2008) Superficial cerebral hemosiderosis. Med Klin (Munich) 103:805–806

5.

Levy M, Turtzo C, Llinas RH (2007) Superficial siderosis: a case report and review of the literature. Nat Clin Pract Neurol 3:54–58

6.

Lummel N, Wollenweber FA, Demaerel P, Bochmann K, Malik R, Opherk C, Linn J (2015) Clinical spectrum, underlying etiologies and radiological characteristics of cortical superficial siderosis. J Neurol 262:1455–1462

7.

Linn J, Wollenweber FA, Lummel N, Bochmann K, Pfefferkorn T, Gschwendtner A, Brückmann H, Dichgans M, Opherk C (2013) Superficial siderosis is a warning sign for future intracranial hemorrhage. J Neurol 260:176–181

8.

Gattringer T, Eppinger S, Beitzke M, Wuensch G, Niederkorn K, Deutschmann H, Fazekas F, Enzinger C (2015) Cortical superficial siderosis and risk of bleeding after thrombolysis for ischemic stroke. Cerebrovasc Dis 40:191–197

9.

Wollenweber FA, Buerger K, Mueller C, Ertl-Wagner B, Malik R, Dichgans M, Linn J, Opherk C (2014) Prevalence of cortical superficial siderosis in patients with cognitive impairment. J Neurol 261:277–282

10.

Bhanwra S, Ahluwalia K (2014) The new factor Xa inhibitor: apixaban. J Pharmacol Pharmacother 5:12–14

11.

Jaeger M, Jeanneret B, Schaeren S (2012) Spontaneous spinal epidural haematoma during Factor Xa inhibitor treatment (Rivaroxaban). Eur Spine J 21(Suppl. 4):S433–S435

12.

Kumar N (2012) Beyond superficial siderosis, introducing "duropathies". Neurology 78:1992–1999

13.

Webb AJ, Flossmann E, Armstrong RJ (2015) Superficial siderosis following spontaneous intracranial hypotension. Pract Neurol 15:382–384

14.

Schievink WI, Wasserstein P, Maya MM (2015) Intraspinal hemorrhage in spontaneous intracranial hypotension: link to superficial siderosis? Report of 2 cases. J Neurosurg Spine 20:1–3
Funding
The work was not supported by a Funder.
Ethics declarations
Conflict of interests
None.
Patient's consent
Obtained.
About this article
Cite this article
Heckmann, J.G. Spinal subarachnoid hemorrhage in cortical superficial siderosis after apixaban and clopidogrel therapy. J Thromb Thrombolysis 41, 654–655 (2016). https://doi.org/10.1007/s11239-015-1329-9
Keywords
Clopidogrel

Apixaban

Cerebral Amyloid Angiopathy

Intracranial Hypotension

Spontaneous Intracranial Hypotension